Celebrate your Hindu Wedding in the Caribbean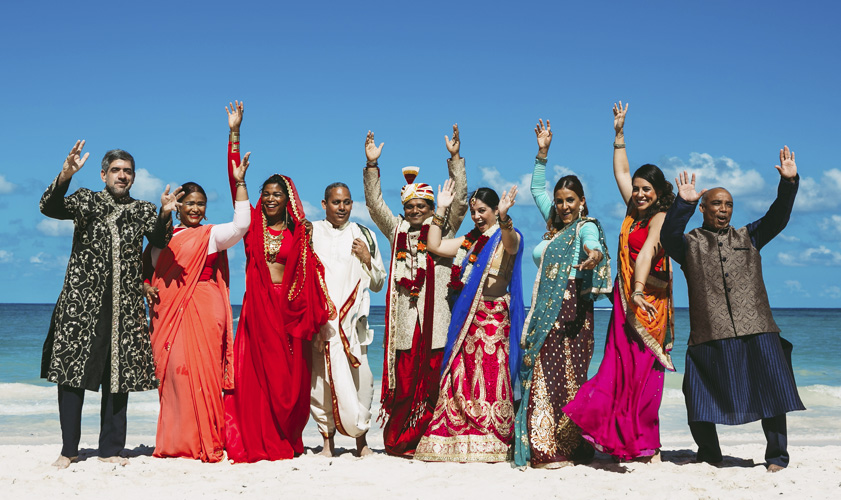 Looking for information about celebrating a Hindu wedding in the Caribbean? What do all countries, cultures and religions have in common? The day of the wedding is one of the most important days of our lives and deserves a celebration accordingly!
However, not all weddings are the same, nor their ceremonies, nor their traditions. From Princess Hotels we perfectly understand this reality. We want to go a step further and get closer and better to the different needs of our brides. We are proud to present the program to celebrate your Hindu wedding in the Caribbean. Designed for those wonderful Hindu couples who want to see the wedding of their dreams come true. Because more and more are the couple who decide to celebrate the Hindu wedding of their dreams in the Caribbean!
What locations do we offer to celebrate your Hindu Wedding in the Caribbean?
Locations for your Hindu Wedding in Punta Cana
One of the main characteristics of Indian weddings is their duration. They are not made in a single day, not even in a single place, hence it is very important to have different locations to be able to adapt to the evolution of events.
From our salons to our majestic beach, passing by our incomparable restaurants. All wonderful places to celebrate the different stages of the Hindu wedding. Of course, these are just some examples:
Private Dining

: Maybe you want to make your Sangeet in one of our private restaurants.

Beautiful and lush tropical gardens

: in whose walks can organize a cheerful and fun Baraat for example.

Pool area

: A beautiful Mehndi party with all your guests, in your favourite place of our resort, for example, in the pool area.

A ceremony on the beach facing the sea

: letting all the energies of water and fire combine for a happy and prosperous marriage.

Our rooms

: decorated for the occasion, as you wish, with lights, flowers … you can make a beautiful reception in which to dine, dance and talk with all your guests.
We want Punta Cana to be your Hindu wedding destination, for its versatility and different possibilities offered by our resorts:
Locations for your Hindu Wedding in Riviera Maya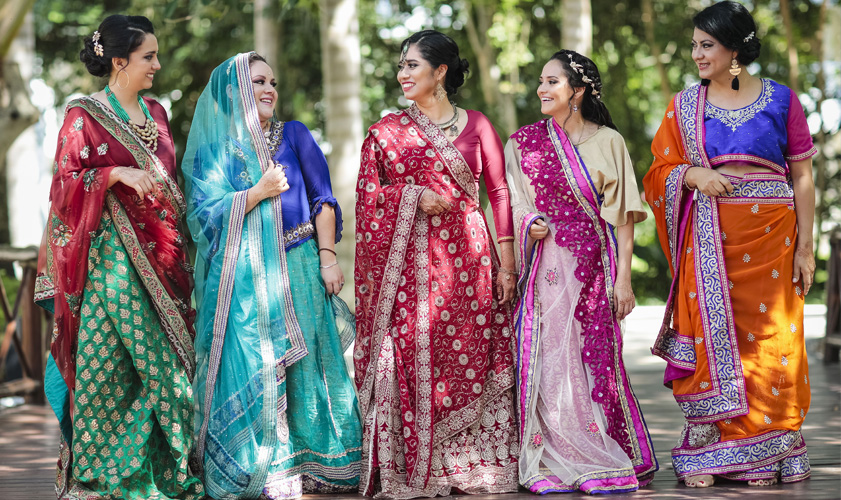 The dream of many brides is to get married in front of the unforgettable turquoise sea of the Caribbean. And with that in mind we have available for all our brides the perfect place to celebrate this special day:
Wedding gazebo

: What better place to say "Yes I want" than in front of the unbeatable sea of the Mexican Caribbean? Our gazebo assures you the privacy and beauty with which you always dreamed and that will always remain in your memory.

Meeting rooms

: Perfect for a private celebration with your family and friends. Together with our coordinator you can personalize, design and decorate the space with great detail, to ensure that it will be a perfect day.

Skylight Terrace

: For all the brides who choose Platinum Yucatan Princess, we recommend the Terrace of

Skylights restaurant

as the ideal location for your wedding. Here you will have a panoramic view of the Caribbean Sea, while you can delight yourself with creative cuisine and author, which will make your wedding a huge success.
We invite you to know the many options we have to make your wedding day an unforgettable event. Our hotels in Riviera Maya:
What services do we offer to celebrate your Hindu Wedding in the Caribbean?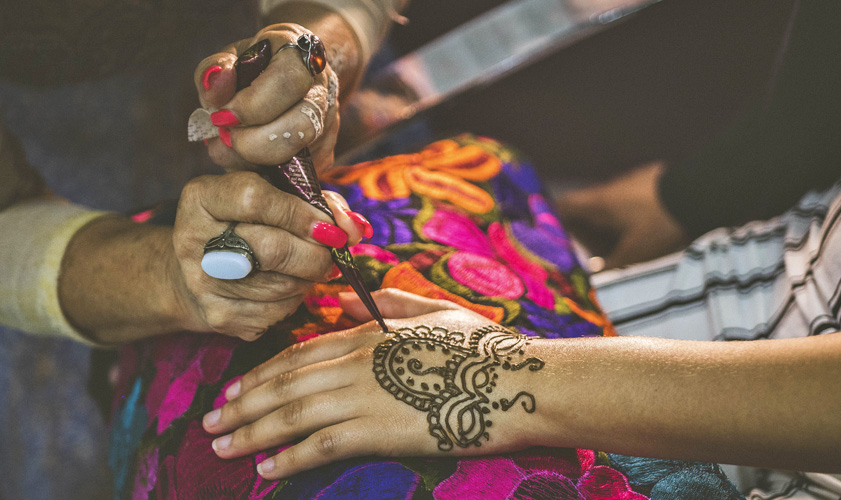 Our wedding coordinators know the complexity and the different number of rituals and traditions that make up an Indian wedding. Virtually every Hindu wedding is unique! Therefore, the first thing we will highlight is precisely that service, that of wedding coordinator, with which you can talk and plan all the details and peculiarities that will make your wedding unique and different.
With your wedding coordinator's guide and experience we can find what you desire:
Floral decoration services

Decoration adapted to your needs, with the fabrics, tables, chairs, candles … that you want

Dj

service, dance floor and lighting

Salon for makeup and hairdressing. Even a professional for henna!

Dry cleaning service if any of the dresses requires a touch.

Doli

, in case you want to symbolically walk the bride to her new life.

Even a horse if you need to make the

baarat

more spectacular
In short, a wide range of catalogues, possibilities and suppliers, which help us make Hindu weddings in the Caribbean unique and unrepeatable!
What Wedding Packages do we offer to celebrate your Hindu Wedding in the Caribbean of Punta Cana?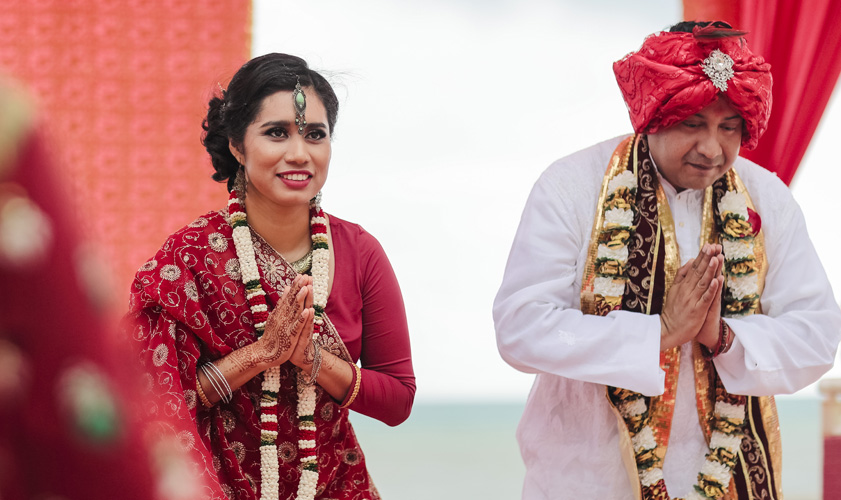 Our wedding package includes 6 events:
The Mehndi festival:

which includes, among others, a refreshment area with drinks and canapés.
The Sangeet:

which includes among others a silver menu.
The Baarat:

our coordinators will indicate the available options.
The ceremony:

with the area decorated for the occasion. It is important to note that in Punta Cana there is no priest for the ceremony.
Lunch after the ceremony.
And the buffet reception dinner.
Our wedding coordinators will indicate in detail what particularities are included in each of the events. As well as the availability and prices for any change, extra or personalization that you wish to make.
If you want to celebrate your Hindu wedding in the Caribbean do not hesitate and contact us!
PUNTA CANA: [email protected]
MAYAN RIVIERA:
Categories: Caribbean, Punta Cana, Riviera Maya
« Blog experience | Get Inspired by the Any Fuchok Experience at the Family Club Princess Hotel
Sensory Dinner at Skylights Restaurant with Chef Agustín Puc and Chef Daniel Manzano »