Entertainment in Mexico with Princess Hotels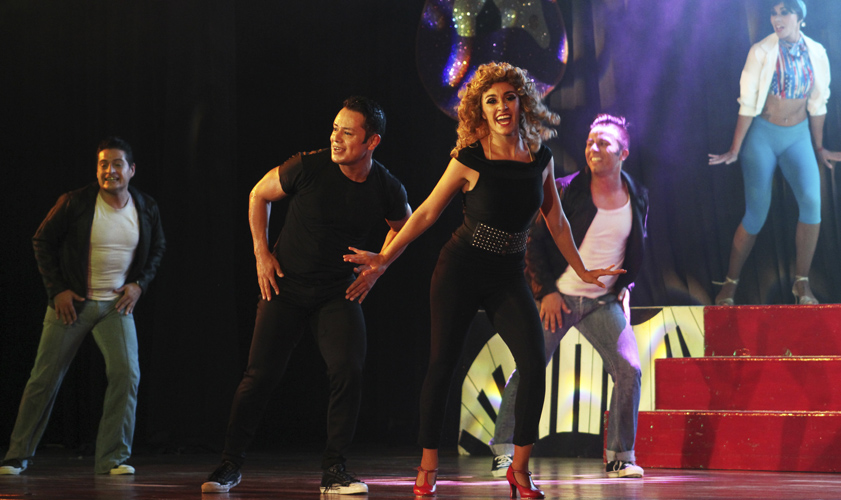 Do you want to discover the best entertainment in Mexico? At Princess Hotels Riviera Maya we know that it is important that you have enough entertainment options to please you and your whole family. Our talented Entertainment team works every day to make it happen. The goal is to give a huge range of entertainment options that will be able to please even the most demanding guest.
Play, dance and participate! Make your vacation at Princess Hotels Mexico, an unforgettable moment in your life. We explain everything about entertainment in our hotels in Mexico. And if you are also interested in Entertainment in the Dominican Republic, do not miss this post.
How is the entertainment team of Princess Hotels?
The Princess Hotels entertainment team is a talented group of young enthusiasts who have only one purpose in their days … have fun while enjoying your vacation at Princess Hotels! It is a multifaceted group that is in charge of all the entertainment activities of our hotels:
Dance classes.
Aqua aerobics.
Beach volleyball.
Musical shows in the theater.

…and a long etcetera.
How does the Princess Hotels entertainment staff work?
The Entertainment and Sports team is the best team you could wish for your dream vacation in the Caribbean. They will be as pleasant as possible! Our expert entertainment staff will make you feel included in all the activities. It is a fantastic opportunity to meet people from all over the world on your vacation in Mexico.
The Entertainment team is organized throughout the day to give our guests a vast number of sports, recreational and recreational activities in different areas of the hotel. On the same day you can see your favorite entertainer, teaching Aqua-Aerobics in the early hours of the day, to later find him again in the Crazy Game at the pool and end the day watching him dance with all the energy and enthusiasm in the Grease show (Vaseline).
What is the Entertainment for adults in Princess Hotels Mexico?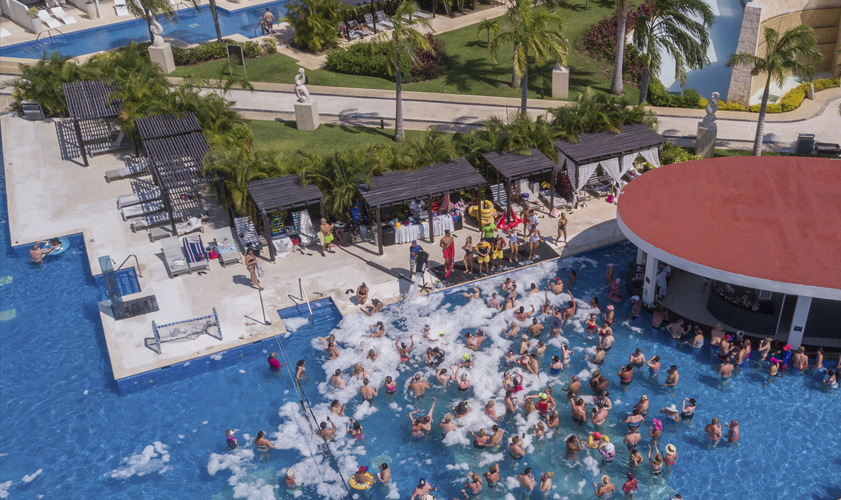 Of all the activities we offer in our hotel we have some that are more suitable for the adult public, such as:
The Crazy Game: This activity takes place every weekend at 3:00 p.m. It is an excellent opportunity to meet new people and to relax with a game full of surprises.
Tequila-Volley: Another one of the exclusive activities for adults! The dynamics of this activity is quite simple. Whenever your opponent scores a point, you and your teammates have to take a shot of Tequila. Very simple and fun!
Dance and Zumba classes: For our adult audience we also have attractive dance and Zumba classes as well as the Olympic Games where you can test the motto of "Faster, taller, stronger". You dare?
And, at night, if after dinner you still want to spend a different and fun night, we also have a Casino in our hotel where you can put your good fortune to the test.
What is the children Entertainment offer at the Princess Hotels Mexico?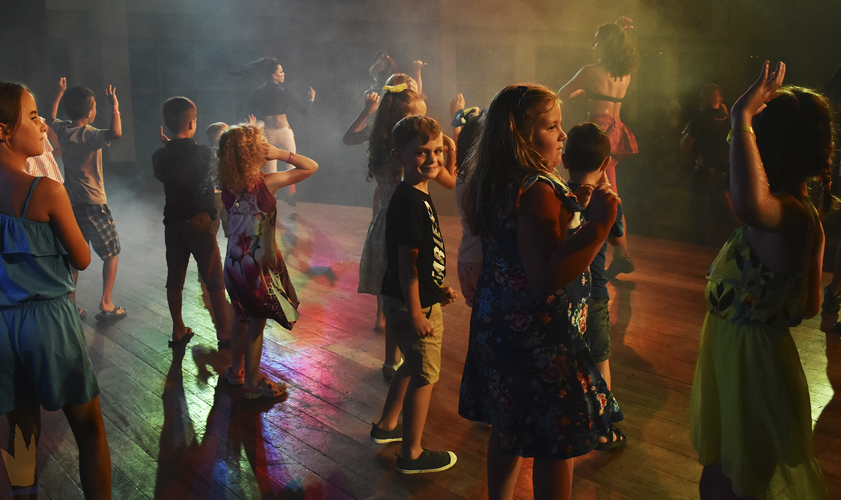 We know that for a child, vacations in the Caribbean are synonymous with continuous hours of fun under the sun, entering and leaving the pool countless times. But, also, we know that our young guests have a lot of energy to spend and need to have many activities to enjoy during the day. For them, our Entertainment team has prepared various sports, recreational and recreational activities. Younger guests can have a good time and make new international friendships. The most popular activities are:
Weekly Soccer tournaments: Are you ready to take your team to glory? Do you have the necessary qualities to become the next MVP of Princess Hotels? Then sign up for our Soccer tournament and show your talent on the Princess courts.
Learn languages: Why not take advantage of the holidays to learn a new language? Sign up for our Spanish Classes and come have a fun time in the most entertaining class in all of Mexico.
Teens Club: At the end of the day, at 8pm, we also have the Teen's Club with various activities that vary every day. Teenagers staying at the hotel can fraternize and start new friendships.
Leisure for all ages at Princess Hotels
Our hotel also has leisure activities tailored to all ages. An excellent option for a family get together. Of all the activities, we highlight:
Night Shows at the Princess Theater: From Grease (Vaseline) to Moana, through Aladdin, Rock Show and the amazing "Horror Show". Our Theater is a stage of ambitious dance, theater and music productions that are the joy of all our guests. And if you stay until the applause ends you will have the opportunity to take a picture with your favorite characters and entertainment staff.
The Foam Party on the Beach: Every Friday, at 3pm, our beach is a stage for a very entertaining Foam Party. Join the family and walk to the beach so you can dance and sing to the taste of the best music of the moment. You will feel that you are at a music festival on the shore of the Sea. Here you will discover everything about the Foam Festivities!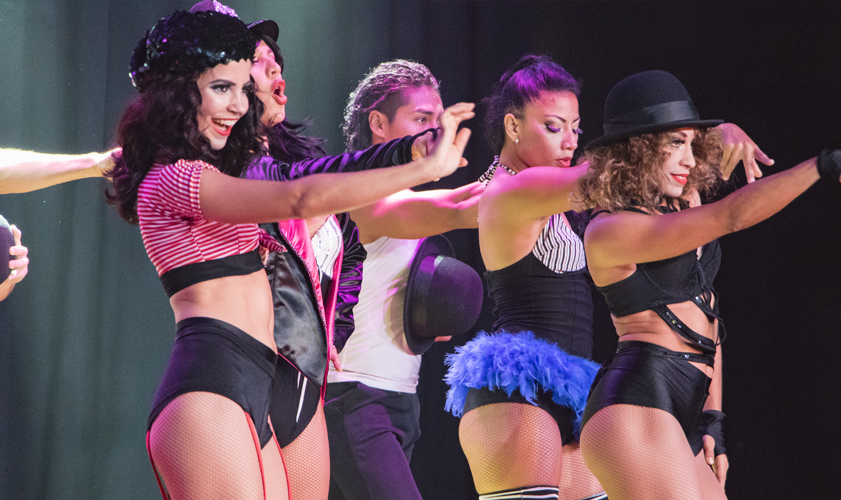 This resort has been designed to have two environments; the first, for those who enjoy a more relaxed atmosphere; and the other, for those who want to be surrounded by action and activities.
In our activity pool: you can enjoy cocktail and fruit carving classes, Mexican parties with mariachi and tacos, water exercises, zumba and volleyball, among many other activities!
On the beach they offer you: stretching classes, guacamole and petanque classes.
Sports park: the resort also has a sports park, where you can practice golf, archery, rifle, yoga, pilates and paddle boarding in a lagoon.
In the evening enjoy the variety of shows that are also in the hotel theater as in our Plaza and Salsa bars. You can find a fire show, burlesque, Motown tribute, Mexican show, live reggae … All a variety of entertainment that will make your days spectacular!
As you can see, Entertainment in Mexico offers endless activities! Do not hesitate and come enjoy the best Entertainment at Princess Hotels! Do you dare?
Categories: Caribbean, Hotels, Mexico, Riviera Maya
« Vow renewal in the Caribbean by Princess Hotels
Diving in the Caribbean, immerse yourself into the best destinations »