Take a dip in Tenerife's natural swimming pools
The Canary Islands are known for their fabulous weather and golden sandy beaches. And whilst it's true the sun shines almost all year round, there are a lot more places to swim than the beaches. The island of Tenerife is renowned for its abundant natural swimming pools, known as 'charcos' (ponds or pools) and 'lagos' (lagoons or lakes). From big to small, and easy or difficult to access, these heavenly havens are sure to impress.
You'll find most of Tenerife's natural swimming pools in the north, such as El Caletón, in the municipality of Garachico; Charco de La Laja, in San Juan de La Rambla; and Charco del Viento, in La Guancha. But that's not to say the south is missing out. It too boasts some utterly unique swim spots such as Los Abrigos in Granadilla de Abona.
This isn't your usual beach experience, so make sure you're well-prepared. The pools in Tenerife are formed by the rugged volcanic rock landscape, so it's a good idea to take some aqua shoes or jelly shoes to protect your feet. It's also a good idea to check the local weather forecast to get the most out of your open water swim. These natural swimming pools change with the tide, and unexpected waves could get in the way of your fun.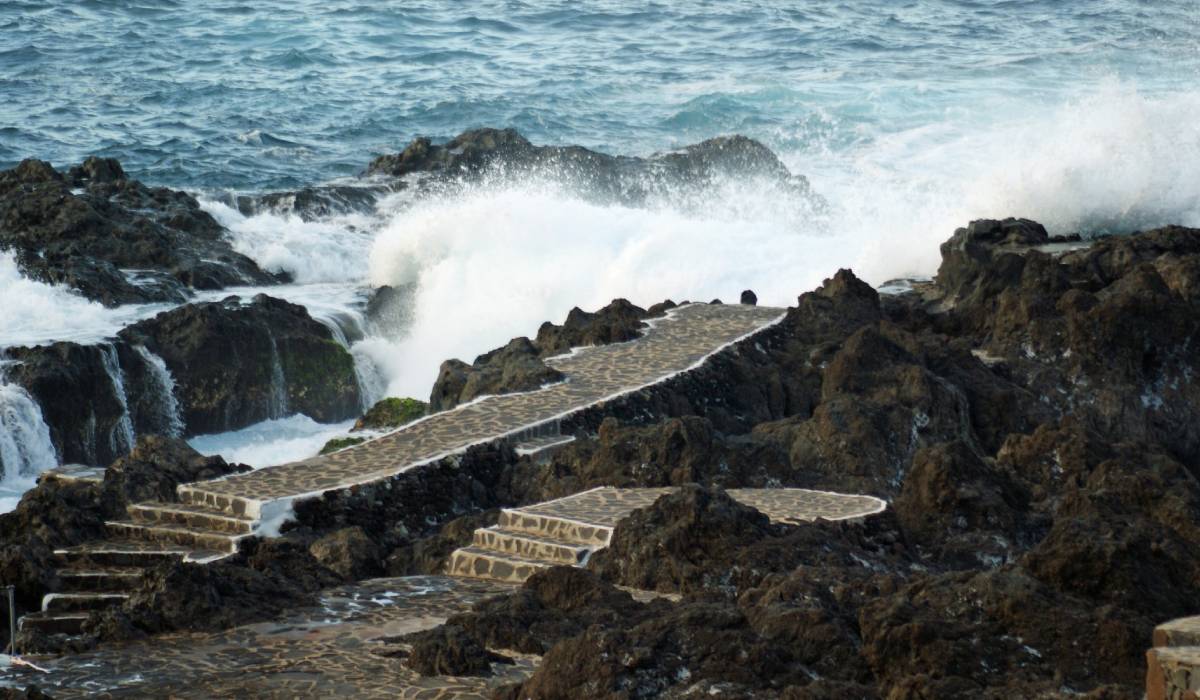 This natural swimming pool in Garachico boasts spectacular views. To one side, you'll see the historic Roque de Garachico, a reminder of the eruption that devastated the town in 1706 and marked its history. To the other, you'll get beautiful views of the town's historic quarter, along with the cliffs of La Culata and the coastlines of other island towns.
This pool is close to the town's shopping district on the seafront promenade itself. It's close to Playa del Muellito and the public swimming pool, and there's also a restaurant near the swimming area. This natural pool is home to crustaceans – you might see some crabs in the rocks, and the beautiful crystal clear water makes it ideal for diving or snorkelling – take a look at all the little fish in the pool!
Charco de La Laja in San Juan de la Rambla is another stunning Tenerife natural swimming pool. This paradise cove with crystal clear water contrasts with the intense blue sea in front. The round pool has a gap to one side where the water comes in at high tide, filling the natural swim spot where you can enjoy a swim regardless of how rough the sea is.
But whilst you won't be bothered by the kind of waves you'd get if you're swimming in the sea, you do need to stay away from the gap, and it's a good idea to wear aqua shoes to protect yourself against the rocky ground underfoot. The last thing you need is an injury when you go for a peaceful swim! This natural pool is super easy to access, with well-signposted steps. It's also located right in the heart of the historic quarter of a municipality boasting the best weather on the island.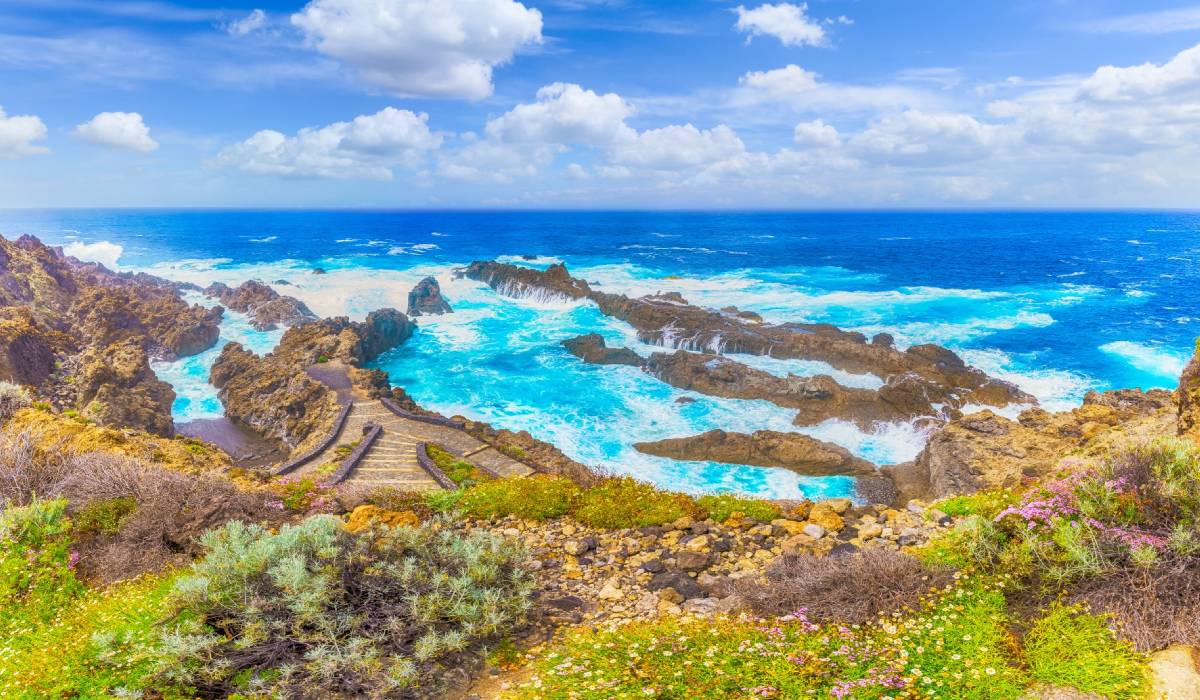 Thanks to easy access and clear signage, Charco del Viento is one of northern Tenerife's best natural swimming pools. The location, in the municipality of La Guancha, is hard to beat. Surrounded by banana plantations and other vegetation typical of the island, you can ponder the stunning landscape as you sunbathe or take a dip.
With four different natural pools, all created by erosion from the sea and wind over the years, this is one of the best pools to visit. Some areas are sandy and shallow, giving the less intrepid a chance to get into the sea without fear of big waves. Others are more exposed to the sea, with more waves. The perfect place to swim in this beautiful natural swimming pool.
Los Abrigos is one of the most famous natural swimming pools in the south of Tenerife. It's harder to get there, but spectacular views come guaranteed. There are a number of pools to choose from, and the largest and most popular has a built-in ladder making it easier to get in. But remember this is still a natural swimming pool, so you need to take care and wear the right footwear.
The ocean water enters through a small inlet, whilst the natural barriers keep it beautifully calm. There are also some smoother rocks when you can sit to have a bite to eat or sunbathe before taking another dip. It's harder to get to than other natural swimming pools in southern Tenerife, but when you get there, it's all worth it. There's parking just 50 metres from the pools, making this impressive spot a pretty convenient option.
These are just some of Tenerife's natural swimming pools. Lava, wind and sea come together to create utterly unique spots. They're definitely worth the effort of finding them!
Categories: Canaries, Tips, Be inspired, Tenerife, Turismo
« 7 ways to celebrate Mother's Day at Princess Hotels Caribe
Platinum Zone: Exclusive area at the Grand Bávaro Princess in Punta Cana »