Platinum Zone: Exclusive area at the Grand Bávaro Princess in Punta Cana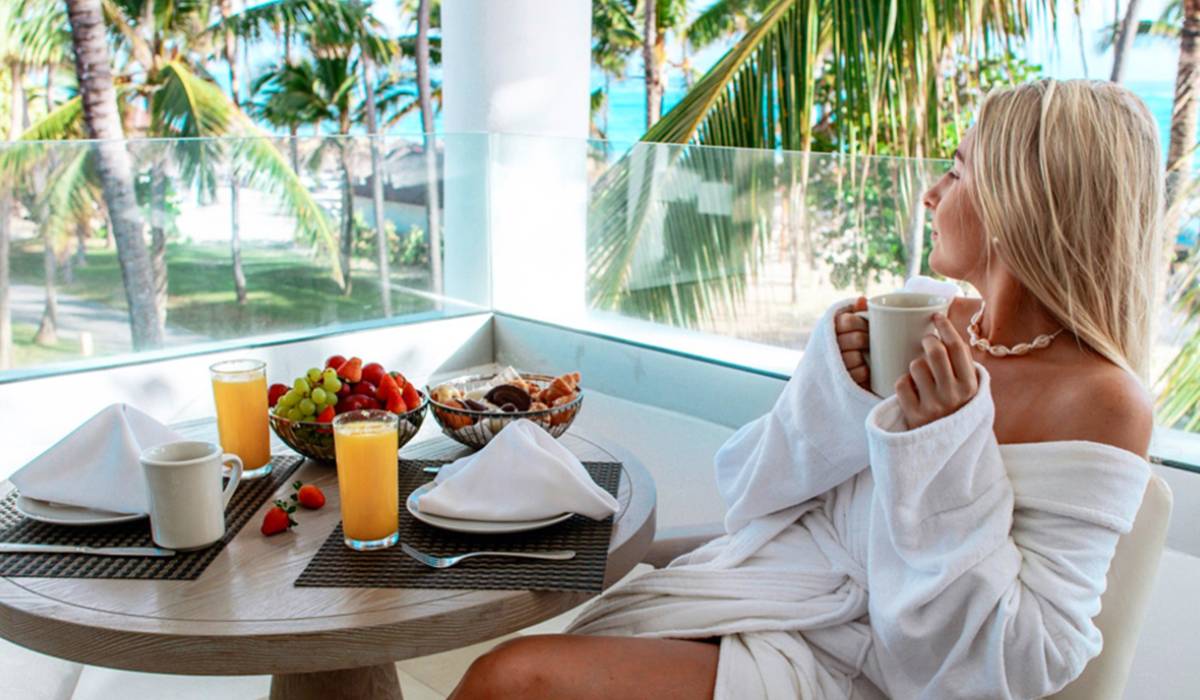 Punta Cana is always a dream holiday destination, a unique experience.
Strolling and relaxing on the spectacular fine sand beaches, bathed by turquoise waters, enjoying the unbeatable tropical climate all year round, with beach activities, bars, restaurants, live shows or simply the friendliness and courtesy of the Dominicans, Punta Cana has everything you need.
For the most demanding travellers looking for an idyllic setting for that luxury getaway in Punta Cana, Grand Bávaro Princess Hotel and, more specifically, the Platinum area is the best option. This area provides guests with the most exclusive services and facilities, in addition to all the other areas and services on offer at this incredible resort.
Exclusive Platinum Services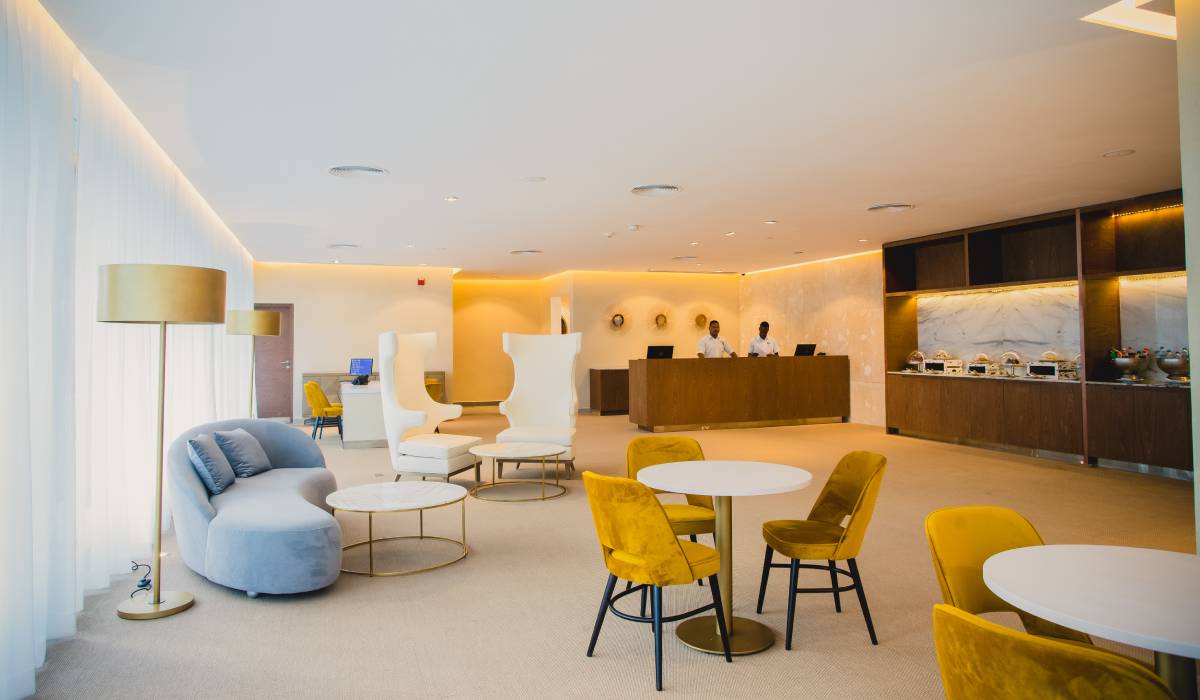 Guests who book Platinum will be able to enjoy all the standard services of our all-inclusive package plus exclusive Platinum services:
24-hour room service. If you feel like having breakfast or a light meal in the comfort of your room. The menu is available on our

webapp

.
An exclusive reception area for your private check-in and check-out. Accompanied by a welcome cocktail and refreshing hand towels. In the exclusive Platinum lounge, in addition to the reception area, there is a customer service desk where our staff are on hand to help you with any questions you may have.
You will have access to premium drinks from international brands in our bars.
Turndown service every day in your room.
You will have your beach towel in your room on arrival, which you can then change at the points provided for this purpose.
Comfortable bathrobes and slippers along with other luxury and exclusive amenities in your room.
So that you can move around the hotel in comfort, in addition to the standard internal transport, you also have access to an exclusive internal transport service for Platinum guests.

What are the benefits of being a Platinum guest?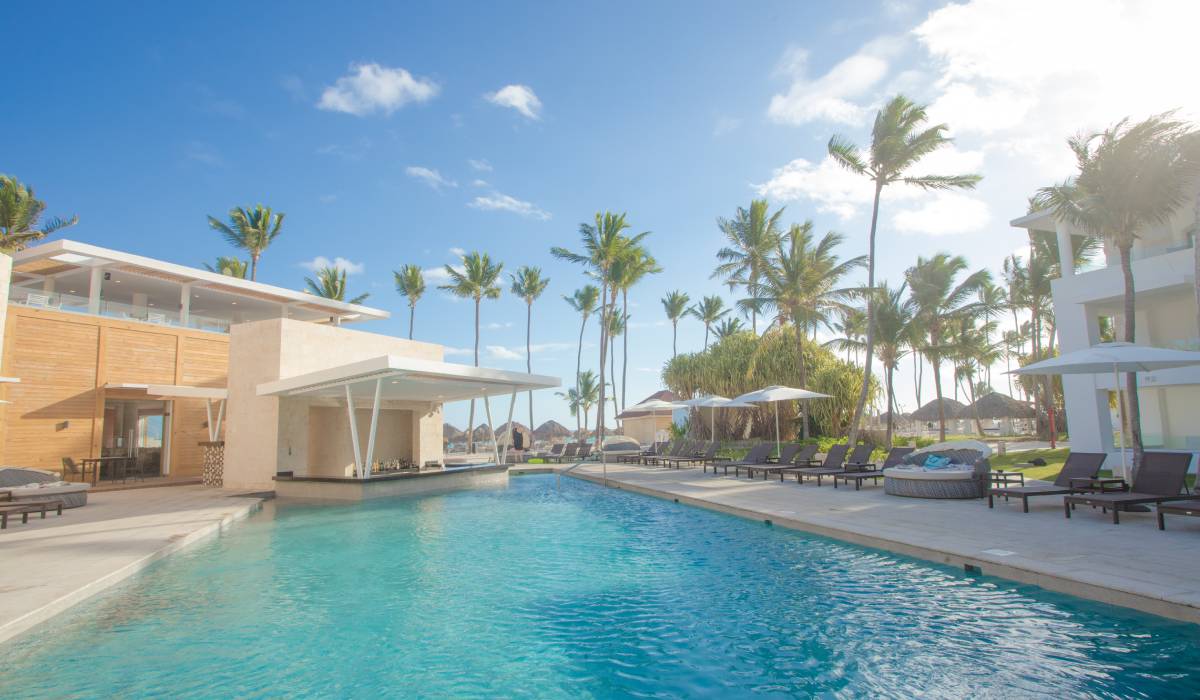 Our Platinum guests are considered our most exclusive and discerning guests, and that is why we love to see them enjoy services that are tailor-made for them.
Platinum guests have access to an exclusive area of the beach, with luxury sunbeds and waiter service to bring your favourite cocktail to your lounger. You can also enjoy a delicious lobster dinner per person per week.
In addition to the standard drinks, you can also enjoy drinks from international brands.
One of our Platinum guests' favourite perks is the ability to book in advance at the à la carte restaurants in the evening.
To help our Platinum guests completely unwind and free themselves from stress, you benefit from a 10% discount at our spa, which can be used for relaxing massages and treatments.
When it comes to packing your bags, remember that, as an added perk, we give you a Princess beach bag which you can show off during your holidays.
Finally, don't forget our pool exclusively for Platinum guests, with bars both in and out of the water and exclusive sun loungers.
Platinum Restaurants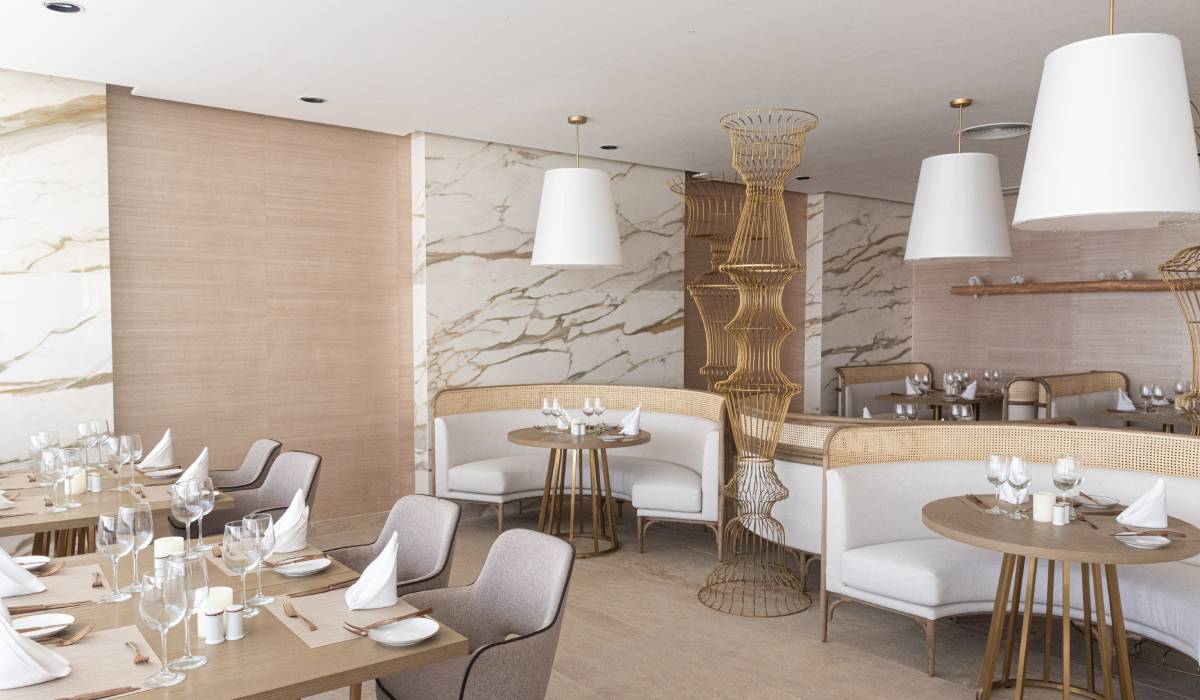 If everything we have told you so far is not enough, we have a range of exclusive restaurants that cater for exclusive tastes.
In addition to the standard dining facilities available to guests staying in our bungalows, Platinum guests can enjoy:
SOHO: a wonderful à la carte restaurant open for dinner with an exquisite ambience and a gourmet menu.
PBG: our beachfront grill restaurant next to the Platinum pool, for breakfast, lunch and dinner. This restaurant also has a spectacular terrace on the upper level, exclusively for Platinum clients, with a bar and beautiful views of the beach.
Chopin: a delightful buffet restaurant surrounded by nature, with a lake and birds all around. Open for breakfast, lunch and dinner (depending on occupancy).
Room Service: although not a restaurant, this food service is included only for Platinum guests. It is available 24 hours a day, so you can order your breakfast, dinner or light meal in your room. The menu is available on our webapp.
What is a Platinum Suite like?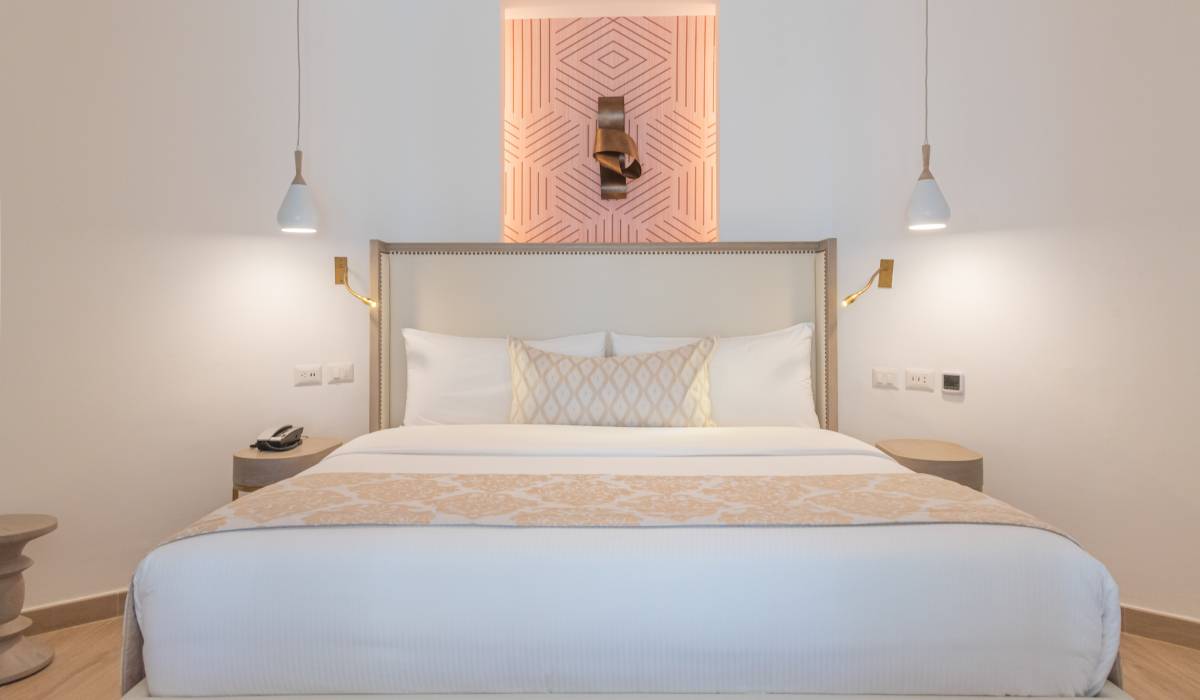 For the complete Platinum experience, the best choice is to stay in one of the best rooms on offer at the hotel.
There are two types of Platinum rooms: Platinum and Honeymoon.
Both have similar amenities such as a Nespresso coffee machine in the room, bottles of spirits in the minibar, a box of three cigars, a whirlpool bath in the bathroom, and more.
But they also have their differences. Platinum rooms are for 3 people and the layout can include twin beds or a king-size bed. Honeymoon rooms only accommodate 2 people and feature a circular king-size bed. Some of the decorative details also differ between the two rooms, such as the furniture on the terrace or in the living room.
It is also important to note that all our Honeymoon rooms are located on the first floor of our buildings.
What you should know if you are a Platinum guest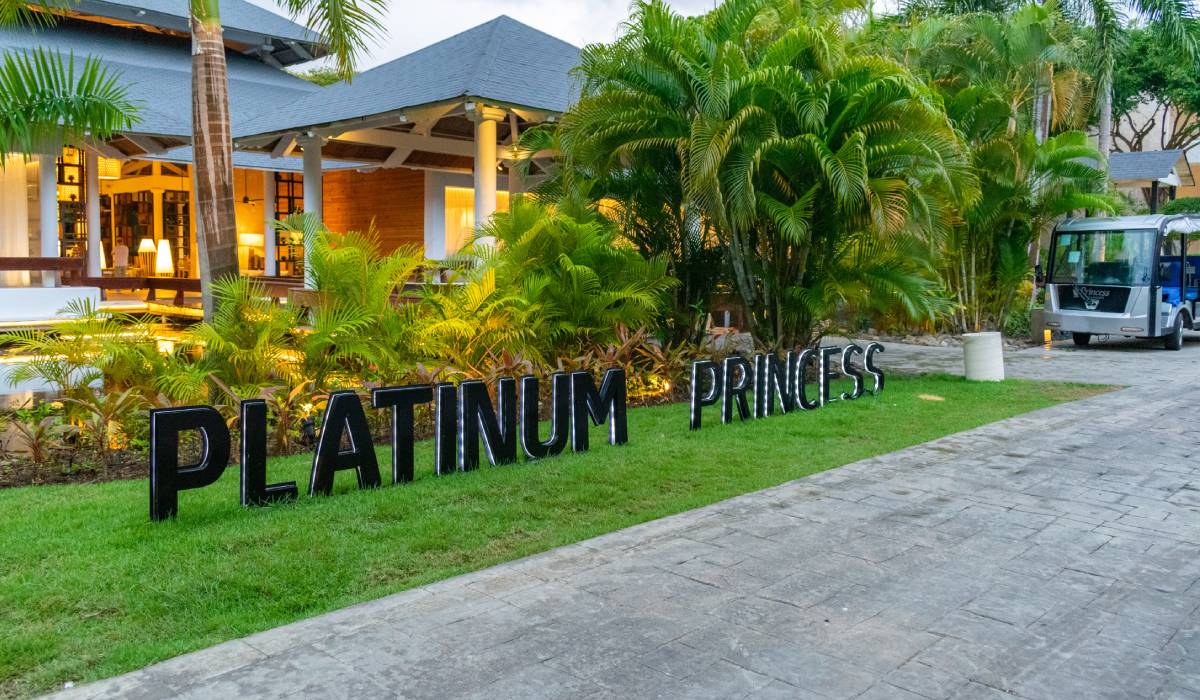 We are sure that you still have some questions about the benefits of Platinum, so we have put together some additional information that we think you will find useful:
Remember that Grand Bávaro Princess is a family hotel, so children are accepted in the Platinum section, as long as the maximum occupancy does not exceed 3 people per room.
One of the most frequently asked questions is whether there is a Platinum option for guests who book at Princess Family Club Bávaro. Princess Family Club Bávaro does not have Platinum rooms, however, if clients wish and there is availability, they can acquire Platinum services without having to change their room in the Family Club (or lose the privileges of being a guest at Princess Family Club Bávaro).
With regards to

Princess Family Club Bávaro

, we inform that Platinum clients who wish to access the water park with slides, the bar and the Mordisco restaurant of the Princess Family Club Bávaro, will be able to do it without any extra cost. However, we would like to remind you that the mini-club near the beach, which features a children's pool with a pirate ship, is also included for guests at Grand Bávaro Princess. The opening hours, rules and activities offered by our mini-club are available on our webapp.
We know that one of the concerns of our Platinum guests is how to make reservations at the à la carte restaurants. The answer is very simple, all guests need to do is find out their room number on arrival and then restaurant reservations can be made

through the webapp

. However, if you have any other questions, our customer service team will be happy to help.
If you did not have the option to select Premium at the time of booking but you would like to benefit from these exclusive advantages, ask at reception if there is availability to upgrade. If there is availability, you can pay the difference and change to a Platinum room for access to all these services.
They say a picture is worth a thousand words, so click here to see what our Platinum experience looks like:
Do you want to be a Platinum guest? Let us know in the comments!
Categories: grand-bavaro-princess, Punta Cana
« Take a dip in Tenerife's natural swimming pools
The best cycling routes in La Palma »