What are the most typical dishes of the province of Santa Cruz de Tenerife?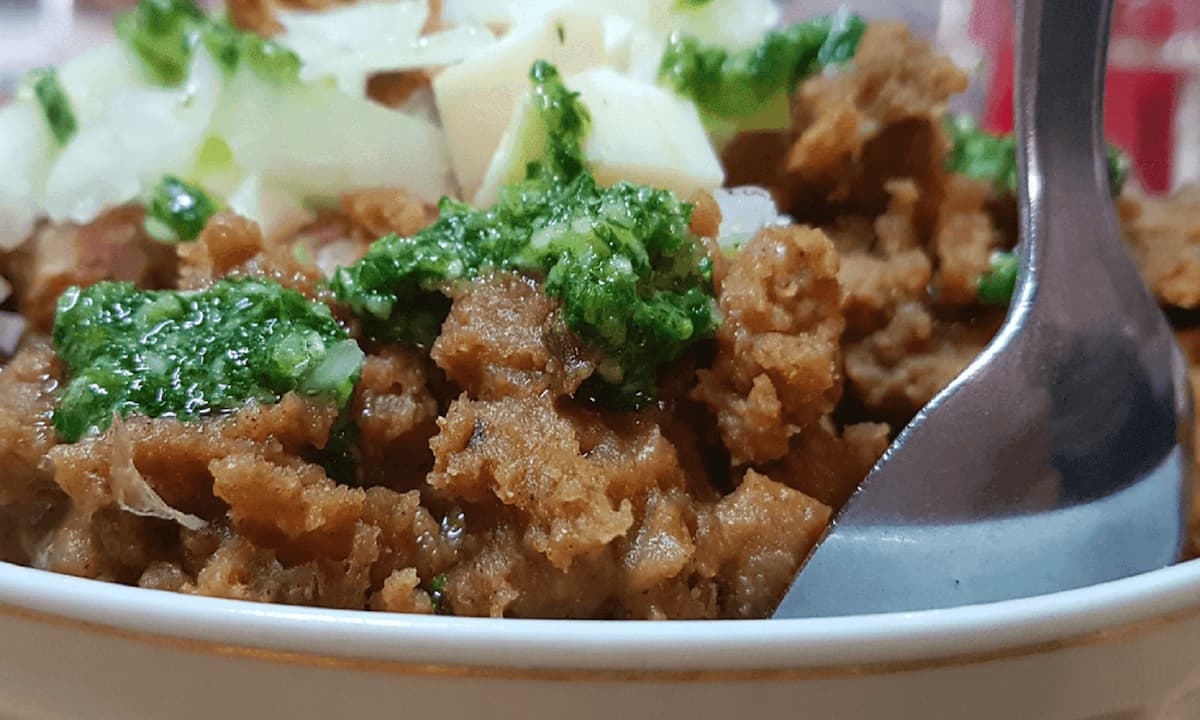 As well as the capital island, the province of Tenerife includes the islands of La Palma, La Gomera and El Hierro, all of which are brimming with natural charm and predominantly green landscapes, and all with a culinary tradition rich in flavours and quirks.
Typical Canarian Island food is a result of the diverse foods prepared by the aboriginal Canary Island population – known as 'Guanches' in Tenerife, 'Bimbaches' in El Hierro, 'Benahoaritas' in La Palma and 'Gomeritas' in La Gomera – blended with influences from around the archipelago as well as mainland Spain, Portugal and other European countries (such as England) from the conquest.
Maize, wheat, fresh fish, local meat, potatoes, cheese, wine and fruit are just some ingredients typical of traditional Canary Island recipes.
Meat was an important element of the Canary Island natives' diet, principally from their flocks of goats and sheep, as well as pigs. They also consumed milk and butter. They complemented their diet with produce they harvested – such as dates and certain types of figs – as well as the seafood they would forage from the islands' shores.
'Gofio escaldón' maize broth
If you had to name dishes typical of the western Canary Islands, you couldn't fail to mention 'escaldón'. The main ingredient of this delicacy is of course 'gofio' maize flour, made into a dough with meat or fish stock. The key ingredients of onions and coriander 'mojo' sauce are then added, and complemented by other elements added such as pieces of meat (like ribs) or fish, to taste.
Roasted cheese with 'mojo palmero' spicy sauce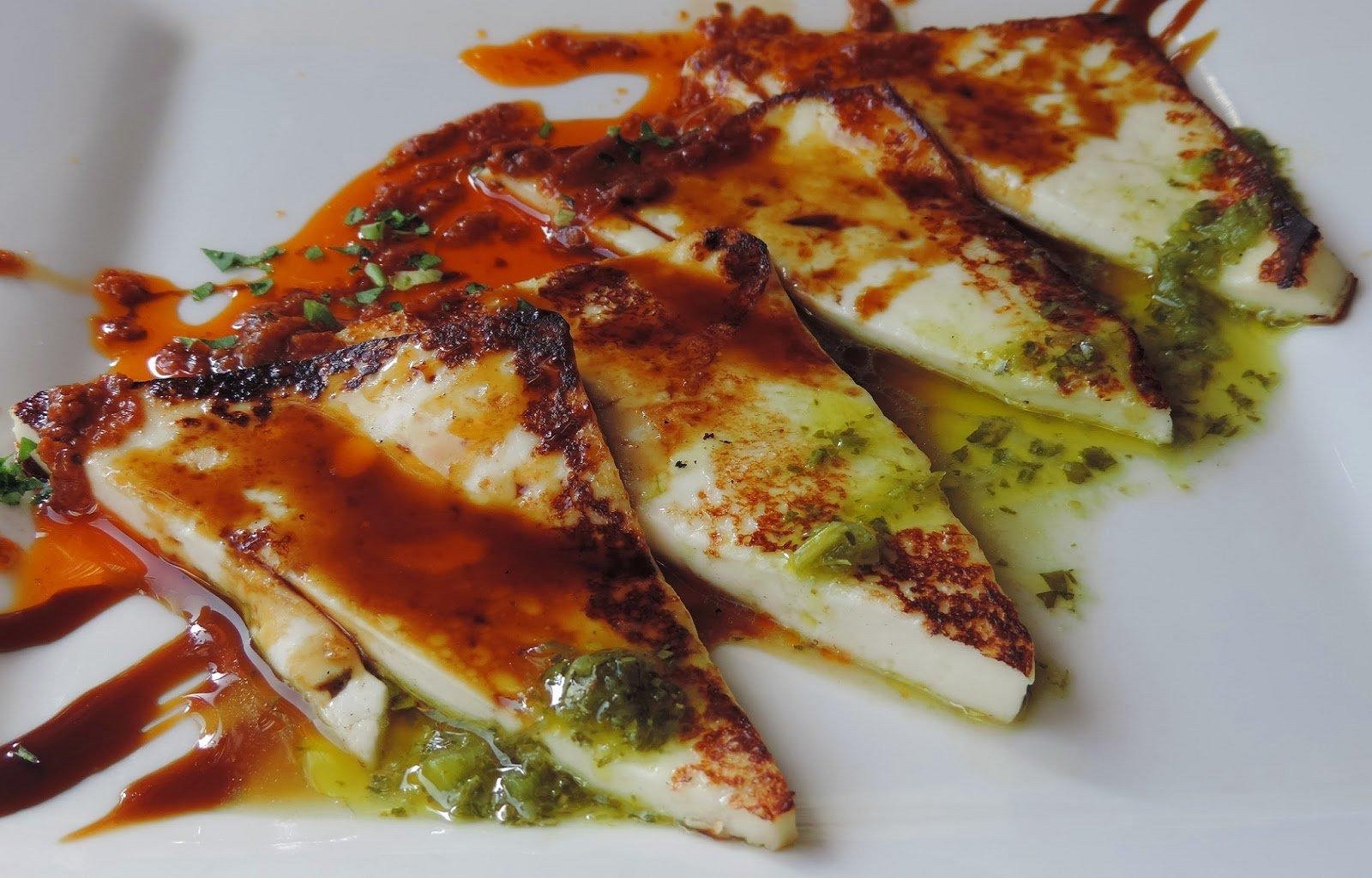 Cheese production is a key asset to the archipelago, so when you visit the islands you'll find a huge variety of cheeses including highlights such as 'Majorero' (Fuerteventura) and 'Palmero' (La Palma). Soft or semi-cured cheese served with 'mojo palmero' sauce – made from La Palma peppers – is a Canary Island delicacy and a match made in heaven.
Rabbit in 'salmorejo'
Rabbit is another typical dish of the western islands. Key to the unique flavour of this dish is the 'majado' accompaniment: crushed garlic, salt, paprika, pepper, oil, vinegar and white wine, as well as the amount of time the ingredients are left to marinate – sometimes more than twelve hours.
Potatoes, ribs and corn cobs: the perfect blend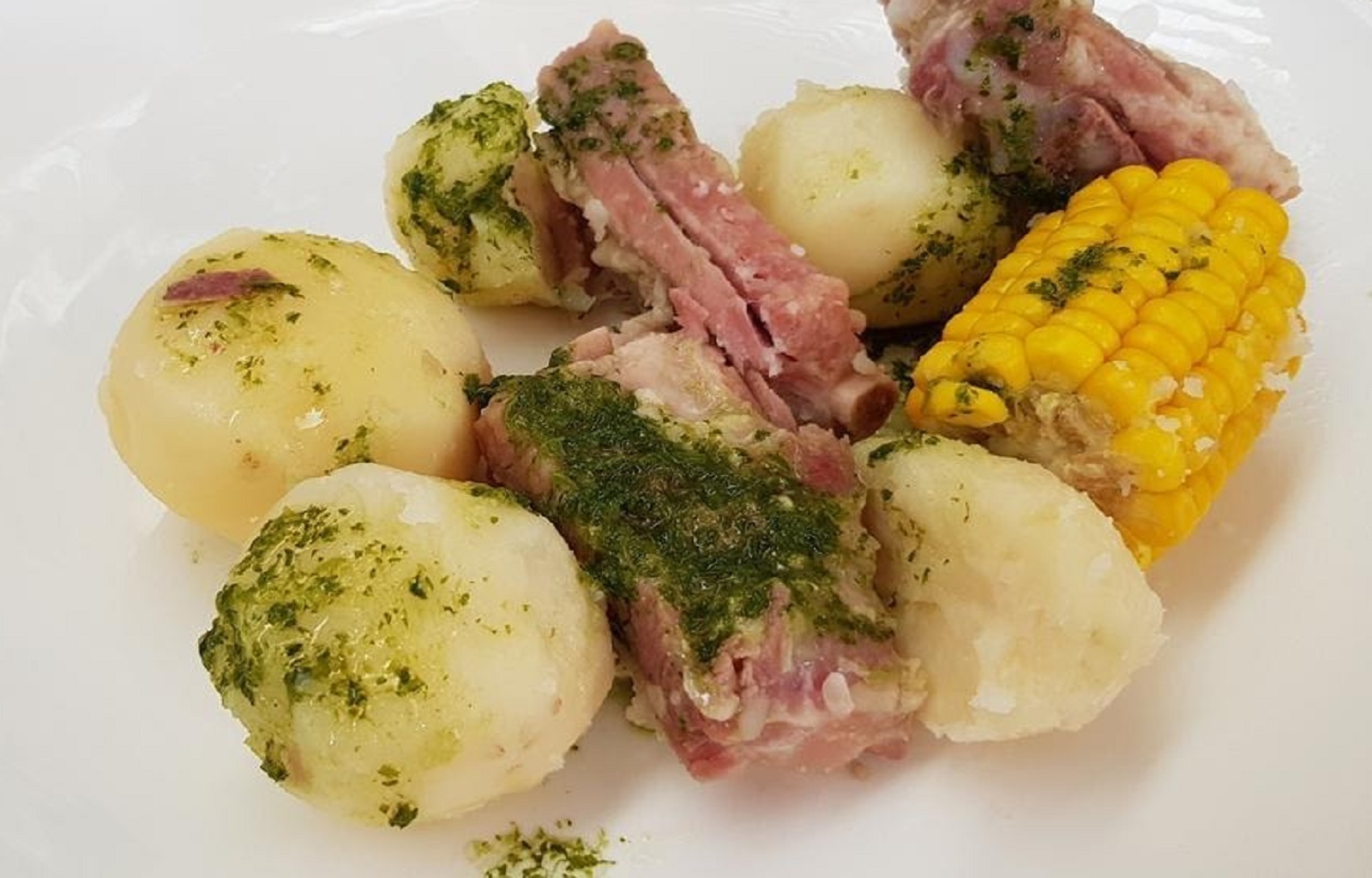 The stars of this stew are salted ribs, corn cobs and 'papas transquiladas' – potatoes which are half-peeled to give them more flavour. This stew is mainly prepared in summer, which is when the corn cobs are at their most delicious, but it is also eaten all year round. It's not a complex dish to prepare but it takes time: the ribs need to be cooked for two and a half hours and the corn cobs take a further two hours.
'Carne de fiesta'
This dish is one of the most popular in Canary Island cuisine, above all during times of pilgrimage, but you'll also find it in bars and 'guachinche' restaurants all year round. The dish is prepared with pork, laden with garlic, spices, picona hot peppers, vinegar, oil, wine and salt. The meat is left to marinate in the mixture for 3 or 4 hours, and is then grilled and served with traditional 'wrinkled potatoes' or chips. It's a humble dish, and as such was traditionally prepared using the less desirable cuts of the animal.
The secret of 'Ropa Vieja' – or 'old clothes' in English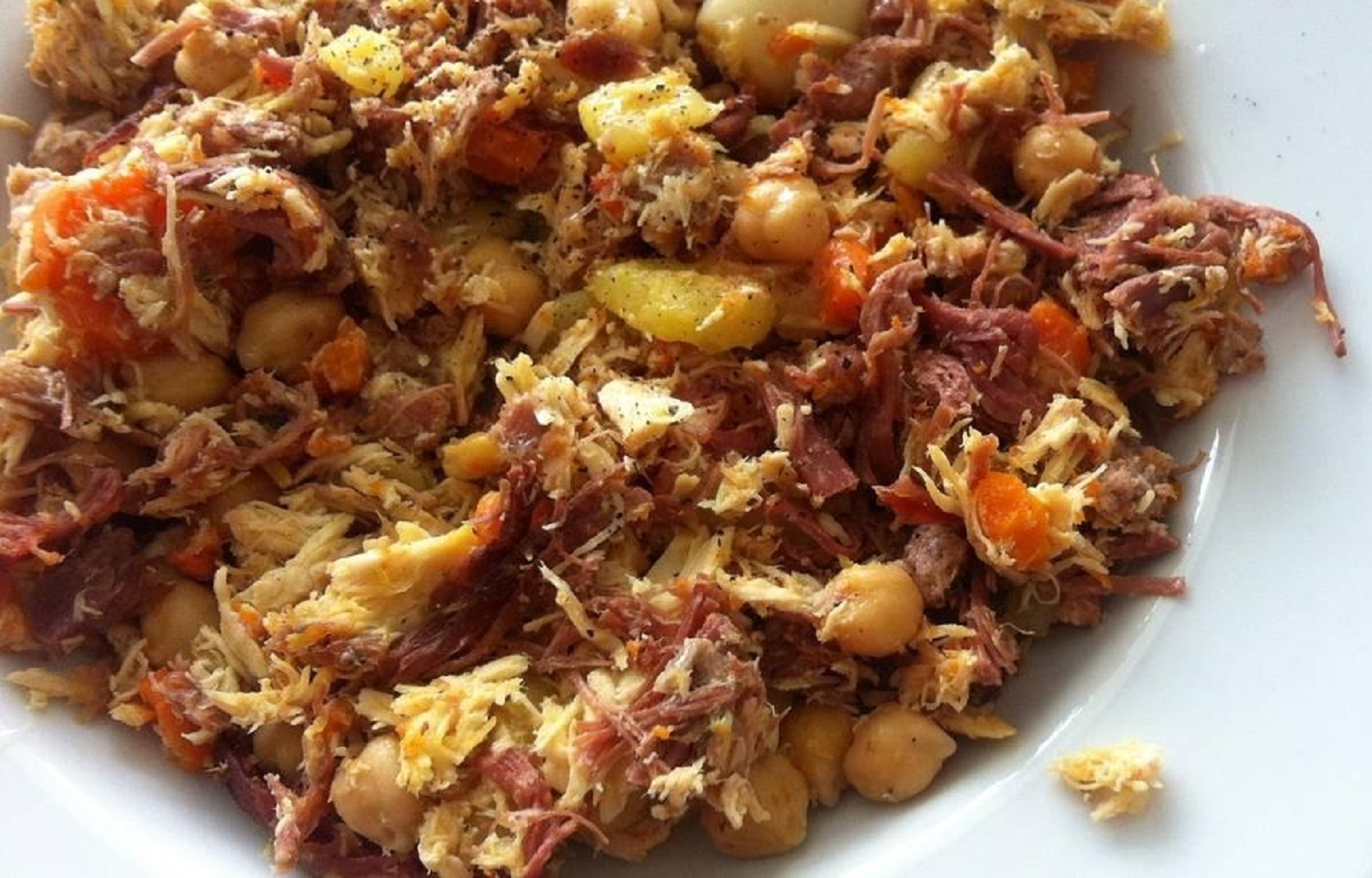 Another typical Canary Island recipe is 'ropa vieja', prepared using leftovers from stews. It might be made from leftovers, but even still today, this is a first-class dish in the Canary Islands. The main ingredients of this delicacy are shredded meat, pulses, onions and potatoes.
Black potatoes
Black potatoes are grown mainly in Tenerife and are distinctively small. Their main distinguishing feature is of course the colour – black on the outside and yellow on the inside and they're incredibly creamy. They're typically prepared 'wrinkled', along with red or green 'mojo' sauce: a true Canary Island delicacy.
La Gomera 'almogrote' spread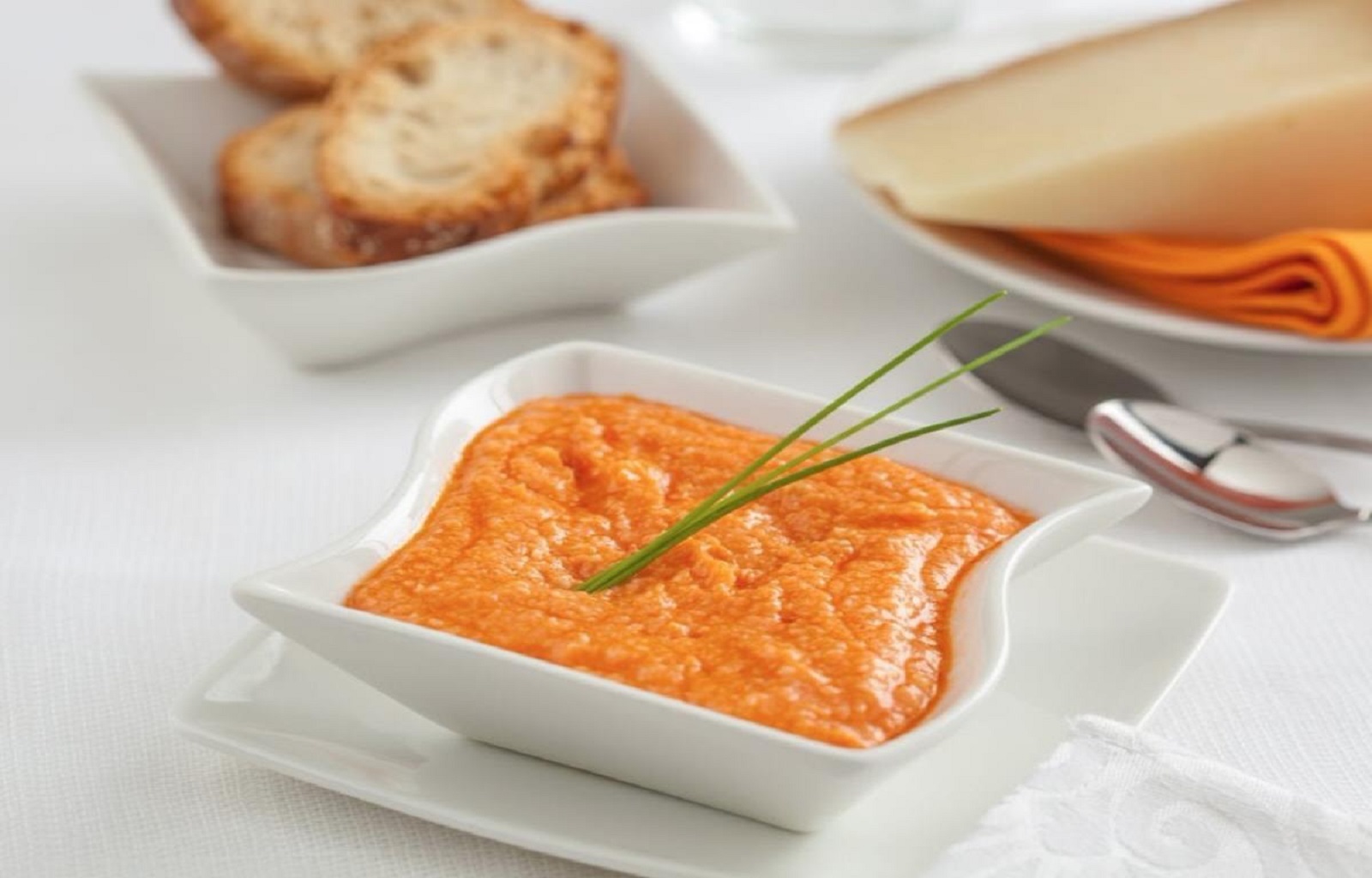 This Canary Island recipe comes from La Gomera, and is perfect for spreading on bread or serving with meat or fish dishes. Utterly delectable, 'almogrote gomero' has a strong, spicy flavour. The main ingredient is La Gomera cured cheese, with the addition of paprika, ripe tomatoes, garlic, La Palma pepper, and olive oil.
So if you come to the Canary Islands you'll find more than the sun and beaches. You'll also be seriously impressed by the rich and varied cuisine. Enjoy all these typical western Canary Island recipes at the Guayarmina Princess and Bahía Princess in Tenerife, and the La Palma & Teneguía Princess in La Palma, for a truly scrumptious holiday.
Categories: gastronomia, La Palma, Tenerife
« Bahía Princess: the ideal family hotel in Tenerife 
TRANSVULCANIA 2021 Do you want to face the biggest challenge of your life? »