Disfruta de nuestras Pool Party en el Caribe con Princess Hotels Caribe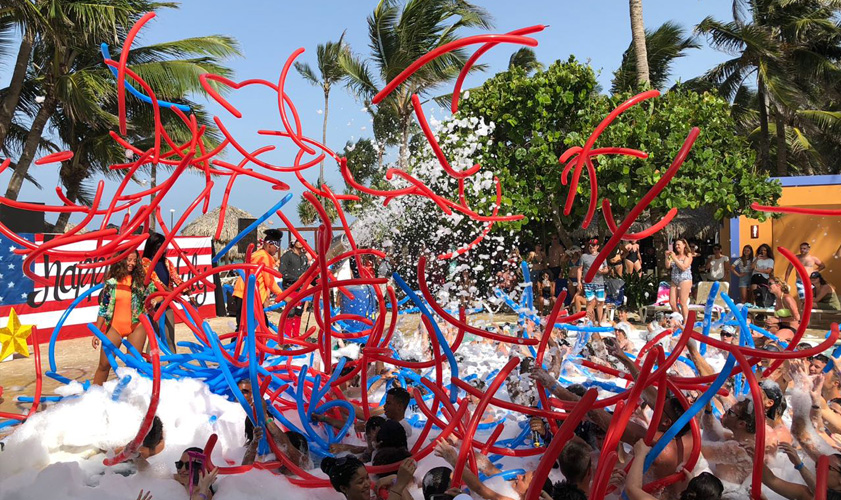 If we combine a wonderful tropical weather with a dream pool and a lot of foam, what do we get? Pool party in the Caribbean! Guaranteed fun! At Princess Caribe hotels, our pool parties are one of the most anticipated and enjoyable activities!
The entertainment programs of our Caribbean hotels are characterized by being extensive and original:
Different themes

Designed for different audiences and ages

They offer all kinds of experiences such as night parties on the beach

It is the perfect place to meet new people and drink your favourite cocktail
It would be very difficult to select a single favourite activity. However, we can say without a doubt, that the parties in the pool are placed on the podium of the most acclaimed by our customers! Our pools are the centre of the day's fun.
How are the pool parties in the Caribbean of Punta Cana?
Surrounded by coconut trees and under the characteristic Dominican sun, our pools are filled with soap bubbles, music and games! People dance to the bar in the pool itself. Can you imagine going to look for your favourite cocktail to the sound of the Caribbean rhythms while the foam flies over your head? It's like a kind of Caribbean snow that falls on our customers, but this time is not synonymous with cold but rather the opposite.
Our excellent animation teams dance well-known choreographies at the water's edge inviting clients to join the party. Endless balloons, beach balls and original games accompany the fun experiences of pool parties in the Caribbean.
In addition, there are times that coincide with special celebrations, such as Halloween. This makes them doubly funny: seeing the zombies dancing the bachata on the edge of a pool full of foam, is an uncommon image!
An activity suitable for all ages, fun and original to have fun with family and friends. Those who wish can also enjoy the party from the comfortable loungers at the edge of the pool. Someone has to take photos of their friends and/or family that is splashing like children!
In which hotels can I enjoy an authentic pool party in the Caribbean of Punta Cana?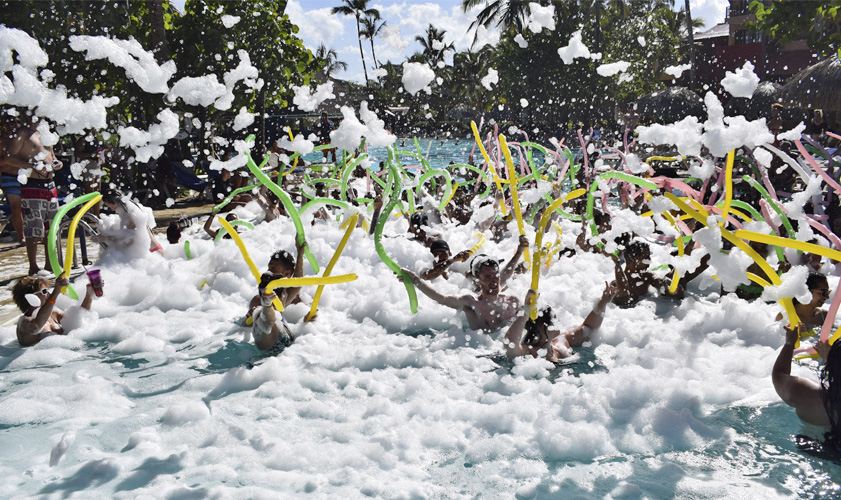 Hotel Bávaro Princess: ideal for family and friends
Hotel Punta Cana Princess: adults only hotel ideal for couples
Hotel Caribe Club Princess: hotel for friends
Hotel Tropical Princess: hotel for family and friends
How are the pool parties in the Caribbean of Riviera Maya?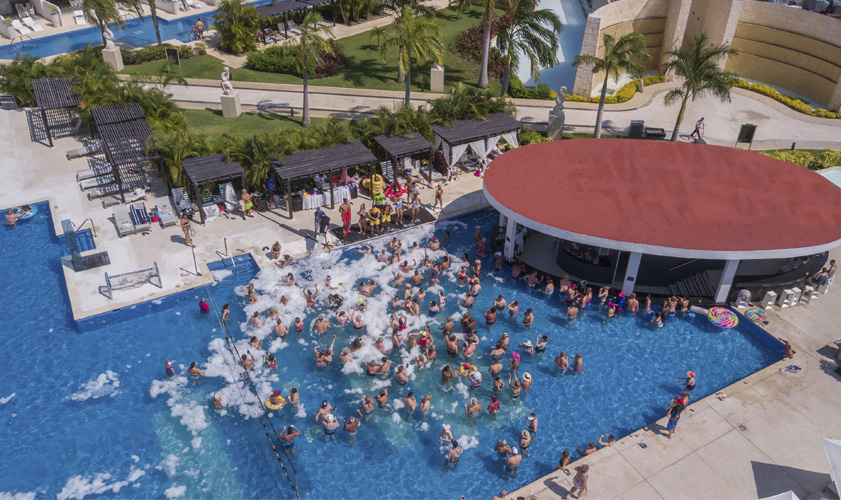 If you want to live an Ibiza style pool party, discover them at the Platinum Yucatan Princess Hotel.
One of the biggest parties in the Princess Riviera Maya Hotels! Every Saturday, customers congregate in the pool to enjoy a lot of fun! In addition, a fun contest brings out the hidden talent of our guests. From push-up competitions to dance contest that where the judge of the contest are the guests. It's your chance to be the star of your vacation!
On the other hand, here you will find everything you need to know about the Grand Riviera Hotel and Grand Sunset Princess pools:
– Fun time starts on Monday at noon with a fun Aqua Aerobics class. We invite you to join our entertainment team in various aquatic exercises. You will be doing sports while your brain relaxes and refreshes in the softness of the pool water. All classes are accompanied by a DJ who selects the best songs so you can enjoy your class in the most fun way possible!
– After lunch, we have one of the highlights: the crazy game! In this activity, our entertainment staff organizes several games that our participants must complete to win the Crazy Game: beer drinking contests; a course of obstacles around the pool, etc. Excellent way to meet new people while you work as a team to win the final prize and become a champion of the Crazy Game!
– If you are a fan of competitive sports, at 4:00 pm we organize our own special edition of Tequila Volleyball! In this fun game, two teams of 4 people enter the pool and play with normal pool volleyball rules but, with a very special touch … every time the opposing team makes a point, both you and your team mate have to take a shot of Tequila!
– Friday is the day where the fun moves to the beach for our exclusive beach foam party! Here, our entertainment team and DJ, gather all our guests on the beach for a one-hour foam party. You will be able to dance to the sound of to the current music hits while you enjoy your incredible vacation in the Caribbean. In addition, the Beach foam party is open to all ages, so this could be a good time to create memories with your kids and family.!
In which hotels can I enjoy an authentic pool party in the Caribbean of Riviera Maya?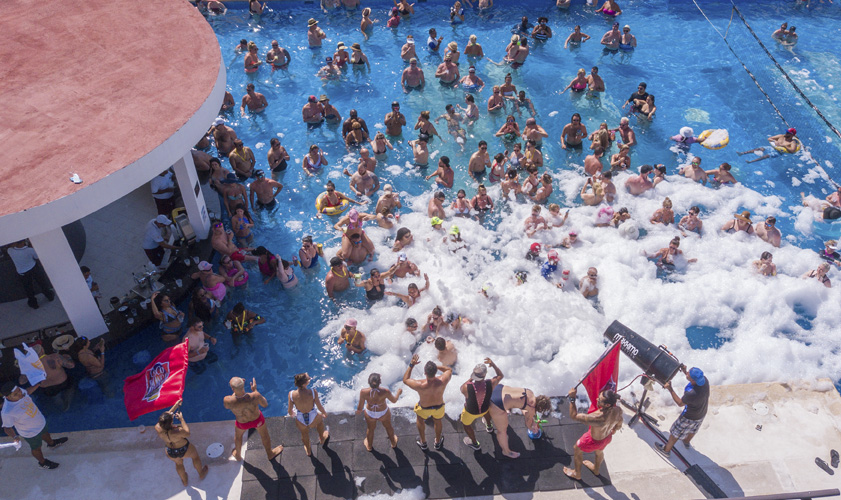 Hotel Grand Riviera Princess – Ideal hotel for families
Hotel Grand Sunset Princess – Hotel for a couple holidays
Family Club Princess – Family hotel to enjoy with your loved ones
Platinum Yucatán Princess – Exclusive and elegant hotel for adults only
These entertainment activities complete a wide range of services included in our resorts. You will feel in true paradise! Our hotels located on the beachfront, in addition to having magnificent pools where we make these unforgettable parties, also have themed restaurants, buffets, spa, night entertainment and Caribbean facilities surrounded by tropical gardens that leave no one indifferent.
We are sure that you are already starting to fill your suitcase with your swimsuit and sunscreen to sign up for the next pool party in the Caribbean!
Categories: Caribbean, Mexico, Riviera Maya
« Donation of toys in the "La Jungla" community by Princess Hotels Riviera Maya
The Dominican Republic Carnival by Princess Hotels Caribbean »