Donation of toys in the "La Jungla" community by Princess Hotels Riviera Maya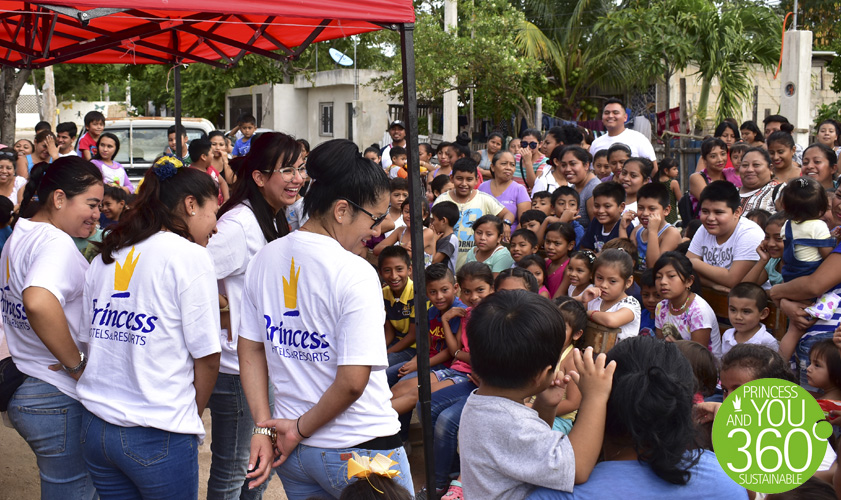 On the 5th of January,  the staff of Princess Hotels Riviera Maya went to the community of "La Jungla", a charity organization in Cancun, to a donation of toys. This initiative is part of the Tree of Dreams campaign, which in turn is an action of our Princess and You 360º Sustainable program. It started in December and it aimed to collect Christmas gifts from guests and staff. Due to the great reception of the project, we had the opportunity to deliver hundreds of toys to this community. The great enthusiasm and support of our guests and collaborators was incredible!
How was the donation of toys organized?
Upon our arrival, we already had a little over 150 children waiting for us full of enthusiasm and joy! Our staff members were surprised with the number of children who welcomed us and we immediately began taking the gifts out of our van. Some of our staff members were unloading the gifts while others sorted them into age appropriate sections.
Our Coordinator of Standards, Services and Sustainability, Mrs. Adriana Gordillo had a very interesting conversation with parents and children about ecology, ecological sustainability and protection of the oceans and fauna. The conversation was very motivating for both the community and our staff, as they all had important opinions on these issues and we both learned a lot from this conversation.
Such a wonderful time that is hard to describe it with words
With all the gifts unloaded and categorized correctly, our staff began the donation of toys to the children present. This moment was so special that we feel that makes it difficult to describe with words. The joy that flowed from the faces of the children was incredible and our staff received the best Christmas gift they could have asked for: Smiles, lots and lots of smiles!
Footballs, Princess tiara's and many dolls and action figures were distributed among the children of the community of "La Jungla". When we finished giving out the gifts, all the children were happy and having great fun playing with their Christmas toys!
The members of our staff ended the visit with a group photo that will be kept forever in our minds. This experience was of inestimable importance for all involved.
Why the donation of toys in Riviera Maya?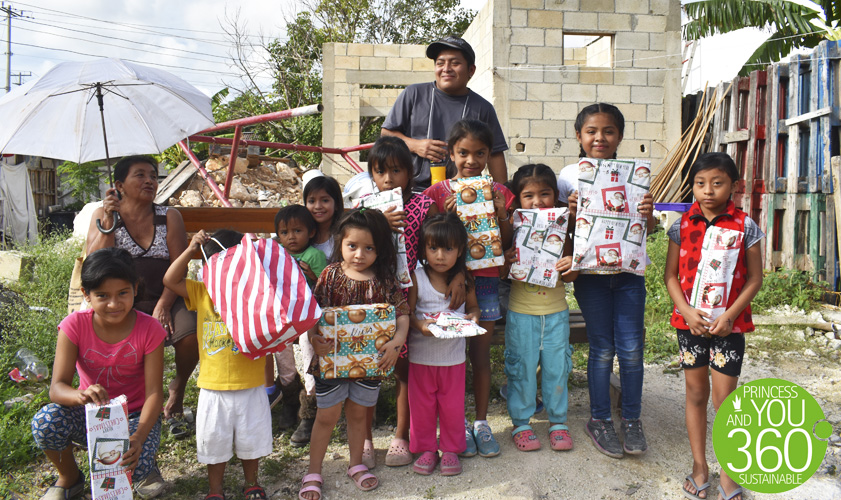 The Riviera Maya is a paradisiacal place that thousands of people choose as a holiday destination every year. It offers beaches and an incredible climate that brings joy and happiness to people throughout the year. However, we know that much remains to be done for our local community and we are committed in making a positive change and being a part of it. Discover the Solidarity actions of Princess Hotels Caribe of 2018!
For all of us who work at Princess Hotels, one of the best parts of our work is the opportunity to give back to the local community where our hotels are located. Our Princess and You program of Corporate Social Responsibility aims to achieve a positive impact in different areas:
Improvement of the Planet

Environment

Socially responsible

Service

We listen to improve
To achieve this goal, we organize and coordinate different actions throughout the year that promote sustainability and equality. Actions in which our staff has the opportunity to participate and help our local community.
The Princess and You 360º sustainable program will continue its actions throughout the year. You will have more opportunities to help our staff in their mission of continuing to bring joy and happiness to our local community. Stay tuned to our channels and we will inform you!
Categories: Caribbean, Riviera Maya
« Toys donation at Laguna de Nisibón by Princess Hotels Punta Cana
Disfruta de nuestras Pool Party en el Caribe con Princess Hotels Caribe »