This is how we celebrate the International's Women Day at Princess Hotels Caribe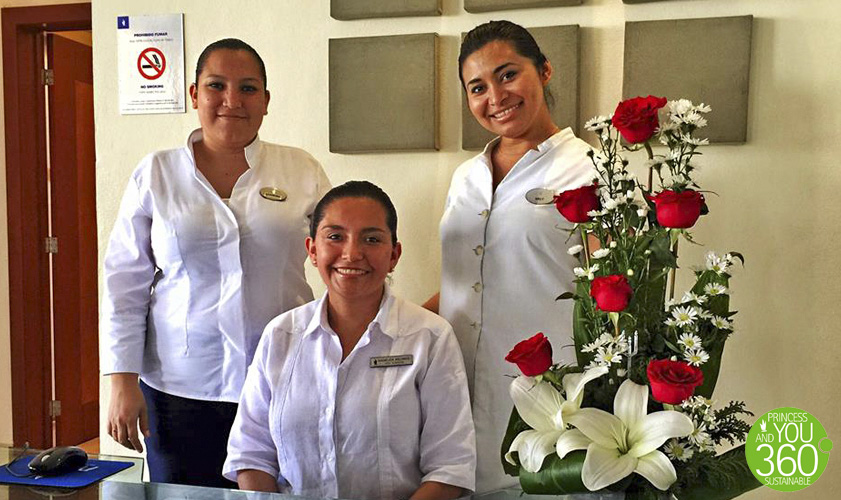 On March 8 we join the movement that celebrates the International Women's Day, to pay homage to all our staff members. Every day they come to their place of work with their best smiles focused on transforming your vacation to an unforgettable moment.
Waitresses, receptionists, housekeepers, customer service … wherever you look in Princess Caribe hotels, you will see an attentive worker. We are very proud to give equal opportunities to both men and women! Of course, in addition to our wonderful workers, we also want to pay tribute to the wonderful clients who visit us.
International Women's Day at the Princess Dominican Republic hotels
All our hotels come together under one topic: the International Women's Day. This celebration is part of our corporate social responsibility project Princess and You 360º Sustainable, which is also an important part of our social policies. The human resources departments organize talks and courses for our staff members. They help them by raising their awareness of the important role they play in a good social and family development of the Dominican Republic and our hotels.
We valued them for their excellent contribution to the tourist industry where their delicacy, hard work and warm attitude have an indispensable role in making our guests experience unforgettable.

Also, we are proud to say that these talks and courses happen throughout the year and not only on this special occasion. We want to help out with the personal and professional development of our workers, by offering them:
Training courses, both technical and personal, from language classes to basic school classes have been organized so that our staff can learn (or improve), their ability to write and read. We would also like to highlight that our collaborations with the office of the First Lady have resulted in free gynaecological and mammography exams offered all year-round.
They can take advantage and make any necessary check-up's, because prevention is the key. From all of us at Princess Dominican Republic, we join with love and pleasure such a an important and special date!
We like to start the day with an emotional walk that brings together a large number of our staff members. They walk joyfully through the beautiful tropical gardens that surround our hotel and the common areas. We finish the walk at the amazing white sandy beaches of our hotels!
It is very motivating when the guests who see us during the walk, applaud and congratulate our workers for the excellent service provided. We are especially excited to see the love they show to our housekeeping department. A group of strong, hardworking and courageous women! Many of them come from other areas of the country, away from their families, who are encouraged to work hard to raise their families.
The day continues with fun activities and night shows alluding to women. They impregnate the hotel in a special atmosphere that pays homage to all the wonderful women who accompany us on this day!
We like that our personal tribute to women can be felt and seen throughout the day! Our decoration and entertainment departments create allusive arts to raise awareness among our guests. And to congratulate all our relatives, friends, couples and women in general!
→ The kitchen team takes great care and dedication in making the buffet look special and extraordinary. All the details are taken into careful attention so that the night can be celebrated in a very special way.
→ From the entertainment department, we organize games and shows filled with joy and excitement during the day and night. The goal is to experience a fun and unique experience with our guests!
International Women's Day at Princess Hotels Riviera Maya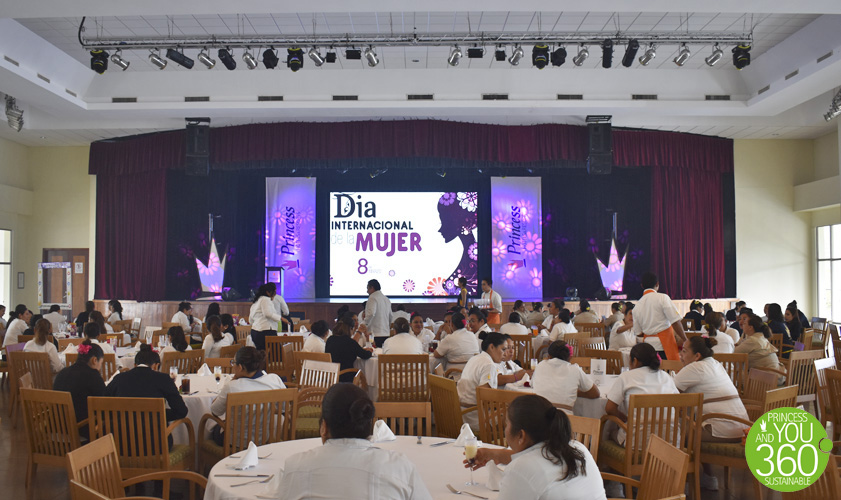 In Mexico, we know the vital importance of women for our society and for our planet. That's why we have a commitment to our community to protect women in all aspects of their lives. That's why in Princess Hotels Riviera Maya all our collaborators receive constant support in various facets of life as we love to celebrate special dates such as International Women's Day or Mother's Day.
These actions are part of our commitment to Princess and You 360º Sustainable. This will continue to involve staff, suppliers and guests, to generate real and concrete actions aimed at sustainable development. Guaranteeing a work environment with equal opportunities and non-discrimination, which provides practices for the professional development of all our employees.
On this International Women's Day, the Grand Sunset and Grand Riviera Princess hotels come together to offer an event entirely dedicated to the women of Princess Hotels Riviera Maya. The day starts with:
Our Executive Committee welcomes our staff members and offers them flowers and bracelets that symbolize the beauty and feminine sensibility.
Afterwards, our Director will share some words of thanks to all our staff members and to start the International Women's Day event.

The event will feature a delicious meal specially designed by our fantastic kitchen team.

In addition, the day will be complete with some surprises and a lively atmosphere by our Animation and Sports team.
* In the year 2017 about 420 collaborators participated and enjoyed a meal prepared especially for them.
This year Platinum Yucatan Princess has prepared a special meal to celebrate all the women who work at the hotel.
At the beginning of the event, we welcome all our collaborators and a video will be screened with participation from the staff, which will serve as an ante-room for the meal. Our executive chef, in coordination with his team of chefs, has prepared a variety of delicious foods, especially thought by them. This is the right time to promote coexistence among the attendees and enjoy the after dinner.
This event is prepared as a celebration for the woman and to emphasize the importance of her work in achieving the goals of Platinum Yucatan Princess.
Categories: Caribbean, Hotels, Punta Cana, Riviera Maya
« Princess Hotels received the Travelife Gold Certified in 6 hotels in the Caribbean
5 Best Restaurants in Punta Cana by Princess Hotels »