Estas fueron nuestras Acciones Solidarias del año 2018 en Princess Hotels Caribe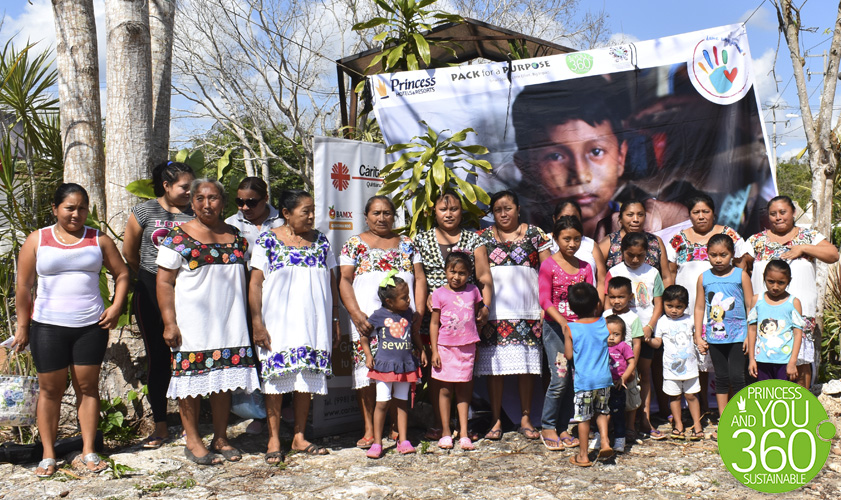 In Princess Hotels Caribe our (RSC) Corporate Social Responsibility is an active and voluntary contribution of the Princess hotels in Punta Cana and Riviera Maya to the social, economic and environmental improvement of the environment, one of the most important aspects of our work. Our solidarity actions are encompassed within the project called Princess and You 360º a virtuous circle formed by the environment, social responsibility and service. It offers the opportunity to give back to our local community, which allows us to help people while making their lives happier. To the Environment, in many different ways, as we will see below, 2018 has been a year rich in actions and our staff had the opportunity to contribute in several projects that brought joy and, also, a positive impact in our local communities.
Solidarity Actions in Riviera Maya, Mexico
We started the year with a very special visit to the local community of Francisco May. Our guests played the role of Santa Claus and distributed dozens of gifts to all the children of this town. The gifts were part of our annual Christmas Tree of Dreams project: we invited our guests and staff to donate toys for children without privileges. At Princess Hotels we believe that all children should have toys for Christmas. We want to make this dream come true for hundreds of children who do not have that possibility in the Riviera Maya!
In the month of March, we reinforced our commitment to the environment by celebrating World Water Day. We cleaned the beaches and various activities in the Children's Club to educate the following generations about the importance of preserving our environment.
In April, several donations were made to different institutions:
Dialysis equipment for the National System for the Integral Development of the Family (DIF)
Articles for the local Church
Great donation of toys and clothes to the community of St.Martiniano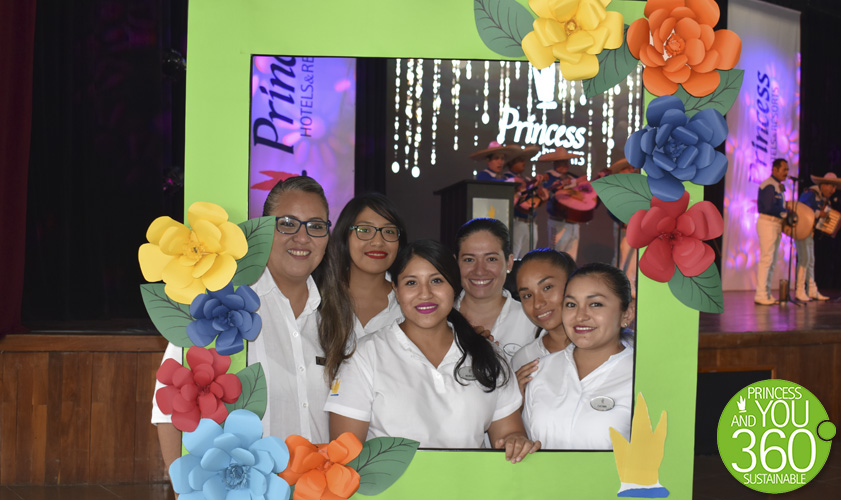 During the month of May, we had a great celebration for the Mother's Day for our staff. We ended the month by donating a ton of plastic bottle caps at the local children's hospital to help with treatments and cancer diagnosis.
During the month of June and July, we collected school supplies that were donated by hotel guests and staff to children living in impoverished communities. These donations were delivered in August to a school located in El Pedregal, Riviera Maya so that all children could start the new school year with everything they need. We would make another donation of plastic bottle caps during the month of July.
In September, and due to the seaweed that appeared along the coast of this region, we decided to organize the #SargazoChallenge where we recollected seaweed from the shore.
It was such a huge success that we launched a challenge to several hotels in this region to join our challenge.
At the beginning of November, we participated in the celebration of one of the most important Mexican festivities, the Day of the Dead. We organized a competition for all our staff members, where they were asked to create their own Day of the Dead altars that brought colour and tradition to this holiday.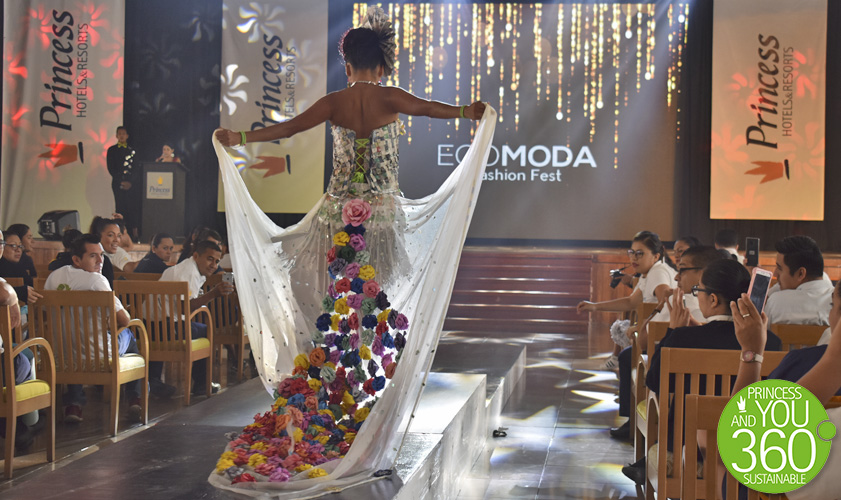 Our social actions did not stop here and we ended the month before Christmas with an Eco-Fashion Runway show. Once again, we challenged our staff members to form teams that would be responsible for creating a fashion design made entirely with recycled elements. This event was an incredible success with our staff demonstrating immense creativity and ecological awareness which we admired. Due to the incredible response of our staff, we decided to make this an annual event.
Before the end of the year, we have also created our Christmas Tree of Drams. In this initiative, we invited both guests and staff members to bring gifts to the poor children of our local communities. From December 1rst until January 5th, you can participate in this activity and help us bring more joy to the many unprivileged children in our region. 
Solidarity Actions in Punta Cana, Dominican Republic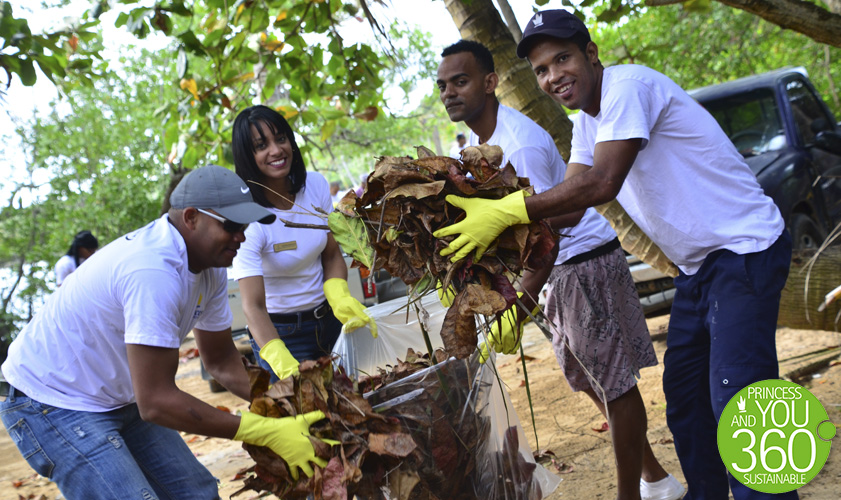 We are enormously grateful to the Dominican Republic, a Caribbean land famous for the smile of its people, who have welcomed us with love. That is why every year we want to reinforce our social commitment by promoting new measures that help the social development of the communities that surround us.
Princess Hotels Punta Cana has developed actions throughout the year, which we have shared with our clients and collaborators, seeking to sow a culture of social responsibility:
On significant days of the year: how are the global movements we join to reinforce the message.

In actions of continued effect throughout the year to create social and ecological awareness.
Our actions seek to approach, raise awareness and help both the local public – Dominicans who work with us or who are our neighbours – as well as the foreign public – our dear clients who come from different parts of the world and who can help improve this precious country while they spend their vacations with us.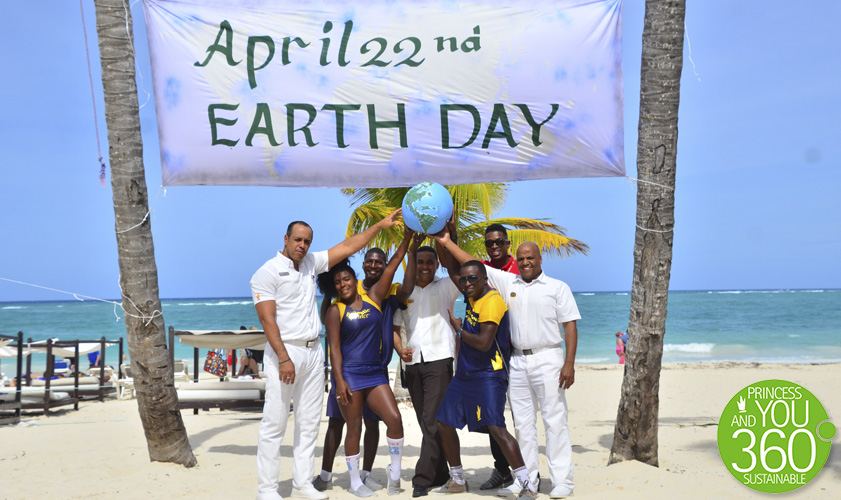 We have carried out actions focused on Mother Nature such as joining universally known movements like the Earth Day or the Water Day to raise awareness of the enormous value of this resource. Leaving our hotel we join the movements of mangrove cleanings, on the International Day of Wetlands.
In October we put on the pink ribbon, to support the prevention and cure of Breast Cancer. We conducted awareness campaigns in our gardens with our staff members and free mammography for our employees. Because, among us, there are great fighters and we want to be with them in these difficult moments!
We have developed social actions in our community in collaboration with Pack for a Purpose. Children are Our Future, therefore, Princess Hotels of the Dominican Republic, made two precious and important campaigns in 2018 in support of children:
Tree of Illusion

: At the beginning of January we brought many toys to the community of Matamosquitos. It was a joint collection between employees, the company and of course our beloved clients who collaborate with the project.

Give me a hand

: In

September

we came back to Matamosquitos. This time with school supplies, collected between collaborators, the company, and you who bring them to us in their suitcases. We bring learning material, educational games, books, notebooks … Click here to see more details!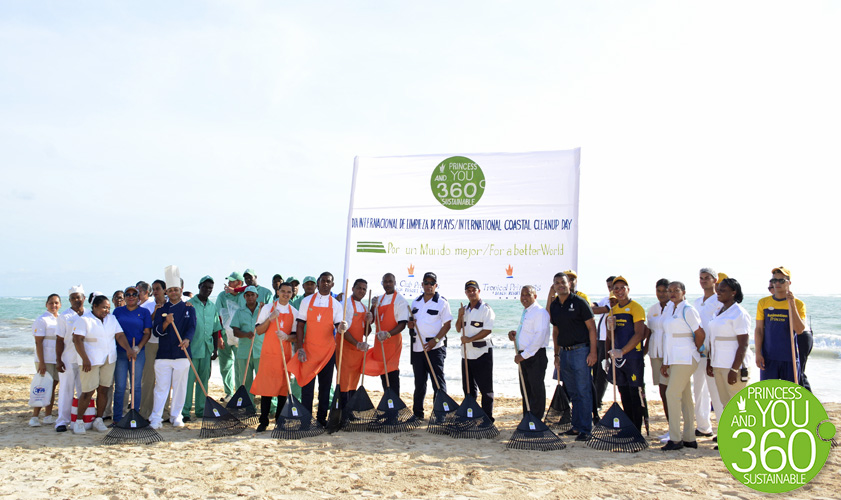 Those who have visited us realize that we have a calendar with many Solidarity Actions. Other Actions present throughout the year were:
Cleaning awareness campaigns of our beaches: collaborators from different departments and clients come together to collect garbage in our arena. This seeks to visualize the problem that the garbage in the ocean supposes. An action that belongs to us all, no matter where we are, since the ocean drags garbage from all over the world.
Street cleaning awareness campaigns: installing garbage bins in our streets and parks, sponsored by our 360 projects. As well as garbage collection to raise awareness among the neighbours around us.
Campaigns of human formation in values ​​and ethics: Princess Hotels is convinced of the importance of training. For this reason, he regularly invites prestigious speakers to give motivational and formative talks in different areas, seeking to improve our capacity as professionals and as people. Also technical training campaigns for the development of jobs.
Environmental awareness campaigns in our hotels: both clients and collaborators, you can find different examples of our commitment to the environment. We have information panels that explain our 360 projects:

In the rooms, guests are reminded of the correct use of an important resource such as water.

In our bars and restaurants the use of plastics in glasses, drinking straws, cutlery and disposable plates is being reduced.

The policies of" reduce, reuse, recycle" in different areas of the hotel operation are always an important contribution to the environment.

Princess Punta Cana Hotels
Of course, we are already preparing for 2019 and we want our dear clients to support us and help us to get further and further each year! We will continue to collect toys in collaboration with Pack for a Purpose, for all those who want to bring school supplies and toys in their suitcases.
We will continue our work in preparing fun activities for adults and children, to continue to raise awareness of our actions in favour of the environment!
Categories: Caribbean, Punta Cana, Riviera Maya
« First Gastronomic Championship of the Riviera Maya in Platinum Yucatan Princess
(Español) Princess Hotels agasaja a las Agencias de Viajes MayoristasPrincess Hotels honored the Wholesalers Travel Agencies »