Majorero cheese: the jewel of Fuerteventura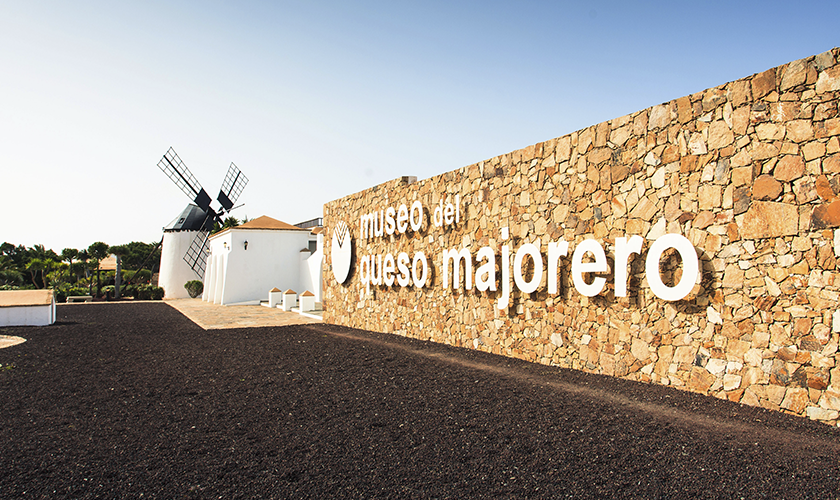 Besides the spectacular beaches and immense beauty of Fuenteventura, you will also be able to enjoy its diverse and rich cuisine.
Speaking of the cuisine of this island is speaking of the majorero cheese, named by many the "jewel of Fuerteventura". Made from the milk of the majorera, a native goat of the island, it was the first Canary Island cheese to obtain the protected designation of origin in 1999, thanks to its particular and exceptional qualities.
Among its qualities we can cite:
-Its traditional elaboration with majorera milk, either with raw or pasteurized
-Its maturation time, eight months minimum
-Its strong taste
-And its texture, which will depend on the type of elaboration and time of maturation
The cheese can be found in cured, semi-cured or soft versions. For the cured and semi-cured versions, it is not unusual to find them with oil, pepper or gofio, the renowned thick flour made from ground maize or roasted wheat, typical of the island.
It is produced in the municipalities of Antigua, Betancuria, La Oliva, Pájara, Puerto del Rosario and Tuineje and has received many awards, both national and international. An example of these is the "World Cheese Awards", given in 2016, recognizing the marjorero cheese as one of the best 16 cheese in the world, or the award obtained in the VIII Cheese Gourmet Contest of 2017, where he obtained the main prize as "best cheese of Spain".
The museum of the majorero cheese
This cheese has its own museum, located at Molino de Antigua, a must stop for cheese-loving people. Organized in different areas, you will be able to see and discover:
The history of

Fue

r

teventura

, emphasizing its climate, fauna and flora

The characteristics of the majorera goat

The secrets of the majorero cheese: its elaboration, qualities, commercialization…

And the sampling room and store
An opportunity to discover and sample the jewel of the island: the majorero cheese.
Are you ready to enjoy Fuerteventura and its cuisine?
Photos: Mumumío and The museum of the majorero cheese.
Categories: Fuerteventura, Canary Islands
« Best beaches in La Palma
Donate school supplies in El Pedregal by Princess Hotels in Riviera Maya »