Food tourism in the Canary Islands: the 5 best restaurants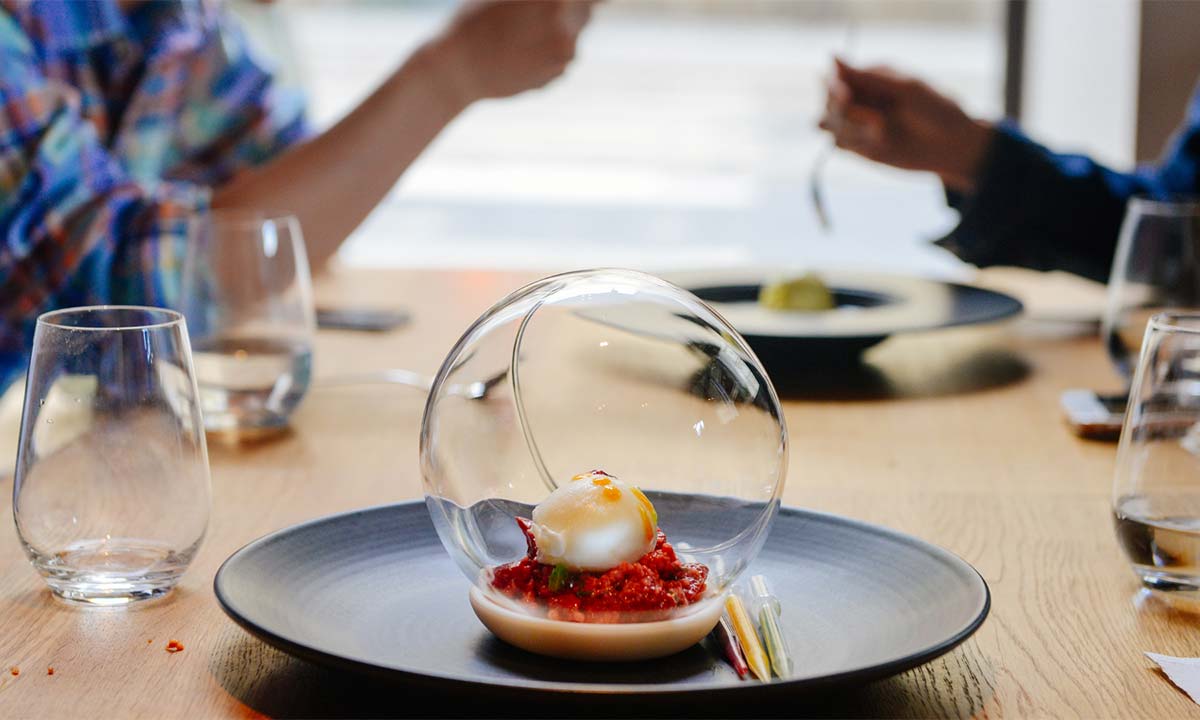 There are as many ways of travelling around the world as there are hot dinners. A lot! But without a doubt, increasing numbers of people are getting enthusiastic about discovering countries, cities and cultures – through food.
So-called food tourism or gastro-tourism is on the up. More and more people are getting excited about food: reality TV chefs have become celebrities, creating a huge impact on social media, and opening up a whole world of unique and unequalled sensory experiences.
When you think about all the memories you treasure, you've probably kept them going with photos in your gallery or a lovely souvenir. But with food tourism you'll keep your memories in the form of flavours, smells, and unique but ephemeral experiences.
The Canary Islands aren't just about spectacular landscapes, idyllic enclaves, and year-round warm weather. If you're a fan of cutting-edge cuisine, they're also home to unmissable restaurants and menus to sample from the world's best restaurants.
Food tourism for sophisticated palates
Tenerife and Gran Canaria, islands home to the archipelago's two capital cities and stunning landscapes, have hundreds of bars and restaurants where you can enjoy the best Canarian cuisine. Year after year, millions of visitors go there for food tourism when travelling to the archipelago. This is why the Canary Islands have set about upping their restaurant game, with many now featuring in the world's most coveted restaurant guides such as Michelin and Repsol.
Next we'll take a close-up look at 5 restaurants – that way you'll know which ones to visit when you come over and try out an irresistible food tourism experience for yourself.
El Santo, Gran Canaria
Located in the picturesque and historic Triana neighbourhood in Las Palmas de Gran Canaria, El Santo is hiding an incredible interior décor behind its doors. Stunning tropical wallpaper, exposed stone dating back to the original building, and huge portraits in striking colours. Chef Alejandro Laureiro is at the helm in the kitchen, where local produce rules: delicious Lanzarote sweet potato salad, grouper and king prawns, 'ropavieja' stuffed cannelloni with crispy San Mateo cheese, or a fun trompe l'oeil dish concealing a rich lemon mousse, 'gofio' lime core and spiced bread.
Qué leche, Gran Canaria
Without even leaving the picturesque Triana neighbourhood, let's head for Qué Leche restaurant, run by Jennise Ferrari and Mario Ureña Rodriguez, a Venezuelan/Canarian couple who blend their cultures to perfection on the stove. This is contemporary food tourism at its finest, with attention to every little detail and a big serving of personality. Most of the dishes are perfect for sharing. 'Saharan squid' with grilled onion, ginger and squid ink jus and mature sheep's cheese; or confit artichokes with 65°C eggs, cod tripe and flour crisps.
Pícaro, Gran Canaria
In the centre of Las Palmas, let's delve into one the busiest and most commercial streets in the Gran Canaria capital. Right at number 1 Avenida José Mesa y López you'll find Pícaro, a restaurant with a relaxed and cheerful atmosphere that'll pull you in. The chef's creations are tasty and original dishes for sharing and enjoying together. Try the house specialities such as 'bravas Somavilla' potatoes, deep-fried soft boiled eggs with parmentier and foie, or if you fancy a dessert, you could try the "tiradito de manzana ácida" with sour apples.
Sagrario, Tenerife
The Michelin Guide – every food tourism fan's essential route map – includes this restaurant in its list of the best places to eat in the Canary Islands.
The Sagrario in Santa Cruz de Tenerife is a fine example of how tradition and local cuisine stands the test of time and never goes out of fashion. The restaurant is owned by chef Sagrario Pablos, who's been taking care of his customers over the years with his meticulous, honest and locally sourced cuisine.
La posada del pez, Tenerife
Very near Santa Cruz de Tenerife in the town of San Andrés you'll find the restaurant La Posada del Pez. This charming Canary Island house, in the typical blue style with wooden balconies overlooking the sea, is calling out for guests to enjoy the wonderful views. The rustic décor will take you back in time, and this is the place to savour traditional cuisine where fish plays the starring role. As well as fish and seafood delicacies, La Posada del Pez serves delicious rice dishes and gives a nod to Japanese gastronomy.
Categories: Canaries, Tips, Be inspired
« 6 things you need to know about Majorero cheese
The best family hotel in Fuerteventura for an exclusive holiday »