Interview with Omar Arreola, Assistant Concierge at Platinum Yucatan Princess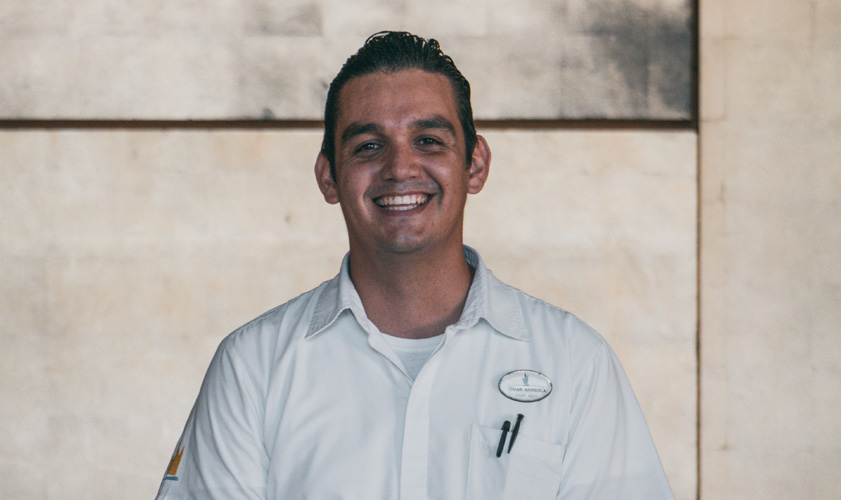 One of the people that you will talk with surely if you need assistance at the hotel, will be Omar Arreola, he is an assistant to the concierge area. He is Mexican but grew up in the United States, and this offers excellent English language management, due to this and his peculiar way of treating guests, he has become a value in the service for the hotel.
Hello Omar, Can you make a short description about yourself?
I am a kind, respectful and friendly person who always likes to help others.
Can you explain where are you from and how did you get to Princess?
I'm from Chihuahua I arrived at the Platinum Yucatan Princess for the first time in 2015 because I was looking for work in a place where I would accept myself even if I had no experience in hospitality. The second time I returned to Princess in 2017 because they offered me the opportunity to enter a better position than last time, as Assistant Concierge.
What is your job at the Platinum Yucatan Princess Hotel?
I am Assistant Concierge.
What do you value most about your work?
The opportunity and support that the company gives to grow professionally.
From your day to day, how do you practice or contribute to the hotels social and environmental responsibility plan?
Disposing of all waste according to the type of waste, in the corresponding containers.
What is your favorite place in Riviera Maya? And in the hotel?
My favorite place in the Riviera Maya is the Xel-Ha park, because it has an enviable natural environment and with the all-inclusive concept.
My favorite place in the hotel is the Yucatan Buffet, for the variety of food there is.
What would be your recommendation for someone to visit us? That which cannot be lost!
I highly recommend the foam party every Saturday!
Thank you for share your time with us Omar!
Categories: Caribbean, Mexico, Riviera Maya
« Discover Scape Park Punta Cana with Princess Hotels
Interview with Winni de los Santos, Public Relations assistant at Caribe Club and Tropical Princess »