Interview with Winni de los Santos, Public Relations assistant at Caribe Club and Tropical Princess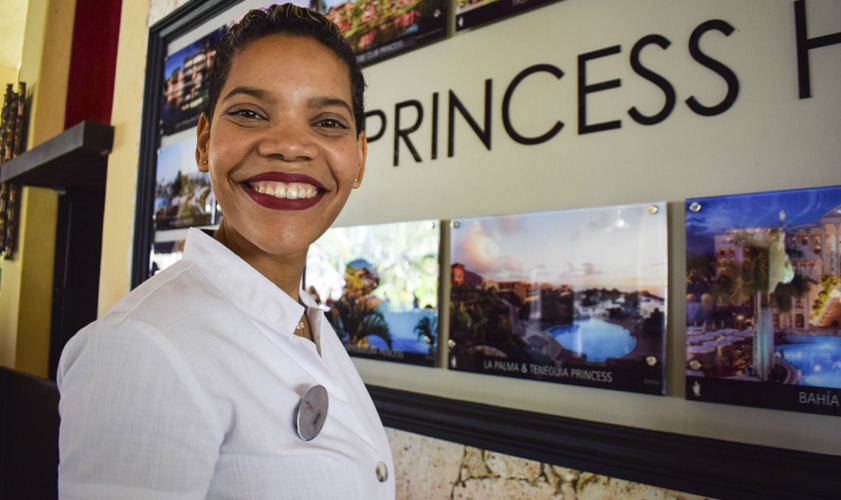 This Dominican native of San Pedro de Macorís, is probably one of the best known smiles of our hotels. Winni de los Santos is the current public relations assistant of the Caribe Club and Trópical Princess hotels, involved in heart and soul in all the activities that are carried out during the operation of the hotel, it is not strange to see how they come to her both customers like their peers when they need help.
Winni, tell us a little about yourself:
I am a very energetic, creative and dynamic person
And how did you get to Princess?
I arrived at the hotel through an announcement on the Web as Social Media Moderator, a year later I was promoted to the position of Public Relations Assistant.
What is your job at the hotel?
Attend, listen, communicate and above all encourage good relations between the hotel and guests; In other words, my position is to make sure the guest has a good holiday.
What do you value most about your work?
The complacency of a guest for the service provided.
From your day to day, how do you practice or contribute to the hotels social and environmental responsibility plan?
From my day to day I contribute printing only what is necessary, reducing the use of plastic utensils and minimizing energy supplies.
What is your favorite place in Punta Cana / Bávaro?
El Cortesito, for its bohemian atmosphere. I consider it the Bavaro Center.
What is your favorite hotel site?
Pool No. 1, for its surroundings and the activities that are carried out.
What would be your recommendation for someone to visit us?
Enjoy the services and facilities of the hotel, as well as its gastronomy. It is a destination that offers everything, just as you can choose between extreme, water and cultural excursions.
Would you like to add something else?
That you can contact me during your visit to our hotels; It will be a pleasure to offer my assistance.
Categories: Caribbean, Be inspired, Punta Cana
« Interview with Omar Arreola, Assistant Concierge at Platinum Yucatan Princess
New opening: Grand Bavaro Princess Hotel in Punta Cana »