Diving in the Caribbean, immerse yourself into the best destinations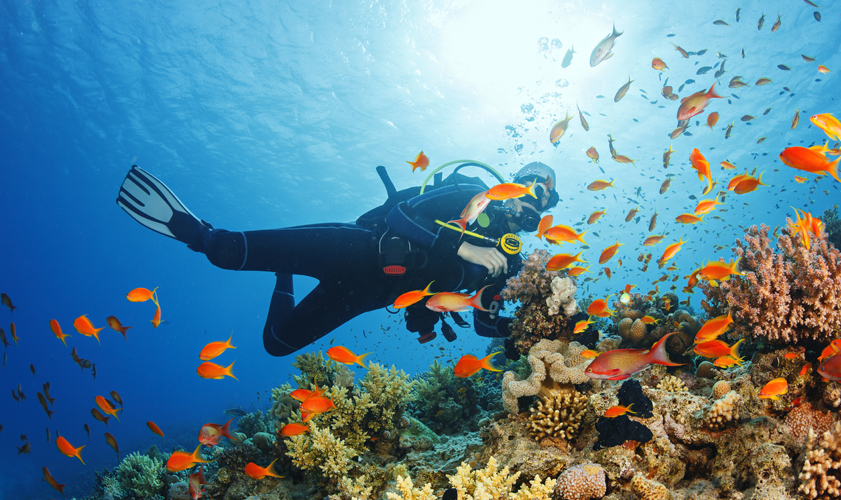 Looking for information on Diving in the Caribbean? Whether for its warm waters throughout the year, for its wonderful coral reefs, or for the fun colourful fish … the reality is that more and more diving enthusiasts are encouraged to come to the Caribbean to enjoy this sport!
Diving in Punta Cana
From our hotels in Punta Cana you can make different types of dives depending on your experience (or the time you have):
For beginners, how do I start?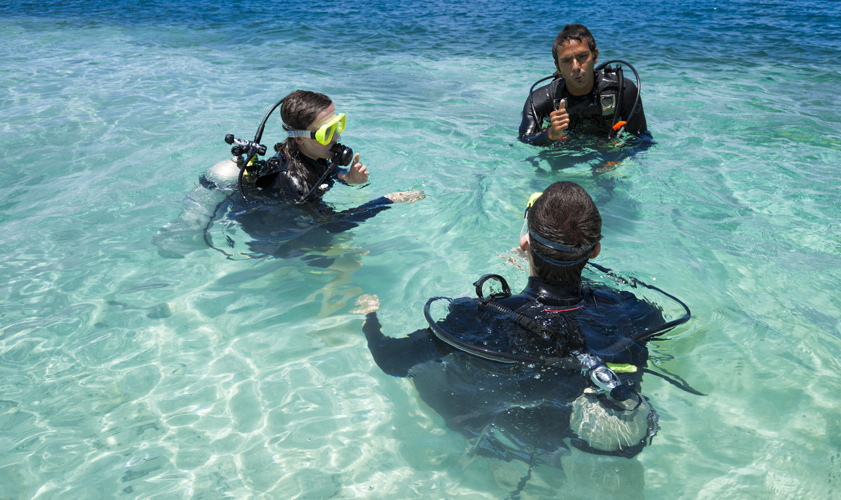 For those who have never dived and want to start in this exciting underwater world, we recommend you go to the introduction class in the pool that we have included in the hotel. In this way, you can familiarize yourself with the equipment and you will always be under the watchful eye of an instructor. It will help you and resolve any questions you have!
If you dare and decide to explore the Caribbean waters by diving with us, you should know that it is necessary to get a degree. In our Princess hotels in the Dominican Republic, we have the water sports centre to achieve any type of PADI certification. It is recognized worldwide and that you can already have with you for any other trip you wish to make.
→ The corresponding practical and theoretical classes and the final exam are included during your diving course in the Caribbean. Do not panic, with our instructors we are sure you will not have any problems.
For experienced, what diving options are there?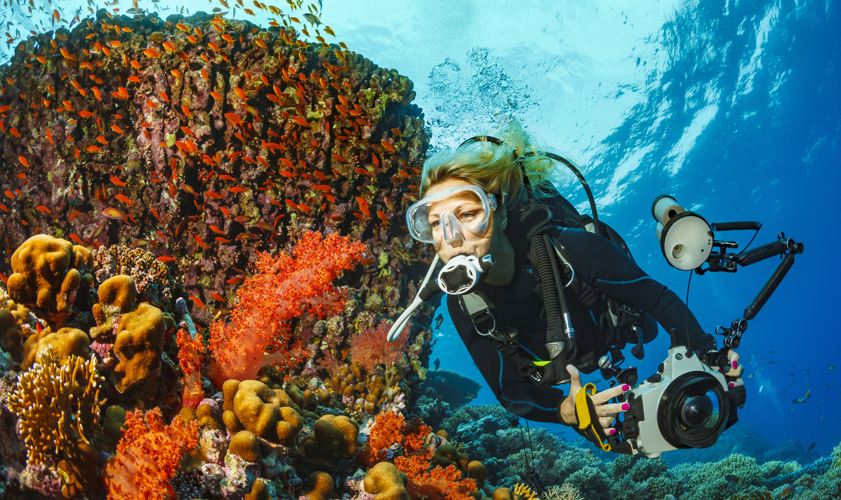 If you already have your PADI title or any other official diving certification, you can approach the Seapro Divers water activities centres located on our beaches. They will advise you personally about the excursion that best suits your time and your experience. Roughly, we could sum it up in:
Snorkelling day trips in Punta Cana
The most common are Isla Saona and Isla Catalina. The wonderful thing about these excursions made with our water sports centre is that they are perfectly compatible with people who do not dive and prefer to do some snorkelling and enjoy the excursion itself.
The tour starts early in the morning when a bus comes to pick you up at the door of the hotel to move you to the boarding point.
During the trip, the guides give the guidelines of the excursion and also explain how they will organize those who dive and those who do not.
The excursions to these islands take place with the same normality as those that do not include diving except for the detail that will make technical stops so that those who dive can do their dive while those who do not dive can stay on the boat enjoying or snorkelling.
Excursions of this type always end in a wonderful Caribbean beach, with a tropical and Dominican lunch. Follow a well-deserved nap under the sun or under the coconut trees (to suit the client) and then back to the hotel. Photo sessions are also optional in this type of excursions. There is nothing like having your session underwater, with your friends, between bubbles and goldfish …
Half-day diving excursions in Punta Cana
In the area, there are more than 15 different dive sites in this area, including points such as wrecks, reef, wall … half day excursions of one or two tanks can be made depending on the client's request. And being points near the hotel, if you leave in the morning, at noon you are back to eat at our facilities. Obviously depending on the experience of the diver, our experts will recommend you, which are the ones with the indicated depths.
Do you want to complete your diving experience with other water sports?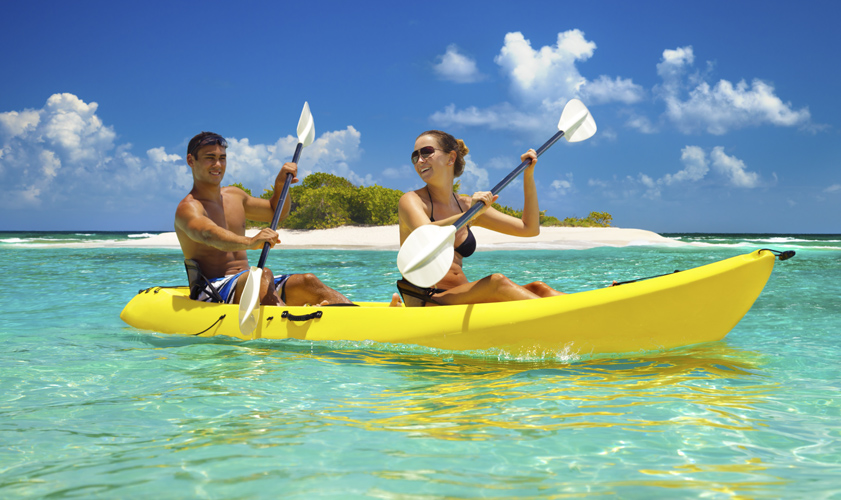 The Caribbean is the perfect place to practice other water sports:
Snorkelling: To see the world underwater, at a lower depth, with your fins, the mask and the tube. Our water sports centre can take you to areas full of fish to enjoy floating on the sea watching the underwater world.
Kayak: In our Princess hotels in the Dominican Republic, you can enjoy the fun activity of Kayaking, with your canoe, alone or in pairs, paddling together enjoying the beauty of the Bavarian coast.
Sail: Included in our hotels you also have the possibility to sail with a small catamaran. In addition, you can ask to be taught, if you have no previous experience and you want to sail the sea with your teacher.
Fishing: There is also the possibility to book a fun fishing trip. Also depending on the season, you can find large fish such as dorado or swordfish. Who knows, you can even meet a mermaid!
In short, there is a sea of reasons to become fond of water sports and underwater adventures. If you dare, at Princess Hotels we help you start living these new experiences!
Diving in Riviera Maya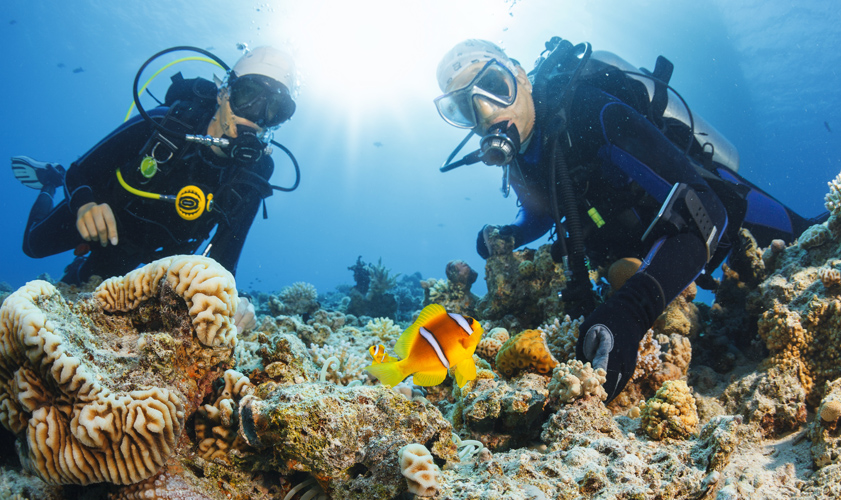 Whether you're an expert in snorkelling, diving or just looking for your first diving experience, you couldn't have chosen a better place than the Caribbean! Warm and translucent waters, many diving options and expert divers that will make your vacation incredibly fun and fun.
More than 100 kilometres of crystalline and turquoise waters that make up the coast of the Riviera Maya await you. It is part of the Mesoamerican Reef System, one of the largest barrier reef systems in the world. Home to incredible sea creatures, coral reefs and many other underwater surprises that you will love to discover.
Dive options are not limited to large open ocean waters. In the Riviera Maya, you will also have the opportunity to explore the ancient sacred waters of the Mexican cenotes. These limestone sinks compensate for the exotic and extraordinary water microcosms of everything that is beautiful and special about Mexico. Swim through caves, underwater rivers and amazing natural structures that have existed for thousands of years.
If you are a diver for the first time or have the experience, you must have a PADI license to dive in open water or in the cenotes. Fortunately, if you don't have a license, Princess Hotels Riviera Maya offers an intensive course that will teach you everything you need to know before you start your diving experience in the Caribbean. This course includes a trial dive in our own pools. You can get used to the team and learn from our expert divers the best techniques to make your experience even more satisfying.
Once you have your PADI license, you will have to decide whether to dive in a cenote, the ocean or even a lagoon. Of course, if you have enough time you can try all the options and even repeat your favourite:
What are the best places to dive in the Riviera Maya?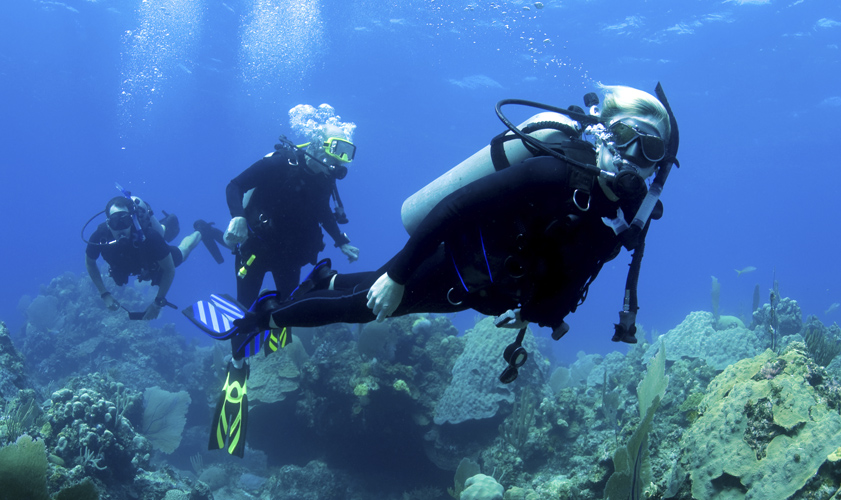 In the ocean
Of the many options you can choose when diving in the Caribbean, there are two places that will make your diving dreams come true: El Cielo in Cozumel and Isla Mujeres. Both locations are a dream come true for any dive expert or amateur!
In "Heaven" you will feel as if you are in heaven (which is literally the translation of this amazing place). Take a ferry trip from the pier of Playa del Carmen to Cozumel and as soon as you arrive on this island you will see many diving tours that will take you to Heaven. This sandbar became popular for diving and diving a couple of years ago, due to its crystal clear waters.
It is located south of Cozumel Island and has two main areas:
The deepest area of a maximum of 20 feet where you can find many animals, including various types of starfish.
The shallowest area where you can be in waters up to the waist and enjoy a good time with your friends and family.
In the cenotes
Diving in the cenotes of the Riviera Maya can be an incredible experience and one of the stories that you will surely tell all your friends when you return home. You don't even have to be an experienced diver to explore these amazing places that exist throughout the Riviera Maya. Of the literally thousands of cenotes that you will find in the region, we would like to highlight two locations:
Chikin-Ha: In Chikin-Ha you can visit up to three different cenotes, including the Ceremonial Cenote that includes an ancient altar. The waters in this cenote are not particularly deep, but you can experience the joy of snorkelling and diving while learning everything you need to know about these exotic ecosystems.
Casa Cenote: At Casa Cenote (Casa del Cenote) you will have access to an open water cenote. Unlike other cenotes, Casa Cenote is more a water excursion where a guide swims with you and shows you all the secrets of this incredible location. You can enjoy different depths, observe the natural wildlife and swim under a mangrove. If you are lucky, you can greet the crocodile that resides there.
Special Location: Yal-Ku Lagoon
Located very close to the town of Akumal, there is a small entrance from the ocean called Laguna Yal-Ku. This natural area is open to the public and you can:
In one of the many tour offers you will find at Princess hotels.
Arrive on your own to the lagoon.
This location offers a great snorkelling experience in a lagoon that has direct access to the Ocean.
→ It is also a good place to hang out in the sun and enjoy the warm Caribbean climate.
For experienced divers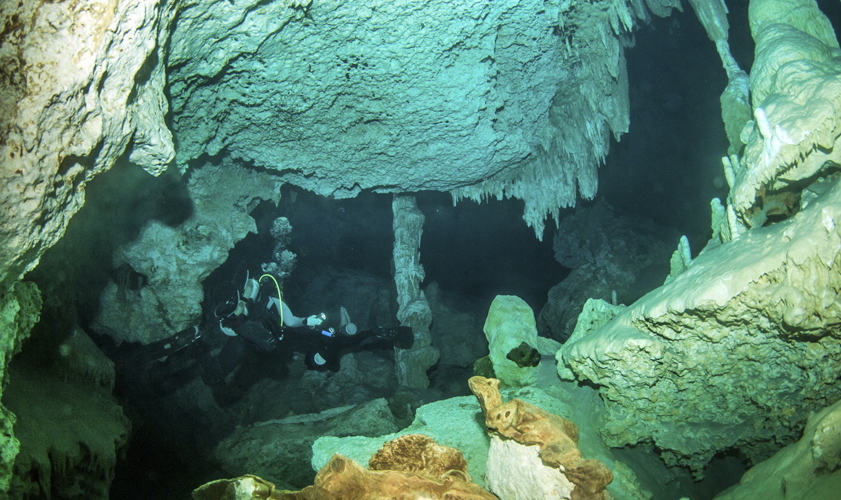 Cenote Dos Ojos
We understand that intermediate and experienced divers are always looking for the next exciting dive and the Riviera Maya is the best place for exciting underwater adventures. One of the most popular places among experienced divers arriving in Playa del Carmen is the Cenote Dos Ojos. This cenote is made of two sinks very close to each other, which when viewed from above, you see (you guessed it) … Two beautiful blue eyes!
This intricate system of underground and underwater flooded caves is considered a unique cenote. It is connected to a much larger underwater river system that extends over 35 miles with an average depth of 78 feet. They make it the third longest underground river in the world! The average depth of the Eyes is 42 feet and you can find remains of prehistoric animals and cave paintings.
Sunken Ship of Mama Viña
If you are looking for an exotic and unusual dive site, we recommend Mama Vina's Sunken Ship. This old shrimp boat intentionally sank in 1995 and is one of the most impressive dive sites in the entire Riviera Maya. Due to its strong currents and depth of 60-90 feet, it is only recommended for very experienced divers.
Sabalos Reef
And finally, one of the most difficult dive sites in the Riviera Maya is the Sabalos reef. This reef has a strong current and a depth of 50 feet. A great challenge for experienced divers. We are sure you will have an amazing experience! You will be able to observe several species of fish, such as green brunettes, brunettes, crabs and marine spiders. Also, if you are a marine photography enthusiast, don't forget to bring your camera so you can add amazing photos of colourful corals, sponges and other animals to your collection.
Other water sports in the Riviera Maya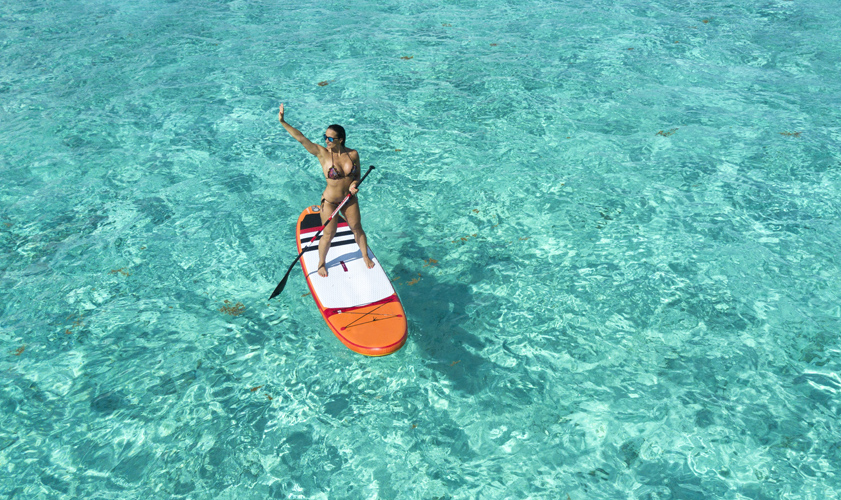 Paddle Board: In recent years, the paddleboard has become increasingly popular in the Riviera Maya. You can find many places to paddle, including the water sports centre on the beach of Princess Hotels Mexico. It is an excellent way to exercise while enjoying the crystal clear turquoise waters of this region.
Kite Surf: Between November and March, you will find the right wind conditions to practice Kite Surf: This is another popular water sport in the Riviera Maya. During this period you will find many people enjoying their experience of Kite Surfing in the Caribbean.
In addition, our water sports centre offers many other activities such as parasailing; jet skis, etc. They will make your vacation even more fun!
In short, there is a sea of reasons to become fond of water sports and underwater adventures. If you dare, at Princess Hotels we help you start living these new experiences
Categories: Caribbean, Be inspired, Mexico, Punta Cana, Riviera Maya
Comments
« Entertainment in Mexico with Princess Hotels
Interview with Joel Victoria, Public Relations Manager at Caribe Club and Tropical Princess »