Discover the Chill Out Café del Mar Restaurant at the Bávaro Princess Hotel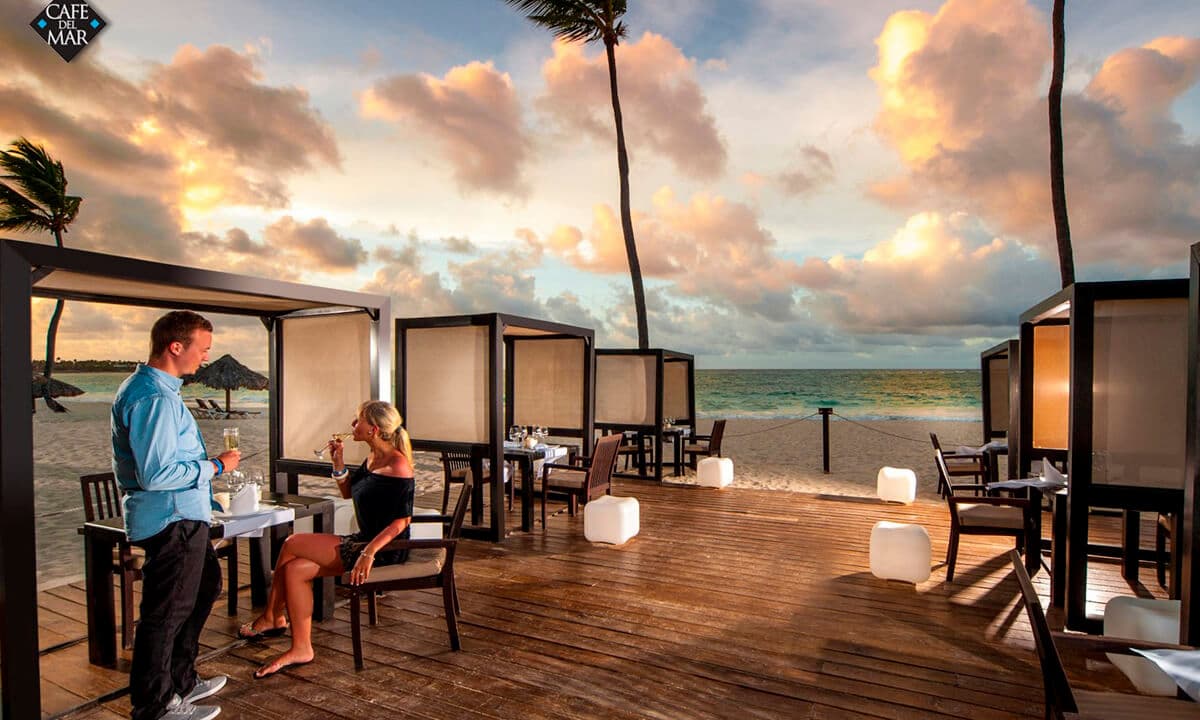 Can you imagine a beautiful romantic evening by the sea, under the hazy light of the stars, savouring the most delicious gourmet meal and toasting with your favorite wine? It's no longer just a dream. At the Bávaro Princess Hotel, we present the Chill Out Café del Mar, a fantastic chill out restaurant facing the sea that is ready to make your dreams come true for both lunch and dinner. The perfect combination of a complex melody of flavors, scenery that takes your breath away, the most relaxed atmosphere, and delicious and sophisticated drinks.
The Chill Out Café del Mar is a distinctive restaurant on Bávaro Beach, one of the most amazing beaches in the whole world. An expert team of genuine professionals work day and night to ensure superior quality in all of our dishes. The exquisite cuisine is available for both lunch and dinner. There's no excuse not to come and enjoy the Chill Out Café Del Mar Restaurant during your next vacation at the Bávaro Princess Hotel.
Far from the stress of everyday life and taking full advantage of the privileged climate in Punta Cana, you can also enjoy the comfort of the Bali Beds at the Chill Out Café del Mar Restaurant. If you book a Bali Bed, you also get a credit to spend on meals and drinks to make your experience even more unforgettable.
Take a pleasant nap bathed by sunlight after enjoying the best dishes in Bávaro. Or if you prefer, enjoy a refreshing tropical cocktail with spectacular views of the Caribbean Sea.
What kind of food is served at the Chill Out Café del Mar Restaurant?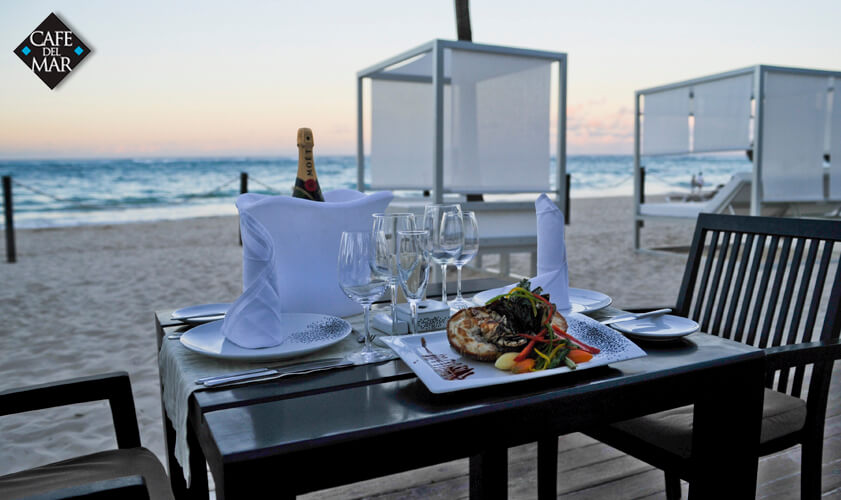 Café del Mar offers a gourmet menu of international cuisine with a focus on meat, fish and seafood dishes which our expert Chefs prepare with the utmost care and dedication using the highest quality fresh local products. Our experienced waiters will help you choose the best dish for you. We always like to highlight the magnificent lobster dishes, for which our chef uses all his imagination and creativity to prepare one of the most desired products from the Caribbean Sea. The lobster is the most popular dish on the menu together with that king of cuts, the Angus Beef Rib Eye Steak cooked exactly as you like it.
Our meals are also adapted to the needs of guests who require special diets (vegetarian gluten-free or diabetic) who also want to discover the Chill Out Café del Mar Restaurant experience. And one final tip, make sure you save some space for our homemade desserts, combining superb presentation and amazing flavors to create one of the sweetest moments of any dinner. Discover smooth and aromatic combinations such as the creamy chocolate flavors and refreshing tropical passion fruit.
What does the Chill Out Café del Mar Restaurant offer?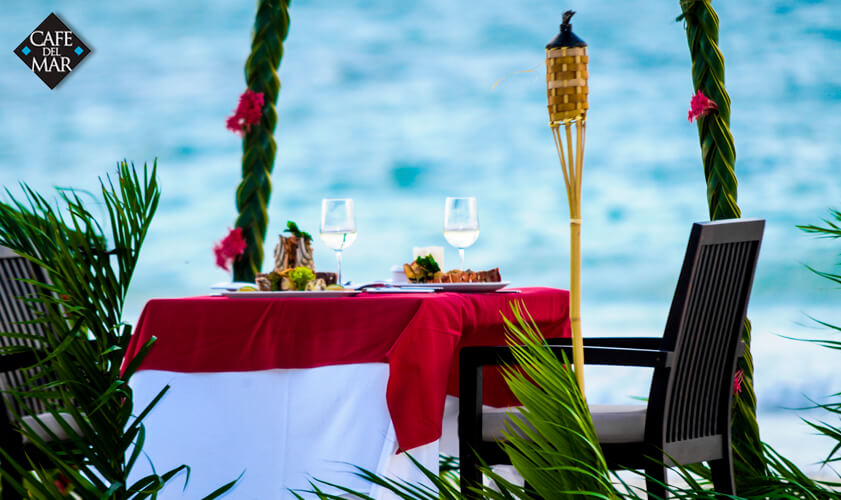 If you are more of a night owl, or if you are thinking about surprising your partner with the most romantic evening, at the Café del Mar we can offer a very specially-prepared menu which is absolutely perfect for an unforgettable night. We can decorate your table and personalize a special moment that will only be witnessed by the sea and the stars, as you listen to the gentle sounds of the waves and toast the evening with one of our prestigious champagnes or wines. A walk in the sand holding the hand of that very special person in your life, enjoying each other's company as you approach a table that has been intimately and divinely prepared for two. The perfect way to celebrate a birthday, anniversary or your love for one another.
To offer you even more options and comfort, you can base your romantic dinner on our regular menu and choose the dishes that you prefer, or if you would to make it and even bigger surprise, we offer a very select romantic menu which is perfect for enjoying next to the sea.
We also understand that such exclusive moments are not always just for couples. A great dinner with friends, family or even colleagues can also be enjoyed in this unique location next to the sea. Enjoy magical sunsets which turn the sky completely orange as the waves lap the shore, with relaxing background music allowing you to enjoy your well-deserved vacation with your loved ones and friends in the most welcoming and sophisticated ambience.
Of course, we also cater to larger groups that might want to celebrate a special event at the Café del Mar. We can organize any type of event in this extraordinary venue, and we can also host private events in which guests can adjust the decoration and ambience.
For groups we can organize a dinner with a set menu, with a wide range of suggested dishes that meet your needs to accompany this unforgettable experience.
Chill Out and Restaurant fusion concept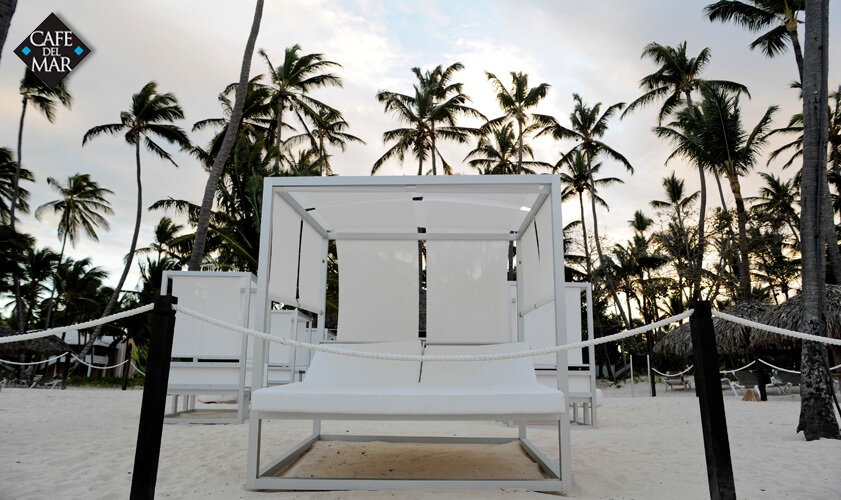 Located in an exclusive part of the beach and with modern and tropical decoration, Café del Mar offers customers a full-service experience that combines a relaxing chill out bar with the exquisiteness of a gourmet restaurant.
Allow yourself to be pampered by a team of staff that are at your full disposal. To ensure you enjoy an absolutely amazing experience, hire one of our Bali Beds and get an extra credit for meals and drinks. Ask our customer service team for more information about all the services we offer at the Chill Out Café del Mar.
As a Café del Mar customer, during your relaxing fusion experience you also get access to another free Wi-Fi network, allowing you to stream your experience live to your friends and family at any time of day or night.
The experience at Café del Mar is so unique, that we open our doors not only to Bavaro Princess guests, but also to all Princess Hotels guests in the Dominican Republic, plus other travellers or residents. Anyone who desires to enjoy the pleasure and luxury of a delicious dinner under the stars and on the beach, a privilege that is now within reach of anyone in Punta Cana. Just get in touch with us so that we can reserve our most special table for you.
Categories: Caribbean, Tips, Hotels, Be inspired, Punta Cana, Riviera Maya
« What our guests say – Anita und Martin at the Suite Princess
The best Carnivals in Mexico with Princess Hotels »