The chefs at the Princess Hotels in Punta Cana come out of their kitchens to introduce us to Dominican food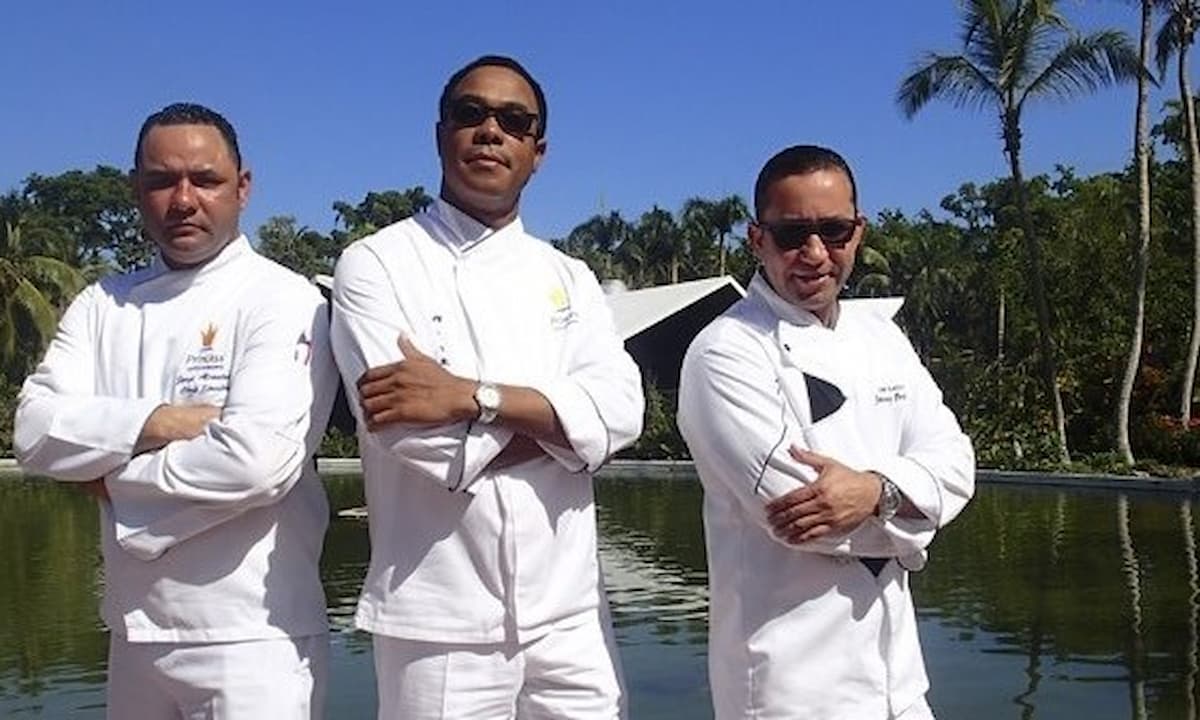 Travelling and eating are two activities that nearly always go hand in hand. Try new flavours and understand a new culture or region through your taste buds. The Princess Hotels in the Dominican Republic have the honour and privilege of having 3 great chefs, providing our guests with the chance to discover and enjoy superb Dominican food in each of our Punta Cana resorts.
Chef Manuel Medina presents the cuisine at the Bávaro Princess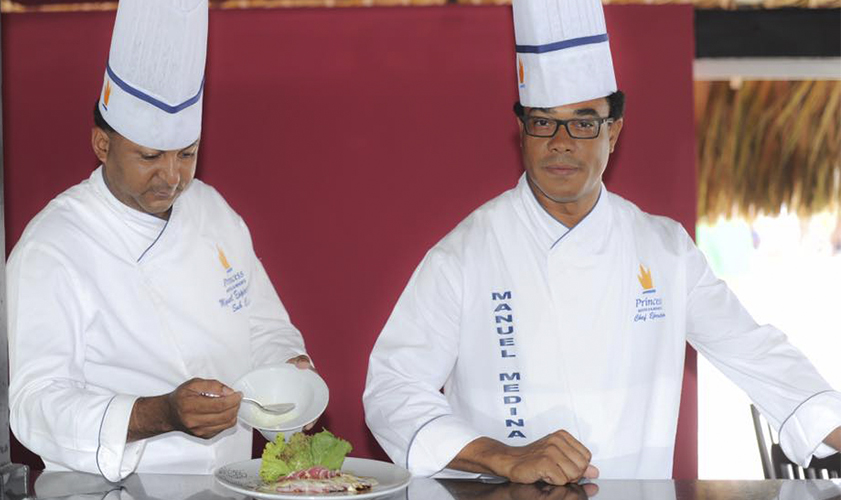 At the Bávaro Princess, chef Manuel Medina puts on his white jacket every day with a single yet difficult objective: to conquer each of the palates of the more than a thousand guests who eat breakfast, lunch and dinner at the hotel daily. Groups of friends, families and couples meet in one of the most complete and dynamic hotels in the region every day, and the kitchen tries to exceed each and every one of their expectations. This is why the we offer varied and delicious dining options at the Bávaro Princess.
What restaurant would you recommend at the Bávaro Princess?
 "I cannot choose one. I can say, however, that I have two spoilt children, the Café del Mar and El Pescador. I think we have the unique privilege of being able to offer our guests a restaurant facing the sea where they can taste the best of the hotel's cuisine with their feet in the sand. It is where I give free rein to imagination, serving excellent gourmet food, including the fabulous lobster festival which combines perfectly with the spectacular views and idyllic surroundings of Playa Bávaro.
And El Pescador, a fish and seafood restaurant with a Spanish touch, is simply impressive, where we look after the ingredients and treat these sea treasures with respect and care."
Is a chef born or made?
"I've been cooking since I was eleven, and working at the Princess Hotels for fourteen years, so I guess it's a bit of everything. For me, cooking is my passion, I get up thinking about my big family with over 200 members that I have to coordinate so all the guests leave satisfied. When I look at my hands, my work tools, I can't stop thinking about the hundreds of thousands of people I have fed, and of those I hope to continue feeding."
What is there about you in your cuisine?
 "I try to combine my professional and personal facets. Putting myself in the guest's place is exactly what makes the cuisine at the Bávaro Princess so familiar and trustworthy. As a father, I pay close attention to the children's menus, making sure that they always have something healthy, balanced and fun to eat, and parents really appreciate that.
As a diabetic, I am aware of everything related to special diets and allergies. I like to make sure that all the kitchen staff are well informed and well prepared, so if a guest makes a special request or query, we are able to give personalised and guided advice on what can and what cannot be eaten.
I am also a Dominican and I think this gives my cuisine a different touch. Our guests have come to visit us, not only to see the beach, but also to discover our country's gastronomic culture. So I am very proud to present the Dominican Night in our buffet once a week and bring that part of me to each of our guests' dining experiences.
I am constantly learning to get closer and understand our guests and, if necessary, I will do so in a very particular way, whether due to their religion, culture, specific diet or personal tastes. I want them to feel completely at home. And this is why one of the things I like most about my work is designing the menus. Nothing is casual, every dish has something about me in it and my interest in knowing our guests."
What does Dominican food taste like?
"A lot of things, but if I have to choose one, there is a spice that I have special fondness for: the Bija. I call it Dominican saffron. It adds colour and flavour, and combines with meats and fish, although I especially like it with pork. I like it so much that I even used it as part of my wedding decoration!"
Chef Eliseo Alcántara presents dominican cuisine at the Punta Cana Princess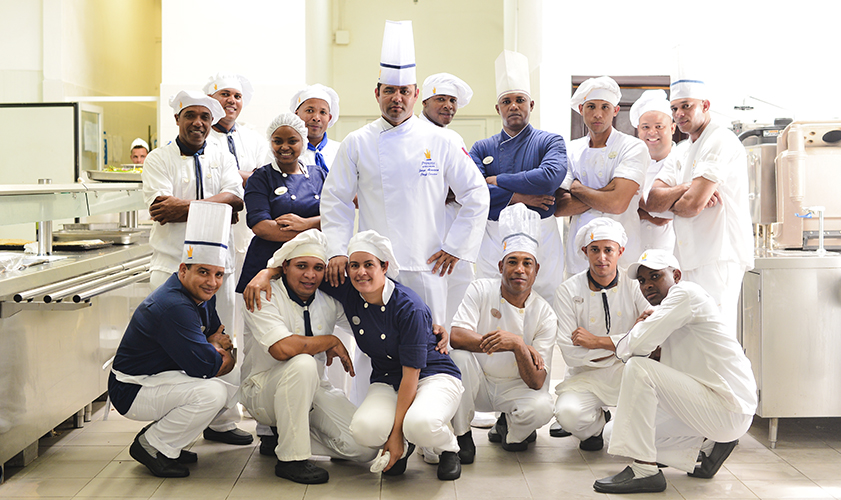 We say in Spain that a man is conquered by his stomach, and it appears that our chef Eliseo Alcántara at the Punta Cana Princess believes this, as he himself says: "Cooking from the heart for the heart". A culinary concept that complements the intimate and romantic atmosphere that permeates the Punta Cana Princess, our adults only hotel in the Dominican Republic. With 13 years' experience at Princess Hotels, chef Alcántara is known for the care he takes of the details and of the ingredients he uses. He likes dishes that supplement and balance the restaurant in which they are served.
Which is the most original and unusual restaurant?
 "One of the most unique restaurants in the Bávaro area is actually located in this hotel: La Petite Fondue Restaurant. It is quite unusual to find a restaurant inspired by the beautiful Swiss mountains in a tropical country. Guests love not only the intimate and cozy decor that looks like a traditional Alpine wood cabin but also the menu offering delicious sweet (chocolate) and savoury (cheese) fondues".
How important is the wine cellar at the Punta Cana Princess?
 "Wine enchances and accompanies flavours, so very often I cannot conceive a dish without thinking about the wine that would accompany it and I invite guests to ask for our wine list and experience it for themselves. For example, at the Mare Nostrum Restaurant, something would be missing if you ordered a fresh seafood barbecue without pairing it with a Conde Caralt".
Chef Johnny Perdomo presents the cuisine at the Caribe Club Princess & the Tropical Princess

With its countless charms, this beautiful Caribbean country receives millions of tourists every year, most of them concentrated in the well-known Bávaro and Punta Cana beaches. Thousands of young people looking for an unforgettable holiday and families taking advantage of any opportunity to spend time together stay at the Caribe Club Princess and the Tropical Princess every year. Chef Johnny Perdomo, with 6 and a half years' experience at Princess Hotels and responsible for coordinating 2 hotel kitchens, is in charge of adding flavour, sugar, salt and seasoning not only to the food but also to their holidays. The task is not easy, however, chef Perdomo is not afraid of the challenge. With team of over a hundred people, he coordinates a huge buffet that serves breakfast, lunch and dinner, specialist restaurants, snack bar and even romantic dinners on the beach.
What is Dominican cuisine for you?
 "Dominican food is characterised for being a melting pot of different cuisines: Creole, European, African… one could say that it is in the blood of the country to know how to take the best of each and combine it in such a way that something delectable is always created, even for the most demanding palates".
How would you recommend choosing the ideal restaurant?
 "Bearing in  mind there are two hotels, the Tropical Princess and the Caribe Club, the first thing I would always recommend to guests is to talk to our concierge teams about where you can eat and then start to make your reservations. This will help you visualize the rest of your holiday, knowing that you also have the option of the themed buffet every night or the snack bar.
What is the secret of La Cava Restaurant and El Pescador Restaurant?
 "As you know, everything starts with impeccable service and elegant decoration. Who does not want to eat delicious seafood near the sea or tender cuts of meat in an authentic bodega atmosphere? In these two restaurants the ingredients are the leading stars. In La Cava, we are talking about excellent quality imported meats which can be paired perfectly with red wine. El Pescador is a fish and seafood restaurant where the ingredients are always cooked with the respect and care that such gifts of the sea deserve".
 
Princess Hotels shares a typical dominican food recipe with you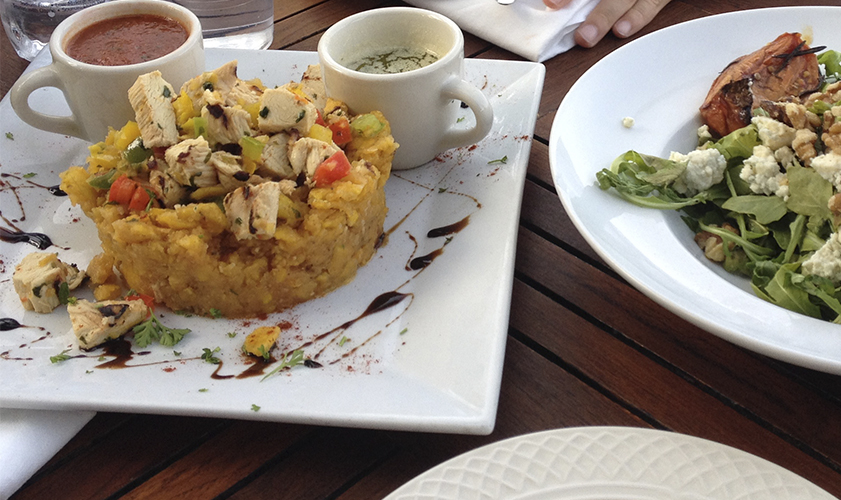 Given such a variety of dishes and, as the icing on the cake of this tribute to our chefs, we are sharing a recipe for a simple Dominican dish that will bring the beaches of Punta Cana and Bávaro to your kitchen.
DOMINICAN MOFONGO
Ingredients:
3 unripe plantains.
2 garlic cloves.
1 lb pork crackling.
Oil for frying.
Instructions:
Fry the plantains in plenty of oil until browned, then crush with the pork crackling rinds and the garlic in a mortar.
Serve with grated cheese on top and your favourite sauce.
We recommend: Garlic sauce
Please, share the best recipes from your region with us!
Discover our Offers or join MYPRINCESS and enjoy our discounts and exclusive benefits.
Categories: Caribbean, Tips, Hotels, Be inspired, Punta Cana
« Discover the Day of the Dead in Mexico with Princess Hotels
How to organize an Event in the Caribbean with Princess Hotels? »