Solidarity campaign Tree of Illusion 2019 in Dominican Republic

The Illusion Tree campaign is part of the Corporate Social Responsibility program, Princess and You 360. An action carried out thanks to the generosity of our customers and employees, and the invaluable support of the Pack for a Purpose team. This year our toy donation campaign has covered 2 schools!
It is important to remember that as part of the Princess and you 360 sustainability program, Princess hotels in the Dominican Republic, throughout the year, carry out different donation campaigns and help to nearby communities. Therefore, future guests can always collaborate, regardless of the time of year. You just have to leave your gifts in our customer service departments. They will be saved and distributed in future campaigns.
Normally the most appreciated and usual gifts are usually for children: toys, sports equipment and school supplies.
For our elders, it is appreciated: personal hygiene material, basic medical kit materials, board games, or even small gifts that can help make your day.
Donation of toys to 2 Educational Centers
On January 10, the teams from the Caribe Club Princess, Tropical Princess and Punta Cana Princess hotels went to the public basic school of Trina de Moya Vásquez. On January 23 we went to the La Virgen Milagrosa children's center. Both activities were possible given the volume of gifts and toys collected: more than 400! We thought it would be nice to cover more than one place and help two different communities, both with their needs.

We want to make special mention to the Extremadura U.D. For your generosity. They donated a large number of sports shirts for the children, who received them with real enthusiasm!
Donation to Trina de Moya Vásquez, in La Ceiba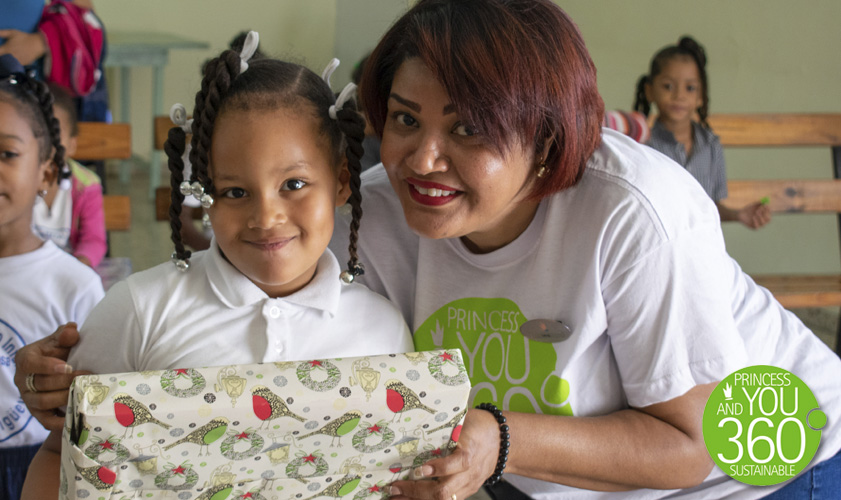 On January 10, volunteers left in the morning with toys, drinks and cookies to the area of La Ceiba, to go to the public school of Trina de Moya Vásquez. The school was very careful and the children made it shine with their smile and their joy. We were able to share a couple of hours with approximately 200 children between 4 and 10 years and around 300 toys were distributed.
The delivery of toys was done in a fun and enjoyable way by our volunteers and children's entertainment teams, who dressed as super heroes delighted the children. In addition to the joy of having new toys, we were able to share with them some soft drinks and cookies that they enjoyed while playing with everyone there. Finally, the children returned to their classrooms to continue their homework and the teachers kept some of the gifts left over for future occasions and needs.
Donation to the Miraculous Virgin Center, in Higüey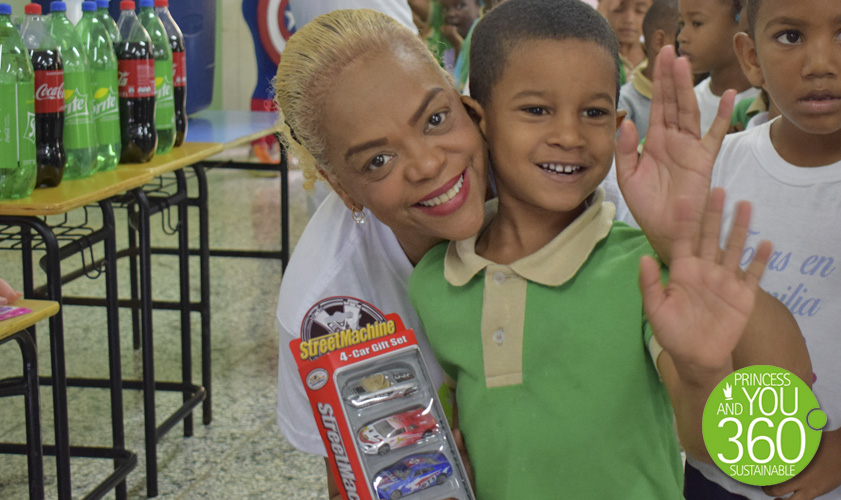 The Virgen Milagrosa children's center is located in Higüey. In this center there are children between 1 and 5 years old children of single mothers in a state of vulnerability, who are working and have no place to leave their children. The center opens from 7 in the morning to 5 in the afternoon every day of the year, and there is a nursery, dining room, recreation area and classrooms for classes. The center is financed with private contributions from individuals or institutions, as well as the government helps them with the salary of some of the teachers.
Because the children were in their classes at the time of our arrival and we did not want to interrupt them more than necessary, the volunteers of the Princess hotels delivered some of the gifts to the little ones representing all the children of the school. The rest were handed over to those responsible for the center, who would distribute them according to age as the children went out for recess.
Again and again, we want to thank everyone who helps us every year to make this beautiful toy sharing action possible! We take this opportunity to remember that we are already collecting the goods for our next campaign. This time for the aging population, because we also want to help our elders.
Categories: Caribbean, Be inspired, Punta Cana
« Discover the Chill Out Restaurant at the Grand Sunset Princess Hotel
Princess Hotels & Resorts has received the Punta Cana Promise guarantee and security seal »