New solidarity project at Princess Hotels & Resorts in Riviera Maya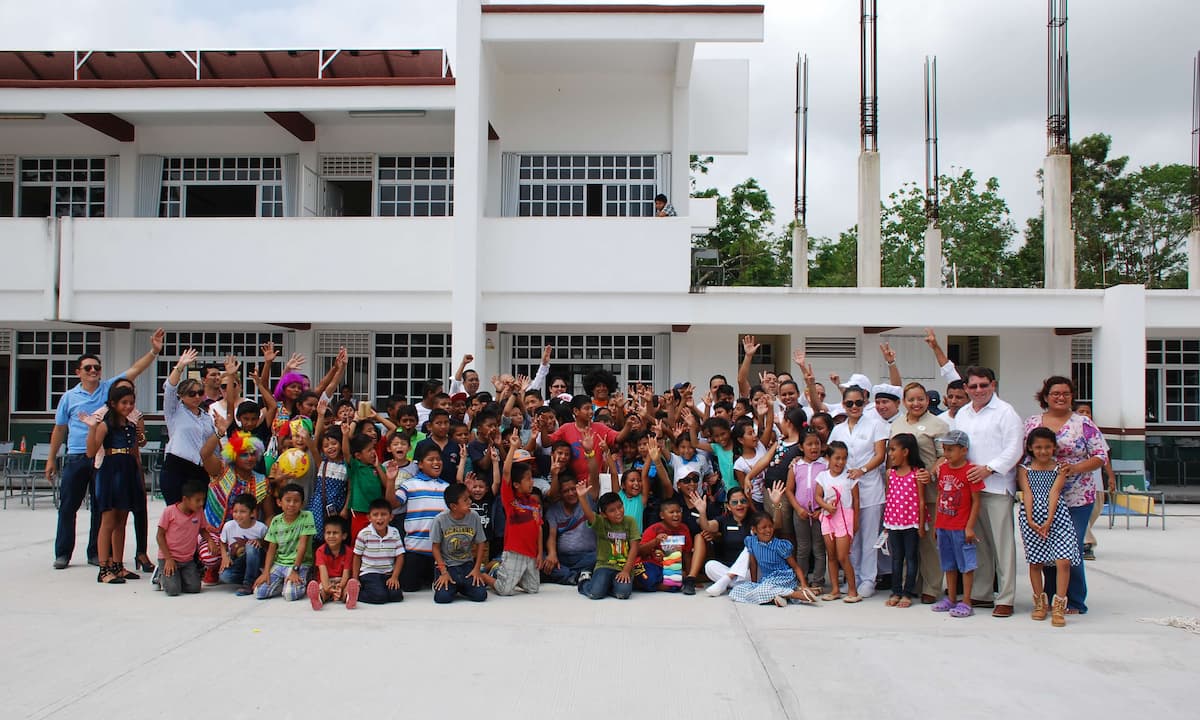 Platinum Yucatan Princess sponsors a school to improve child development in the community.
We have great news, and even more so when it's about trying to help other people. At Princess Hotels we are always involved in social, cultural and environmental protection projects. This time around, the Platinum Yucatan Princess Hotelhas taken the first steps to taking part in an ambitious and integral project whichperfectly complements our "Give me a Hand" program in cooperation with the Pack for a Purposeassociation. The project is based on sponsoring a school in the rural area of Playa del Carmen (Primaria Constituyentes School of 1974) to generate improvements in the quality of life for children attending the school. It is not an easy task, but we are gradually beginning to see the rewards.
It's wonderful to be able to involve both our guests and staff in this solidary project for kids. At Princess Hotels, we are convinced that it is essential we ensure the correct education and well-being of future generations, and that is why it is essential that we areall united.
The Mexican Government is carrying out several educational projects to improve both teaching and infrastructure, but since this is such a large country, they need the help of everyone for the common good. That is why, at Platinum Yucatan Princess we are promoting solidarity tourism, which helps us get our guests to take partin this inspiring program. With each of us doing our bit to help, we will be able to promote even more educational projects in schools in the area.
The objectives of the Princess Hotels & Resorts solidarity program
In this first visit, there were two objectives:
The first objective:to donate clothing collected through the Princess "Pack for a Purpose"program. What is this program about? It is based on
the voluntary and very important involvement of our guests and their donations of clothes and materials which we later donate on their behalf.
The second objective: to detect maintenance needs for which the hotel can provide labor and materials to improve the school facilities. After a brief tour, we got a diagnosis of the priorities and a program was developed to carry out the maintenance work needed over the following months.
Fun: a key part of the process
The Day of the Child is celebrated on April 30 every year in Mexico. On the same day, this yearthe executive committee of Platinum Yucatan Princess decided to make a second delivery of the "Pack for a purpose"program. What was the objective of this second delivery? More than 2,000 toys and items of school materialsdonated by guests and the hotel to make fun for our children present in the solidarity process. Our hotel entertainment team also organized a party where all the children could take part in games and get gifts and, of course, a well-deserved lunch.
What is coming up in the future?
The goal of Princess Hotels is undoubtedly to continue to work on these campaigns to improve the quality of life for all the children in the area. Whether with clothes, toys, teaching materials, etc. It's all important. We are also looking for other ways to diversify our assistance by taking advantage of the qualities of our staff and, above all, continuous training of teachers and students in civil protection and first aid.
Our thanks
Finally, we would like to thank all the people involved. Our guests, our team and other volunteers. Without them and their involvement, none of this would be possible.
Categories: Caribbean, Hotels, Riviera Maya
« Tourism in Punta Cana: The Crucible of Dominican Cultures
Give me a Hand and socialwork in Riviera Maya »