Fuerteventura, the perfect destination for this summer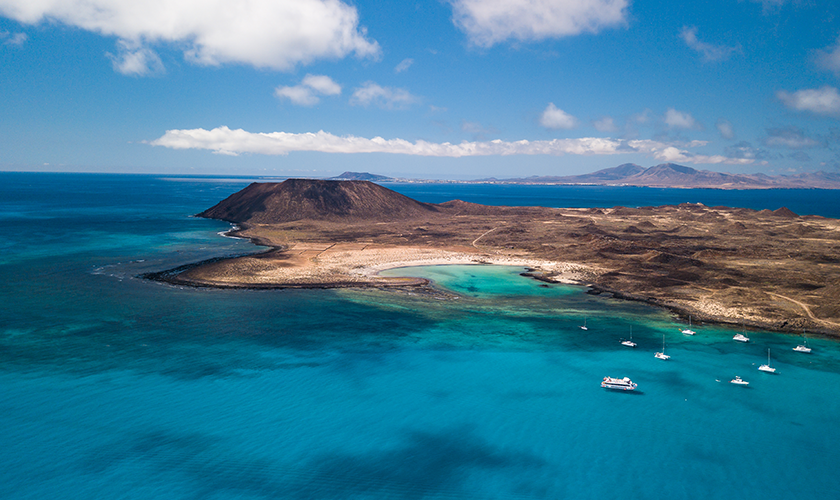 Fuerteventura offers tourists a variety of activities during the summer months. Thanks to its excellent weather, around 27 ° C in summer, its low humidity, lack of rainfall and about 10 hours of sun, it is one of the best destinations to spend the holidays. Its pleasant night temperatures with an average of 20 ºC invite you to stay up and enjoy the island's great nightlife.
Natural Park "Islote de Lobos"
If you fancy spending a day at the beach, fishing, diving, snorkeling or even surfing, the Natural Park Islote de Lobos is a good option. The little island is just 3 kilometers away from the harbor of Corralejo in Fuerteventura, where daily ferry boat connections are offered. The park owes its name to a large number of monk seals (sea lions) who lived in the area around 500 years ago. Its crystal clear waters and white sand make it a true paradise and you can even explore its coves by foot or hop on your bike and discover its fauna and flora. You can also visit the caldera of La Montaña, a volcanic zone, or the iconic lighthouse Faro de Lobos. In addition, it is the perfect plan to go with children (not recommended for strollers); they will just love the shallow and calm waters of the islet's natural pools.
Ajuy caves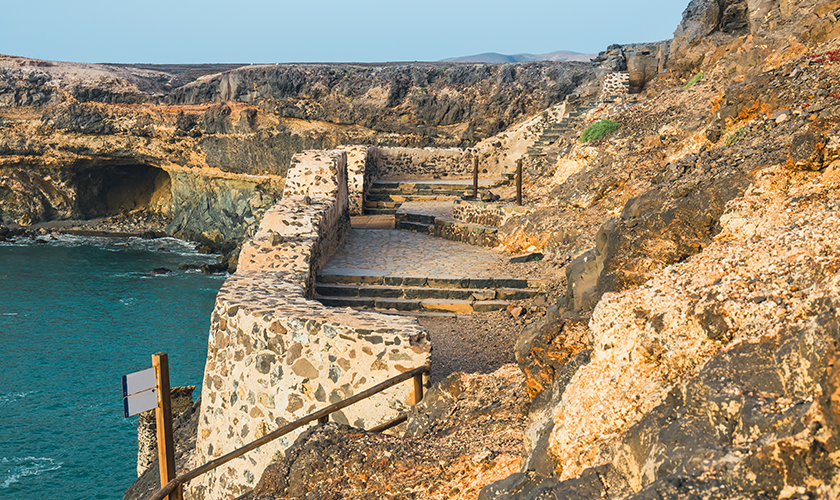 The Ajuy caves, located in the small fishing town of Ajuy, in the municipality of Pájara, are one of the biggest tourist attractions of the zone. Located within Betancuria's Rural Park, one of the Protected Natural Spaces of Fuerteventura, this Natural Monument is the oldest rock formation of the Canary Islands and is without a doubt a geological paradise. To reach the rocks you need to start your adventure from Ajuy's beach, soon you will reach Ajuy's viewpoint, where you can take photos with a spectacular background. Next, you will see two salt furnaces, which once were extremely important for the salt trade, and the place where the houses' whitewashing elements were made. Lastly, you will reach the caves, accessible through some stairs. The 1,5 km tour can be completed in around 45 minutes, and children can access it too.
Betancuria's Aguas Verdes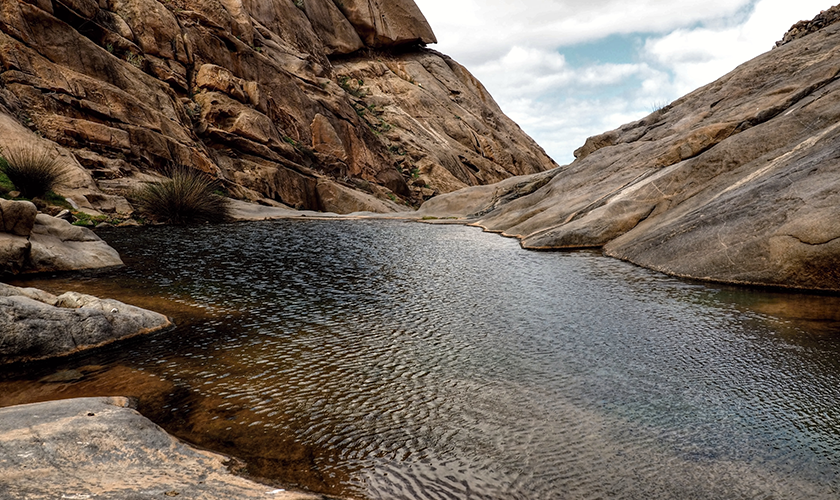 Summer is the perfect time to cool down in Betancuria's well known Aguas Verdes, 6 kilometers full of natural pools, different in size and in depth, all of them with a pleasant temperature. You will find them near Playa del Valle, surrounded by cliffs and rock formations. Secluded from the sea they are a haven of tranquility where bathing is totally safe. But don't forget your sandals or slippers to avoid slipping and to protect yourself from the bedrock. The rocks are full of crabs but what most surprises visitors is the numerous squirrels that scuttle around. It is important to know there is no bar or restaurant around, so we advise taking something to eat and to drink with you.
Ecomuseo La Alcogida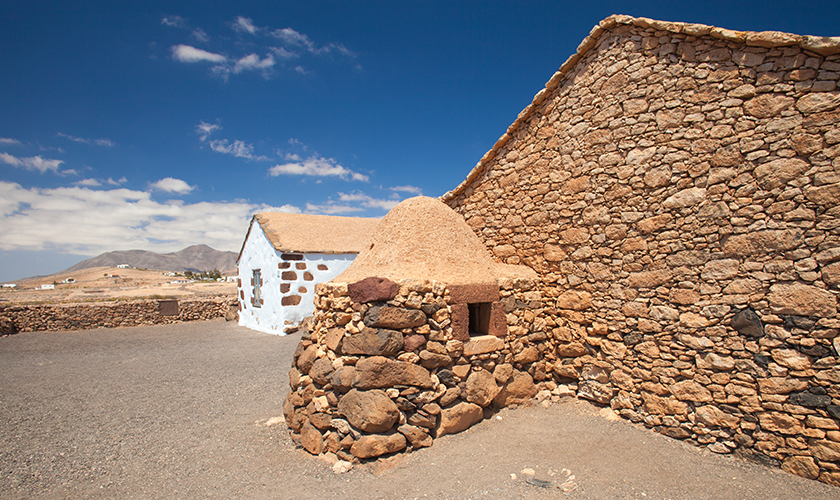 If you feel like doing something different and love going to museums, we propose a tour through the eco museum La Alcogida, located in the town of Tefia, in Puerto del Rosario. You will discover how majorero farmers lived until a few decades ago and you will visit seven different dwellings portraying the life of wealthy families and humble farmers. During the tour, you will be able to observe the water gathering system, created by majoreros to compensate for the lack of rain and the dryness of the land: ditches, cisterns, sieves, pipes, and wells. You will be able to see the plots, flour mills, dunghills, straw lofts, farmsteads and bread ovens used then, and even animals like goats, chickens, a majorero donkey or a camel. Lastly, you will discover how artisans worked with lace, clay, stone or on a loom. A tour that will not leave you indifferent and will help you understand Fuerteventura's culture.
Sunset at El Cotillo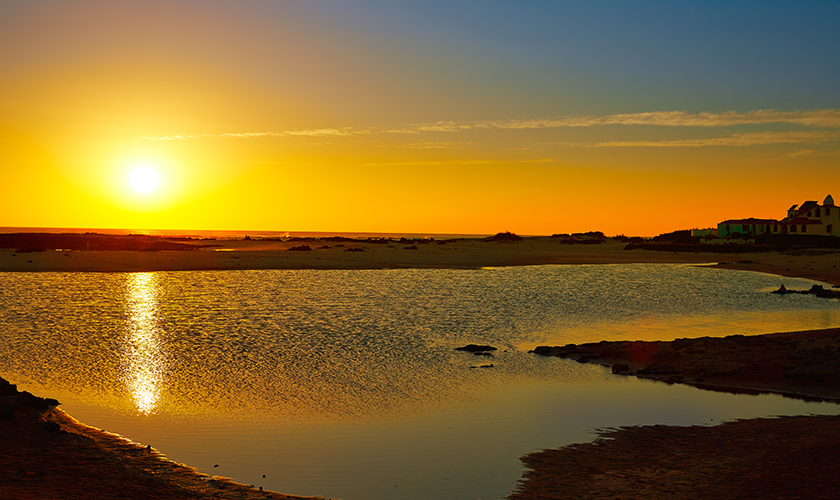 El Cotillo is the perfect place if you want to end your day on a high note. This fishing town, located in La Oliva, northeast of the island, stands out for its virgin beaches with fine and golden sands and its spectacular lagoons with crystal-clear waters. El Cotillo is the perfect place if you are looking for some peace and quiet away from the crowds. During the summer you shouldn't miss out on the amazing sunsets from one of its stunning beaches. A magical way to end the day under a sky painted in tones of orange, yellow, pink and violet. And if this isn't enough for falling in love with El Cotillo we recommend you to have dinner by the old harbour. Enjoy enjoy fresh seafood in one of the restaurants overlooking the small beach in the town's centre.
Take note and enjoy an unforgettable summer in Fuerteventura. We are looking forward to seeing you!
Categories: Canaries, Fuerteventura
« Where to dive in Tenerife?
Discover the Top 5 Riviera Maya excursions »