Collaborate with Princess Hotels & Resorts Riviera Maya Give me a Hand project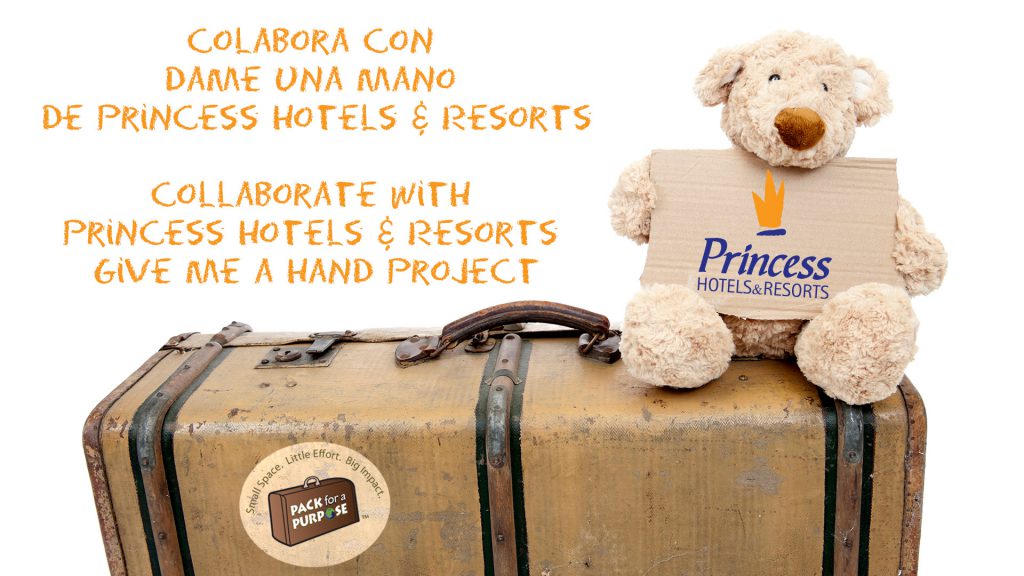 As a company concerned about the environment, Princess Hotels and Resorts Riviera Maya have a firm commitment with solidarity projects and especially those areas close to us.
In the Riviera Maya we focus mainly on the children, our intention, with our little grain of sand is to encourage the healthy development of disadvantaged children and adolescents in the area.
Education, health and entertainment are fundamental for the children's development in society, and unfortunately there is an important deficiency in the Quintana Roo region.
Therefore, Princess Hotels and Resorts collaborate with the "Pack for a Purpose" organization that since 2010 has collected more than 54,000 kilos of basic materials in more than 60 countries.
"Pack for a Purpose" was founded in 2009 in the town of Raleigh, in the state of North Carolina, United States, with a clear mission: "make a positive impact in communities around the world through attendance travelers who want to make contributions to the places they visit. "
On their website you will find a list of company members like Princess Hotels, where you can check out the specific programs in which they collaborate in their local communities, and exactly what materials are needed.
All this makes "Pack for a Purpose" a catalyst between local NGOs projects in vulnerable communities with travelers aware of the difficulties and who want to take advantage of their trip to help those in need.
The Princess Hotels project consists in collecting donations of clothing, footwear, oral hygiene products, diapers, school supplies, sports equipment and of course, toys in all its hotels in the Riviera Maya.
To achieve this objective, the collaboration of our guests is fundamental. Reserve a space in your suitcase for your donation and when you arrive at one of our hotels in the Riviera Maya go to the lobby and find the box, shown in the picture, and give whatever you can.
Any small gesture will be sure to change lives.
Categories: Caribbean
Comments
« Insider Tip – Where to eat traditional Canarian food in Tenerife
Grand Opening The Gym Bar, Barcelona – Terrace summer season »