Buy souvenirs in Mexico, our best ideas
Do you want to of buy souvenirs in Mexico? Visiting the Riviera Maya is the perfect opportunity to discover a new culture while experiencing the warmth of the sun and bathing in the turquoise waters of the Caribbean. In this idyllic destination, you can interact with the local community and try some exotic dishes and drinks. And although we are sure that you will return home with your head full of unforgettable moments and experiences, we understand that you will also want to bring home some original and creative memories. You can buy souvenirs in Mexico that will allow you to keep forever the memories of your vacation in Mexico.
Thinking of you, we have prepared a list of our main souvenir suggestions that you can buy while visiting Playa del Carmen. Although the state where Playa del Carmen is located, Quintana Roo, is not famous for a specific handcraft or souvenir, the city's markets sell incredible handcrafts from all over Mexico. It will be a great opportunity to buy souvenirs in Mexico and to return home with a special part of this magical country!
Mezcal, Xtabentúm and Kahlúa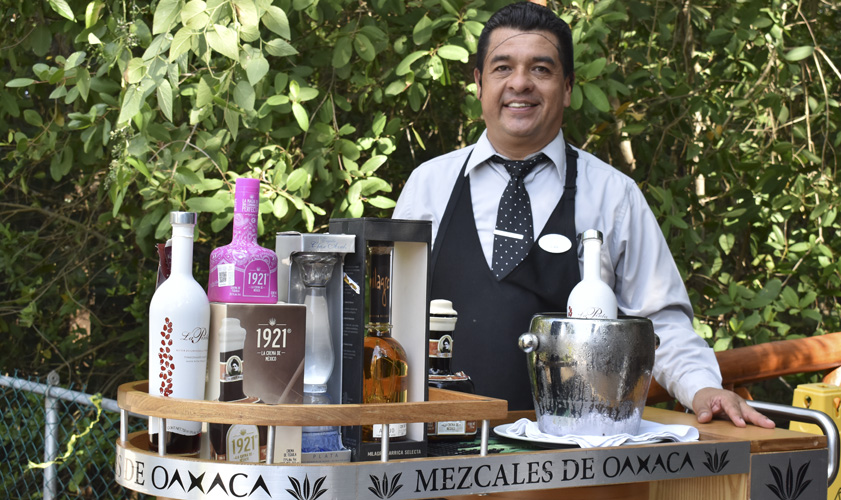 We all know that the most popular drink in Mexico is, of course, tequila. This world-famous liquor is the main ingredient of the Margarita cocktail. It is also one of the best options when you are looking for a good drink to start the night. But, the Mexican spirits are a rich group of drinks and we would like to suggest three drinks that you probably don't know yet and that we are sure you will love. They all make up for a great Mexican souvenir:
First, we have Mezcal. This could be considered the half brother of Tequila. The main difference between these two drinks is that while Tequila must be composed of at least 51% blue agave, Mezcal is often made from a mixture of different types of Agave (the plant extracted from the cactus). Also, and this is an important difference: mezcal is the result of a 100% artisan process without any type of industrial procedure. Tequila, on the other hand, and especially in big brands, is part of an industrial process that sometimes uses other ingredients besides agave.
The result is a more aromatic and flavoured spirit that can include spices, herbs, and even dried fruit. A delicious liquor that you will appreciate when you return home after your vacation in Mexico.
Secondly, we have the Xtabentúm liquor, which is considered the "drink of the Mayan gods". This aromatic and perfumed drink is made from honey from bees that feed on the xtabentún flower. It has been part of Mexican history since the time of the Mayan empire. It is usually served alone or in a small glass, filled with ice, and is a delicious after-dinner digestive drink.
And finally, we have another popular Mexican liquor … Kahlúa. This strong-tasting liquor is made from coffee and water. It is a delicious drink to use as a dessert or as the main ingredient in famous cocktails such as Mudslide or White Russian. Without a doubt, a great idea to consider when buying souvenirs in Mexico.
The Guayaberas of Yucatan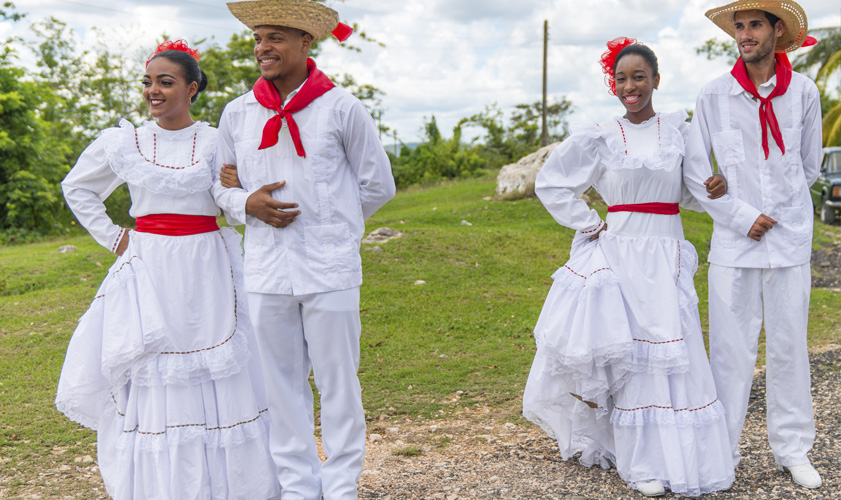 The guayaberas are male garments that cover the upper body. Either with short or long sleeves, adorned with vertical saddlebags and sometimes with embroidery, and that have pockets on the chest and skirts. They are made from cotton, linen, silk or synthetic fabrics. They are recognized for being extremely cool garments that ensure you will feel comfortable even in the most extreme hot climates.
Fine guayaberas are a formal dress in tropical countries. They are usually worn at solemn ceremonies such as weddings, baptisms, and even political ceremonies or gatherings. They are a very original gift to take to your loved ones as a souvenir from Mexico.
The Huipil of Yucatan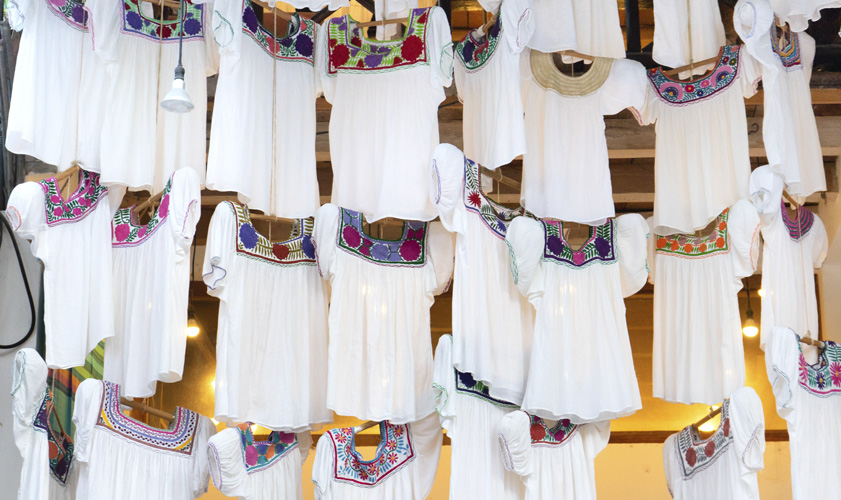 And, for women, there is also traditional clothing that we are sure you will love to buy as a souvenir in Mexico, the Huipil.
Also called hipil in the Yucatan peninsula, it is a blouse or dress adorned with colourful motifs that are generally embroidered. The huipil generally consists of a white dress, of the same dimension from top to bottom, sewn on the side, with two openings for the arms and one more rectangular for the head. The neck and sleeves, as well as the bottom of the dress, are decorated with colourful motifs, usually embroidered.
It is a colourful, light and elegant garment that will bring you many memories when you wear it at home.
The Catrinas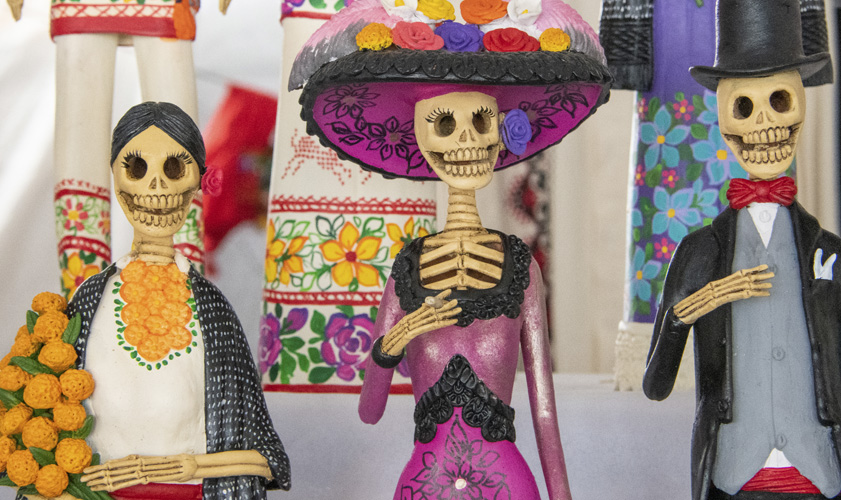 If you ever visit Playa del Carmen during the Day of the Dead season (November 1 and 2), you will surely see thousands of these happy skeleton figures throughout the city. You will also see several women parading through the streets in their Huipil dresses and their faces painted like a Catrina.
The Catrinas were created as part of a critical description of the misery, political errors, and hypocritical society of Mexico in the past. These skull figures were always dressed in ball gowns, drinking traditional drinks, riding horses or at high society parties. Today they are still a particular part of the Mexican tradition, it is one of the favourite gifts to buy souvenirs in Mexico. You can see them in stores throughout Mexico and they have accompanied the evolution of society and are represented in more modern settings and situations, maintaining the critical vision of Mexican society.
Hammocks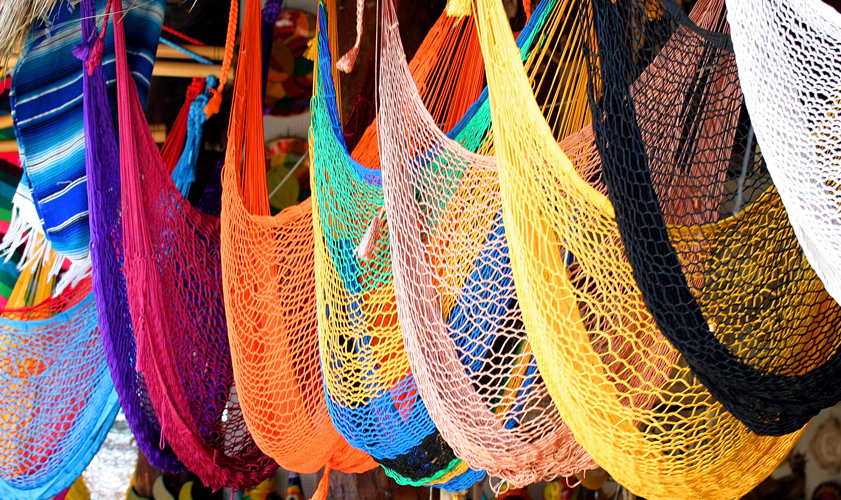 In a climate as warm and humid as that which can be experienced in the Riviera Maya, locals generally replace traditional beds with a cool and comfortable object that allows them to enjoy an excellent night's sleep: hammocks.
You can easily find Hammocks for sale on Fifth Avenue or even on adjacent streets in downtown Playa del Carmen. You can choose from a wide range of sizes, colours and even some more modern designs such as hammock chairs or hammock swings. Regardless of what you choose, you are sure to experience a great night's sleep as you remember the good times you had at Grand Riviera Princess.
Huichol Art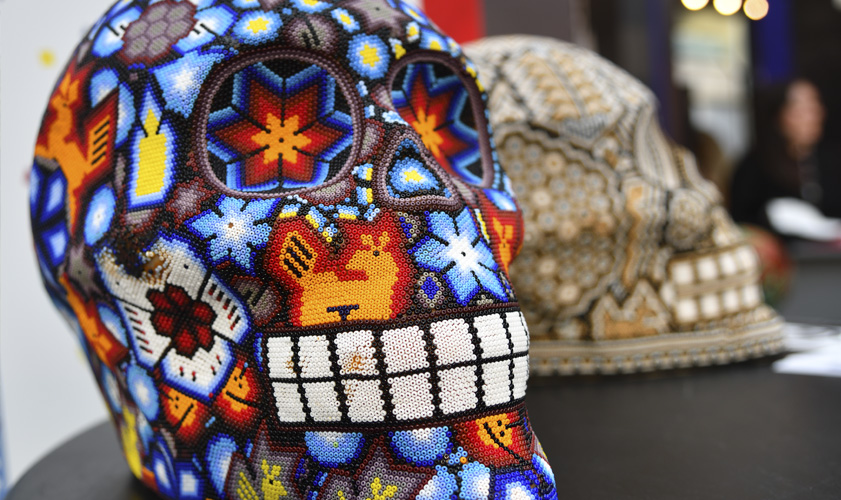 Huichol art is made exclusively by the Huichols, who are an ethnic group that lives mainly in the Sierra de Nayarit and part of the mountainous areas of northern Jalisco. There are around 50,000 members of this group and the name Huichol is derived from the word Wixárika, which means fortune teller or shaman in the Huichol language.
The Huicholes create different crafts and arts, where vibrant colours are predominant. Huichol art is made with elements such as yarn and small beads, called beads. They use them to create a variety of elements that maintain the tradition of representing traditional patterns used for centuries to represent and communicate with the gods.
Among the most popular objects of Huichol art are stamen paintings; masks with beads and other objects in common use, etc. What could be better than to buy original handmade Mexican souvenirs?
Regardless of what your option is, you will find in Playa del Carmen several souvenirs to buy and take back home. You will have the possibility of carrying in your suitcase a unique piece of your vacation that will always remind you of the incredible moments spent in our company at Grand Riviera Princess Hotel.
If you have more proposals, we would love to hear about them! Do you dare to share them with us?
Categories: Caribbean, Mexico, Riviera Maya
« La mejor experiencia de Aromaterapia en Punta Cana
Places to watch the best sunsets in the Canary Islands »