5 delicious recipes for your Easter celebrations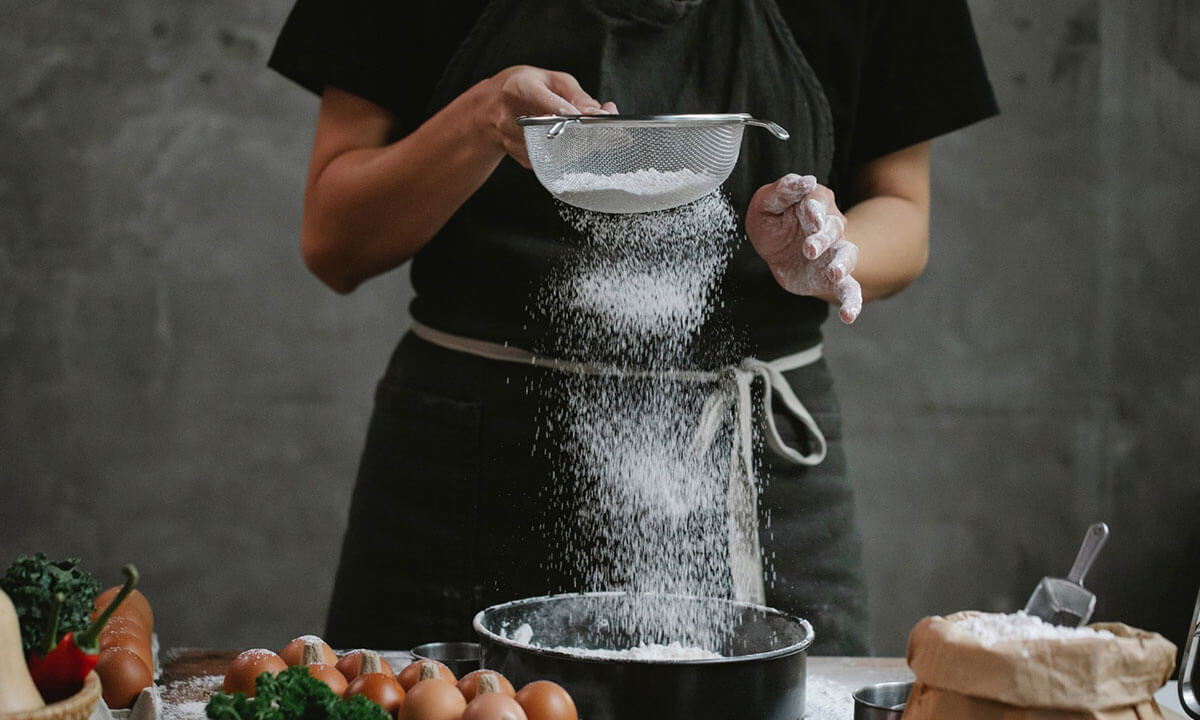 Find out how to prepare typical Easter dishes. The Easter holidays are just around the corner, and we've put together some recipes for you to make and impress your guests at family get-togethers.
Religious traditions play a huge role in Spanish cuisine over the Easter period (Semana Santa). According to Christian tradition, red meat should be avoided during the Easter Vigil, and we should instead eat fish, vegetables and pulses. And let's not forget 'torrijas' (a Spanish version of French toast), an utterly delectable and most typical sweet of the season.
Want to know how to make them yourself? Learn how to prepare these five traditional recipes, and get ready to enjoy the festivities with a menu straight from the heavens. It's holiday season, the perfect moment to spend more time with loved ones. And what better way to do it than cooking and enjoying these delicious dishes together?
Canary Island 'sancocho'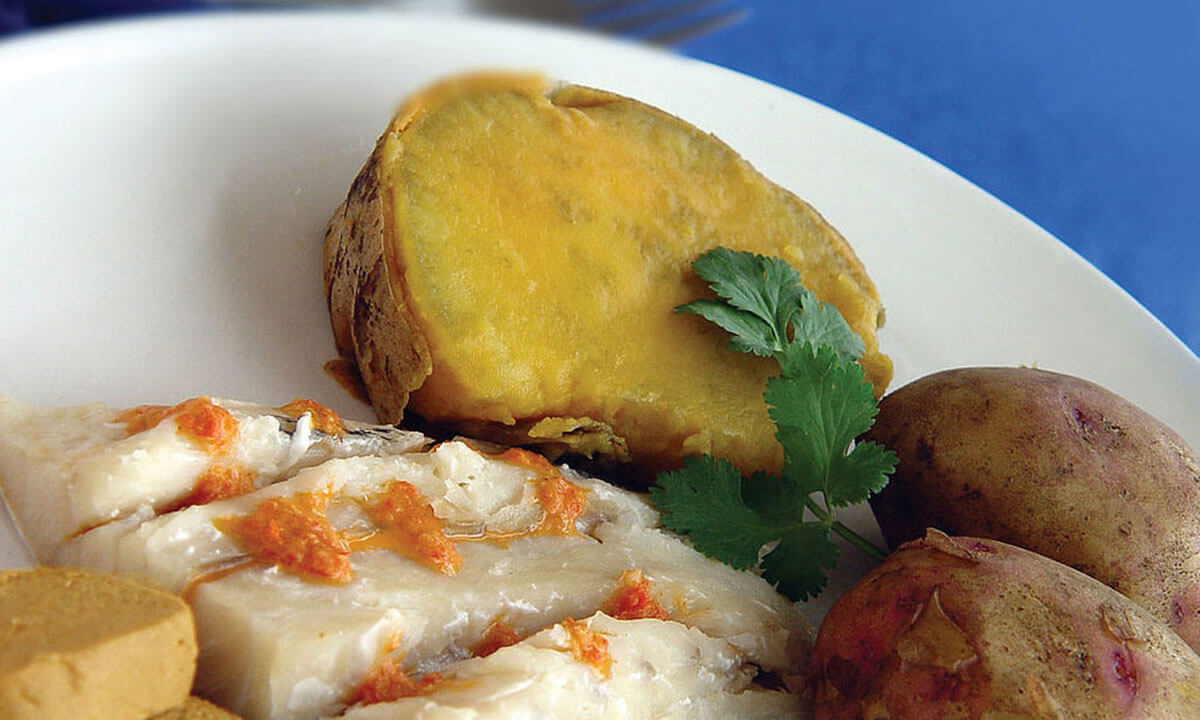 There's no dish more typical of Easter in the Canary Islands than stone bass 'sancocho'. It's the most traditional Canary Island recipe, and is eaten specifically on Good Friday.
The dish calls for salted and dried fish, whether stone bass, sea bass or conger eel. It generally comes with 'sancochado' boiled potatoes, traditional wrinkled potatoes, sweet potato and sliced 'gofio' maize paste. And of course the finishing touch: spicy 'mojo' sauce, either red or green.
This recipe pretty much has sacred status for Canary Island families at Easter. And it's such an in-demand dish that you'll find it in most restaurants – prepared either traditionally or with a modern twist – all year-round. Dig into some sancocho!
Lenten stew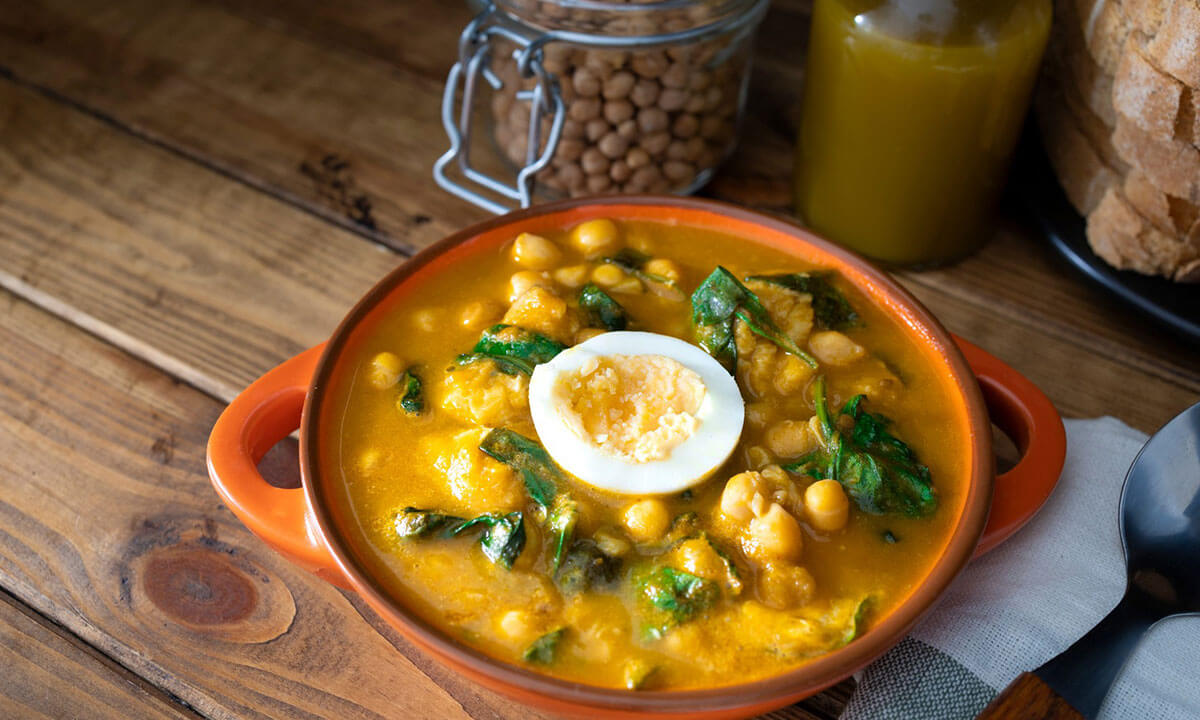 'Potaje de vigilia' is one of the most common celebration dishes at Easter, and it's in fact one of the most widespread recipes in Spain.
This traditional meal is a stew, with chickpeas as the main event. What's different about this one is it's made with cod rather than meat, making it ideal for anyone who opts not to eat meat at this time.
Like all types of stew, it starts out with some sautéed vegetables, with the addition of stock used to cook the chickpeas until tender. Next comes the fish, along with other ingredients such as hard-boiled eggs or spinach.
Give this wonderful dish a try, and share it with your loved ones. As you'll see, it's an easy recipe that works at any time of year.
Garlic soup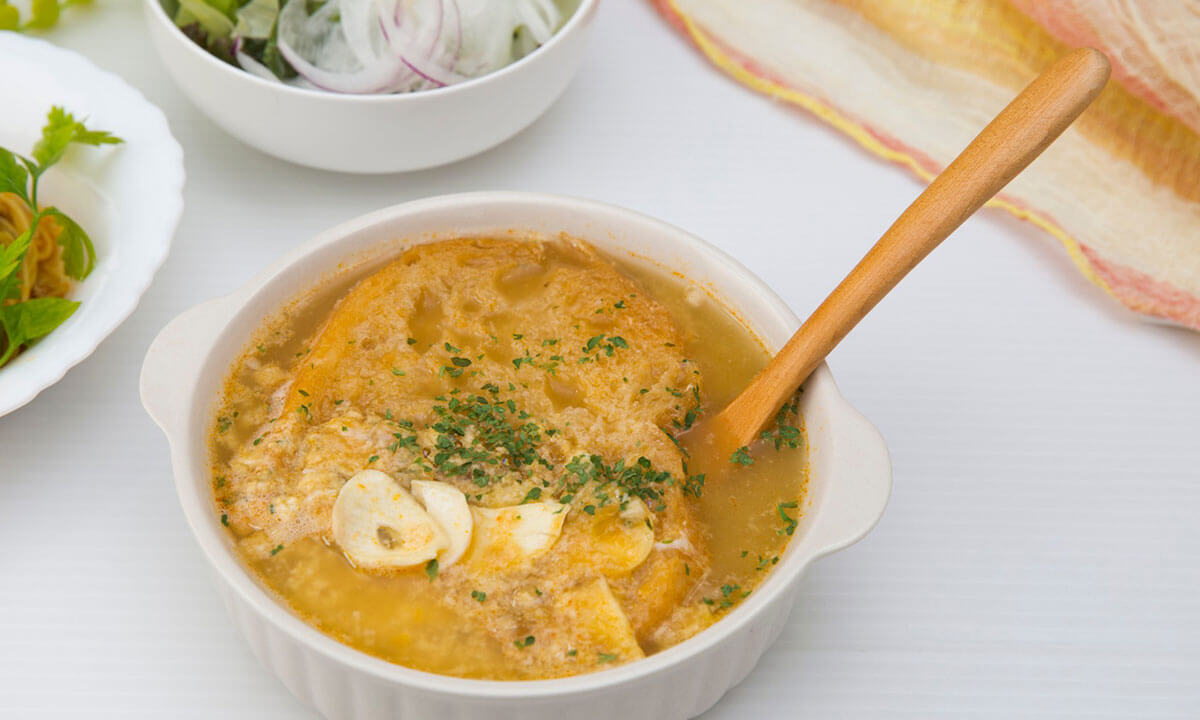 'Sopa de ajo', also known as 'sopa castellana' is eaten in the Spanish peninsula all year round, but it's especially typical of Easter. As well as being easy to make, it's a budget-friendly recipe featuring low-cost ingredients.
Although some versions contain ham, you can easily switch the chicken or meat stock for vegetable stock to make it suitable for fasting at Lent. All you need is garlic, eggs, bread (usually stale or hard bread, leftover from previous days), paprika, parsley, olive oil and salt.
If you want to elevate the presentation, use a clay pot, which also better retains the heat of the broth.
Shrimp fritters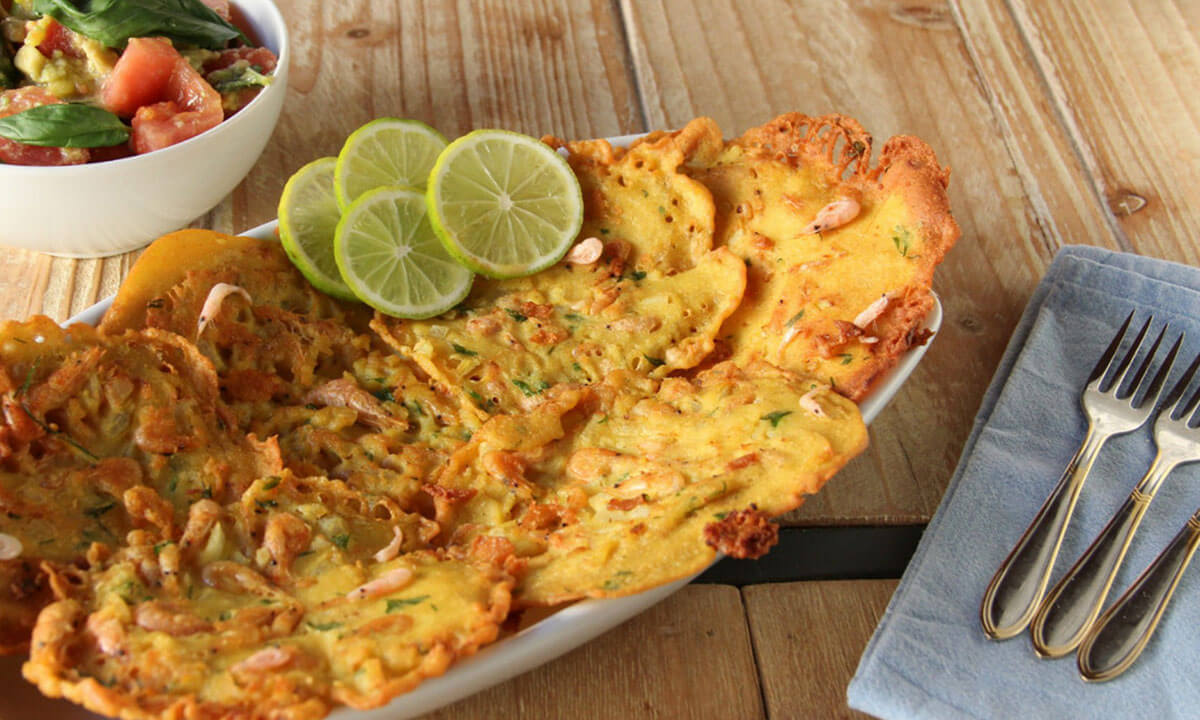 'Tortillitas de camarones' are most typical of the southern peninsula. And whilst they're eaten all year-round, they're more popular than ever when people are trying to avoid eating meat during the Easter Vigil.
Shrimps are the star of the show, and are added to a mixture of flour, egg, onion, garlic, water, salt, parsley and oil. For this recipe, chop the onions and garlic and add them to your flour, water and egg mixture. Next, season the mixture and form the fritters, frying them in a frying pan until ready.
It might be an easy recipe, but it's always a winner on an Easter menu.
Easter 'torrijas'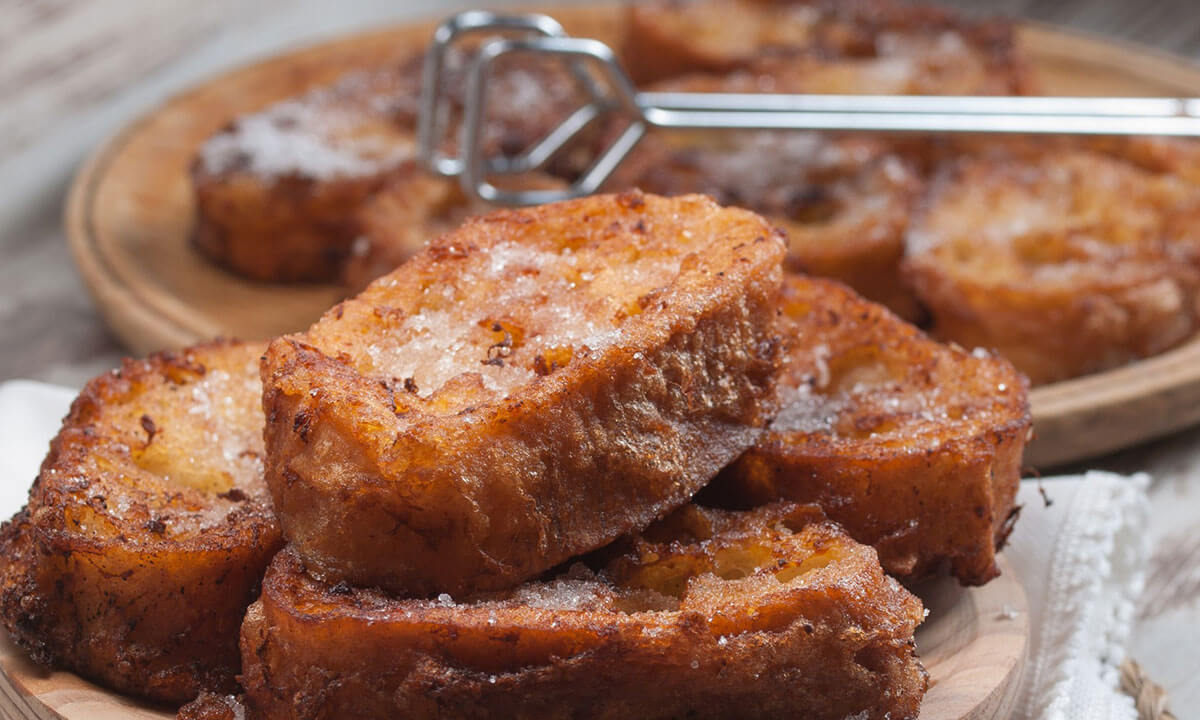 Of course every festive season calls for something sweet, so we're bringing you the most typical dessert of all for Easter: 'torrijas'.
And they're not just delicious, they're the perfect dish to make with your family. Even the littlest ones can get involved. To make them, you need a loaf of stale bread, 1 litre of milk, 3 eggs, a lemon, 2 cinnamon sticks, olive oil, ground cinnamon and sugar.
First, heat the milk along with the cinnamon sticks and lemon rind, and when it comes to the boil, remove from the heat and strain. Cut the bread into thick slices and add it to a bowl, then pour the milk over it. Once the slices are well soaked, add the beaten eggs and fry in plenty of oil. Lastly, top off your delicious torrijas with a sprinkle of sugar and cinnamon.
We hope you enjoy all these delicious dishes – and have a happy Easter!
Categories: Canaries, Fuerteventura, Gran Canaria, Be inspired, La Palma, Tenerife, Uncategorized
« Donation to the Mexican Association to Help Children with Cancer (AMANC)
Week of Happiness at Princess Hotels Riviera Maya »