Great Culinary Festival for the II Anniversary of the Skylights Restaurant 2019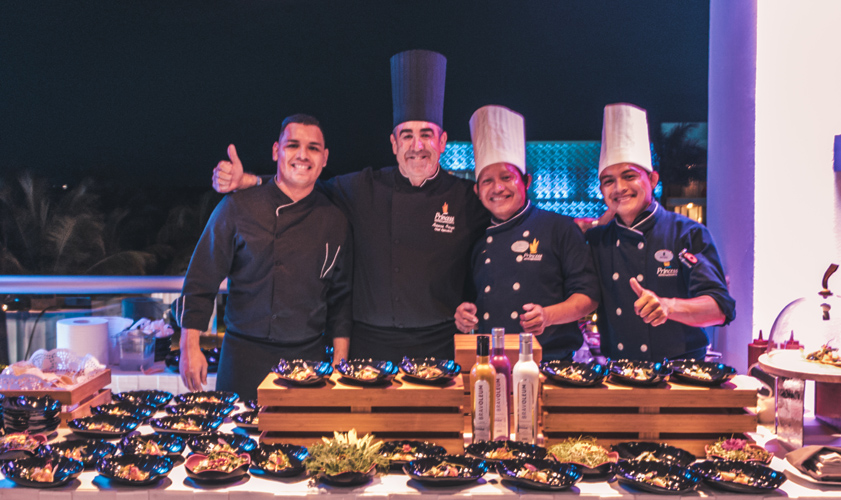 Chef Agustín Puc, decided to make an unforgettable Great Culinary Party celebrating the two years of monthly pairing dinners at the Skylights Restaurant, in Platinum Yucatan Princess. They get together on September 27th to this Great Event the 10 best chefs in the Riviera Maya! We also had the assistance of the best wine, tequila and craft beer houses, among other distilled beverages. In addition to having handmade chocolate, charcuterie, cocktail shows, mixology, live music bands and much more.
During the Great Gastronomic Festival, our guests and local residents savor extraordinary dishes, creatively conceived by our guest chefs!
Who were the chefs invited to the Grand Culinary Festival at Skylights Restaurant?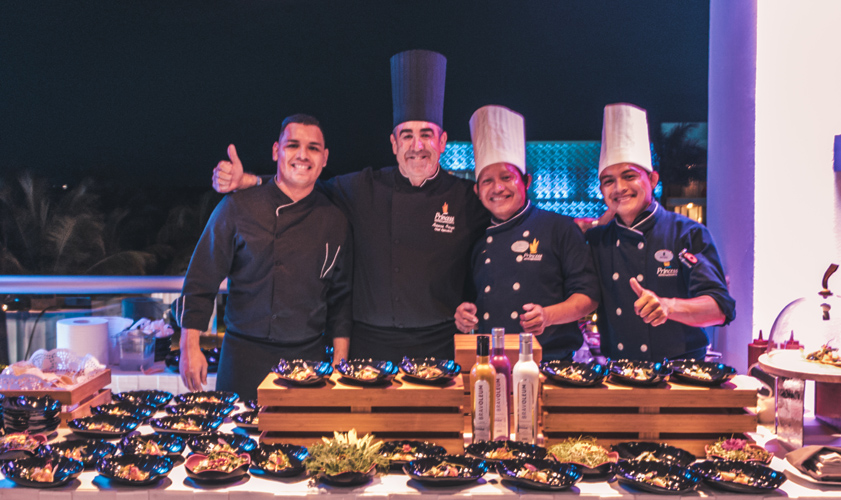 Here is what the menu presented by each of the guest chefs consisted of:
Chef Felipe González Celorio – Executive Chef of the Hilton Playa del Carmen Hotel
Menu: Black Caribbean shrimp ceviche.
Chef Antonio Ortega – Executive Chef of Grand Riviera and Sunset Princess
Menu: Esqueixada Cod with roasted poblano chili, xcatik air over Castacán of tender corn.
Chef Eugenio Villafania – Culinary Director of the Palmaïa resort in Playacar, Playa del Carmen
Creator of the innovative concept Xquitelicious, which prepares a unique way "esquites" and corn.
Menu: Esquite Royale.
Chef Nauremart Pothin – Chef creator of one of the best restaurants in Thai food at Playa del Carmen: Po Thai
Menu: Gai sa tee entrance (chicken brochette dipped in peanut sauce).
Chef Alexis Bostelmann – "Best Chef in the Riviera Maya" by the Cristal Brittania Foundation
Menu: Pork taco in chilmole, poached shrimp with lime, mashed avocado and pork rind.
Chef Eva Millán – Second Place Masterchef Spain in 2013
Menu: Rib eye toast with Satay sauce, creamy aniseed avocado and pickles.
Chef Diego R. López – Promoter of the consumption of the Lion Fish for the conservation of the reef.
Menu: Gordita de Jurel del Pacífico and Castacán de Yucatán.
Chef Max Sola – Executive Chef of Passion Restaurant by Martin Berasategui
Menu: Fake lemon with basil juice, peas and mezcal.
Chef Tiago Aceituno – Chef owner of "Mostaza", "Cocina de Huerto", "Roca Láctea", Cruzitos Burritos restaurants and Catering and restaurants advisor in Riviera Maya.
Menu: Tostadita won tong and castacán with salad of quelites.
Chef José Agustín Puc Chiclin – Executive Chef of Platinum Yucatan Princess
Menu: Surf and turf with cocoa nips: Grilled Mixed tacos and King Kampachi with cocoa mucilage.
How was the Grand Culinary Festival night of Skylights Restaurant?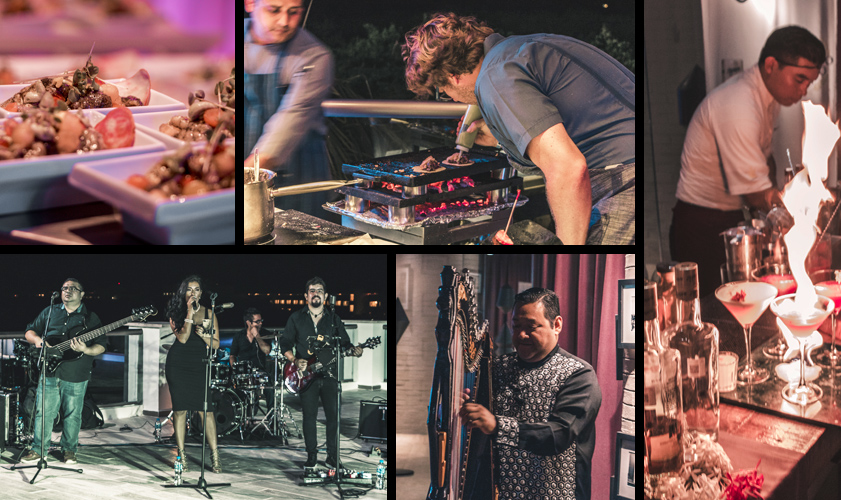 The night began with a great attendance of people from very early. Around 19:30 h the festival was practically full. All of course, enjoying the gastronomic delights of the chefs, interacting with them, enjoying the music and good wines.
To comfortably accommodate all attendees and enjoy various environments, the terrace above the restaurant also offered wine, craft beer and distillates. In addition to live musical bands, entertaining the event at all times.
What were the beginnings of the pairing dinners at Skylights Restaurant?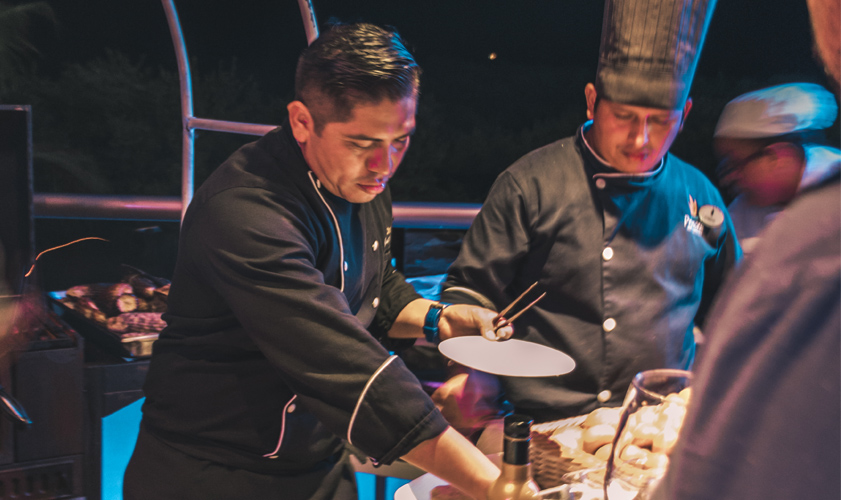 In 2017, our Skylights restaurant leaded by the chef Agustín Puc, would start a large culinary adventure. The challenge was to make at least one pairing dinner by month with a guest chef. They would bring extensive experience in the Riviera Maya and some interesting element that was attractive. This is how month by month, both the guest chef and the host chef, have taken us for two years to know different types of cuisine: unimaginable ingredients and always surprising us with the most unexpected and added to a Mexican touch!
Without a doubt, the Grand Culinary Festival was a night full of nostalgia. Remembering all the dinners that have been lived for 2 years and waiting for this anniversary celebration to be held year after year. This is what those who attended let us know. A party that must be repeated!
We want to especially thank the guest chefs and all our sponsors. They support us all times on the realization of this Culinary Festival and enhanced this event with its high quality products and services. Were you one of the attendees or do you know the restaurant? If not, would you have liked to attend? Leave us a comment!
Categories: Caribbean, Mexico, Riviera Maya
« Blog Experience | Get inspired by the Emily Kafoury (NOVA) experience at Platinum Yucatan Princess
Discover Scape Park Punta Cana with Princess Hotels »