Small contributions cause big smiles! – Give me a Hand from Princess Hotels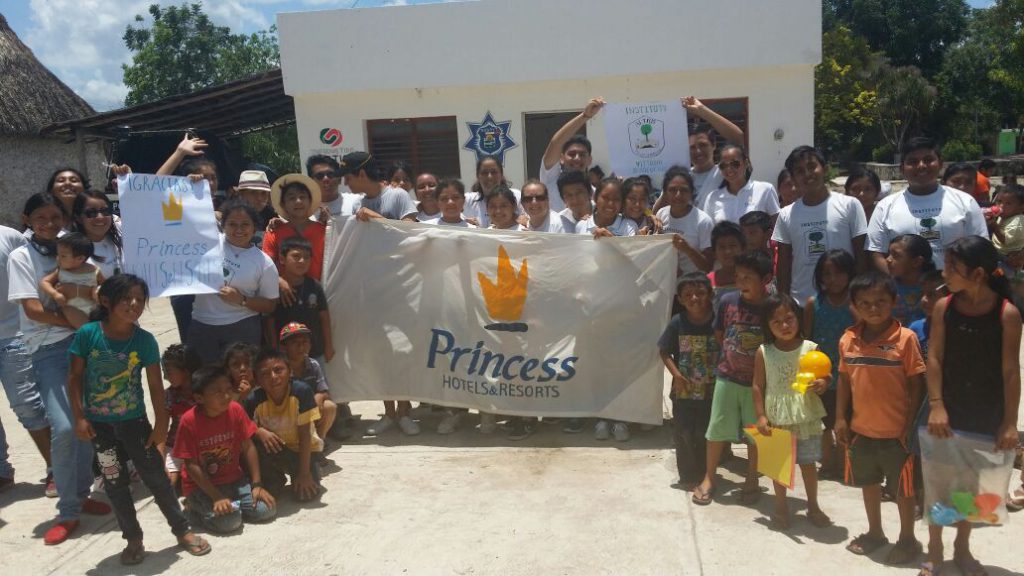 In the Quality and Social Media Departments at Princess Hotels in Riviera Maya in Mexico we have been working on a truly beautiful project. Our idea was not only to help out the most disadvantaged communities in the area where we work, but also to get our guests involved and share this nice gesture with them. As a company, one of our main commitments is to help improve the communities in which we operate, and that is why this project is so important.
As we mentioned in our previous post, with the assistance of the American organization "Pack for a Purpose" we have been collecting clothes, school supplies, kitchen items, shoes, toys, etc. for several months with two objectives in mind: firstly, that the materials collected would be useful for people in our community, and secondly, and more importantly, that they might get a smile out of a child.
On Saturday June 25, all of the team set to work on packing up, weighing and classifying all the donated objects, and then we went to the town of San Juan de Dios to share it all out. We were accompanied by students from the Vittorio Monteverdi Institute, a great bunch of youngsters that helped us to do the work and also spent time playing with the village children.
We started the trip with the idea of making people we didn't know feel happy, without realizing that it was going to be them that would make us happy and also making the experience so memorable for us all. We woke up early, loaded everything onto the bus that the school had lent us, and headed to the small town in the middle of the forest near the ancient Mayan city of Coba, about 2 hours drive from the hotel.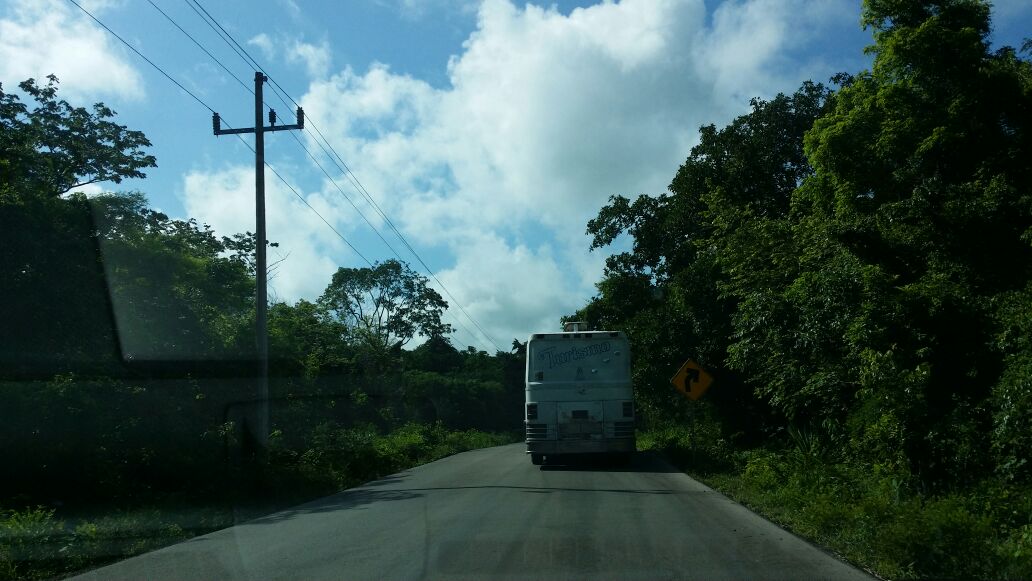 When we got there most of the people had a bewildered look on their faces, but this gradually turned into friendly smiles. Most of the inhabitants of the village only speak Maya so communication was a bit difficult at first.
The ladies were dressed in their traditional "huipil", a white suit with colorful flower embroidery on the neck and hem. As Maria Jose, one of the few villagers who spoke some Spanish, told us, this type of clothing has been used since the times of the Spanish conquest, and nowadays has become the typical regional dress in Yucatan. The embroidery was really spectacular.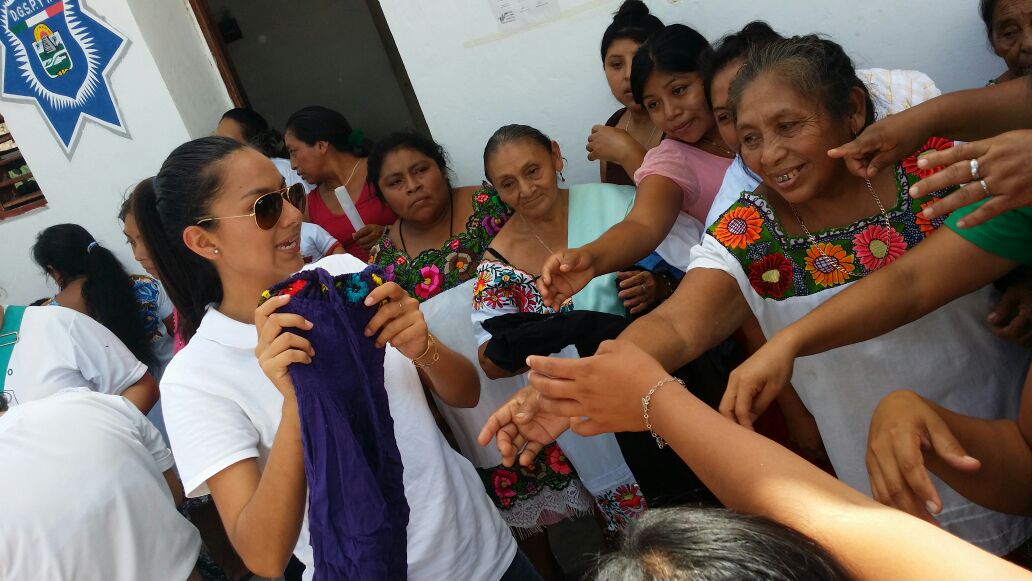 Just like the villagers, at first we were a little unsure, not knowing quite how to explain the reason for our visit. We reached the main square, home to a school, a kiosk and a police station, and Maria Jose used the police megaphone to call out to the people in the Mayan language, telling them to come towards us to get some gifts.
Gradually some women and children began to appear, and also some older men (most were in the jungle working). Although they didn't understand exactly what we were saying, they were all quite happy and thanked us by saying "bo'otik" in Maya.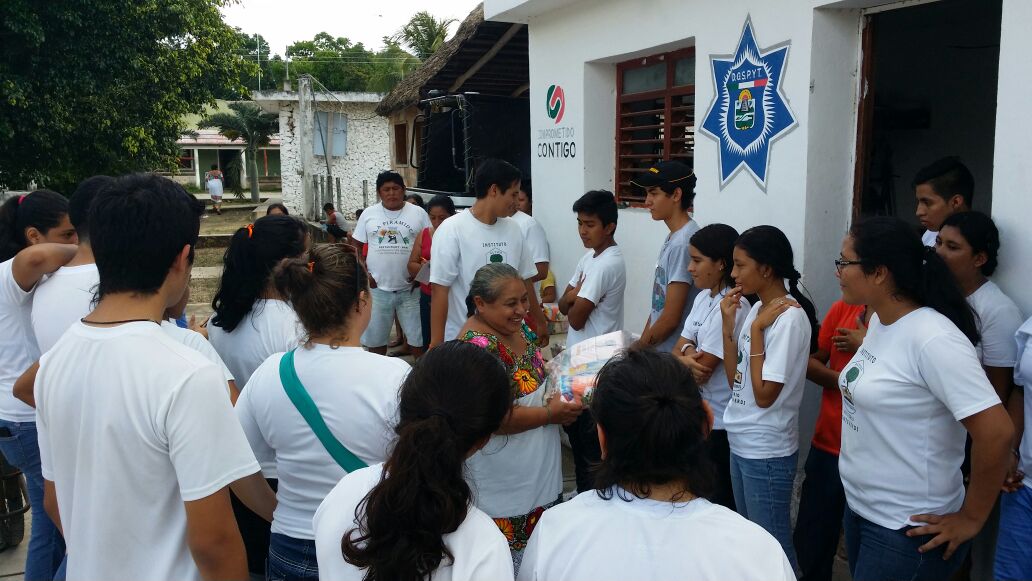 Princess Hotels would like to thank all of the guests who helped out with our "Give me a hand" project to make this kind of actions possible. Even though we know it is far from enough, there are still some small steps that we can all take to help small communities that do not get many opportunities to live a little better.
We are already working on our next action, collecting more school supplies and clothing for another small community, so your help is essential! We would encourage you to please help! At the Princess Hotels on the Riviera Maya look out for the transparent containers in the hotel lobbies, and if you have any questions, just ask our staff.
You can ask for more information through our Facebook, Instagram or Twitter accounts using the hashtag #DameunamanoPrincess
Categories: Caribbean, Hotels, Riviera Maya
Comments
« Things to do in Tenerife: Lunar Landscape in Vilaflor
Gran Canaria gay friendly: A rainbow coloured mini-continent »