Discover how to celebrate Christmas in the Caribbean with Princess Hotels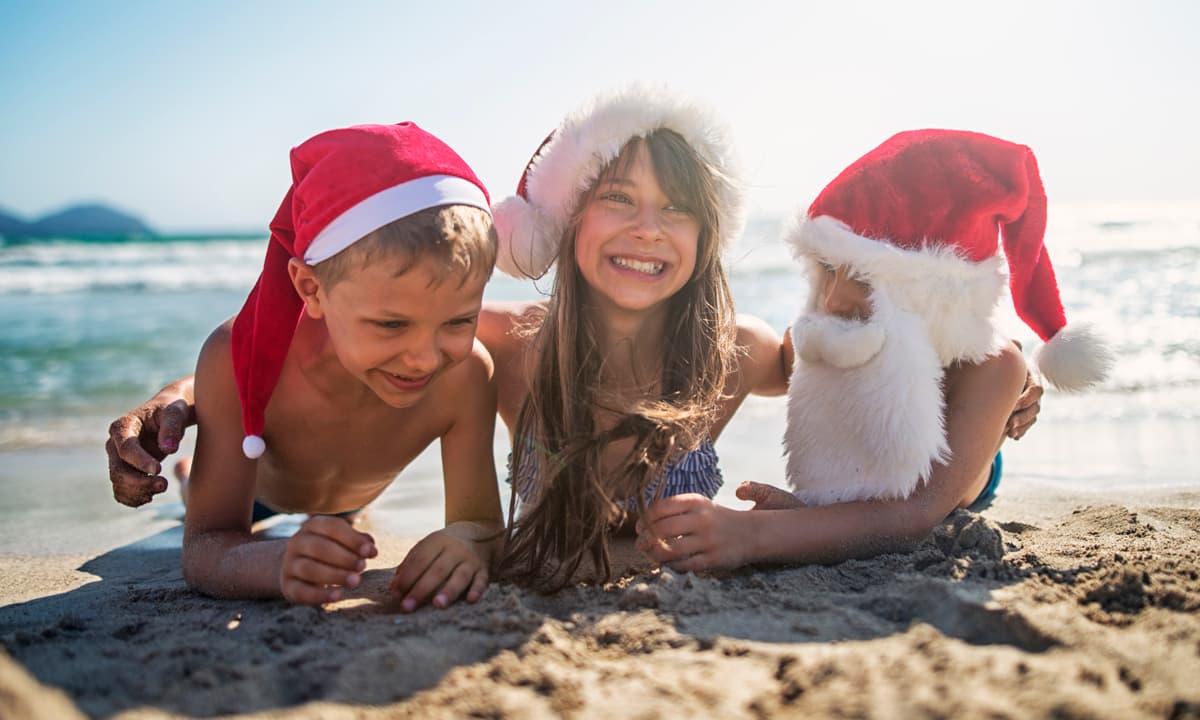 Christmas in the Caribbean? The festive season is approaching, and with it come Christmas carols, family visits and, of course, presents! We're sure that if we asked you why you would celebrate Christmas in the Caribbean, you could think of thousands of reasons! What better gift than an amazing Christmas holiday in the Caribbean?
In this post we'll teach you everything there is to know about spending Christmas in the Caribbean, and we invite you to learn more about the Christmas customs and traditions of Mexico and the Dominican Republic.
Why should you celebrate Christmas in the Caribbean?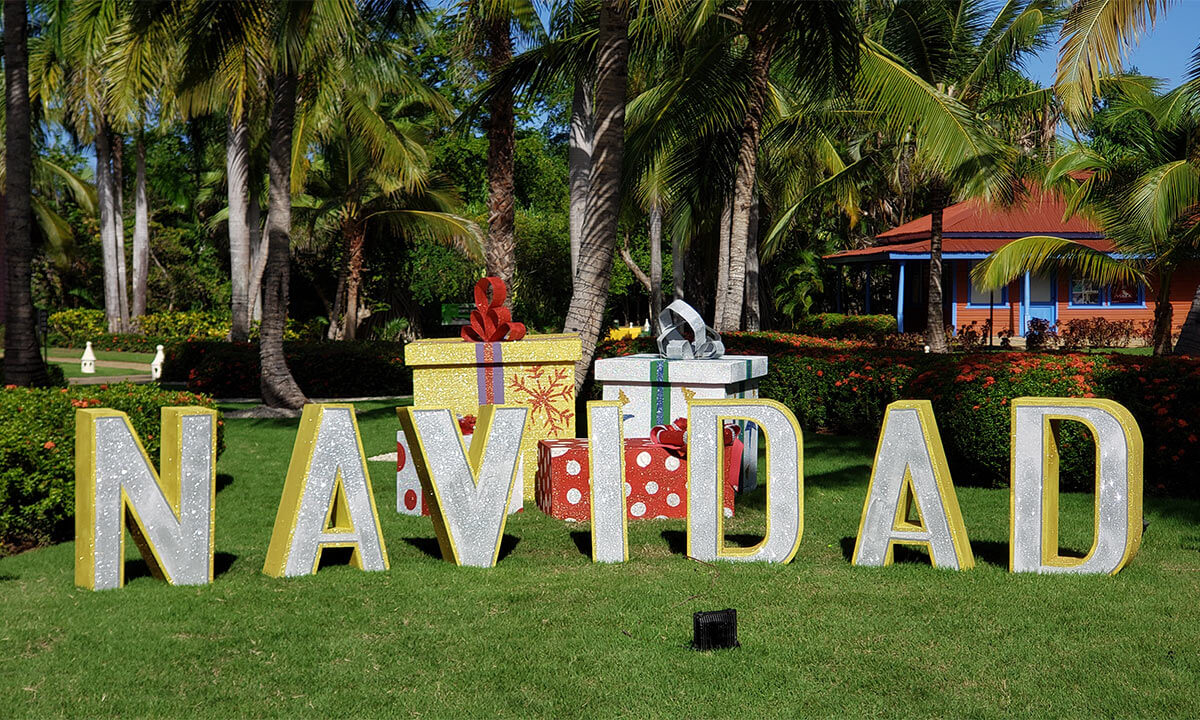 Enjoy the festive season in peace and quiet: We take care of cooking, preparing and organising your Christmas dinner while you enjoy the warm Caribbean climate.
Replace pine trees with palm trees for a different sort of Christmas: Can you imagine spending countless hours on the beach over Christmas? Venture into the most exotic natural wells and explore Caribbean attractions.
The kids will be delighted to swap snowmen for sand sculptures: Your child(ren) will enjoy fun activities during their Christmas in the Caribbean.
Replace toys with excursions: What better gift for a child than exploring a monkey sanctuary in the jungle? Or flying like Tarzan on a zip line? That will make your gift the most unique of all!
Experience the Christmas traditions of the Caribbean: Did you know that in Yucatán children go from door to door singing beautiful songs to earn their 'Christmas bonus'? Throughout Mexico, homes and public spaces are decorated with a flower known as the nochebuena (Christmas Eve, literally 'good night'). Discover the Christmas traditions awaiting you in the Caribbean!
The perfect moment to share with your loved ones: What better way to spend Christmas with your family than giving them the gift of escaping from the cold?
Get a tan in the middle of Christmas: There's nothing like seeing your smooth tan lines in the middle of January to help you get back to work after your holiday!
Explore our newly renovated hotels in Punta Cana! Tropical and Caribe Deluxe Princess.
Enjoy Christmas and give yourself the gift of a fun holiday in the Caribbean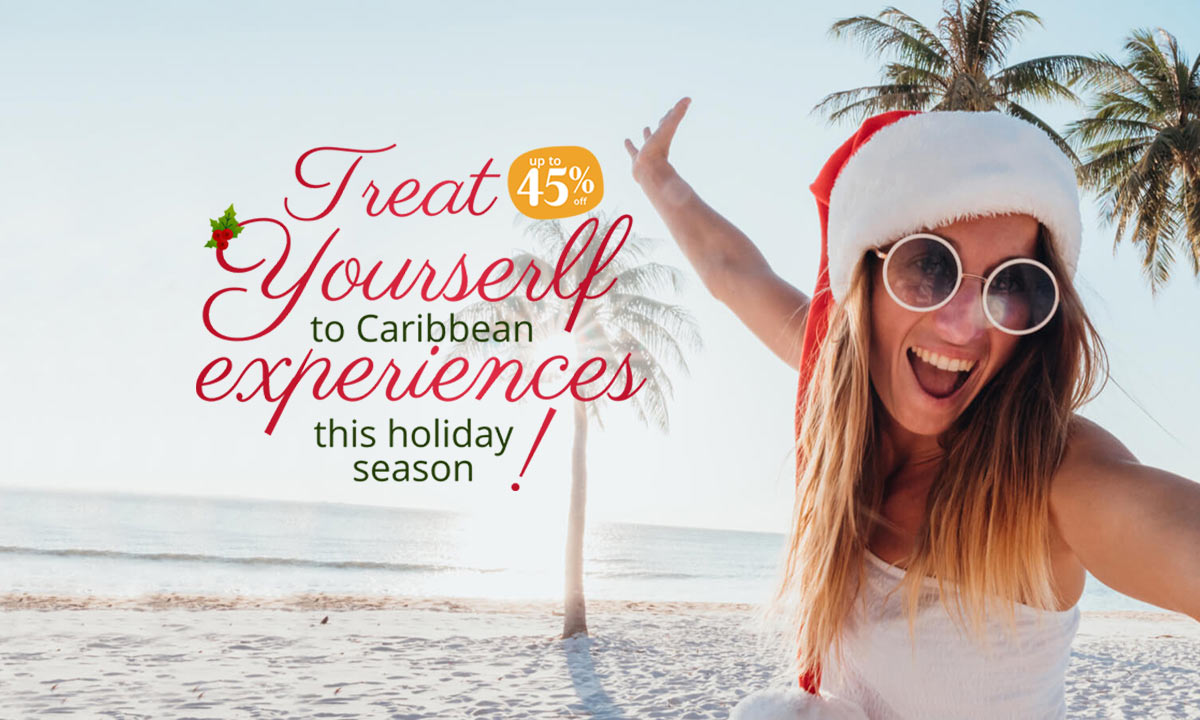 Princess Hotels is the best destination for your holiday in the Caribbean. At our hotels you'll be welcomed by sun, temperatures around 28°C, and spacious pools where you can relax while your skin acquires an attractive Caribbean hue. Our resorts are situated on an unbeatable seafront. They're the ideal place for heavenly beaches, delicious cocktails and an extensive range of activities. There will be no shortage of games and dance classes for you to indulge in the rhythms of the Caribbean!
Our hotels also offer you a diverse range of gastronomic options. In a single room you'll be able to go on an exquisite and unforgettable gastronomic journey: from Italian pastas to the refinement of French cuisine, with unmissable stops at the teppanyaki show, the juiciest steaks, and traditional Mexican and Dominican cuisine!
And finally, the most important thing throughout your stay, the smiles on our staff's faces! At Princess Hotels you'll have the opportunity to meet the best, most dedicated staff in the world. They'll do everything they can to make your Christmas holiday in the Caribbean a peaceful, lively and unforgettable one.
This Christmas we want to offer you the opportunity to give yourself the gift of a fun holiday in the Caribbean. To ensure that you enjoy your holidays in the Caribbean, we've prepared a special Christmas promotion with Princess Hotels, offering discounts of up to 45%.
Book until 5 January for stays from 1 December 2021 to 22 December 2022!
What is Christmas like in the Riviera Maya?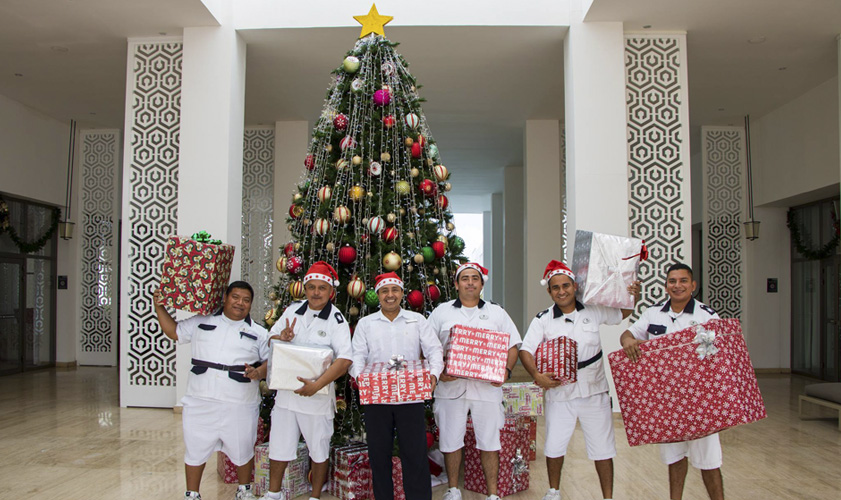 In the Riviera Maya you'll be met with all the Spanish Christmas traditions. There are also some surprising and special traditions in store for you. They'll make your holiday even more unique, giving you many stories to tell your friends and family. Some of the main Christmas traditions in the Riviera Maya include:
The seven-pointed piñata: It's one of the most emblematic and well-known elements of Mexican tradition. The piñata is also present in Christmas traditions throughout the Caribbean. This piñata is special because it's shaped like a star with seven points, each of which represents a deadly sin. Beating it with a stick represents the strength given to humans by God to put an end to sin.
Las Posadas: These important Christmas celebrations begin on 16 September and depict the suffering and hardship endured by the Virgin Mary and St Joseph as they searched for an inn on their way to Bethlehem to give birth to Christ.
The nochebuena flower: This flower, which is native to Mexico, has played an important role in Mexican culture since the time of the Aztecs. They called it the cuetlaxochitl, which means 'flower with resistant petals'. According to them it symbolised the blood of the sacrifices they offered to the sun to renew their strength. Many years later the Spanish christened it the nochebuena because it blooms in December. It has since become a symbol of Christmas in the Caribbean and is used as a decoration.
Unbeatable gastronomy: Tamales, buñuelos, churros, punch and hot chocolate are some of the delicious Mexican dishes you'll have the chance to try. They also make up the extensive and diverse gastronomy on offer at Princess Hotels Mexico. And, of course, let's not forget the star of the evening: the Christmas turkey!
What is Christmas like in Punta Cana?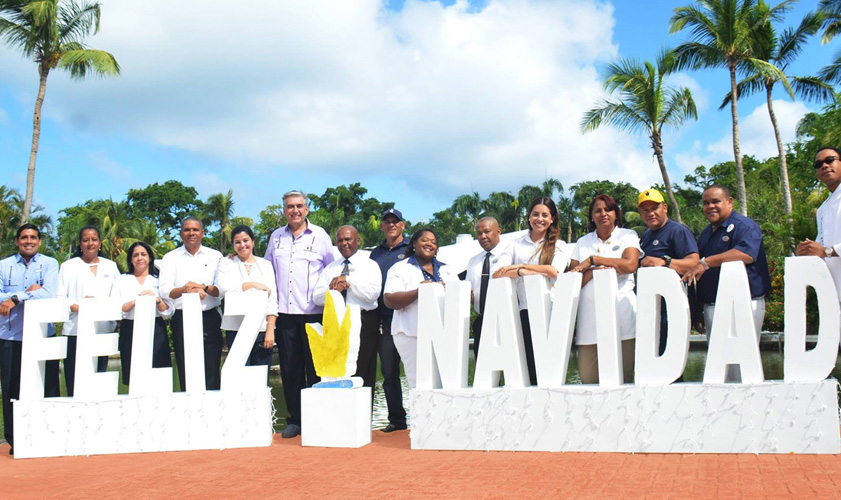 Come and explore the Dominican Republic with Princess Hotels in Punta Cana. You'll be able to learn about and enjoy the wonderful cultural melting pot that's celebrated at this time of year, bringing together traditions from around the world. Would you like to know what they are?
Christmas Eve: In keeping with the Christian roots of this island, the Princess Hotels present us with their live nativity scenes. They fill our hearts with emotion as they recall and commemorate the birth of Jesus.
25 December: as he does every year, our most famous guest visits our hotel from America: Father Christmas! Every year Father Christmas makes a special stop at the Princess Hotels in the Dominican Republic to greet us all, especially the little ones.
Every New Year's Eve: we join our Spanish brothers and sisters in their traditional 12 chimes of the bell. Accompanied by our entertainment teams, we eat the customary 12 grapes, which is always great fun for everyone!
6 January: the Princess hotels receive another wonderful visit from the East. In honour of an age-old Spanish tradition, the Three Wise Men pay a visit to our hotel and greet our little guests—for whom they always have a surprise or two.
International gala dinners on the nights of New Year's Eve and Christmas Eve: our culinary team shines in a gastronomic extravaganza that combines a splendid dinner banquet with spectacular décor at our buffets. You'll also be able to opt for exquisitely plated dinners chosen from delicious gourmet menus in our à la carte restaurants, defined by their exceptional service.
Special entertainment programme: entertainment for everyone—regardless of age, nationality, gender or status—exclusively on these dates. We love sharing traditions, so teach us your Christmas carols, your greetings, your culture and your customs for bringing good luck…
Here you'll find all the information you need about the Grand Bávaro Princess and Princess Family Club Bávaro Christmas and New Year's Eve Gala.
Here you'll find all the information you need about the Grand Riviera Princess, Grand Sunset Princess and Princess Family Club Riviera Christmas and New Year's Eve Gala.
Here you'll find all the information you need about the Caribe Deluxe Princess and Tropical Deluxe Princess Christmas and New Year's Eve Gala.
Here you'll find all the information you need about the Punta Cana Princess Christmas and New Year's Eve Gala.
Explore the hotels' apps to get detailed information on everything that's happening:
https://app.princess-hotels.com/caribe.html
We wish you happy holidays!
Categories: Caribbean, Tips, Be inspired, Punta Cana, Riviera Maya
« 5 beautiful villages on the island of Tenerife
The best gift this Christmas is here in the Canary Islands »