7 places to fall in love in La Palma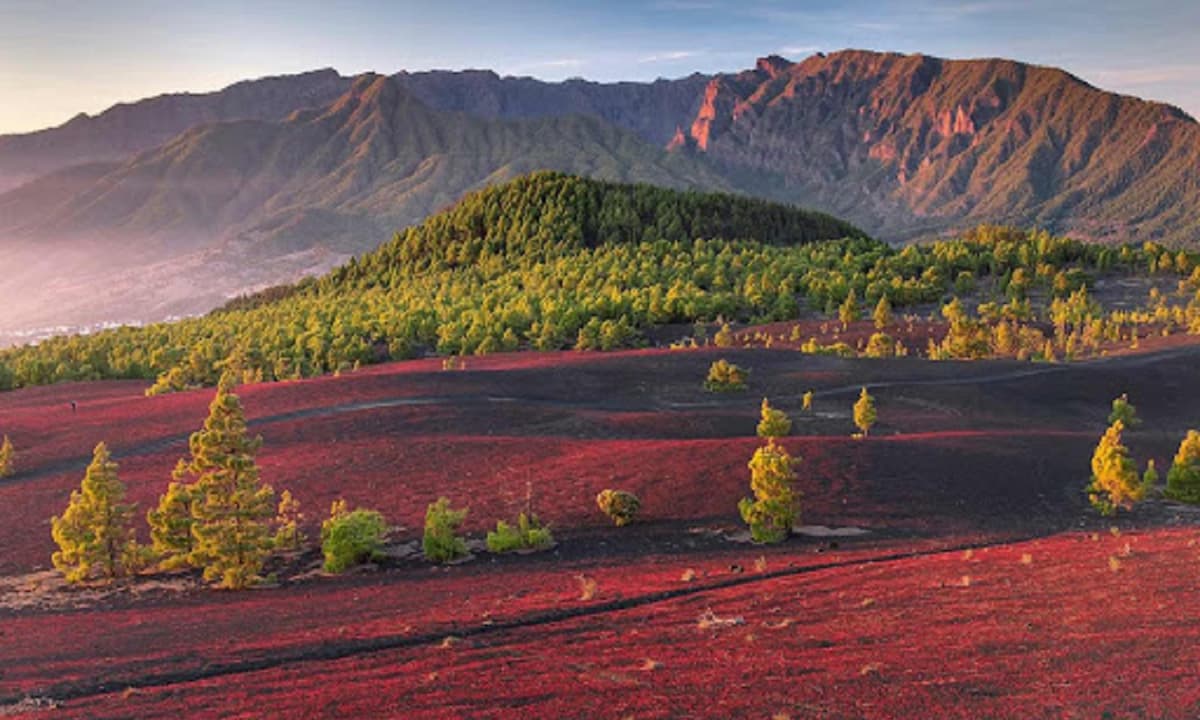 Could the 'Isla Bonita' (or pretty island, as it's known) be your love island too? Located in the middle of the Atlantic Ocean, La Palma is a prime holiday destination where you can take in unforgettable sunsets, dizzying coastlines and fairytale villages: an oasis of tranquillity with experiences that'll take you to another galaxy.
We're sharing our pick of seven spots in La Palma perfect for unforgettable moments with that special someone. Take note.
Voyage into space at Llano del Jable
You'll find a gateway to another galaxy at Llano del Jable in the municipality of El Paso. But this trip into space starts in your car. As you drive along the access road you'll notice how the surrounding lush vegetation gradually disappears, creating a gap in the sandy plain. And that striking contrast is just the first of many surprises.
As you set foot on the sand, you'll be hit by an awe-inspiring panoramic view of the Valle de Aridane, one of the best lookout points to contemplate the setting sun.
And then you get the sunset itself, a sense of infinite peace as you're enveloped by the mountains and the love of your life. Suddenly, as night falls, you'll see the stars. Time for your voyage into space… Llano del Jable, located 1,300 metres above sea level, is the perfect place to gaze into the night sky – what better place to fall in love?
A romantic stroll through the streets of Santa Cruz de La Palma
Santa Cruz de La Palma is a city from another era. Calle Real, Circo de Marte, Renaissance monuments in the Plaza de España, the typical Canary Island architecture of Casa Salazar, narrow streets…
These enclaves date back to the times of the bourgeoisie and pirates – a time that breathed the kind of romantic love that – for many – has disappeared. But it hasn't. It's still there. Right there in the capital city of La Palma. Ready to discover it for yourself?
Spend a fairytale afternoon at Poris de La Candelaria
A trip to Poris de La Candelaria in Tijarafe is a must-read chapter of your love story. This picturesque fishing village – straight from the pages of a fairytale – is hidden away in a cave surrounded by the Atlantic, and was once a refuge to escape pirate attacks.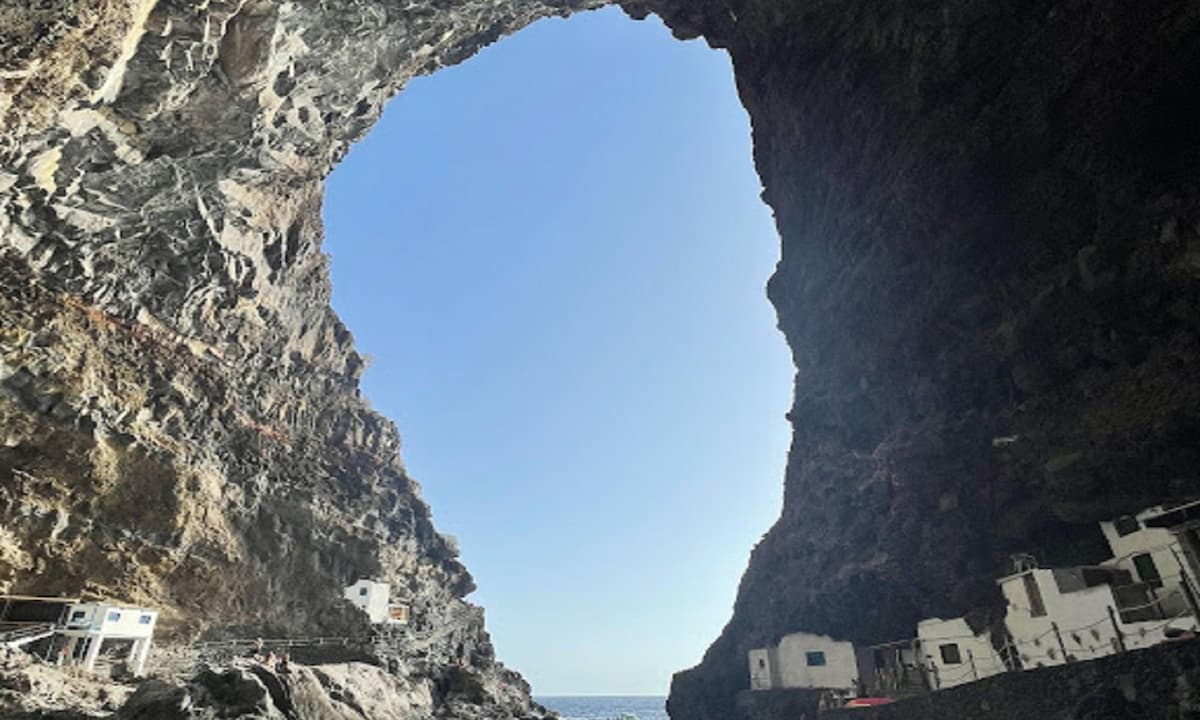 Maybe this is what makes it a place that stirs up such strong emotions? Lose yourself in the nooks and crannies between the little houses, take a walk high up on the rocks and beat your fear of heights, dive into the sea from the jutting rocks, and explore all of this magical heart-shaped sea cave…
You might be exhausted after all this, but you must save some energy for nightfall. It's another incredible spot to watch the sun go down over the Atlantic.
Experience a volcano of contrasts at Fuencaliente
Fuencaliente, land of volcanoes. Of lunar landscapes. And salt – both in the sea and in the salt flats. It's a place where the elements come together to form one of the island of La Palma's most beautiful landscapes.
Located on the slopes of the most recently-formed volcanoes you'll find the Canary Islands' newest salt flats. The black rocks, white salt, pink-hued waters and Atlantic blue open up a universe of contrasts for you to share with your partner.
Echentive beach is also brimming with colours that'll brighten up your day. A small pool of crystal blue water is hidden between the 'malpais' (rugged lava flow terrain) and orange cliffs: a truly dreamlike colour palette. And there's one more.
Get your pulse racing at La Caldera de Taburiente
La Caldera de Taburiente National Park is one of the most iconic La Palma destinations. And not just because it's home to the world's largest volcanic crater in the world… it transports you to the island's epicentre, and has some of the Canary Islands' most impressive landscapes.
You can access the park a number of ways, but we'd recommend you go via the Brecitos entrance. The trail is surrounded by Bejenao mountain, Punta de Los Roques and the peaks of the Roque de Los Muchachos. But your heart will be racing from the sheer beauty as opposed to exertion! Having said that, if you are tired you'll easily find the perfect spot to cool down.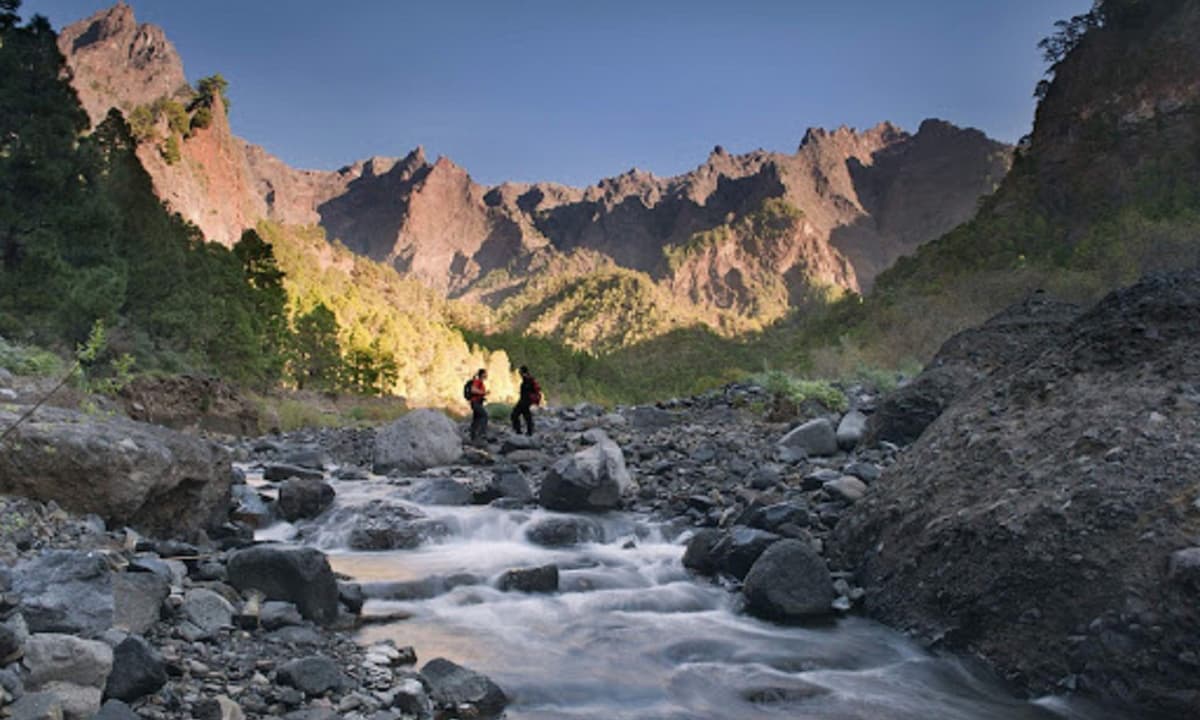 A stream meanders through the heart of La Caldera, creating waterfalls and ponds where you can swim, splash around, and maybe sneak a kiss…
Marvel at the starlight on a rocky mound at Roque de Los Muchachos
At 2,426 metres above sea level, Roque de Los Muchachos is as close as you can get to the stars in La Palma. You might've heard about higher peaks – but none are as close to the sky as this one. Some of the world's most prominent observatories are located here, and it's no coincidence.
During the day, you'll get utterly spectacular views from the top; but night-time is the perfect time to spend there with the one you love – see if you can figure out the constellations, catch a glimpse of a shooting star and make a wish together.
An oasis of tranquillity
The island of La Palma is the perfect place to disconnect from your normal routine. And there are few places as fitting as the La Palma & Teneguia Princess hotel in Fuencaliente, a truly idyllic region – as you'll know now you've read this post.
The resort is in the style of a small Canarian town surrounded by sea, banana trees and cliffs. Sun comes practically guaranteed, and you can pass the time enjoying all sorts of activities and facilities: spa, massage, swimming pools, sports, tropical gardens…
Not to mention the food. You won't find the huge range of cuisine on offer at La Palma & Teneguia Princess anywhere else on the Isla Bonita. Customers can decide exactly which deal they want (B&B, half board, full board or all inclusive), and also have a choice of three a la carte restaurants, two with tasting menus (open subject to demand) and two with buffet options. As the La Palma saying goes – a full tummy is a happy heart!
« Your winter holiday in the Canary Islands at the best rates
Famous movies filmed in the Canary Islands »