Things do do in Tenerife: Teide National Park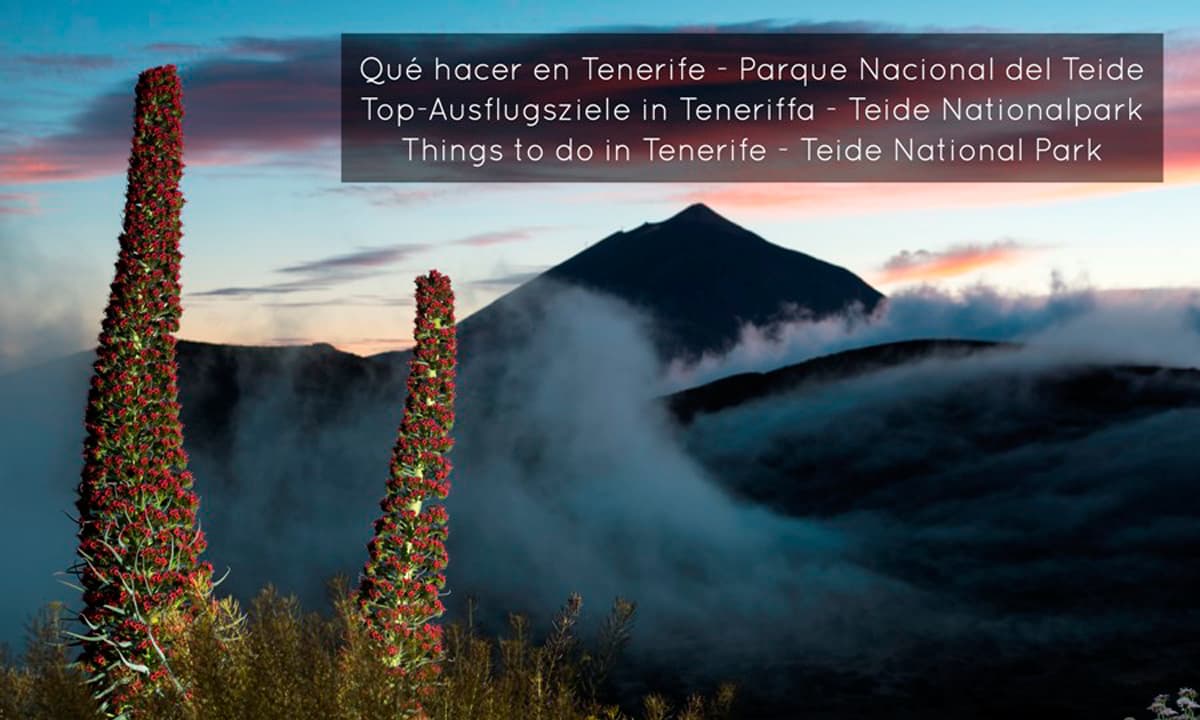 Since 2007 the 189.9 km2 Teide National Park is a UNESCO World Heritage Site. Declared a National Park already in 1954 it belongs since then to the TOP 10 of the most visited national parks on earths. This comes as no suprise, since its Pico del Teide with its 3.718 Meter is not only Spain's highest peak but also the third larges vulcano on this planet.
The impressive Teide National Park is surrounded by the largest nature reserve of the Canary Islands: the Parque Natural de la Corona Forestal.
The great scientific and scenic interest of this geological monument is not only due to its spectacular lunar landscape with caves, lava flows and hundreds of volcanic cones. Worth mentioning are as well its abundance of fauna and flora with endemic plants and species which only can be found in the park itself.
What can you do and see at the Teide National Park? Here are a few ideas:
1.) Take a ride with Spain's highest aerial lift!
The journey begins at the base station of the "Teleférico del Teide" and reaches the 3.555 high "La Rambleta" Station within 8 minutes. The vantage point "Mirador de La Fortaleza" will reward you with breathtaking views.
2.) Hiking
The best way to enjoy and discover the nature is by hiking the trails in the National Park, whether on a guided tour or on your own. Should you decide to walk on your own, you will find well signed paths as well as all the necessary information and maps at the Visitor Centers or the "Oficina Administrativa", the Administration Office. In order to climb the Teide a special permit is needed, which may be applied for here. The guided tours take place every day – apart from 01.01, 06.01 und 25.12. – and can be booked at the office of the National Park or at the Visitor Centers.
Oficina Administrativa del Parque Nacional del Teide
Address: C/ Doctor Sixto Perera González, nº 25. El Mayorazgo
38300 Villa de La Orotava (Santa Cruz de Tenerife)
Phone: 922 92 23 71
Email: [email protected]
Opening hours: 09:00 am until 02:00 pm (Monday – Friday)
Visitor Centers of the National Park:

a.) Centro de Visitantes Telesforo Bravo
Address: C/ Dr. Sixto Perera Gonzalez, nº25, El Mayorazgo. Villa de La Orotava
Opening hours: Tuesday – Sunday, 9:00 am until 02:00 pm and 03:30 pm until 06:00 pm.
Phone: 922 92 23 71
b.) Centro de Visitantes de El Portillo
Address: Road TF-21, Kilometer 32,1
Opening hours: Daily from 9:00 am – 04:00 pm (apart from 25th December and 01st January).
Phone: 922 92 23 71
Price: free of charge
c.) Museo Etnográfico Juan Évora
Address: Cruce de Boca Tauce (at the junction of the TF-21 and TF-38 roads)
Opening hours: Daily 9:00 am – 03:45 pm
Phone: 922 92 23 71
3.) Visit the observatory IAC (Instituto Astrofísico de Canarias)
Reach for the stars in one of the most important facilities worldwide. Thanks to the outstanding light conditions which can only be compared to those in Hawai, Chile und La Palma, you will find the perfect place to explore the sky.
The Teide and Teneriffe's peaks have been assigned a "Starlight-Certificate", declaring it one of the world's top stargazing spots. The low light pollution is owed to the Ley del Cielo (the Spanish "Sky Law") which was issued to protect the astronomical quality.
For passionate star gazers Tenerife is definitely the right place. Here's a list of companies specialized in astronomic observations. Should you wish to have a look at the stars on your own, you can find the most beautiful stargazing spots here.
If you fancy visiting the Observatory and take part on a guided tour (Spanish, English, German) please reach out to the company Volcano Life: Tel. 0034-637 365 429 / Email: [email protected].
How do I get from Costa Adeje to the Teide Nationalpark?
· By bus with bus number 342
· By car via the TF-21
The Teide National Park is about 40 km away from our hotels Bahía Princess and Guayarmina Princess
Categories: Tenerife
Comments
« 10 reasons to visit the Dominican Republic – Princess Hotels
Barcelona Triathlon for a good cause »