Guide of the 7 most popular places in Riviera Maya (for adults)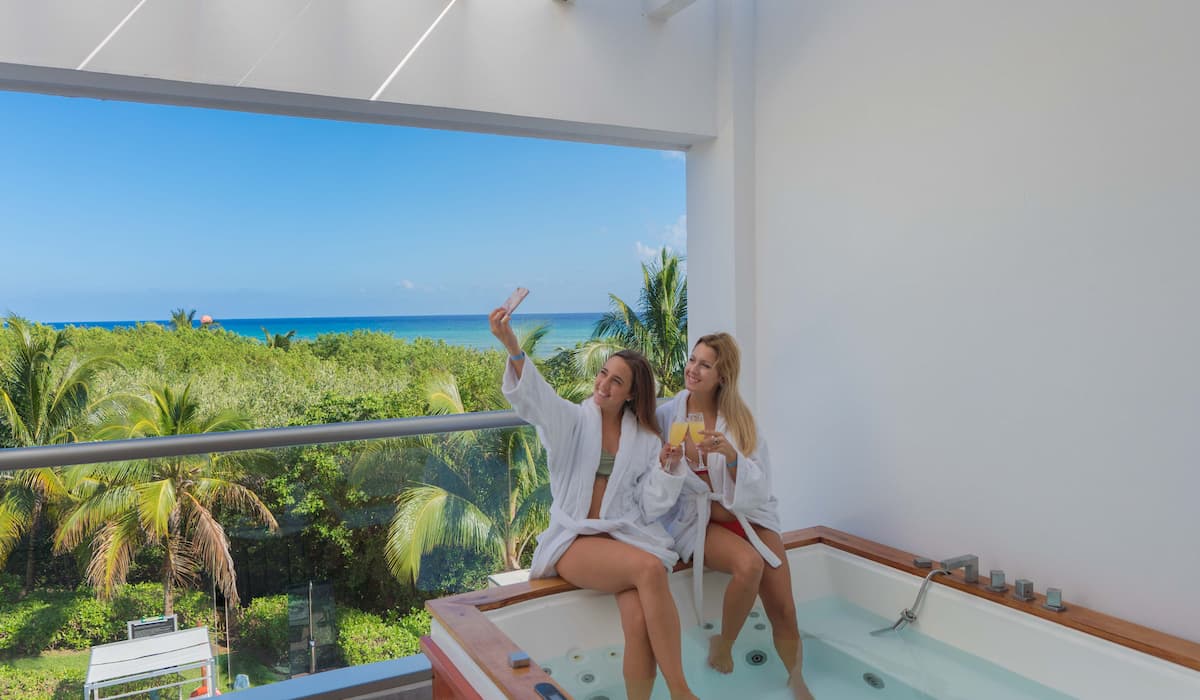 Riviera Maya is one of the most popular tourist destinations in Mexico! Millions of people around the world visit it every year and there's always something new to do or discover. Unique places and activities await in Riviera Maya. If you are planning an adults-only trip, be it with your partner or friends… Here are 7 of the most popular places you can visit in Riviera Maya!
1. 5th Avenue, Playa del Carmen (at night)
Playa del Carmen is full of places to visit but there is one you simply cannot miss: 5th Avenue at night. In the heart of Playa del Carmen is the most important avenue in the area. No matter what the time, there's always something to do or somewhere to go. The Fifth Avenue concentrates the best Playa del Carmen has to offer at night. As you walk down it you will see endless bars, discos, restaurants and you will surely bump into a gang of mariachis or some folkloric spectacle – the fun never ends! You can take a break from walking in Parque Fundadores while watching the traditional Voladores de Papantla.
2. Playa Paraíso in Tulum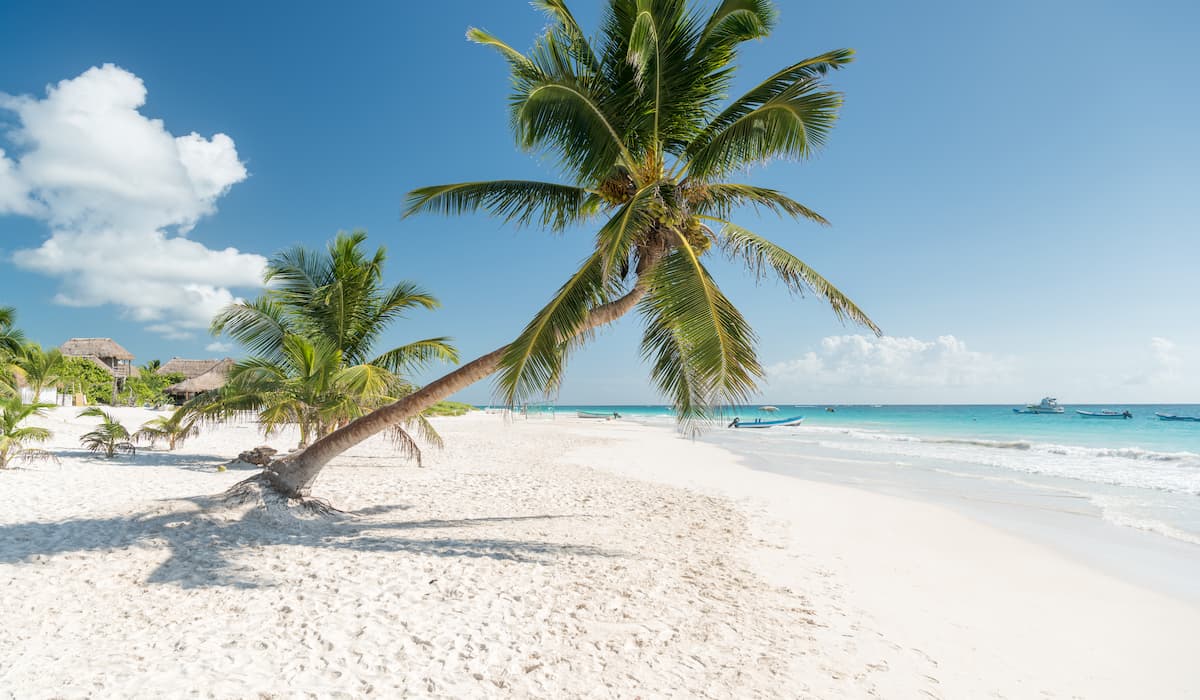 Playa Paraíso is considered one of the best beaches in the world and it lives up to its name. It is known for:
The many different hues of its

beautiful waters

Its

white sand

Its

spectacular nearby attractions such as the Archaeological Site of Tulum
It is also near the hotel area of Tulum, filled with luxury hotels. If you are looking for nightlife you will definitely find it in this part of town. There are bars and restaurants to suit every pocket, though most are luxurious and stylish.
3. The Coco Bongo disco in Cancún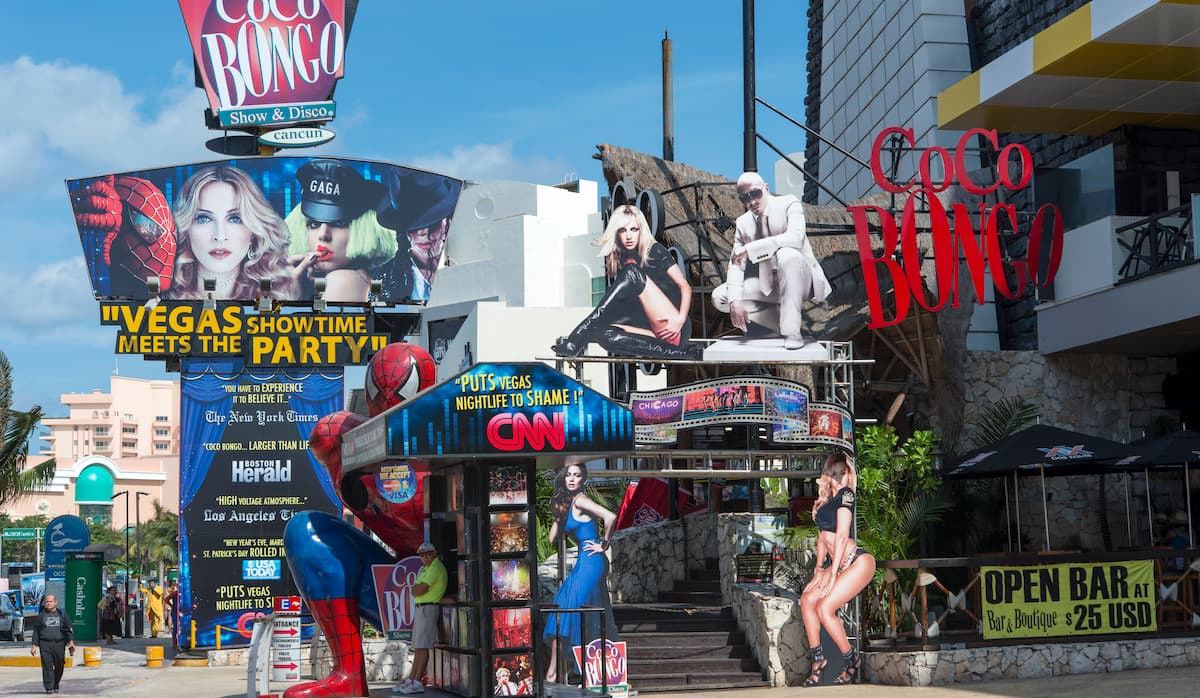 If your plan is to party all night long this is the perfect place for you. The largest disco in Cancún and the most famous one in recent years! Located right in the heart of the Hotel Area, Coco Bongo is the lighthouse of Mexico's partying capital, Cancún. It is only a street away from the Caribbean Sea and it claims to offer travellers the most incredible night of their lives.
4. The underwater museum of Isla Mujeres
The Underwater Museum of Art on Isla Mujeres is one of the most popular attractions in the Mexican Caribbean. The beauty of its 470 life-size figures that lie at the bottom of the sea make this a place you cannot miss in Riviera Maya. This place was created in 2009 as an eco-tourism project to protect and preserve Caribbean reefs. To that end, ecological figures that help the algae and coral reefs grow were placed on the seabed. The statues are strategically arranged to protect marine life, the coral that grows there and the statues themselves from inclement weather.
5. Catamaran trip to "El Cielo" on Cozumel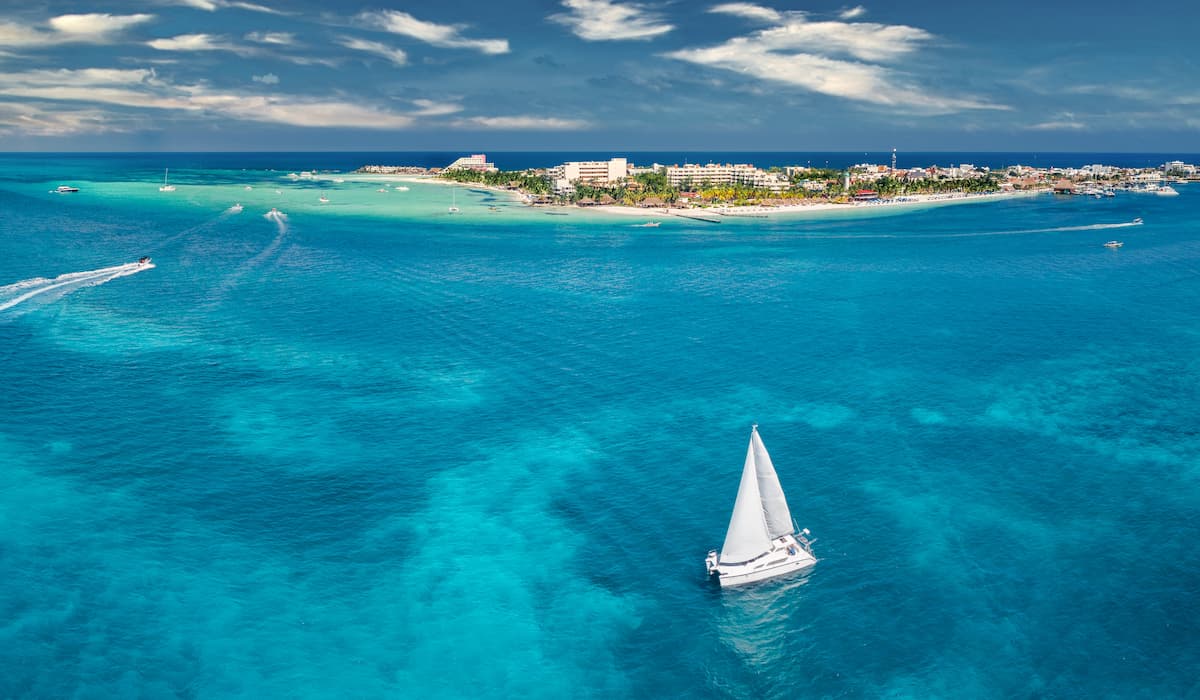 Cozumel's "Cielo" ("Sky") is a sand bed 800 metres from the shores of Cozumel. To reach it, you need to travel by boat or catamaran, which certainly makes the experience all the more special.
It owes its name to the number of starfish

you can see in its shallow waters.

The beautiful turquoise water blends seamlessly with the sky.

You can practise water sports such as

swimming and snorkelling

.
This underwater paradise is not only inhabited by echinoderms, but also by hundreds of colourful fish, manta rays and even sea turtles. If you love birds, you can also see them fly to this beach and enrich the ecosystem with their presence.
6. Holbox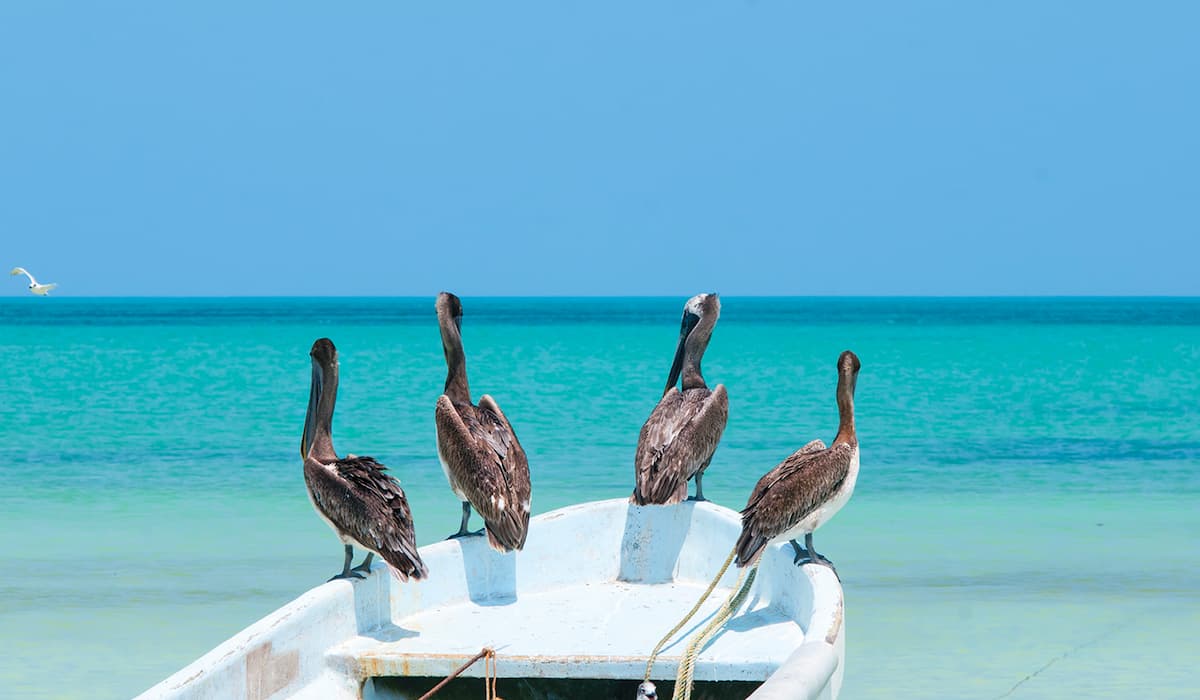 Holbox is the perfect place to relax and have fun! This island boasts several types of accommodation to suit all pockets and tastes, such as camping, glamping, rural cabins, bungalows, boutique hotels… all immersed in the surrounding nature. The activities available are many for such a small place:
One of the most popular options is

swimming with whale sharks

!

You can also sign up for

pleasant horseback riding trails

.

Kitesurfing or kayaking

through the mangroves.

Even swimming in the eye of the

water cenote Yalahau

.

You can even snorkel among its

beautiful and colourful coral reefs

.
Holbox has a wide variety of birds. Nature and birdwatching enthusiasts will find this an ideal location, as you can spot white and brown pelicans and beautiful pink flamingos!
7. Princess Platinum Yucatán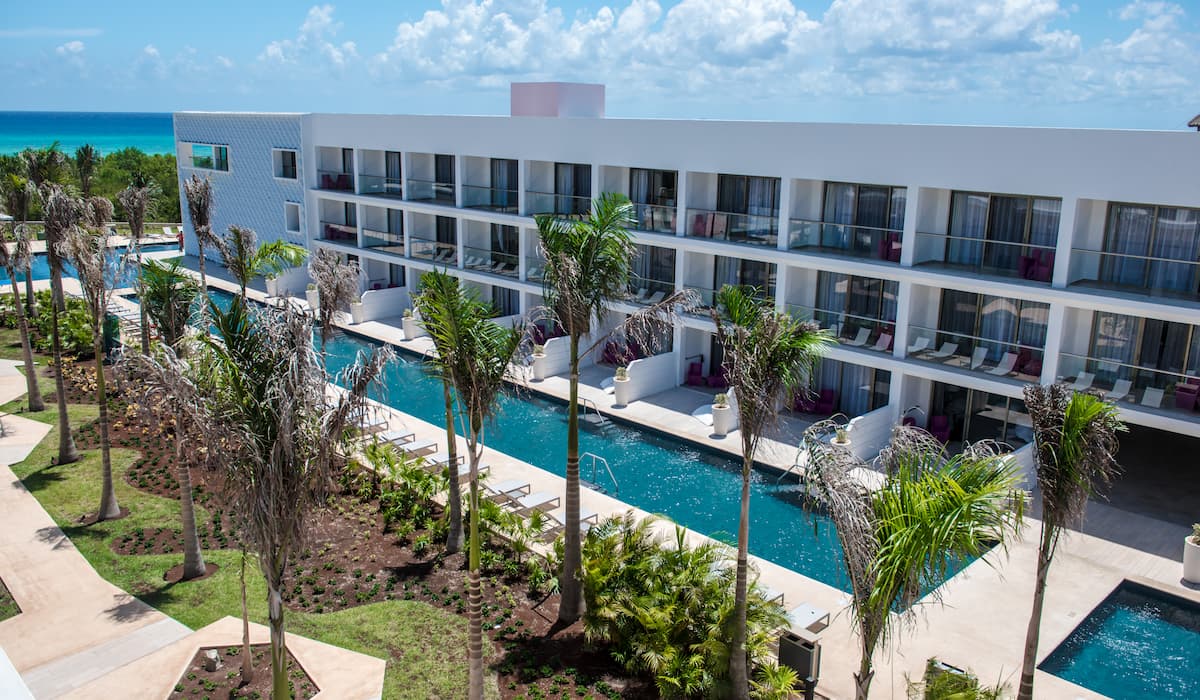 One of the best hotels for adults only in Playa del Carmen. The Platinum Yucatan Princess hotel was born to be one of the best resorts in Riviera Maya. It is in Playa del Carmen, a heavenly location facing the crystal-clear waters of the Mexican Caribbean. You will live a unique and unforgettable experience in this adults-only hotel in Playa del Carmen.
Hotel Platinum Yucatan Princess, a new hotel in a luxurious setting in Playa del Carmen where you can enjoy the sophistication of its modern and tastefully decorated rooms. It is the perfect place for spending an exclusive holiday in the Caribbean, where you can forget about the daily grind and have the chance to discover the Caribbean paradise in one of the best hotels of Riviera Maya.
We'll be waiting for you at Platinum Yucatán Princess! We'll help you organise the best adults-only holiday you can imagine!
Categories: Caribbean, Riviera Maya
« Celebrating Dia de los Muertos at Home
Enjoy the exclusivity of the Esencia de Fuerteventura hotel »