Special Valentine's Day in the Caribbean: discover the Princess Hotels experience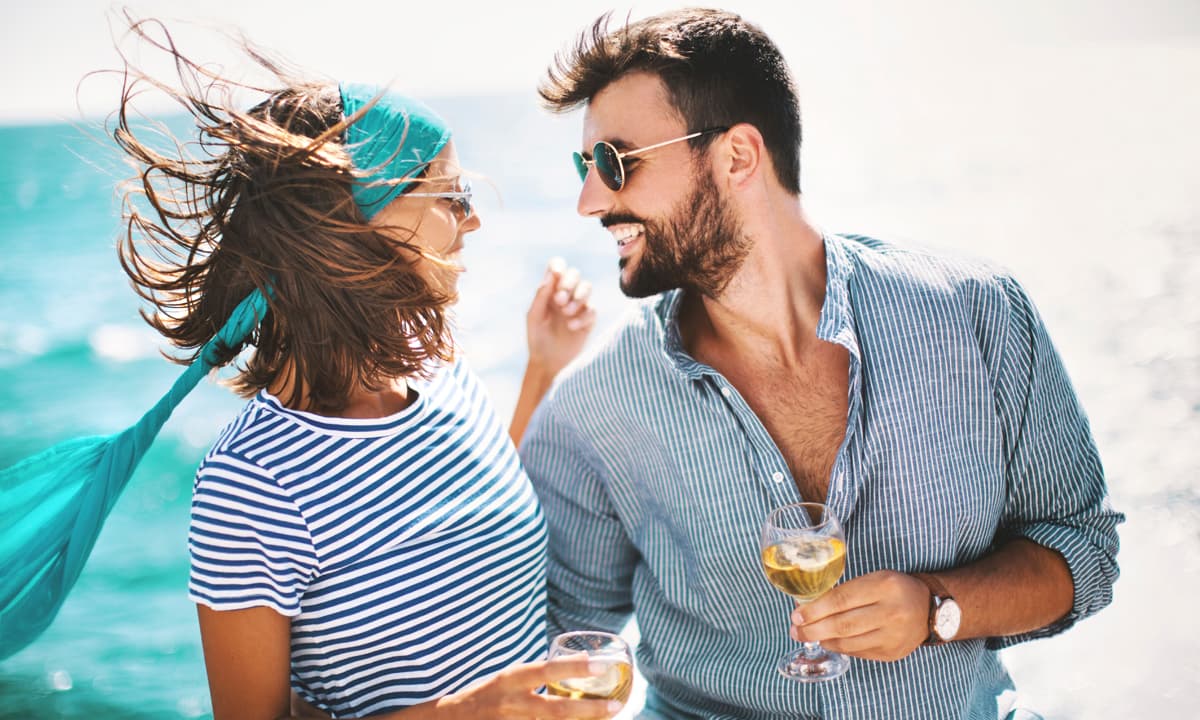 February is the month of love and what better place to enjoy it than the Caribbean?
The temperature is mild and with enough sun to make your vacation worthwhile! It is a great season to enjoy the best excursions and attractions of the Caribbean. You will find many different things to do both in Mexico and in the Dominican Republic. Can you imagine walking along the beach while the sun goes down while you enjoy a delicious cocktail? Unique memories to share with your partner… incredible, right?
In this publication, we want to help you celebrate Valentine's Day in the best possible way. We present you with tips and ideas that would please any couple: from the most adventurous, to couples who wish to have a quiet and romantic vacation at Princess Hotels Caribe.
Do you want to experience the special Valentine's Day in the Caribbean?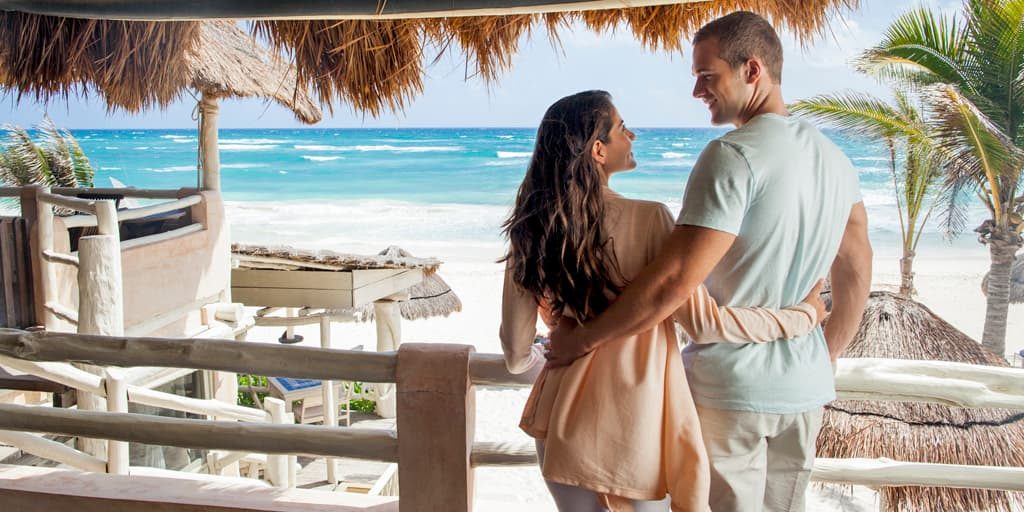 You will not find a more perfect scenario for your romantic getaway than the Caribbean. The sun is warm and invites you to enjoy the best of this region. You can take long walks on the beach or take one of the many tours to explore the Caribbean. You feel more alive and full of experiences, wanting more! Horseback riding on the beach; Surf in the ocean or just sit and drink delicious frozen margaritas. Relive the highlights of your relationship, whatever you want, it's better in the Caribbean!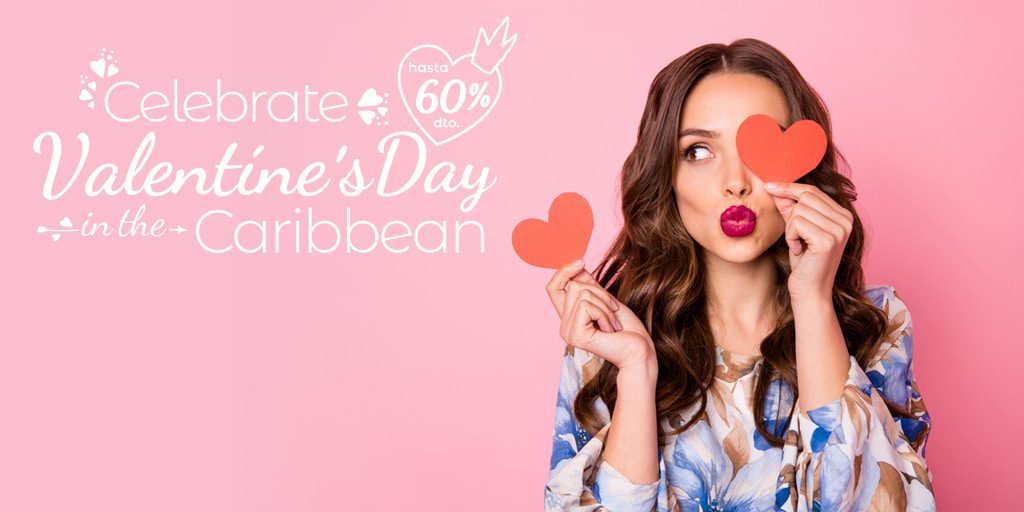 How to celebrate a special Valentine's Day in Mexico?

Valentine's Day is a celebration imported from Europe and that has no basis in Mexican culture. Anyway, Mexicans have adopted this holiday with the same enthusiasm as our European compatriots. However, in Mexico, love is not the only thing celebrated since this festival is called "The day of love and friendship."
In Mexico, as in other parts of the world, Valentine's Day is celebrated by showing affection to people who love each other. This is often done by giving flowers to couples, especially roses, candies and balloons. Many Mexicans will also give small gifts or greeting cards to close friends and family.
A usual way for a young lover to try to win the heart of his beloved is to hire a group of Mariachis to accompany her on the eve of Valentine's Day. Musicians usually accompany the lover while he serenades his beloved under his window. Also, the lovers who are in a relationship hire the mariachi to sing the serenade on Valentine's Day as a demonstration of their romantic love.
In some parts of Mexico, there is another tradition that still exists today: "El Paseo". The custom is for young people in the community to gather and parade in circles around the town square under the supervision of parents and other family members. The boys walk in one direction and the girls go in the opposite direction. When a young man sees a girl who captures his interest, he gives her a flower casually by the time they pass one next to the other. If in the next round, the young woman is still using the flower, it means that she is not indifferent to her young admirer.
How to celebrate a romantic getaway in the Riviera Maya?
The Mexican Riviera is one of the most popular destinations for romantic getaways and its reputation is well deserved! At Princess Hotels Riviera Maya you will find different ways to celebrate Valentine's Day and make the most of your Caribbean vacation. In our all-inclusive resorts, you can organize romantic dinners, very intimate and dreamy in our Chill Out restaurant next to the beach. Reward your palate with a deliciously fresh lobster accompanied by a glass of wine and remember all the good times you have spent together.
If you are an adventurous couple, you will have a good time exploring one of the most famous parks in Playa del Carmen, Xplor. During this tour, you can "fly" in a huge zip line circuit; Travel through two different jungle circuits aboard an amphibious vehicle, crossing suspension bridges and even driving underground. You can also add more excitement to your experience by choosing the Xplor Fire tour, which will take you to incredible adventures at night.
On the other hand, if you want to add some tradition to your romantic getaway, you must book a Xoximilco Dinner Cruise. You will learn to have fun like a true Mexican while boarding a traditional trajinera (a small boat, usually adorned with flowers, which is used in the Xoximilco channels). Click here to see more plans!
How to celebrate a special Valentine's Day in the Dominican Republic?
In the Dominican Republic, the celebration of February 14, is interpreted not only as a day for lovers but also to extol the friendship and affection we have for one another. A tender date and full of emotional moments between friends of the soul, who take the opportunity to present themselves with some detail, chocolate or sometimes just a nice card, to reinforce the feelings and good wishes towards that family member, friend, neighbour or co-worker.
How to celebrate a romantic getaway in Punta Cana?
In Punta Cana, an eternal summer awaits you! Do not miss giving beautiful walks through our endless beaches hand in hand with your loved one, while the waves bathe your feet. Beautiful sunrises that we can contemplate as a couple, watching the sun bathe our palms and pools with their light. Without a doubt, an idyllic setting for a romantic getaway!
Can you imagine a quiet experience and in harmony with the natural environment that surrounds us? It would be an excursion on horseback, riding the two in a beautiful horse at sunset, on a Caribbean beach under the coconut trees and on the seashore. You will cross fields of coffee and cocoa on the back of such a noble animal. Climb with your partner, the two together, to a parasailing, and discover Bávaro from a bird's eye view, the two of them flying over the sea and our coasts. How about a diving excursion? Did you know that you can organize a hand request with our water sports centre underwater? Of course, it is very romantic to be able to explore the underwater world both together, between coral reefs and colourful fish.
And of course, we can not stop recommending the obligatory visits to Isla Saona and Isla Catalina. Two islands south of the Dominican Republic protected as a natural park, which enjoys a well-deserved reputation for its idyllic setting of white sand like flour, transparent sea, and prints worthy of the most desired postcards.
What plans does Princess Hotels offer in the Caribbean for a romantic stay on Valentine's Day?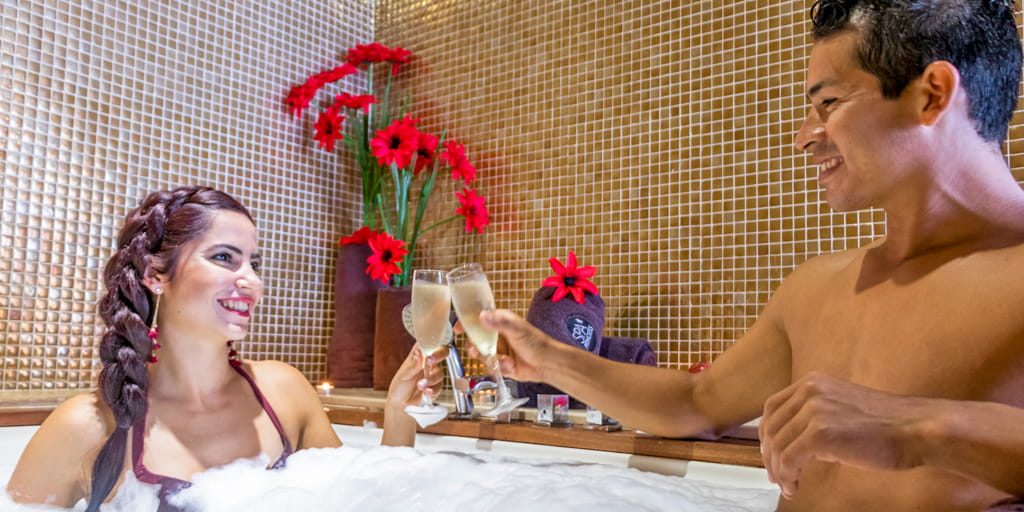 Let us inspire you a little, we want to tempt you not to miss giving this beautiful surprise to your travelling and loving companion. Imagine our romantic and modern rooms, waiting for you every day after the beach. The comfortable bubbling Jacuzzi, room with all kinds of comforts, facilities that will make you not want to leave it, an environment designed for intimacy and complicity as a couple … There is always so much to do at the Princess Hotels Caribe resorts that the worst of all is to decide what to do. To make things easier, we highlight our favourite suggestions for the special Valentine's Day:
Renewal of vows: Why not give your holidays a touch of spontaneity? Something original and at the same time romantic and unique. It is the perfect time for a renewal of vows, we have packages prepared just for you, we do not need anyone else, only you and your unconditional love. Our wedding coordinators are responsible for the rest, you will never forget this special Valentine's Day.
Romantic photo session on the beach for two: A romantic vacation in the Caribbean is something to remember forever. Why do not you leave the camera to the professionals and poses for a photo shoot on the beach? We guarantee that you will feel like a model and that those photos will be the envy of your friends and family.
Enjoy a wellness treatment at a local spa: Holidays mean relax and enjoy, what better way to visit the Spa? Ideas so that your mind flies to a haven of relaxing peace, to enjoy your love and your partner. In our centres of serenity and harmony, you will find everything you need to pamper your mind, body and soul.
Temazcal Ritual: If you want to gather unique experiences in your vacations, perhaps this is the best time to book a Temazcal session at the Riviera Maya Spa. The Temazcal is a prehispanic ritual that was used as part of a healing ceremony designed to purify the body after an effort, a battle or a ceremonial ball game. It was also used to heal the sick, improve health and for women to give birth. Today, the temazcal is still a place to purify the mind, body and soul and where you will have the opportunity to reconnect with your partner.
Romantic sunset on the beach: Because sometimes, the best things are the simplest, why not enjoy a sunset on the beach? While you enjoy the warm climate of the Caribbean, take your lover for a walk in the afternoon. Take the time to rest on the white sand beach and, of course, enjoy the cool turquoise sea that bathes our hotels and awaits one of the most beautiful sunsets you've ever seen. You will never forget this moment!
Intimate romantic dinners on the beach: Of course, at our Princess Caribe hotels, you can not miss the intimate and romantic dinners on the beach, under the stars, while your feet play with the sand and the sound of the waves enliven your evening. A dinner designed just for you, made with all our love so that in every detail you find a memory that will last forever in your memory.
We hope without a doubt that you cheer up and visit us to celebrate with your partner a Valentine's Day in paradise! What are you waiting for?
Categories: Caribbean, Tips, Hotels, Be inspired, Punta Cana, Riviera Maya
« Discover our hotel in Mogán for your next holiday
Give the gift of a unique experience in our Canary Islands hotels this Valentine's Day »