How to plan a road trip in Mexico with friends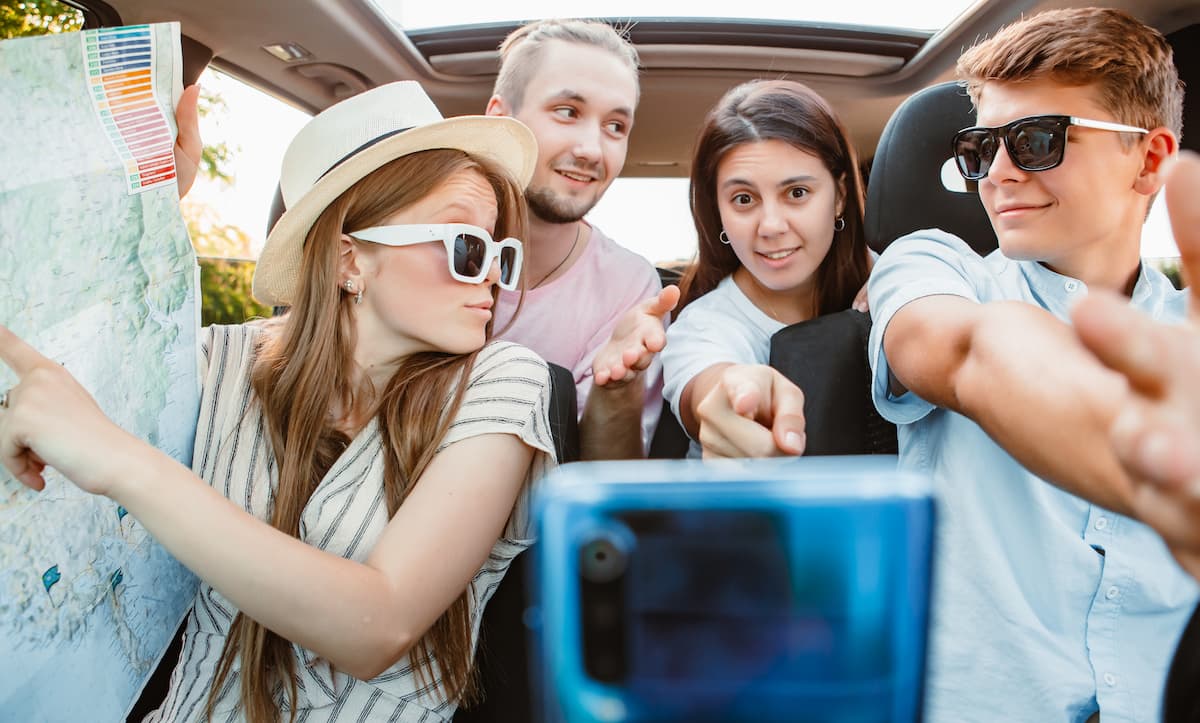 Mexico is a wildly diverse country with natural wonders ranging from the Sonora desert to the heavenly beaches of Quintana Roo. Big cities and magical towns are ready to be discovered on a road trip everyone should do at least once in a lifetime.
Being in complete control of your journey, having the freedom to go wherever you want and discovering incredible places and unique people is an unparalleled experience. At Princess Hotels we know the journey is just as important as the destination, which is why we want to give you some tips to better plan your road trip in Mexico with your friends:
Choose your travel companions

One of the most important decisions is knowing who you will travel with, and before you decide, you must know what part each person will play during the journey. First, there's the driver. The most experienced driver should always be the first choice. Remember you will be driving very long distances, so the more the driver controls the car, the calmer everyone else will feel. Then we have the co-pilot, who is in charge of giving directions (with the help of a map app), playing music and the most important part: keeping the driver entertained to make sure he/she doesn't fall asleep. Then you have the back seat travellers, who are basically in charge of providing everything the ones in front need: food, water, sweets, etc. By not having to pay attention to the road, they don't have to worry about anything other than the group itself, and without them it would be hard to reach anything in the car. At this point, you probably already know who you can go on this trip with, but what's most important is that they are able to change roles when necessary. This will make the journey a lot easier for everyone.
Travel light

When we plan to go on a long journey, we think we will need to take a lot of things, but that is often not the case. Travelling light should be our new life philosophy.
Do you really think wearing sunglasses is necessary? There are certain clothing items and accessories you can wear for all kinds of trips without having to constantly change them, like caps, glasses, slippers, etc. Taking only your favourites will save a lot of space.
It is important you don't pack too many personal hygiene products. We know it sounds weird, but you're not going to need many of those things while you're in the car. At our hotels, we have everything you need, from soap and shampoo to toilet paper, so packing a small amount of basics should be more than enough. Remember, you won't be travelling on a plane, you don't have to worry about where your luggage is stored. This is all up to you, and the lighter you travel, the more comfortable you'll be.
Check your car

Checking your car before the journey is basic. Performing a thorough check of the engine and the car in general will make you feel safer when on the road. Remember, it won't be the same as driving in the city. Distances are longer between stops, you'll be driving faster, and the engine wear is greater, so a car that is in good nick will help guarantee a trouble-free journey. We should point out that even if you are a car expert, it is always good to get a second opinion from a professional, in case they spot something you might have overlooked. Don't forget to prepare a spare wheel, a hydraulic jack and the necessary tools to solve simple problems like changing a tire.
Plan the route

A road trip requires much more than knowing how to reach your destination. First you must plan the main route, that is, the highways you will follow, which usually include tolls and you will have to take this into account for your expenses. These highways are not only the safest way to travel from one point of the republic to the other; they also shorten distances. But that isn't always the most fun way to travel, so you will have to plan alternative routes in order to explore the villages on the way, which is the way to make a road trip a truly magical experience. As well as choosing towns for their prettiness, they will also be important sources of petrol and food for the journey, as well as places to see to other needs. Remember don't drink too much water!
Plan stops at tourist sites

So, we have talked about the importance of planning the route, but what will determine which route you follow will doubtless be the tourist sites you want to visit on the way. Iconic locations, archaeological sites, monuments and even tourist activities are some of the things you must look for when planning stops on your road trip. Travelling from Playa del Carmen to Chetumal isn't the same if you don't stop at one of the most important archaeological sites of the Yucatan Peninsula: Tulum. As we've already said, what matters is not only the destination, but also the journey, so how much fun, amazing and even educational your journey will be is entirely in your hands.
Don't forget to take photos!

You will probably visit incredible places and will live unforgettable moments with your friends. And remember, taking photos is now a worldwide cultural habit! Most people have a cell phone with a camera, so you don't have any excuse not to snap away during those unique moments. Here you can read our Top 5 recommended places in which to take photos for Instagram in Riviera Maya!
However, you must take two things into account: first and foremost, battery life. Remember to keep you phone charged at all times, don't forget to pack a charger and portable batteries – you never know when you might need them! Second: assign a role to each cell phone, i.e., designate one phone for navigating using the GPS app, another one for music, etc. Use only one device for photos, as nowadays it is a lot easier to share photos. Lastly, designate a backup phone, which will always have a full battery should any of the others fail. You will see that this way your battery life will last much longer, and nothing will be lost just because you wanted to take a photo.
We know that planning a trip can be messy and planning a road trip in Mexico can be chaotic. We hope our tips help make your journey a lot more pleasant. If you have already been on a road trip, you know it is an incredible experience, and if you haven't, now is the perfect time to give it a go.
What about you? Can you think of any other useful tips for planning a road trip? Write them in the comments and we will help travellers around the world be prepared!
Categories: Caribbean, Mexico, Turismo, Uncategorized
« TRANSVULCANIA 2021 Do you want to face the biggest challenge of your life?
Tour around the best markets in Gran Canaria »