5 enchanting plans for celebrating Valentine's Day in Tenerife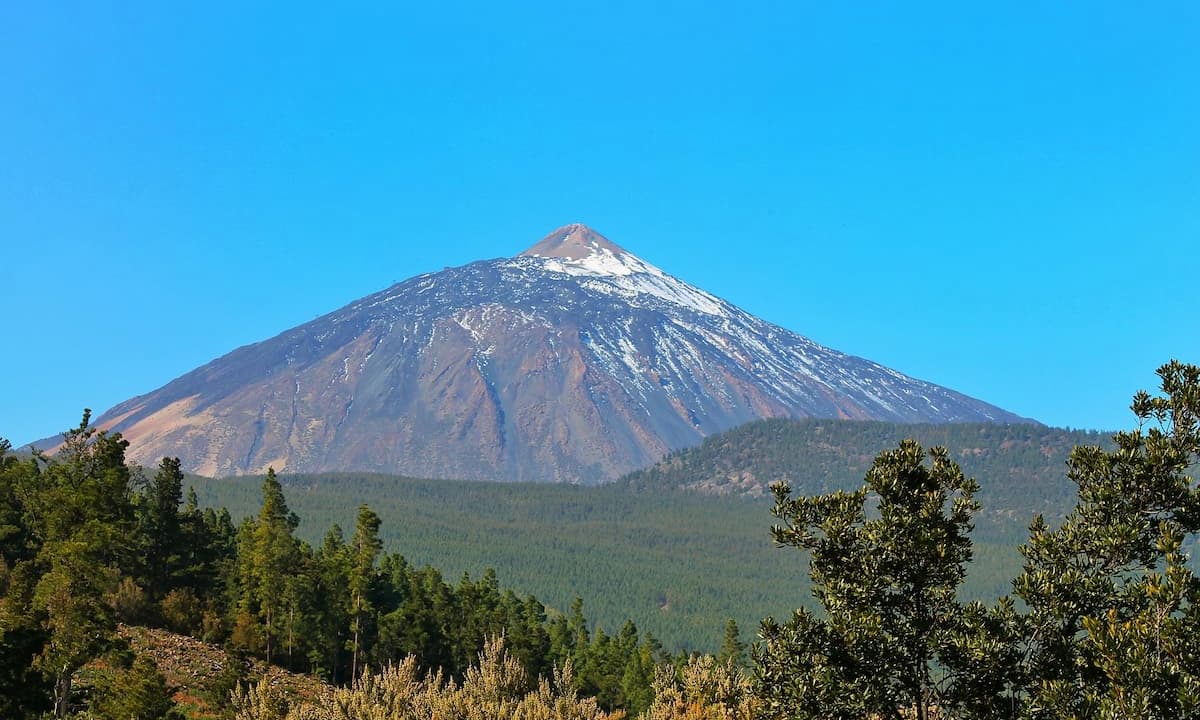 The most romantic day of the year, 14th February, is fast approaching. If you want to get away from the clichés and are looking for something original to do with your other half, be our guest and celebrate Valentine's Day in Tenerife.
The Canary Island is home to endless hidden enclaves from north to south, and all will amaze you with their impressive beauty. Take note, for a truly unforgettable trip. Here's our selection of five different plans to suit all tastes.
Climb the highest peak for Valentine's Day in Tenerife
If you want to feel like you're on the top of world and see one of the Canary Islands' most spectacular views, visiting El Teide and reaching its 3,718 metre high summit with your partner is a must. Centrally located on the island of Tenerife, El Teide National Park, a UNESCO World Heritage Site, is the perfect setting for seeing just how capricious nature can be. The island is a reflection of the volcanic force that created the spectacular Tenerife landscape. There's no other terrain like it in the world, and the clear and clean sky makes stargazing here one of the park's greatest attractions. This natural landscape is full of animal and plant life and has become the most visited national park in Europe. You couldn't fail to enjoy this perfect combination for an unforgettable day out for two to celebrate Valentine's Day.
Romantic walk through the Botanical Gardens
If you love nature, you can't come to Tenerife without visiting the Santa Cruz Palmetum Gardens. This is a unique project dedicated to leisure and botany. You can see more than 2,000 tropical and subtropical plant species in the enclosure, as well as more than 500 species of palm trees. Your route through it will take you to places as exotic as the Caribbean or Madagascar and as far-flung as Australia. It's Europe's best collection of palm trees and, without a doubt, one of the best in the world. As well as its outstanding botanical collection, it has beautiful landscapes with waterfalls and lakes where you can capture some stunning photos.
Another must-see in the north of the island is the Puerto de la Cruz Botanical Garden, with a rich history spanning more than 200 years. It was created by the Royal Decree of King Charles III in August 1788, and is home to the largest collection of orchids on the island, the largest and oldest dragon tree in Puerto de la Cruz, and has received illustrious guests including the writer Agatha Christie herself.
Whale watching in Los Gigantes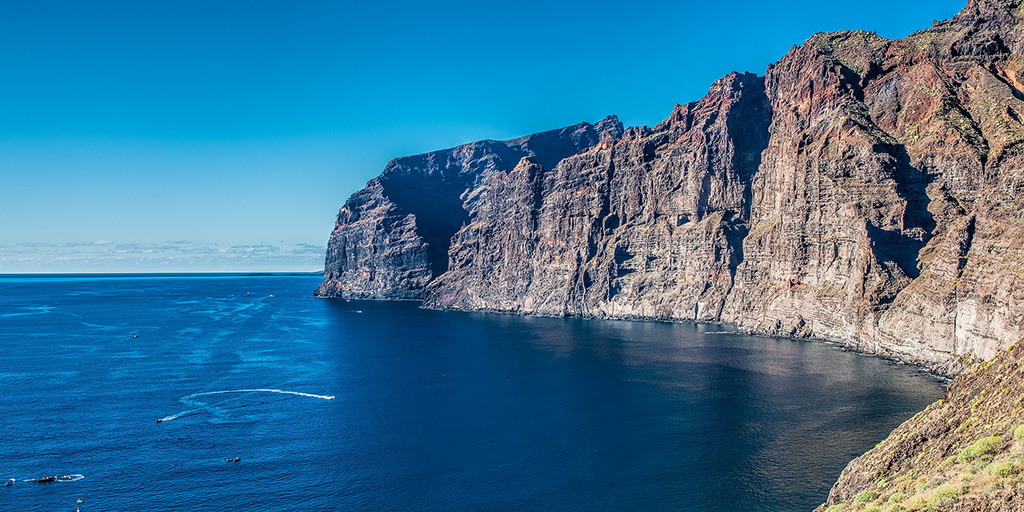 If you're impressed by the incredible places in Tenerife we've mentioned so far, this really will take your breath away. Los Gigantes cliff, on the south-west coast of the island, is an exceptional location for watching whales in complete freedom. You can see up to 26 different species of cetaceans without venturing too far from the coast.
Dolphins, short-finned pilot whales, orcas and even blue whales can be found just metres from this cliff, characterised by its imposing vertical walls that rise between 300 and 600 metres above the sea.
A boat trip is the perfect way to see the magnificence of the cliff at the same time as seeing cetaceans in their natural habitat. Renting a kayak is another activity you can do as a couple and get some exercise surrounded by the unique landscape and marine fauna.
Beach and entertainment in Costa Adeje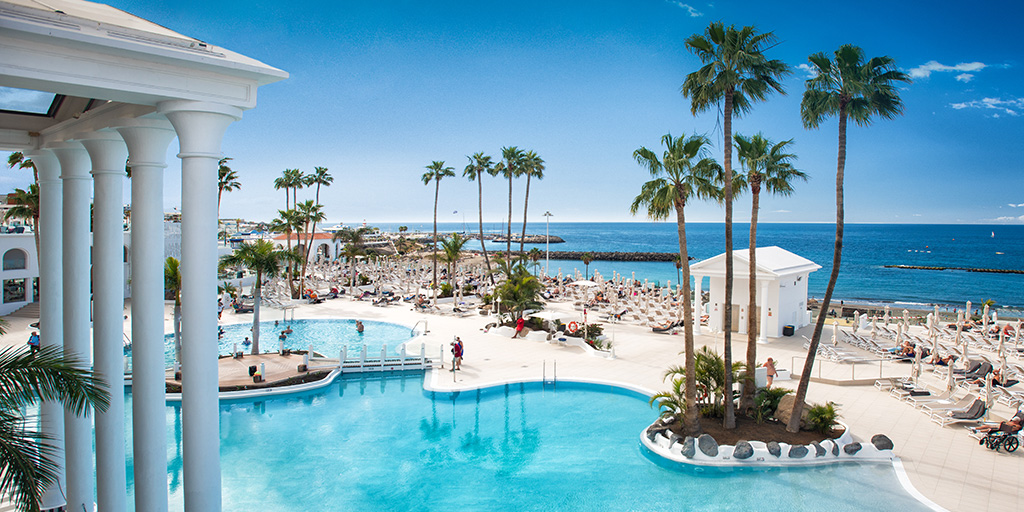 If you like the beach and can't miss a moment's sun on your Valentine's Day trip to Tenerife, planning a visit to the beautiful Costa Adeje is a must. The south of the island comes with guaranteed sun, fine sand beaches and crystal waters. A tranquil beach that's the perfect place for paddle surfing as a couple. The attractive promenade is brimming with shops selling clothes, accessories, and luxury brands, as well as dozens of restaurants and bars with something for everyone. The perfect ingredients for a magical day at the beach.
What's more, our Guayarmina Princess hotel is right on the beachfront at Playa de Fañabé and has direct access to the promenade. Our adults-only resort is perfect for a couple's getaway if you're looking for relaxation alongside a wide range of sports activities.
Food and wine at La Laguna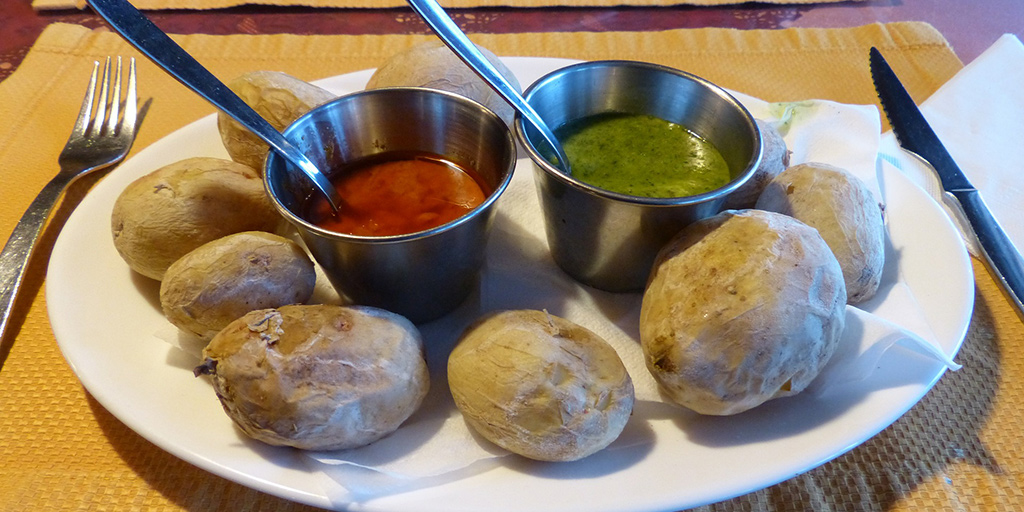 If you want to sit down and enjoy some of Tenerife's most typical dishes, a trip to the picturesque city of La Laguna is the perfect plan. Potatoes with garlic sauce, pork or toasted maize are just some of the things you simply have to try when you visit the island of Tenerife.
If it's pudding you're waiting for, you can't leave without trying one of the typical Lagunero desserts, such as millefeuille stuffed with angel's hair, flan or frangollo, made from maize flour with raisins, almonds, and honey. And of course they all pair perfectly with the region's famous high quality wines. Red and rosé wines from the Tacoronte-Acentejo designation of origin, for example. And you can't leave without trying the soft goat and sheep cheeses produced on the island. It's a must – or you could take some home as a reminder of your wonderful trip to the island.
Comments
« Give the gift of a unique experience in our Canary Islands hotels this Valentine's Day
Indulge yourself at a sensational adults-only hotel in the south of Tenerife »