Indulge yourself at a sensational adults-only hotel in the south of Tenerife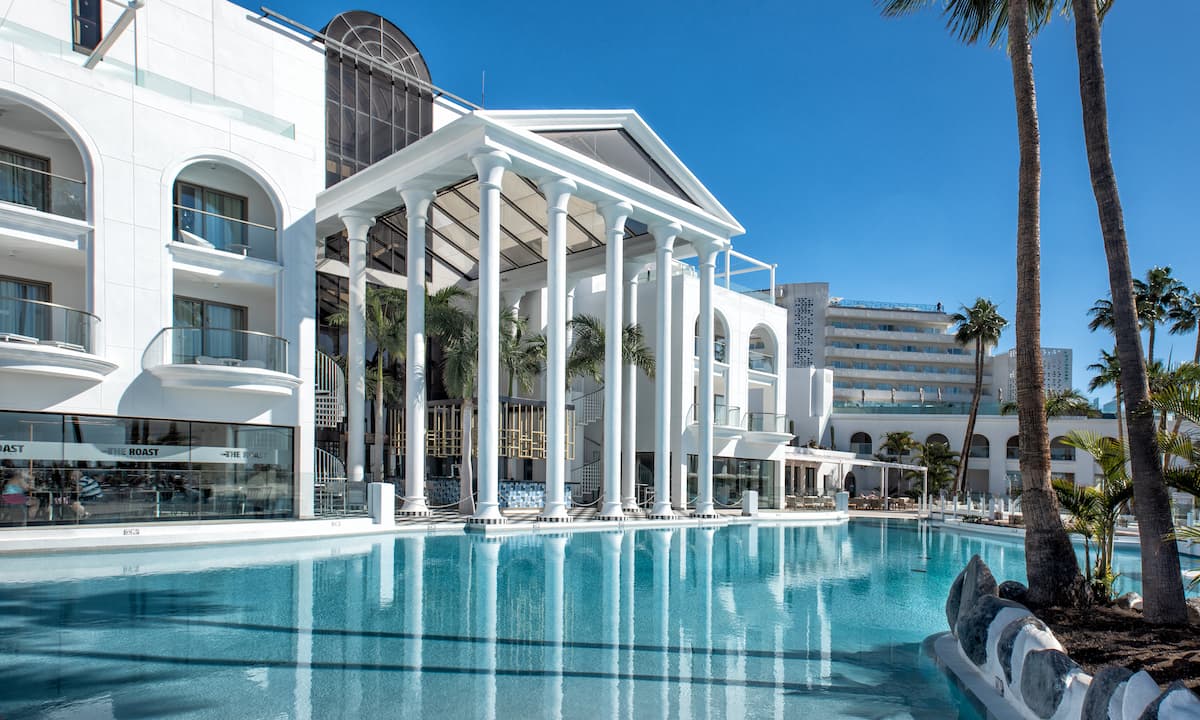 Hidden away on the south of the island of Tenerife is our own unique treasure, the Guayarmina Princess adults-only hotel in Costa Adeje.
This 4-star resort has been designed with one thing in mind: the comfort, enjoyment and relaxation of couples or groups of friends over 16. An adults-only offering in Costa Adeje for those seeking tranquillity and an extra personalised service.
An adults-only hotel designed for your comfort
Fully refurbished in 2018, the Guayarmina Princess hotel in Costa Adeje has retained its imposing Greco-Roman façade in contrast to the modern and sophisticated design of its rooms and interiors, sure to impress guests. Every detail has been meticulously designed for customer comfort, with the Princess brand's hallmark quality. The all-inclusive package offers everything you need to get maximum enjoyment from a few days' relaxation at an adults-only hotel on the Atlantic coast.
Restaurants for all tastes
The dining options at our Costa Adeje hotel are one of the services that make it stand out from the rest. You can enjoy a delicious breakfast every morning at our Food Market buffet restaurant. You can also enjoy dinner here, with a select variety of cuisines on offer and food cooked as you watch. And if you're staying with us for more than four nights, you can also make a reservation at our exclusive restaurant The Roast – where we also serve breakfast and lunch – which by night transforms into a fabulous grill house where you can taste our best meat specialities. And if you want to enjoy a refreshing, relaxing drink at the swimming pool, you're spoilt for choice: the hotel has five bars and another one exclusively for customers who choose the Platinum experience.
Luxury beach location
One of the major benefits of this adults-only hotel in Costa Adeje is its location, just 150 metres from Playa de Fañabé, one of the most famous in the area. This beach stands out for its striking grey volcanic sand and tranquil waters. It's also been awarded a Blue Flag for yet another year, an accolade awarded for both the water and the services available on the beach. Thanks to its orientation, most of the hotel's rooms have breathtaking views of the Atlantic Ocean.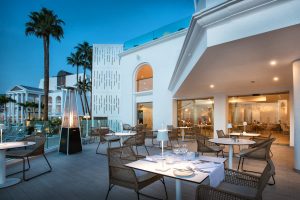 Costa Adeje is one of the island's most touristic areas. Its bustling promenade, which you can access from the hotel, is the perfect spot for your morning exercise, taking a stroll, or capturing a photo of the beautiful sunset when the sun goes down. And the promenade isn't just lovely to look at – it also has a wide range of shops, shopping centres, restaurants and bars.
If you'd rather explore the island's most impressive enclaves, our adults-only hotel offers the best plans for couples or groups of friends. The Barranco del Infierno is a must when you visit the south of Tenerife. Starting at 350 metres above sea level, you can take in the spectacular waterfalls and incredible landscape, with viewpoints along the walk. If spectacular views are your thing, you can't come to the island without visiting Los Gigantes cliff. It's one of the most impressive tourist attractions on the island.
There are so many leisure activities and plans to make that a stay at our adults-only hotel in Costa Adeje will be non-stop fun.
Relaxation and wellness facilities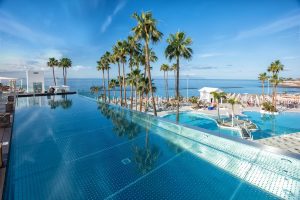 The Guayarmina Princess hotel has an impressive outdoor swimming pool where you can cool off from sunbathing surrounded by palm trees in this idyllic setting.
The hotel's new spa is an exclusive wellness space dedicated to caring for your body and mind. It has a freshwater indoor swimming pool (26-27ºC) with massage jets, Turkish baths, a sauna, Bali beds and massage cabins – perfect for relaxing together as a couple. And if you want to keep on pampering yourself after you've dried off, you can take advantage of our hairdressing, manicure and pedicure services. Everything you need for a day of unwinding and total wellness.
Exclusive Platinum service
The Guayarmina Princess hotel offers a Platinum service to give you an even more exclusive experience and make your stay at our adults-only hotel in Costa Adeje truly unforgettable.
Guests staying in our Platinum rooms enjoy a number of extra benefits such as personalised check-in and check-out. And a late check-out service so you can enjoy your stay with us to the full. You also get to enjoy all the advantages of our Platinum zone: access to the Platinum Club a la carte restaurant, a sensory experience with a select and varied cuisine; the Platinum Lounge; and the Platinum Solarium with an exclusive infinity swimming pool, Bali beds and magnificent views of Puerto Colón, Playa de Fañabé and the neighbouring island of La Gomera. In addition, guests staying for a minimum of 7 nights get one entrance ticket to the Circuito de Agua Wellness spa (booking essential and subject to availability).
And if you want to enjoy a refreshing, relaxing drink whilst you relax by the pool, the hotel has a bar exclusively for Platinum customers. The perfect way to spend time with your partner whilst you sunbathe in hammocks or chat away with friends.
« 5 enchanting plans for celebrating Valentine's Day in Tenerife
6 designation of origin Canarian wines you have to try »