Discover our hotel in Mogán for your next holiday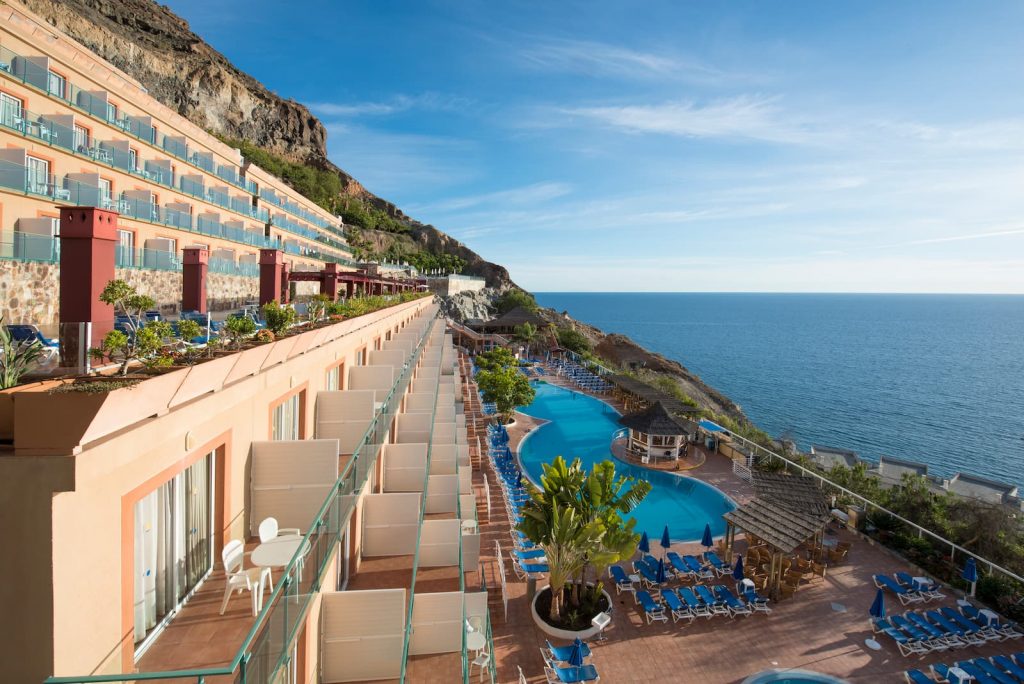 If you're looking for somewhere to relax and unwind in the sun with breathtaking sea views, look no further: our 4-star hotel in Mogán is your dream destination.
Enjoy this unique setting with stunning views over the Atlantic, tucked away in the south of Gran Canaria. Mogán Princess & Beach Club hotel is nestled into the upper part of Taurito cliffs, close to Playa Taurito – also known as Playa del Diablito. This is a truly exceptional place where you can sit back and enjoy the unrivalled landscape. It's so close to the sea, you'll feel as though you're practically floating on the water. Take in the spectacular panoramic views from any one of the hotel's rooms and make the most of the sensational photo opportunities.
An all-inclusive hotel in Mogán
Our hotel in Mogán has got everything you need for the perfect holiday. Because it's all-inclusive, you don't need to worry about a thing: all the hotel's services are available to give you a completely relaxing break away from it all. The main advantage of going all-inclusive is that once you're inside the hotel, you don't need to worry about a thing – our wide range of services is available right where you are. Our only goal is to make sure that when you arrive at our Mogán hotel you get the full Princess experience: relaxation and comfort.
Wide range of bars and restaurants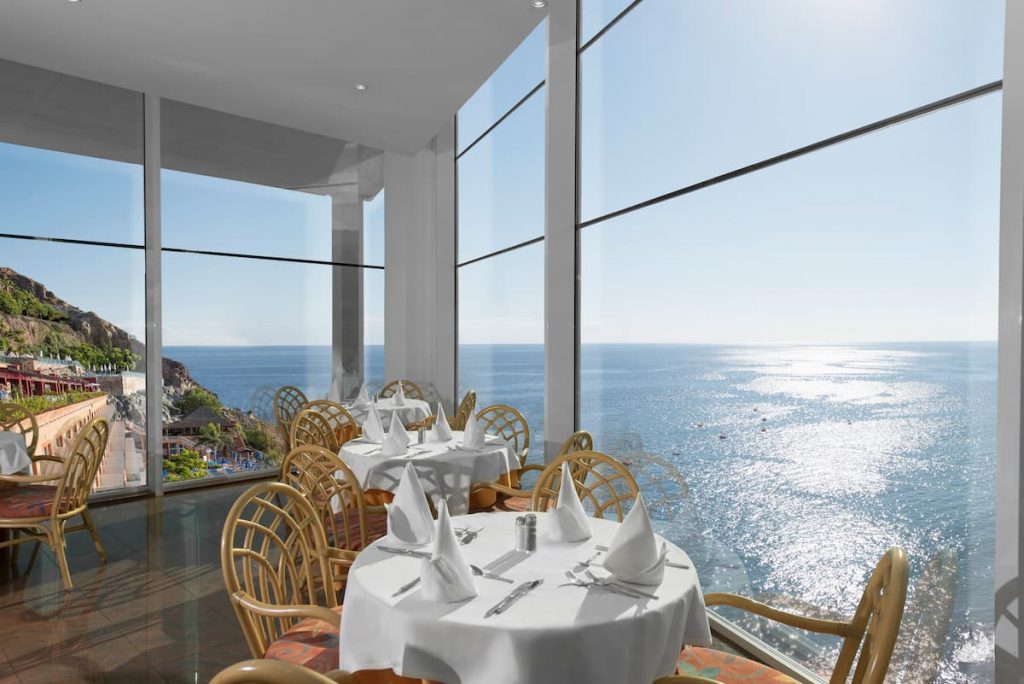 Guests who decide to spend some days unwinding at our Mogán hotel have a range of dining options to choose from.
Princess is the hotel's main restaurant, serving the three main meals of the day. Guests can choose from the buffet options or taste dishes freshly prepared by the chef as they watch.
Every night, the Princess restaurant puts on themed dinners adding even more variety to the wide range of cuisines available. Traditional Canary Island food, Mexican, Italian… It could be any one of them delighting you each night at our hotel.
If you fancy a drink and snacks during the day, our La Choza bar has everything you need. A gorgeous space with views of the sea and picturesque marina, where you can top up your energy levels between meals.
And if you decide to leave the hotel and spend the day on the beach, the hotel's Beach Club on Playa de Taurito itself is a must. The beach bar has an indoor area as well as a fabulous chill-out terrace with comfy sofas. One of the best advantages of being an all-inclusive guest at the hotel is that you can get salads, pizzas, pasta dishes, sandwiches and soft drinks at no extra cost. And if you want to spend the whole day on the beach, you could always hire a hammock or parasol.
You don't need to worry about transport either. We offer free transportation from the Mogán hotel, with several departure times to the beach throughout the day, and back to the hotel.
Entertainment and leisure at the hotel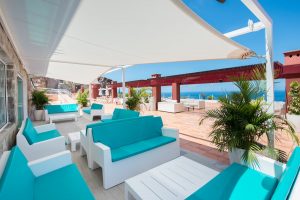 If you feel like spending the whole day at the hotel, you'll have everything you need for the perfect day. Leisure, gastronomy, a relaxing swim with sea views and dreamy sunsets are all guaranteed at our hotel in Mogán.
Energise your day first thing with sports activities that are as much about fun as exercise.
In the afternoon you can enjoy a free coffee, cocktail or soft drink included in our all-inclusive deal, at the chill-out terrace of our newly-opened Sunset Bar. A unique space with panoramic views and comfy armchairs where you can enjoy an extensive menu of drinks whilst you take in the spectacular sunset. This is a truly magical spot at sunset and one of the best places to see the Gran Canaria sunset.
And into the night, after a lovely dinner at our Princess restaurant, our live music shows await you.
Relaxation for couples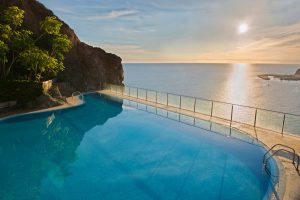 We've got comfort in mind for all age groups at Mogan Princess & Beach Club, but we also have things for adults only to enjoy.
One example is the hotel's incredible adults only panoramic swimming pool, with magnificent ocean views. There you can enjoy a relaxing swim in a truly unique setting, surrounded by mountains and vegetation with the infinite sea as a backdrop.
Beaches and underwater activities
Playa de Taurito is the perfect beach destination for the whole family thanks to its fine sand and calm waters, sheltered from the wind by the rocks. It's also less crowded than other beaches in the area. So if you're looking to unwind and relax: this is the destination for you. Another must when you come on holiday to our Mogán hotel is a visit to the picturesque Mogán marina. This enclave in the south of the island is characterised by the charming contrast of the fishing boats against the luxury yachts moored in the harbour. This area is known as little Venice thanks to its beautiful canals adorned with different coloured flowers. It's so photogenic and is an absolute must-see when you visit the island.
If you're looking for something more high-energy in the water, Mogán has a huge range of water sports activities to choose from. Note! You can go snorkelling or scuba diving with your partner or family and see all the aquatic fauna tucked away in the waters of the south of Gran Canaria. And if you'd rather just keep enjoying all the incredible beaches, visiting Playa del Inglés and Maspalomas are a must with their famous endless dunes.
Categories: Canaries, Conocenos, Gran Canaria
« Celebrate a unique New Year in the Caribbean with Princess Hotels
Special Valentine's Day in the Caribbean: discover the Princess Hotels experience »