Interview with Hildebranda Richard, groups and weddings manager at Bavaro Princess Hotel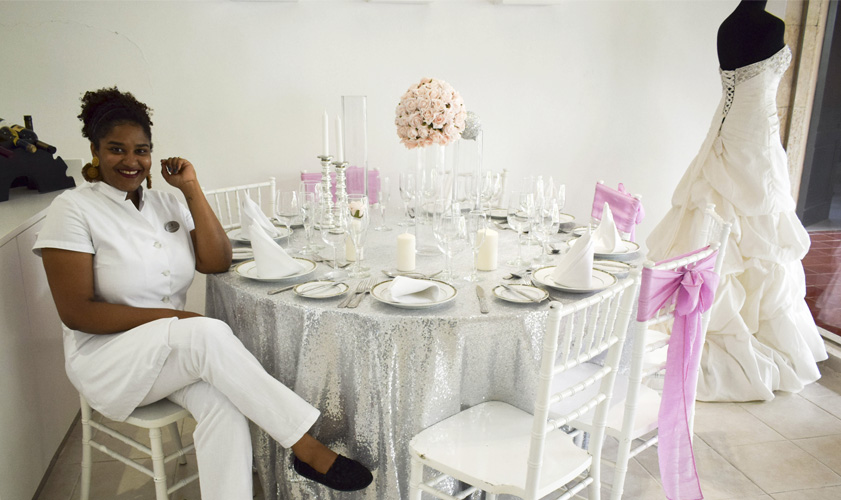 Today we would like you to meet Hildebranda our formidable, active and charming wedding manager. A woman who entered the most romantic department in Punta Cana Princess Hotels with a whirlwind of positive energy and new ideas. She is always willing to help and work as a team with all the other hotel departments. Hildebranda defines herself as a perfectionist, dedicated and committed to making the brides dreams come true. She is a tourism professional since 2009,and in 2013 she started in the world of weddings, since then her love for these events has increased!
¿How did you start at Princess hotels?
I was working with a Tour Operator when someone told me about this job opportunity within the company. I went without hesitation to the job interview and the rest is history.
Could you tell us a little about the work you do in the weddings and groups department?
I am responsible for all the weddings, groups, incentives and conventions for the 4 Punta Cana Princess Hotels: Bavaro Princess Hotel, Caribe Club Princess Hotels, Tropical Princess Hotel and Punta Cana Princess Hotels. My work includes the recruitment, monitoring, contracting and operation, maximizing the benefit for the company, not only in the rooms and salons, but also in the additional services that company offers. My team is formed by a Wedding coordinator and two Group coordinators. To which logically, I must also supervise and give support, by doing so it ensures that we give our clients a space where they want to come back every year!
In conclusion, we can see that it is a very active and broad department, what do you value most about your work?
The possibility of making real one of the most important dreams a women could have.
From your daily work, how do you practice or contribute to the hotels social and environmental responsibility plan?
Our department goes hand in hand with the social responsibility of the company, through various foundations that helps people's needs, we support in everything we can. Inside our offices, we try to make recycling our life model, reusing all the articles that we can to give more than one use.
What is your favourite place in Bavaro? What do you recommend to our guests?
Probably Coco Bongo. I think it's a disco that you should see and experience at least once. It's my favourite place!
And what is your favourite area of the hotel?
The Bavaro Princess ecological zone. If I am busy or I feel a bit overwhelmed I like to take a stroll in this area. Surrounded by nature, local flora and fauna and a real dominican mangrove.
What do you recommend to someone who visits us and can't miss on their visit?
Stroll the ecological walk and enjoy the green areas around the resort.
If you come with kids, don't miss our Mini Club at Bavaro Princess with the attractions for the little ones.
At Caribe Club and Tropical Princess you can't miss out on our Creperie with coffees, desserts and crepes.
Would you like to add anything else?
We recommend that you find out about the different activities that our animation departments organize so that you don't miss any of them!
Categories: Caribbean, Punta Cana
« This is how we celebrate World Water Day at Princess Hotels Caribe
Cleaning the Macao Beach by Princess Hotels Punta Cana »