A hotel with gym designed for sports lovers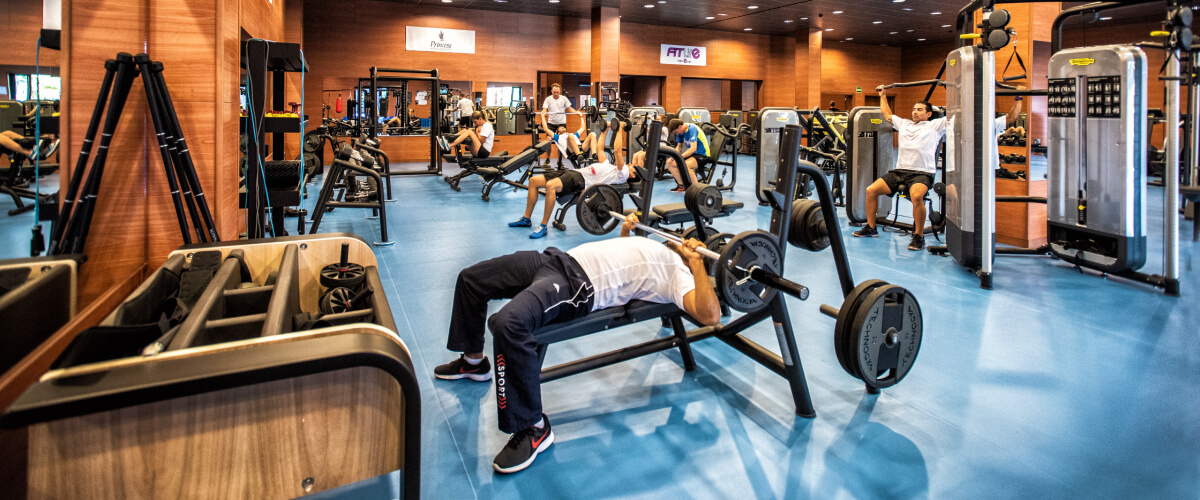 If you love your sports and can't imagine going without your daily training session – even on holiday – Princess has the perfect hotel with gym for you, in La Palma.
La Palma & Teneguía Princess has been designed by – and for – sports lovers and fitness fanatics. This is the perfect resort for you to take some time out: the perfect blend of relaxation and exercise. You'll love the state-the-art sports facilities just as much as everything else the hotel has to offer. We want to give you the perfect place to keep up your fitness routine, but in a magical setting. You'll be surrounded by the most amazing natural landscapes like the banana plantations – so typical of the palm island – and the immense Atlantic Ocean.
Start your day at the La Palma & Teneguía Princess hotel with gym by saluting the sun: take in the spectacular views from the resort gardens to the infinite ocean, before heading for a high-energy aquagym class. Choose from a huge menu of plans and activities that'll keep you active all day long, with the added bonus of all the perks you'd expect from a 4-star hotel in a stunning location by the sea.
The finest facilities at this Canary Island hotel with gym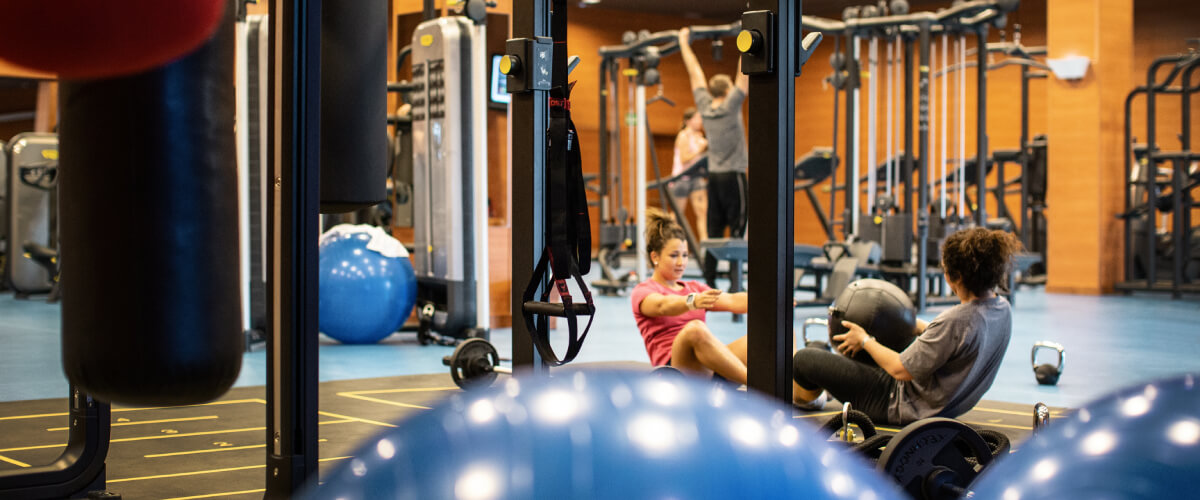 At La Palma & Teneguía Vital & Fitness you'll find one of the best strength training resort facilities in the whole of the Canary Islands. Exercise and strengthen your muscles in our training room with more than fifty state-of-the-art machines from TECHNOGYM, the most exclusive fitness equipment brand. Get your body moving first thing in the morning, and focus on areas such as your legs, arms or back.
If you're more of an exercise class person, our hotel with gym has studios with specially adapted flooring for different activities, as well as lighting systems, sound systems and air conditioning, so you can enjoy your class to the max. And we also offer fun and dynamic spinning classes – one of our customers' favourites and very much in-demand at the moment. These sessions aren't just about the calorie burn. You'll have a great time with our team of professionals who make the sessions a lot of fun too.
Racket and outdoor sports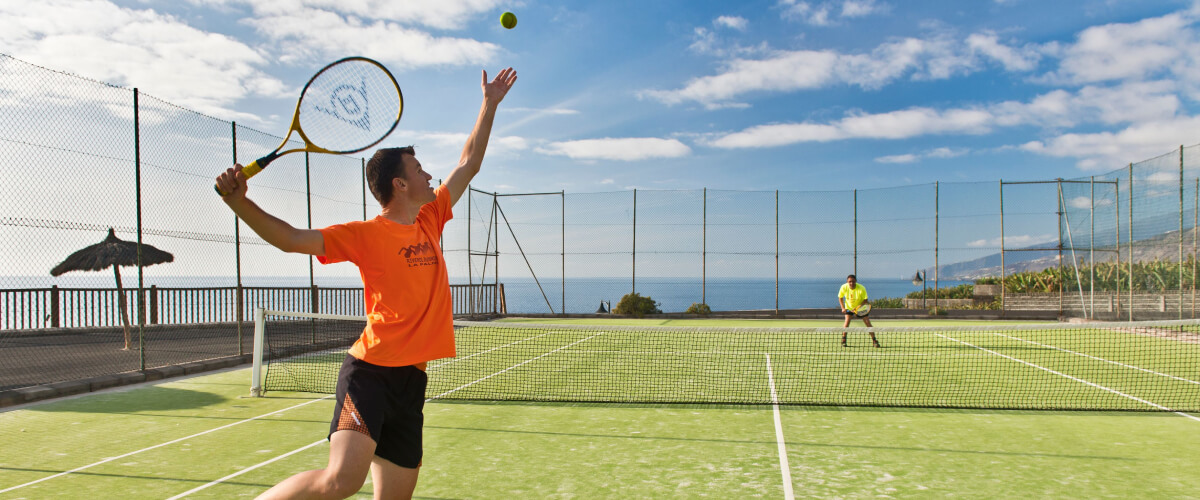 If you love racket sports, you'll be pleased to hear that the La Palma & Teneguía Princess is an industry leader in terms of its tennis offering. Our hotel with gym also has a total of five premium tennis courts, supervised by the archipelago's most qualified instructors who'll help you become a pro on the court.
The hotel facilities also include a multi-sports track, located in the vicinity of the hotel, where you can play football, basketball or handball during your stay, as you drink in the fantastic weather and spectacular sea views. If you're looking for some serious fun on the sand, why not have a go at beach volleyball? Our court is the perfect replica of a Canary Island beach, and is located in the swimming pool area.
Connect your body and mind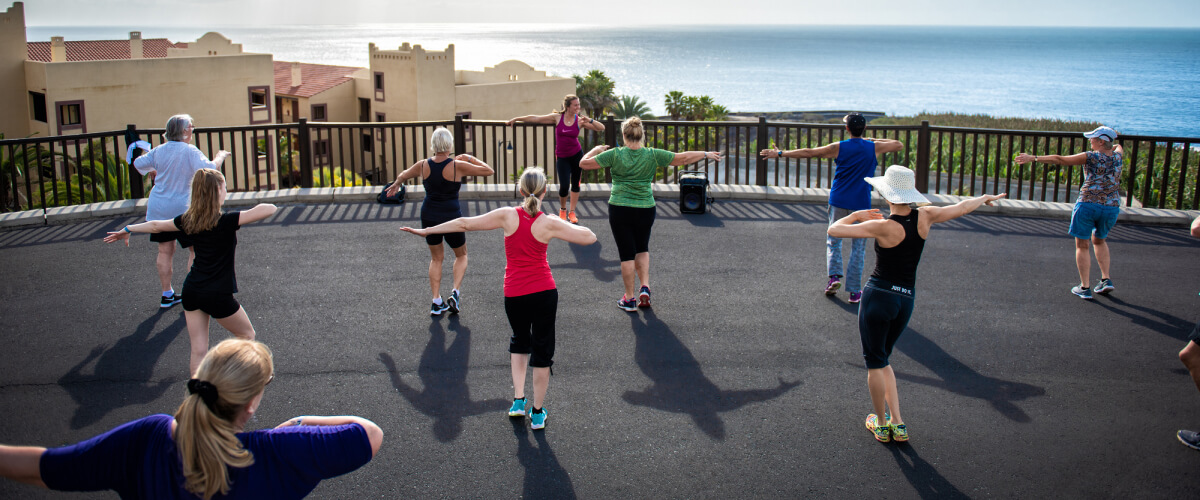 A lot of our activities are quite high impact, but there's more. Connect your body and mind in our spacious Yoga-Dance-Masterclass studio and improve your mental state as well as physical. Or if you'd prefer to meditate or just relax as you control your body and clear your mind, doing it outdoors in our Sunset space is as good as it gets. The best thing about our hotel with gym is the idyllic setting. Enjoy the refreshing trade winds and rocky cliffs of La Palma and you'll feel that sense of peace you've been missing. It's time to connect with yourself. The aim of these activities? Physical and mental wellbeing, so you can get 100% enjoyment out of being in the heart of nature at the same time as staying active and getting in shape.
Our stunning swimming pool, heated to the ambient temperature, will revive your love of swimming. The amazing swimming zone is fit for the most demanding athletes, whether you're training for a big event like a triathlon or just want to relax your muscles as your body floats in the water.
As you can see, at Princess Hotels our hotel with gym has sports facilities with something for everyone, as well as a number of other activities you can enjoy when you holiday on the 'isla bonita'. The Vital & Fitness programme has more than 25 different activities throughout the week for all ages and tastes. With this programme, we're aiming to give you – our guest – fun, relaxation, and activities that'll add an extra dose of health and wellbeing to your getaway.
Categories: Be inspired, La Palma
« The best Hollywood movies shot in Mexico
La Palma: the island of sustainable tourism »