The Canary Islands – for the best family hotels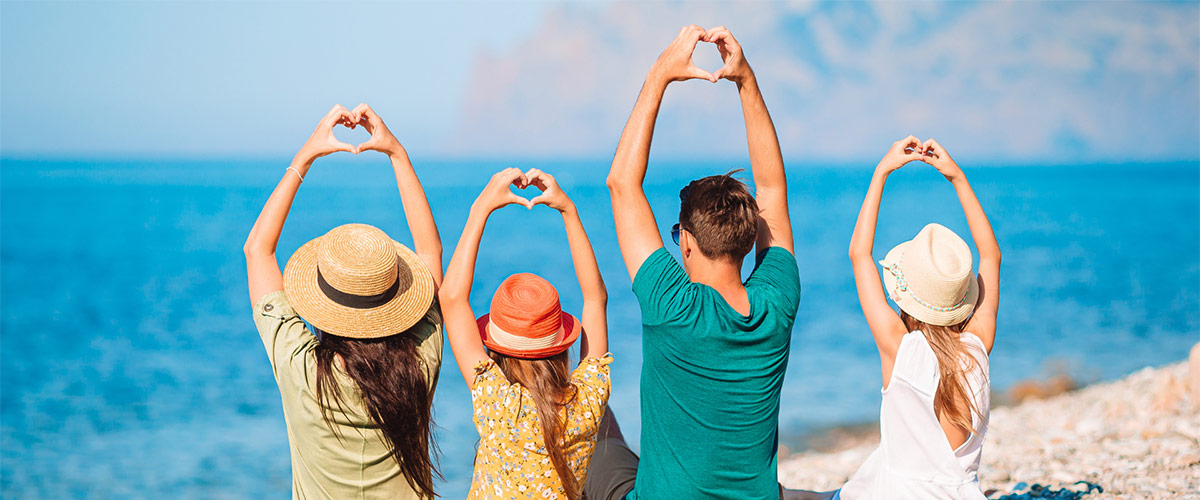 If you're wondering where to spend your well-deserved summer holiday, and are looking for a family hotel you can go to with your children, Princess Hotels are ready and waiting to welcome your family to their Canary Island resorts.
You'll find all the ingredients you need for the perfect family holiday in our hotels. Great weather, outdoor activities, beaches, excursions and endless leisure and entertainment options for all.
Family hotels – the musts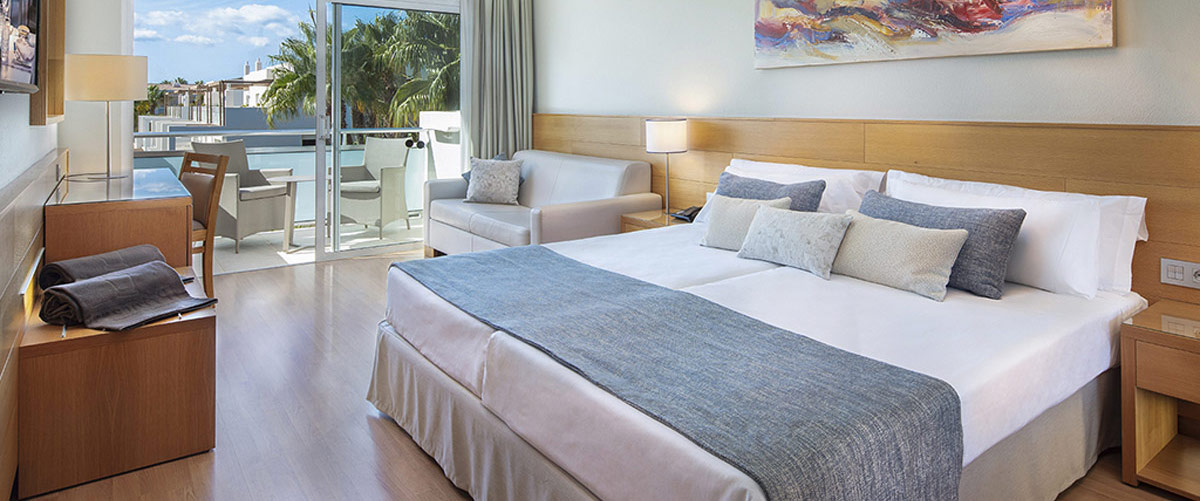 When you're choosing a family hotel to go to with the kids, getting one with the right kind of family room is super important. Princess gives you the best of both worlds – a welcoming and comfortable space where you can all be together – but with enough room for everyone. The rooms at our Princess hotels have been designed with one thing in mind: for you to get a perfect night's rest after a fun day at the hotel, on the beach or discovering all the fascinating places the island has to offer.
And there's probably something else that's high up on your wish list this summer… A large swimming pool area where you can cool off and have fun with the kids at the same time. We've got this covered too. All our Canary Island resorts have stunning swimming pool areas, surrounded by sunbeds and bars so you can sunbathe, swim, or have a refreshing drink as you look out over the idyllic pool.
And our family hotels have children's swimming pools too, so they can enjoy a space made just for them. A clean and safe area where they'll have the time of their lives. Our water parks are another major pull at our hotels – and they're often what clinches the deal when people choose to come to us for their long-awaited family holiday. Slides, pirate boats, dragons, elephants and endless other attractions are all there to ensure your kids enjoy themselves to the max, creating unforgettable memories of their summer holidays in the Canary Islands.
Fun and entertainment for all ages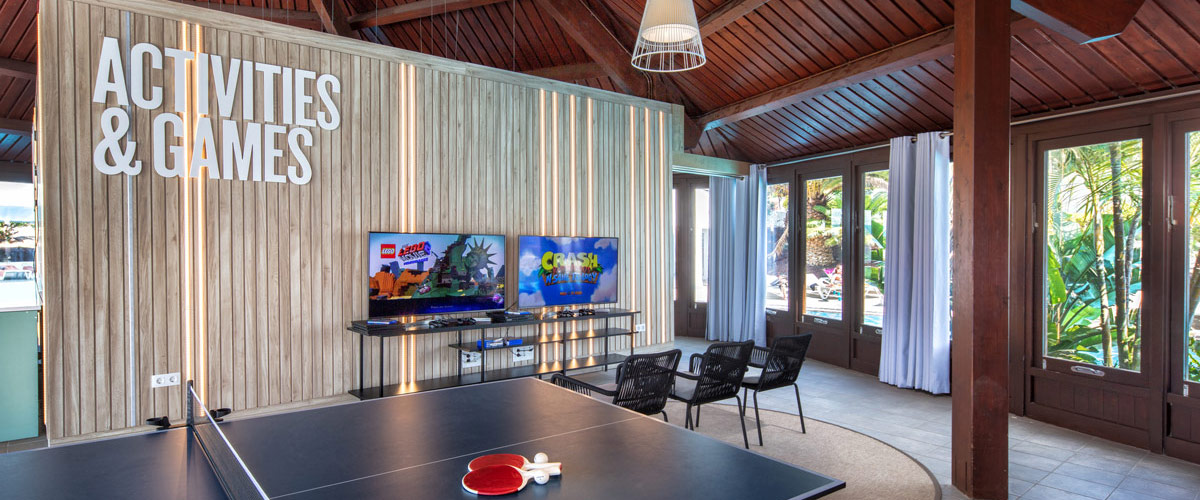 Summer in the Canary Islands is synonymous with fun, laughter, splashing around and hours of outdoor activities, all under the incredibly perfect weather you'll find on the islands. Choose one of our family hotels and you'll find a huge range of activities, sports and games spread out over the resort where you can have fun from morning till night.
Our excellent entertainment teams work tirelessly every day to make sure the fun and laughter never stop. And our team members speak different languages so your children will never feel left out.
For the bigger kids, who may not be kids any more but still want a family holiday, there are board games, ping pong, a games console room, television to catch a film or their favourite sport, tennis courts, mini golf… everything you could possibly want, all to hand, and all in a dreamy setting.
Summer with the family, at fantastic prices
We know it's been one strange year, and all you families deserve a holiday where you can unwind and spend some quality time together. This is why we've come up with a truly special offer at Princess, if you book a holiday with us at one of our spectacular family hotels in the Canary Islands before June 30, 2021.
You've spent months thinking about this moment – and we want you to spend it with us. So how about a discount of up to 50% discount if you book early, and apply the PRINCESSFAMILY2021 promotional code for an extra 5% off your stay, plus two children for free.
Princess resorts are waiting for you in the Canary Islands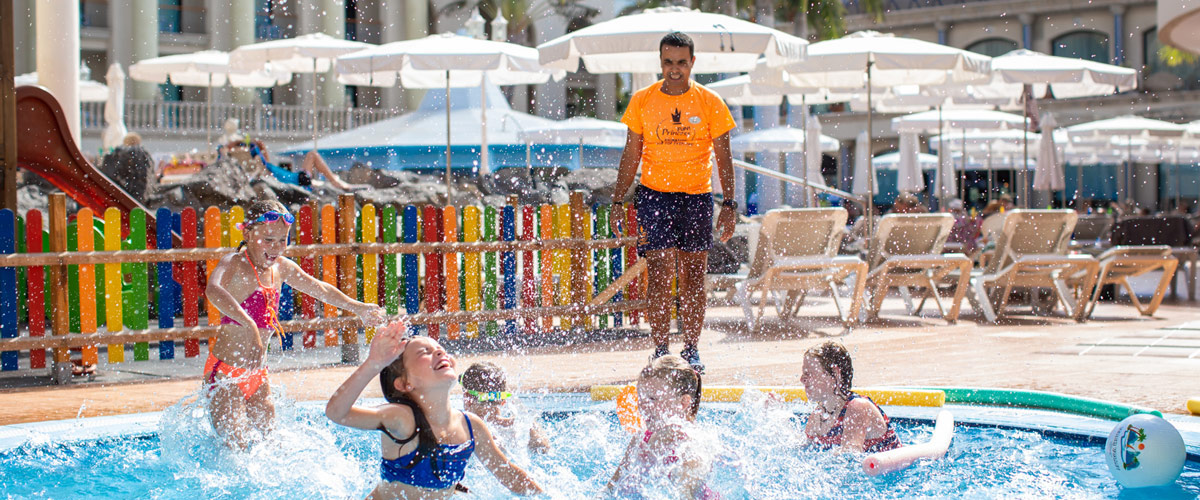 At Princess we know how important it is to find a family hotel you can visit with the kids and know you still have all the services you need for an unforgettable stay. On every island we're on, we've been thinking of you: families who love to travel, enjoy the fantastic weather, have fun together and create unique moments. So here goes… these are the Canary Islands hotels to go to for the perfect family holiday.
Maspalomas Princess is located in the south of the island of Gran Canaria. Refurbished in 2019, this incredible hotel boasts endless services made for relaxation and pampering, from the moment you arrive to the moment you leave. Taurito Princess is nearby, the ideal hotel for enjoying long days on the beach and enjoying some water sports.
If you're thinking of Tenerife, we've got that covered too: another of our family hotels is waiting for you in the south of the island, at the resort of Fañabé: Bahía Princess. With extensive areas set aside for relaxing and swimming, this is the perfect place for the whole family. Relax with the peace of mind that comes with knowing your children are having fun with the entertainment team, with activities and games they can enjoy with their own little team of adventurers.
Our Fuerteventura Princess resort on the island of Fuerteventura is in the perfect setting for anyone who loves the beach and sailing. The perfect family day out, followed by some fun at the pool or in the hotel games zone.
On the island of La Palma, the La Palma & Teneguía Princess resort is a stunning resort hotel where you can take in the awe-inspiring views of the ocean, surrounded by the most vivid green lush foliage you'll find in the Canary Islands.
Categories: Canaries, Be inspired
« Dive into the marine life of the Dominican Republic
The Canary Islands' vocabulary you should know before travelling to the archipelago »