Top 5 The best Cenotes in Yucatan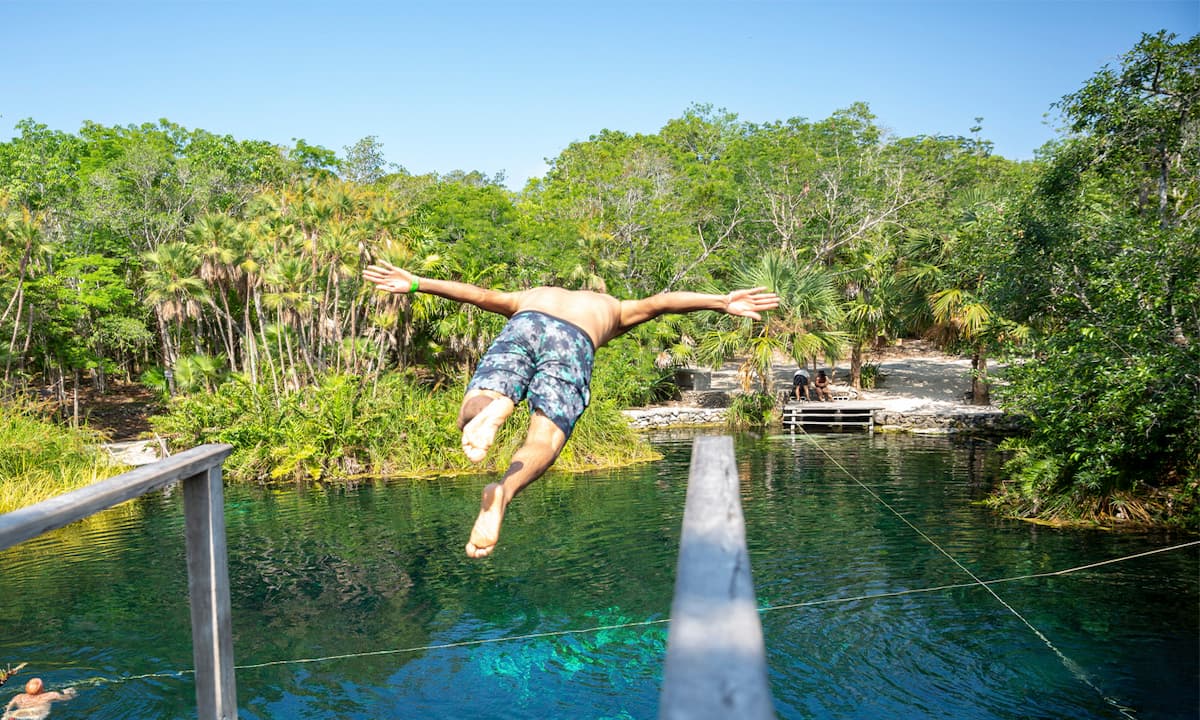 Looking for the best cenotes in Yucatan? We suggest you during your vacation in Riviera Maya to visit 5 cenotes in Yucatan that you cannot miss. The word "cenote" comes from the Mayan word dz'onot, which means "cavern with water." It designates a natural well in limestone, formed by the collapse of the roof of one or several caverns.
These gigantic water holes played an important role in the life of the Maya. It was his main source of water supply in the jungle. Obvious fact since many cities and settlements were built in the vicinity or around the cenotes in Yucatan.
The cenotes in Yucatan also had great religious and symbolic importance for the Mayan World. They were considered portals for the world of the dead, as it is related in the famous Mayan book, Popol Vuh. The Mayans believed that by dying people traveled by an extensive road in the direction of the underworld, called Xibalbá. A mythical place, home of ancestor relatives, supernatural beings and Gods, that was located in the underground ground and underwater. So it was very common for the governors of the Mayan cities to be erected next to altars or shrines near cenotes. Also that they made human sacrifices to the cenote in rituals of rain, fertility, rebirth, life and death.
Here we present you our suggestions for the 5 most spectacular cenotes in Yucatan:
1. Cenote Xcacelito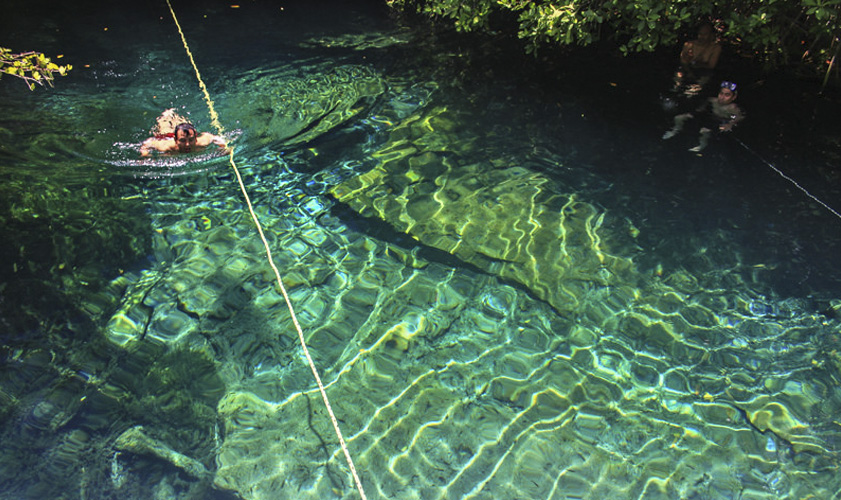 Located 50 minutes from Grand Riviera Princess, the Xcacelito cenote is a hidden treasure for the majority of visitors to Playa del Carmen. An open cenote located within a Federal Reserve Protected since 1998. It is surrounded by vast vegetation that creates a beautiful environment for this cenote.
→ This cenote, like one of the best cenotes in Yucatan, has a very important feature. Next to it is the Xcacel beach, a vast virgin beach with an extension of 2.6km. Every year it is visited by hundreds of white turtles and loggerheads that choose this beach as their nesting destination.
2. Las Mojarras Cenote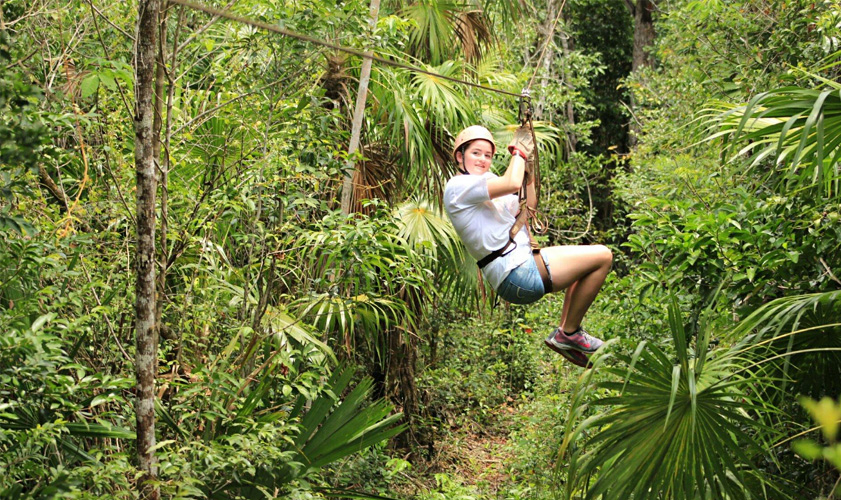 This cenote is number 2 in our selection of best cenotes in Yucatan. It is part of the famous Ruta de los Cenotes of Puerto Morelos and is located 40 minutes from Grand Sunset Princess. Surrounded by abundant vegetation, this is one of the largest open cenotes of the members of the Route. It is an excellent place to know what a cenote is and to spend a day filled with relaxation and positive energy.
→ This cenote has the particularity of including an enormous zip line that crosses the entire length of the cenote. There are also other attractions such as a trampoline jumping tower; horse trips; rental of quads; and a complete circuit of zip lines in the jungle.
3. La Noria Cenote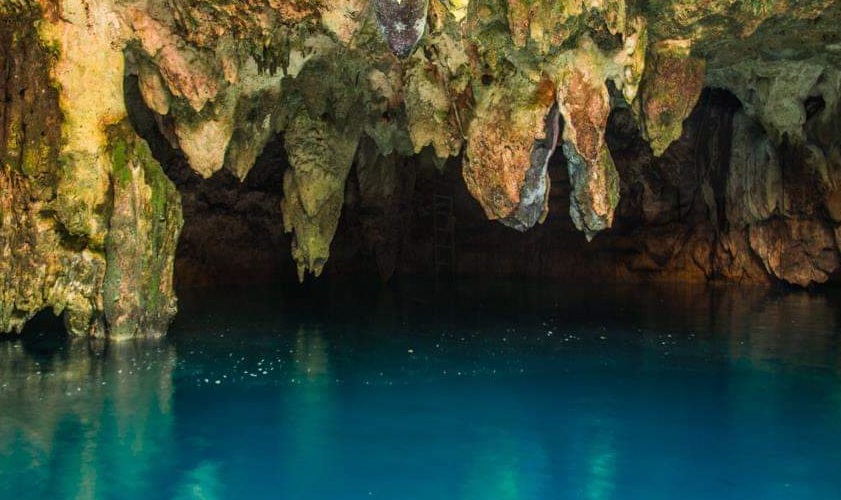 This is a cenote that is so well hidden that even a large part of the locals never visited or even knows this beautiful place. It is also a closed cenote, which are usually the most spectacular cenotes of Yucatan. In La Noria you can also appreciate the various stages of development of the cenote that is explored by a local family. With great pride, he teaches visitors the different stages of accommodation of the cenote and how to make it open to the public.
→ Its depth of 18 meters makes it ideal for diving and it is also possible to purchase a promotional package that includes food and a zip line.
4. Zacil Cenote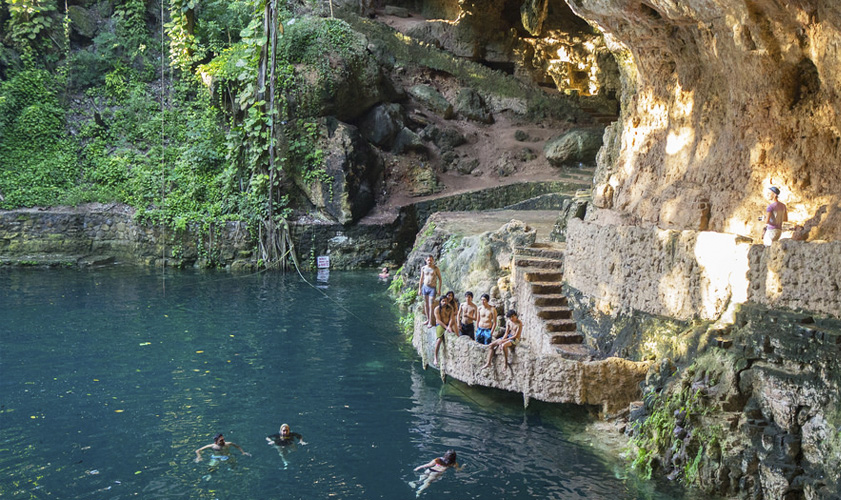 Located in the city of Valladolid (See Top 5 excursions in Riviera Maya), this cenote is the only one on this list that is located in the center of this beautiful Mexican city. This cenote is semi-open since the roof of the cave is partially collapsed, which contributes even more to the surprising beauty of this place. The depth of this cenote is very variable and ranges from 25 meters to 100 meters in some sections of the cenote.
→ If you plan to visit one of the best cenotes in Yucatan, we recommend you also spend a few hours discovering the colonial city of Valladolid. It has several charms, of which we highlight its delicious cuisine.
5. Cenote Ik Kil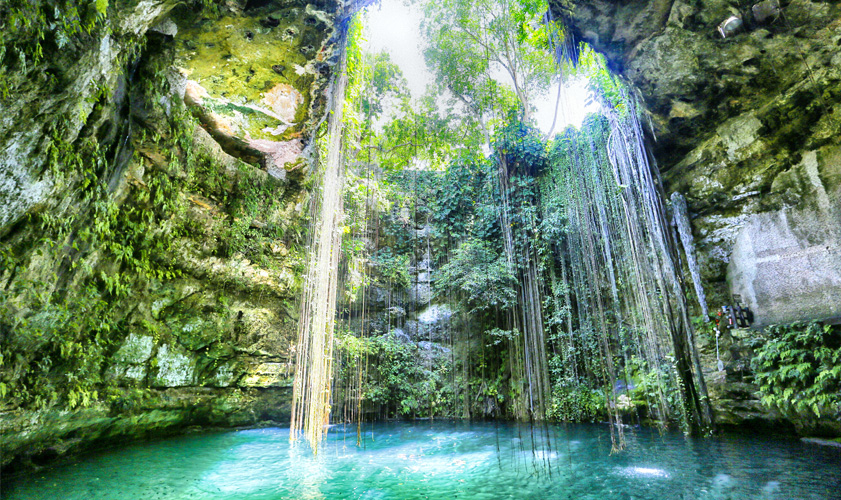 If it is in your plans to visit Chichén-Itzá, then we recommend that you leave the Mayan archaeological zone and take some time to visit and renew your energies in the cenote Ik Kil. This cenote, located 3km from Chichén-Itzá, is one of the most famous in the region and contains luxury services, such as palapas (cabins) with air conditioning and jacuzzi. Here you can enjoy the company of several species of birds, such as toucans, parrots, cardinals, motmot turquoise, among others.
→ Curiosity: Its turquoise waters are of great depth, a decisive factor for the completion, in 2010, of the Red Bull Cliff Diving World Series, Mexico.
Remember that the cenotes contain delicate ecosystems so it is essential that your sunscreen is organic. In this way, there will be no vestiges of your visit to this magical place!
We hope you enjoy our suggestions of best cenotes in Yucatan and that you can refresh and revitalize your body and soul in these sacred waters. Share your experiences with us!
Categories: Caribbean, Be inspired, Mexico, Riviera Maya
Comments
« Princess Hotels explains: What is Seaweed?
First Gastronomic Championship of the Riviera Maya in Platinum Yucatan Princess »