Top 10 Family excursions in Riviera Maya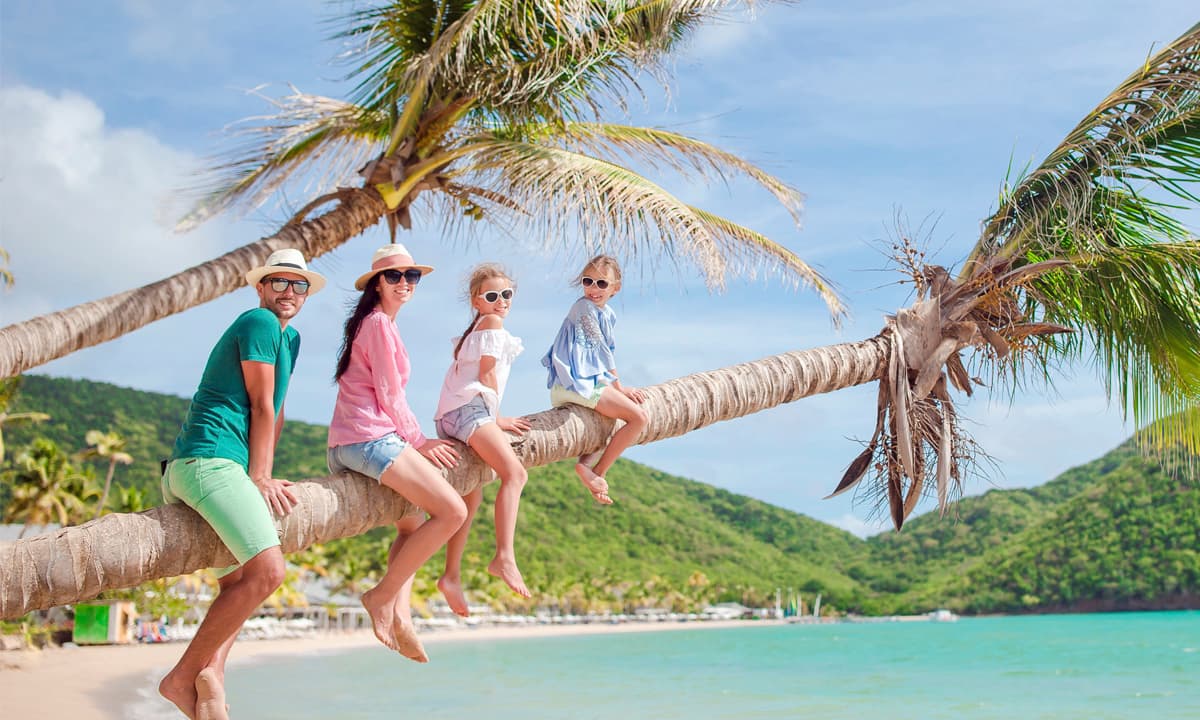 Going on vacation with children is embarking on an adventure full of great moments but, also, a lot of planning and concerns. To help you prepare your next vacation, at Princess Hotels Riviera Maya we have put together our selection of 10 family excursions in Riviera Maya: from discovering ancient ruins to being amazed by huge 3D stages. There is something for everyone in this activity guide!
1. Croco Cun Zoo, animals and family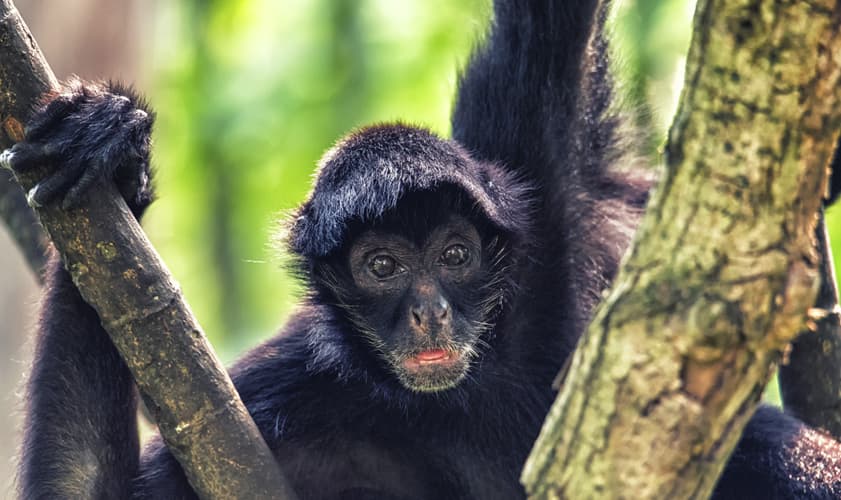 Located on Highway 307 very close to Puerto Morelos, a quiet town in the Riviera Maya, is the Croco Cun Zoo.
If both you and your children love animals, you will have a great time in this park. Here you can see the spider monkeys running freely around the zoo, as well as the multi-colored parrots; beautiful deer; the important crocodiles and also the rare Xoloitzcuintle, a hairless dog breed, native to Mexico that, according to archaeological evidence, has existed in Mexico for more than 3,000 years.
→ The zoo also offers a delicious café where you will find delicious coffees and fresh baguettes and salads. Children with ages between 0 and 5 are free.
2. Museum of 3D wonders, artistic and fun.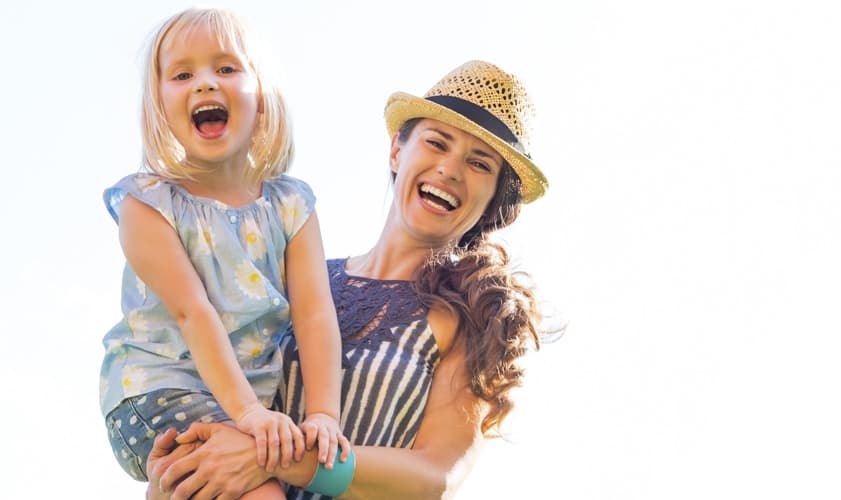 In the search of our favorite 10 family excursions in Riviera Maya, we have found an excellent and very different museum that we are sure you and your children will love!
Located in the center of the city of Playa del Carmen, the 3D Museum of Wonders offers several places where you and your children will feel as if you were inside incredible paintings.
From confronting a lion, becoming a Formula 1 driver or climbing a mountain, you and your kids will spend a great moment in a place full of three-dimensional illusions that will make you question everything you see.
3. La Ceiba Park, tradition with children.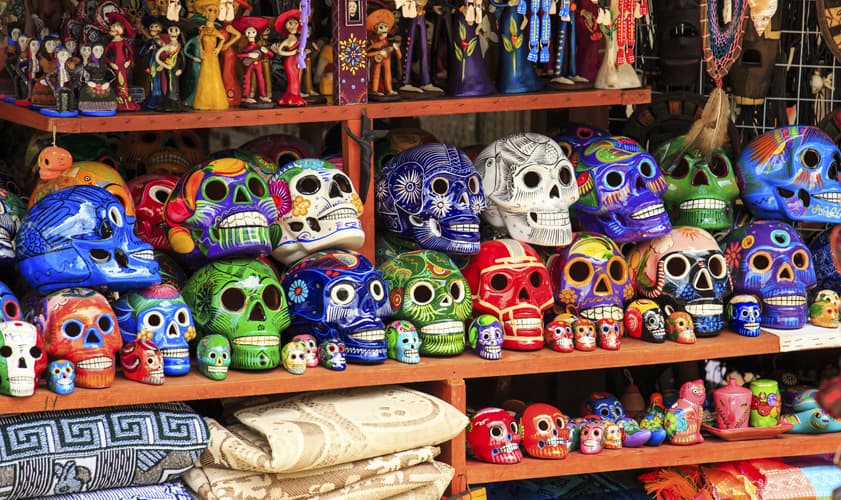 One of the most popular attractions for locals in Playa del Carmen is Parque La Ceiba. Located in downtown Playa del Carmen, this park offers various activities such as: yoga school, aerial acrobatics, music lessons with guitar, singing and violin, in which they work with Mexican and indigenous songs to preserve the culture.
Once a month, on Saturdays, a traditional market is organized, with a magic show, handicraft products, a chess club, storytelling and cultural events.
One of the best things to do in the Riviera Maya with children and, in addition, it is free of charge for both parents and children.4. Cobá, antigua ciudad Maya.
4. Cobá, ancient Mayan city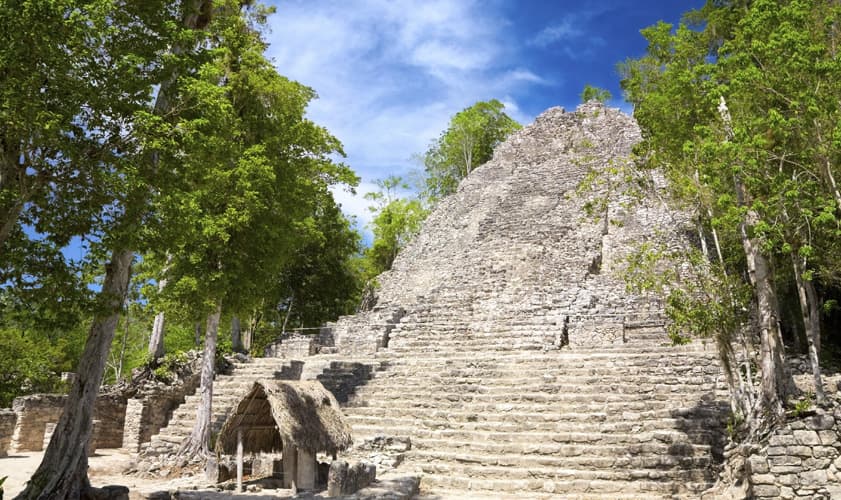 If you want to discover the rich history of this region with your children, you cannot miss a visit to the ancient city of Coba. This ancient Mayan city in the Yucatan Peninsula is the nexus of the largest network of stone roads in the ancient Mayan World. It contains many carved and engraved steles that document the ceremonial life and important events of the Classic Period of the Mesoamerican civilization.
This is one of our favouritefamily excursions in Riviera Maya since the park is huge and there is so much to do here. It has many shaded areas and allows its visitors to rent bicycles to walk through the different Mayan ruins.
→ The highlight of this attraction is, of course, the Nohoch Mul pyramid. A 42-meter-high (137-foot) pyramid that you can climb and enjoy a breathtaking view of Yucatan and the non-public areas of Cobá.
5. Cirque du Soleil, La JOYÀ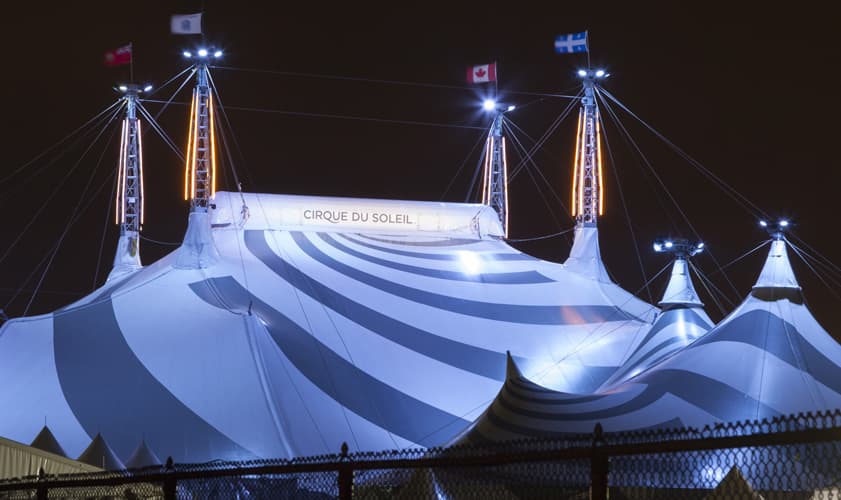 If you are looking for something different and original, an attraction that will leave everyone in awe, then you have to experience LA JOYÀ, the first Cirque du Soleil show in Mexico. This famous circus combines culinary and scenic arts in an intimate theater.
Inspired by the history and heritage of Mexico, JOYÀ tells the story of an alchemist and his granddaughter who embark on a quest to discover the secrets of life. A very special experience that you and your children will never forget!
6. Xel-Ha, nature in the family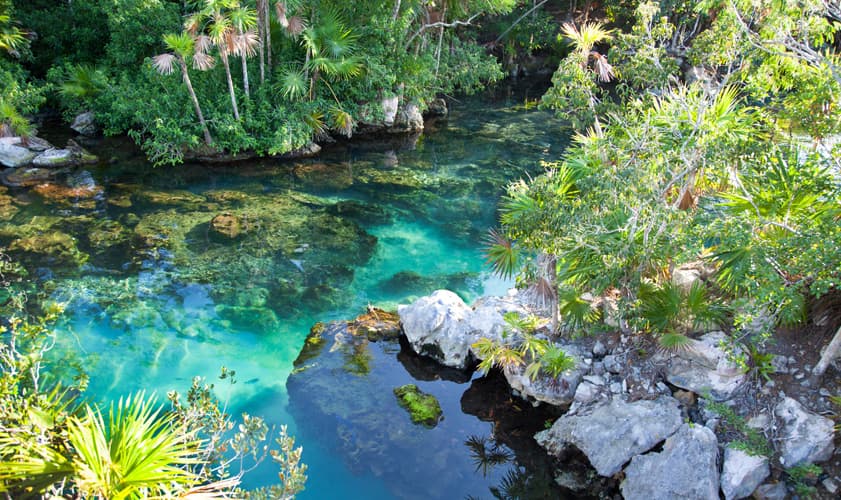 Xel-Ha is a true paradise for nature lovers and an incredible natural aquarium that you and your family will love to discover. Located in the Riviera Maya, this popular attraction since 1995 offers a wide range of activities for the whole family.
Here you can snorkel, explore the mangroves, venture into the Cliff of Courage or explore the entire park on one of the many bike trails.
You can book your ticket at the Grand Riviera Princess hospitality tables.
7. The path of the Cenotes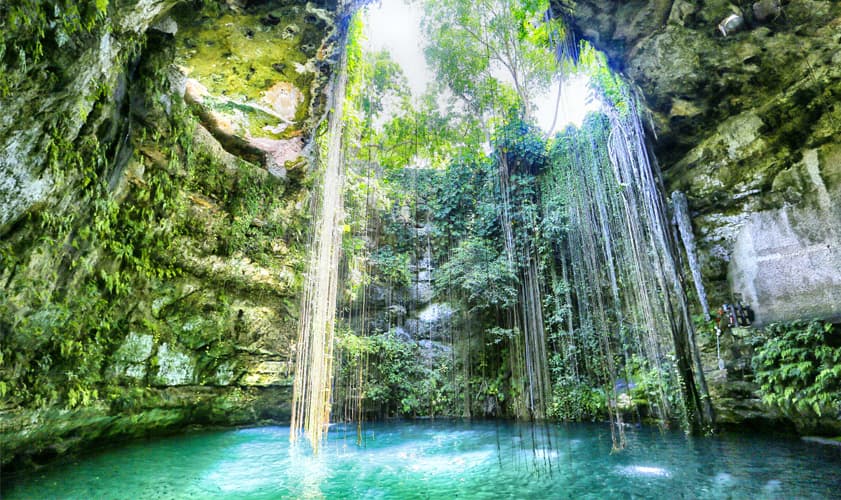 In the Riviera Maya, one of the most popular attractions among locals and travelers, is to swim in the crystal clear waters of a cenote. These bodies of water are some of the most beautiful and magical places you can find, be it an open air cenote, in the middle of its imposing depths, or under an underground river full of beautiful light shows.
Very close to Puerto Morelos, there is a corridor of approximately 35 km known as "La Ruta de los Cenotes", where there is a great variety of cenotes of all kinds: open, semi-open and underground. Here you and your family can experience different activities such as: snorkeling, zip line, cycling, horseback riding, bird watching and many more.
→ It is preferable to rent a car and discover the Route together with your children, since it is only 30 minutes away from the Grand Riviera Princess Hotel. There are various rent-a-car options on the hospitality desks of our hotel.
8. Selvatica, amusement park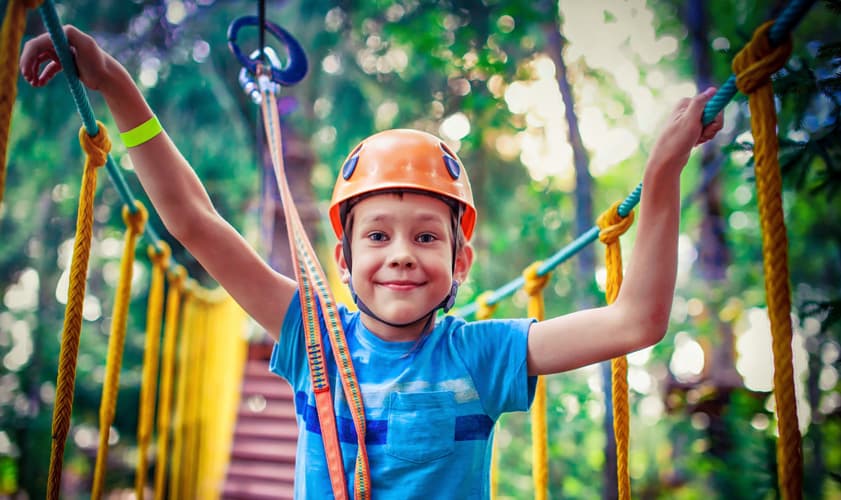 This attraction has become very popular recently and it's one of the best 10 family excursions in Riviera Maya. Located in the city of Cancun, Selvatica is an amusement park with various activities that you kids will be very excited to try.
This adventure park has one of the largest zip-line systems in the world with a total of 12 zipline lines of 1.5 miles in length. If your children love the original adventure activities, you can also enjoy the Tarzania Coaster, a 700-meter wild ride on a human roller coaster, it will make your adrenaline pumping to the fullest!
The Gimme All package includes all the attractions of this park from Extreme Canopy, Swim in the cenote, Polaris RZR, Tarzania Coaster, Monster Zip Lines, Skywalk and Bungee swing. In addition, all packages include door-to-door transportation and you can make your reservation at the Grand Riviera Princess reception desks.
9. Yal-Ku Lagoon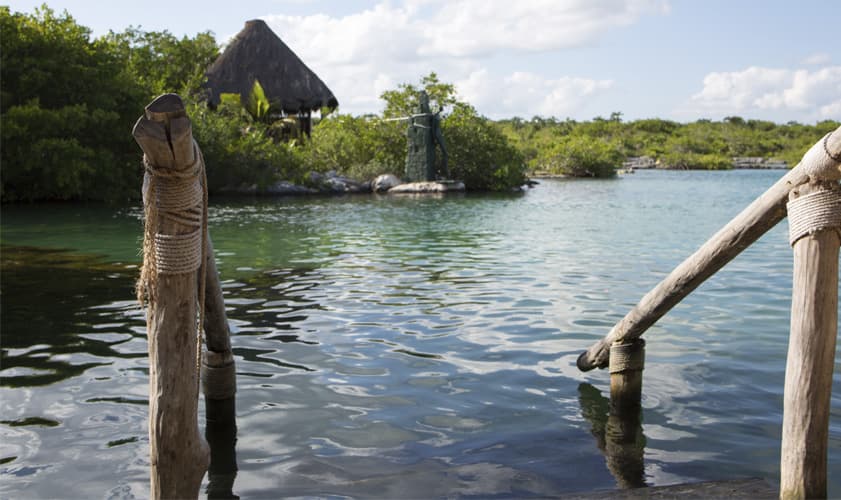 Snorkeling in the Yal-Ku Lagoon is one of the most beautiful experiences you can have while visiting the incredible region of the Riviera Maya. Located 30 minutes from the Grand Sunset Princess Hotel, it can be the ideal place for a great afternoon of family snorkeling.
This entrance is filled with a combination of fresh and salt water and presents a calm turquoise water that shelters sea turtles, tropical fish and stingrays. You can book a tour directly at our hotel or, if you wish, you can visit it by taxi or public transport.
10. A Family Day at the Grand Riviera Princess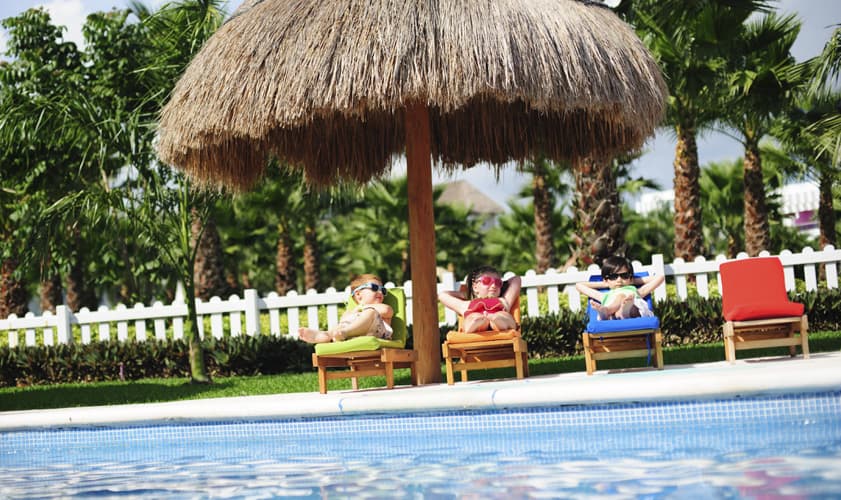 And last but not least, our top pick of our top 10 family excursions in Riviera Maya. When you don't know what to do in Riviera Maya with children, we suggest you to stay inside the resort!
There is a lot of fun waiting for you and your children in our hotel. Start the day with a fresh breakfast at the Sunset Buffet and then head to the Spa for a rejuvenating family massage. Both children and parents are allowed the Spa and everyone can have a group massage with different techniques to choose from.
After relaxing at the Spa, why not experience the water park at the Family Club? Even if you stay at Grand Riviera or Grand Sunset, you can enjoy the water park at a small fee. And do not forget that very close to the water park you will also find the delicious ice cream parlor, delicious!
End the day with a well-deserved dinner at any of our All Inclusive restaurants we offer. Before going to bed, do not forget to visit our Theater, where you can remember your own childhood with our Aladdin show.
If you want more ideas, discover 5 new plans to do as a family in Riviera Maya here!
Do you have new proposals on what to do in Riviera Maya with children? What do you think of our proposals? Share your opinions with us!
Categories: Caribbean, Tips, Be inspired, Mexico
Comments
« Las mejores ideas para celebrar el Día del Papá en México
TripAdvisor Certificate of Excellence 2018 in 7 Caribbean Hotels »