Tips for Weddings in Mexico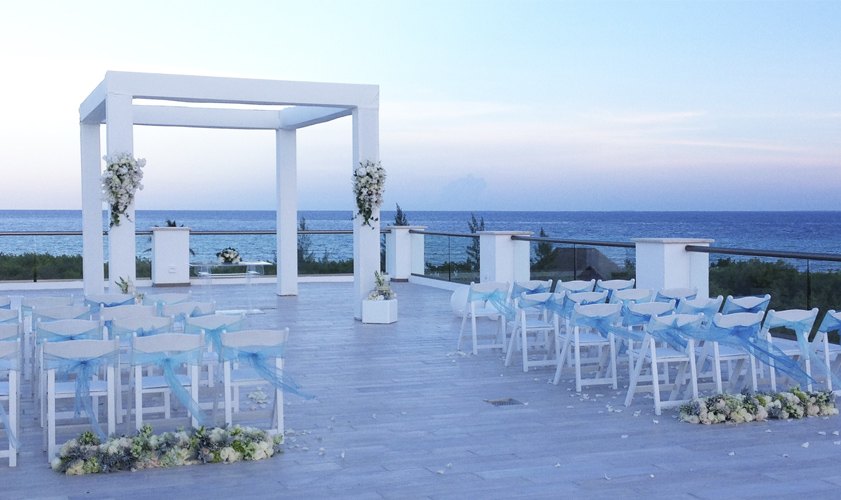 Riviera Maya has become one of the most idyllic and dreamy places for a wedding in the Caribbean and it is easy to know why: extensive beaches of soft white sand, the warm and sunny weather, the unbeatable sympathy of the Mexican people … All this and much more, makes this region one of the most desired destinations to celebrate a wedding in México. The perfect place for brides and grooms who want to celebrate the most important day of their lives away from home!
At Princess Hotels Riviera Maya we know how important it is for you to have an unforgettable day. Let everything go as planned for so long. Our team is ready to give you an experience you will never forget! Your weddings in México! For us it is very important and we want it to be everything you've always dreamed of. Enjoy your weddings in an incredible way and without any worries:
In what spaces can you organize your weddings in Mexico?
We have a wide range of locations so that even the most demanding couple can find their ideal space. We believe that the wedding day of you and your partner should be fully representative of your relationship, authentic and relevant to both. This is a day that the two will remember over the years. Something to celebrate in the good times and to encourage you in the most difficult times.
For this reason, we have different locations for the special day of your wedding in Mexico:
Beach: The favorite location for everyone looking to have a wedding in the Caribbean. What better place to celebrate the love and friendship of a couple than an extensive beach of soft sand facing the turquoise blue of the Riviera Maya Sea? Imagine the amazing photos you will have of your wedding. You will be the envy of all your friends!
Wedding Gazebo: For all the bride and groom who are looking for a more intimate place but without losing the beauty of the Mexican sea, we suggest our wedding gazebo. Here you will fulfill the dream of a fairytale wedding with your family and friends.
Restaurants: We know that not all grooms feel comfortable with an outdoor wedding. That is why we offer the option of saying "Yes I want" in one of our restaurants. Ample spaces, prepared to amaze a large number of people. In addition, they offer you the option of enjoying semi-private dinners.
Salons: For the bride and groom who are looking to have ample space and celebrate their weddings in a huge meeting with family members from all sides and lifelong friends. We guarantee a private and intimate atmosphere with an unbeatable service from our Princess staff.
Skylights Terrace (exclusive Platinum Yucatan Princess hotel): It is the perfect space if you are looking for a unique place for adults only with sea views for your wedding in Riviera Maya. You will enjoy a beautiful and luxurious wedding on the Skylights terrace!
Private Skylights Restaurant (exclusive Platinum Yucatan Princess hotel): If you prefer a more intimate place with the same level of luxury, you will only have to enter and celebrate your wedding at the Skylights restaurant. You can delight in our luxury restaurant with the incredible gastronomic offer designed by Chef Agustín Puc in a totally private dinner.
Sports Park Garden (exclusive Platinum Yucatan Princess hotel): You have an incredible tropical landscape that fulfills the dream of brides and grooms who love being in nature. This beautiful place can be the box of your reception or the welcome cocktail.
Here you can see our Wedding Tips in the Dominican Republic!
What services do we offer for your Weddings in Mexico?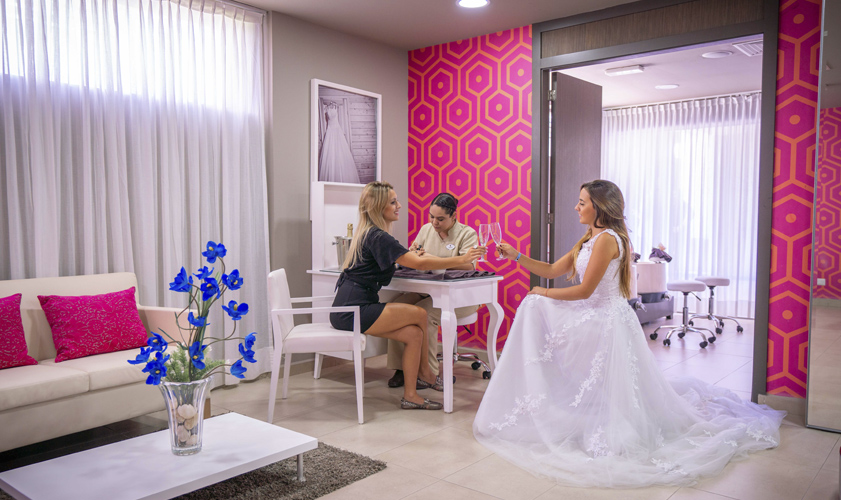 We have for you, all the services that will add something special to your weddings in Riviera Maya. We want your wedding to be as perfect as you imagined and these services will complement your wedding in the best way:
Bridal Room at Princess Spa: We know that the days before your wedding are full of stress and nervousness, that's why we invite you to visit our Spa. Here we have an exclusive room for you and your bridesmaids. You can enjoy different services from hairstyles, manicures, etc. The most amazing thing is that this room is private and isolated from prying eyes so you can feel as if you were at home!
Spa Rituals: Our Princess Spa also offers a range of unique rituals that will make you feel energized and ready to start your new life. And why not invite your partner and enjoy a romantic couple massage on the beach?
Beauty Salon: Hairstyle, manicure, pedicure, aesthetics … everything you need to be beautiful (or) on the day of your wedding you can find it in our Princess Spa.
Princess Dj's: Few things are as personal at a wedding as the music heard. Our DJ's are committed to making this day the best party of your life.
Customized decoration: Flowers, tablecloths, lights, etc. There are so many different options in our catalogs of decorations that the most difficult thing will be to choose.
What Wedding Packages do we offer at Princess Hotels?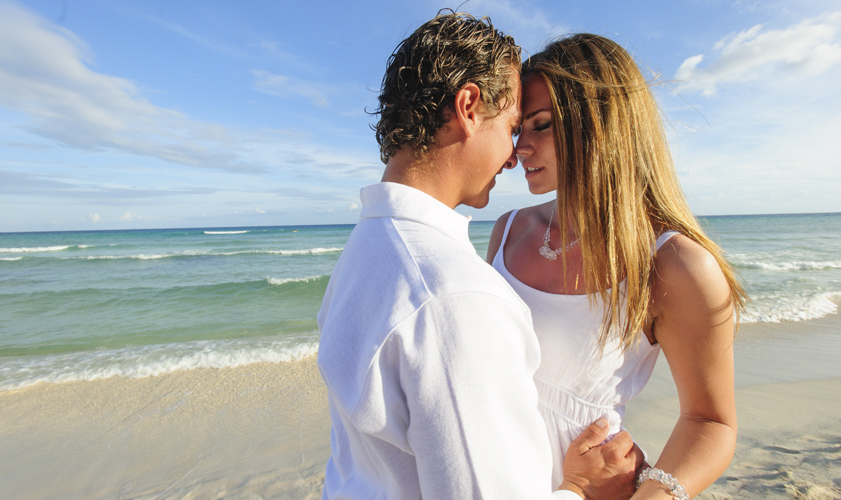 Taking advantage of the fact that you are in a different country, why not do something completely original and exotic by celebrating a Mayan symbolic ceremony in our company? You can also join the religious and the civilian and celebrate both simultaneously. Whatever your option, we have it available for you. Our various packages are prepared to grace your wedding in any way you want and make everything as you always dreamed!
The packages we have available are:
Royal Package
Magical Package
Princess Package
Mayan Ceremony
In the event that you are looking to celebrate your marriage and relive the passion and romance of that special day you can enjoy the Infinity Package and renew your vows in an unsurpassed and unbeatable destination.
If you love the idea of surprising your partner in an unexpected way, request our special JustForTwo package and in 24 hours we support you in organizing an intimate and unforgettable wedding that you will never forget.
If you are looking for information about our South Asian Weddings do not miss this post!
What rooms do we offer for your Weddings in Mexico?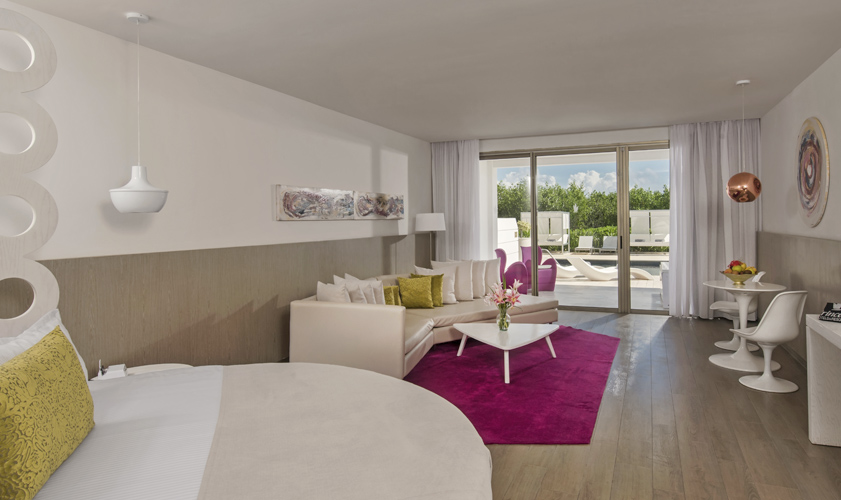 Making a wedding at Princess Hotels means spending a vacation in Riviera Maya that we want to be as pleasant as possible. Therefore, we offer different types of rooms so you can choose the option that best suits what you need to spend a relaxing holiday in our company:
Junior Suite Deluxe: Comfort is the word of order in this room. Enjoy a warm atmosphere and a romantic Jacuzzi where you can live unforgettable moments.
Laguna Villa Suite: In this room you will find personalized luxury services that will make everything even more perfect on such a memorable occasion as your wedding.
Platinum Suite: The best possible location complemented by exclusive services. What better way to celebrate romance than with a dream bath at sunset in the Jacuzzi on the terrace?
Honeymoon Suite (exclusive Platinum Yucatan Princess hotel): The name says it all. It is the room par excellence for couples in love looking for personalized attention and exclusive services. We also highlight the round bed and the romantic hydro-massage on the terrace.
In short, whatever your location, package or room option, we assure you that at Princess Hotels Riviera Maya your wedding will be a compilation of the best and most romantic moments of your lives.
Would you like to celebrate your wedding in Mexico or would you have liked to celebrate it? Share your comments with us!
Contact
Email: ventas2.riviera@princess-hotels.com
Telephone: 52-984-877-3511 / 3513
Categories: Caribbean, Tips, Be inspired, Mexico, Riviera Maya
« Interview with Winni de los Santos, Public Relations assistant at Caribe Club and Tropical Princess
New opening: Grand Bavaro Princess Hotel in Punta Cana »