Best beaches in La Palma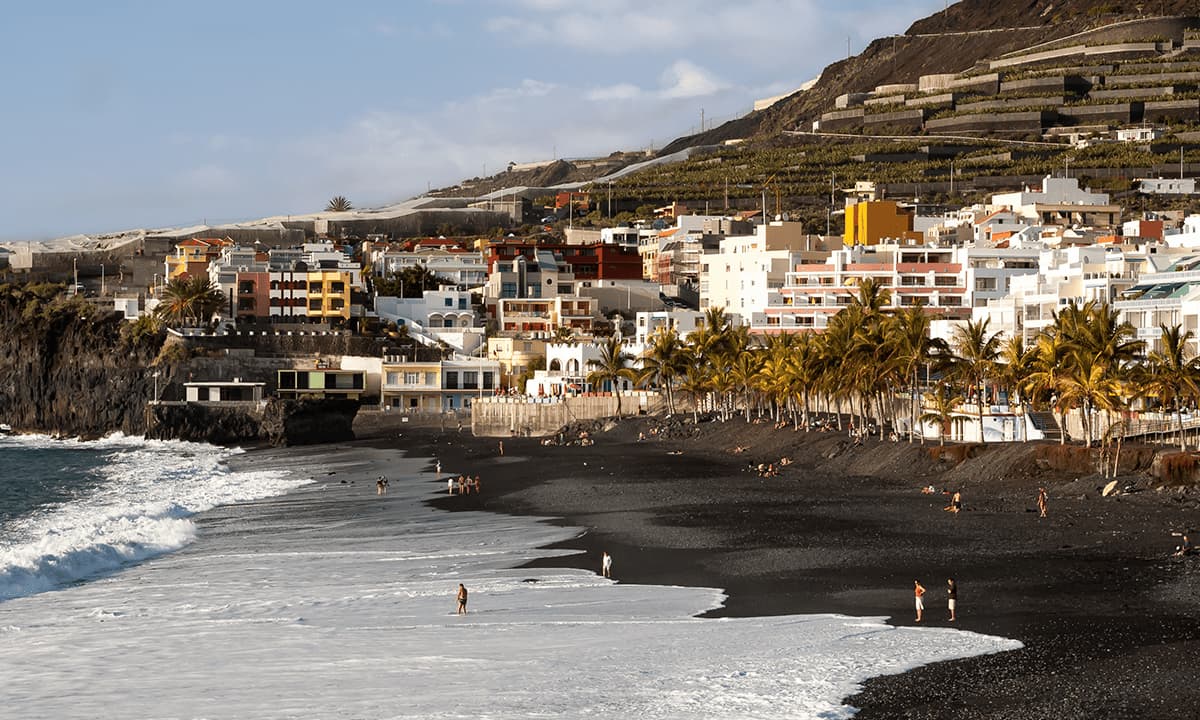 La Palma has spectacular beaches where, besides enjoying the sun and the sea, you will be able to dive, snorkel or surf among other activities.
Its extraordinary climate is an invitation to visit the island at any time of the year. In "la isla Bonita", as the natives of the Canary Islands call it, you will find family, urban and wild beaches surrounded by nature. A never-ending array of possibilities to disconnect and live a unique experience.
Bajamar Beach

The Bajamar beach, located to the east of the island, more precisely at Breña Alta, is one of the most well-known and frequented beaches. A visit surely not to miss, this charming urban beach, with its black sands, is right next to the marina and the Risco de la Concepción natural monument, where you will be able to stroll along the beautiful promenade and take in the spectacular views. You will also find a great variety of services: parking, playing areas, a playground, showers, locker rooms, adapted toilets, kiosks and much more.
Cancajos Beach

If you like to dive or to snorkel, this is the ideal beach for you. Located to the east of the isle, at Breña Baja, its calm and crystal clear waters are perfect for such sports. The beach features black sands, volcanic rocks and beautiful views, and within its premises you will be able to access a variety of services, such as rental services for umbrellas, hammocks, showers, restrooms or special access for people with reduced mobility. You will also be able to enjoy the typical cuisine at the restaurants near the beach.
Echentive Beach

Formed in 1971 after the volcanic eruption of the Teneguía volcano, the Echentive beach, also known as Playa Nueva, will surely surprise you by its wild appearance and immense beauty. You will find this beach at the municipality of Fuencaliente, quite close to Fuente Santa, a natural spring with healing qualities. This beach is also part of the Volcanoes of Teneguía National Monument, and within you will find natural pools where you can take a relaxing bath.
Nogales Beach

If you want to enjoy nature Playa Nogales is a must visit. A blend of mountain, volcanic sands and sea make this place one of the most beautiful of the whole island. This is the ideal place for those wanting to enjoy a moment alone amidst nature or even for those loving surf. The beach is located at Puntallana and, even though it's a virgin beach, you can access it by walk without any problem.
Los Guirres Beach

Here at this beach, also known as Beach of the Volcano, you will be able to enjoy different aquatic sports, surf among them. This is in fact one of the favorite spots on the island for those loving sports. Even though the currents reveal a large number of rocks, in summer this beach boasts shores of fine black sand and calm waters. Located at Tazacorte, you will find a well-known beach bar where you can enjoy the typical cuisine of the area.
Are you ready to discover the charms of the "Isla Bonita"? Take note and enjoy the sun, the sea, nature, the sports and the cuisine. A unique adventure that will surprise you!
Photos: Oficina de Turismo de La Palma, J.P. de León, Saúl Santos y Damián Martín.
« 10 reasons to go to Caribbean Resorts
Donate school supplies in El Pedregal by Princess Hotels in Riviera Maya »