10 Canary Island restaurants with magical views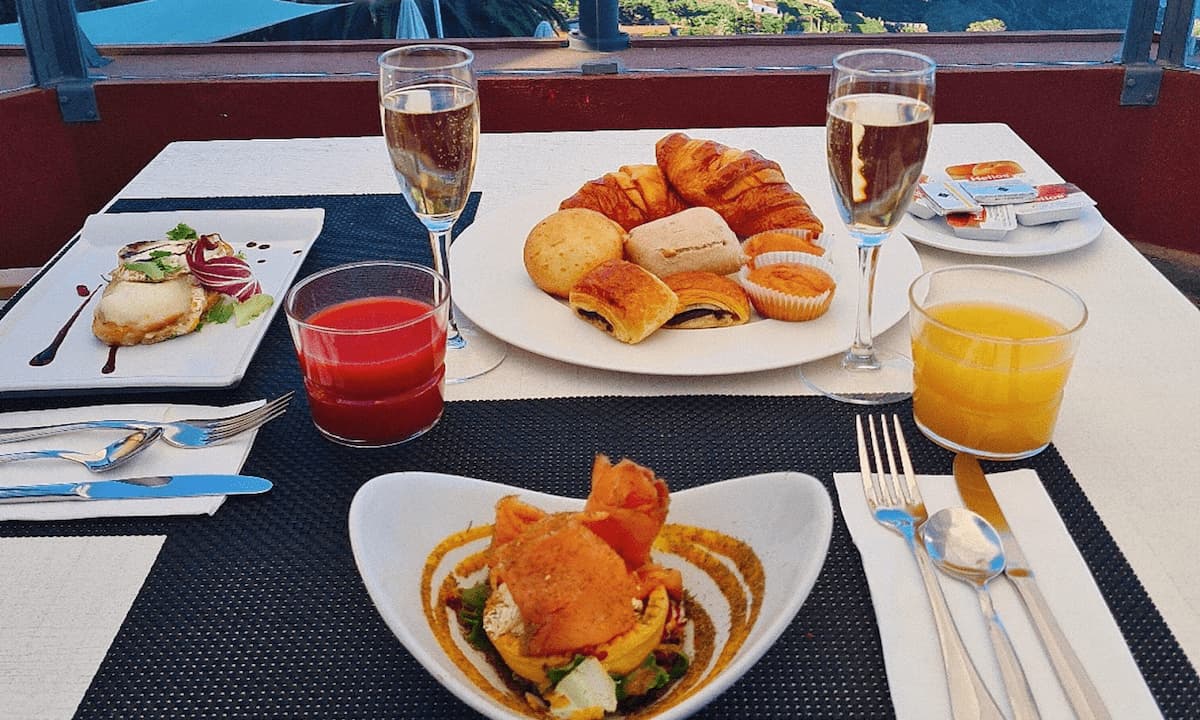 The Canary Islands, the archipelago of eternal spring, wonderful natural spaces and rich gastronomy, have some of the best restaurants in the country. This is the essential route of Canary Island restaurants where you can enjoy local flavours, products and the best views of the area. 
To enjoy one of the best sunsets on the island of Tenerife, you have to stop at this restaurant with large windows, where you will find the perfect combination between landscape and gastronomy while listening to the sound of the sea in the distance. The premises have a spacious terrace and different corners with tables and armchairs, ideal for groups or couples. The restaurant offers both brunches and high-quality lunches and dinners, which is why it has been included in the Michelin guide. The food this restaurant specializes in includes typical dishes such as croquettes, black squid rice and fresh salmon with an aromatic herb crust. Its speciality is brunches. 
Address: Pasaje Sierva de DIos 9 El Sauzal, 38360 Tenerife
Telephone: 922 571 491
E-mail:[email protected]
Opening hours: From 1 p.m. to 10:30 p.m., Wednesday to Sunday.
2. Restaurante La Marinera, Playa de Las Canteras (Gran Canaria)

The second Canary Island restaurant you must visit is one of the most highly recommended spots with sea views.A perfect place to enjoy a local menu in Las Palmas de Gran Canaria. This restaurant offers good products, especially from the sea, and has views of one of the best urban beaches in Spain:Las Canteras. Do try the house salad, gofio, octopus, stone bass or parrotfish, which is the local catch. You can also taste fresh seafood and grilled meats. 
Address: C. de Alonso de Ojeda, 0, 35009 Las Palmas de Gran Canaria
Telephone: 928 46 15 55
Opening hours: Every day from 12:30 p.m. to 00:00 a.m.
3. Restaurante Parrilla los Braseros (La Palma)
It is a classic on the island of La Palma, famous for the excellent high-quality meats that they prepare, including pork, veal, lamb, chicken or rabbit.  Their starters are also noteworthy, including chorizo, sausage, chistorra (thin red paprika sausage), butifarra (Catalan sausage) or black pudding and their star dish, roasted cheese with mojo sauce and wrinkled potatoes. To finish off, one of the most typical Canary Island desserts: bienmesabe, made with honey, egg yolk and ground almonds. In addition to its excellent culinary offer, this restaurant has a terrace with fantastic views of Roque de los Muchachos.
Address: Calle del Calvario, 73, 38350 Tacoronte, Santa Cruz de Tenerife
Opening hours: Monday from 11 a.m. to 6 p.m., closed Tuesday, and Wednesday to Sunday from 12 p.m. to 10 p.m.
4. La Vaca Azul (El Cotillo), ideal para comer con vistas

In an unbeatable setting, with views of the sea and the old port of El Cotillo, we find this restaurant where you can enjoy its specialities of fresh fish and seafood, as well as its wide range of soups, salads, meats, rice dishes and homemade desserts.
Its beachfront terrace is also an idyllic place to have a drink or try its tapas, enjoying some of the most spectacular sunsets of Fuerteventura.
Address: C/ Requena, Muelle Viejo n° 9 35650 El Cotillo, Fuerteventura
Tel. 928 538 685
Opening hours: Monday to Sunday from 12:30 p.m. to 10 p.m. 

The fifth restaurant with one of the best views of the island of Tenerife is this charming and exquisite setting to enjoy in good company. We can taste delicious dishes like swordfish croquettes and steak tartare, made with care and views that honour its name, with the Teide as the crown jewel, and the infinite ocean framing the view. In addition, you can find typical Canary Island dishes such as grilled smoked cheese, Padrón peppers, and almogrote, a soft paste made from hard cheese, peppers, olive oil and garlic. It is the perfect place to celebrate birthdays, share drinks with friends, have a cocktail or simply celebrate life.
Address: Calle Bencomo, 58, 38390 Sta Úrsula, Santa Cruz de Tenerife
Opening hours: Monday to Sunday from 12 p.m. to 10 p.m.
6. Restaurante Paraíso del Mar (La Gomera)
This Canary Island restaurant with views of the wonderful beach of Valle Gran Rey offers a menu with exquisite seafood products, such as shrimp, squid, fresh fish, and tuna, the speciality of the house. The location is perfect, thanks to its outdoor terrace, and seeing the sunset with the beach in the background is spectacular.
Address: Avenida Marítima 4 Playa Puntilla, 38811, La Gomera 
Telephone: +34 922 80 54 47
Opening hours: Monday to Sunday from 12:30 p.m. to 10 p.m.
7. Restaurante Sergio (Lanzarote)

"Sergio" restaurant offers Lanzarote's local products, especially cheeses. Its magnificent sea views of Playa Blanca and its pleasant décor with kitchen utensils make it one of the most original places that must be visited on the island. Its food is a fusion of Italian and Asian cuisines, with local products, creating delicious flavours and dishes.
Address: Calle Limones 93, 35580 Playa Blanca, Lanzarote
Telephone: +34 634 92 71 46
Opening hours: Monday to Sunday from 1:30 p.m. to 10:20 p.m.
8. Restaurante Mirador de la Peña (El Hierro)
Located on the viewpoint of the same name, this restaurant designed by César Manrique has spectacular views, as well as traditional gastronomy developed with excellent El Hierro products such as herreño cheese, wrinkled potatoes, fresh fish… We highly recommend having a coffee on the terrace and enjoying the incredible views of the Mirador de la Peña, for the best experience.
Address: Crta. general del Norte barrio de Guarazoca, 38900, El Hierro 
Telephone: +34 922 55 03 00
Opening hours: Monday to Sunday from 1:00 p.m. to 11.30 p.m.
9. Restaurante Mirador de Sotavento (Fuerteventura)
This spectacular typical Canary Island restaurant is ideal for enjoying the island's dishes, but with a gourmet touch, while enjoying its beautiful views towards Sotavento. For starters, we recommend some cheese pastries and as a main, creamy rice with cheese and mushrooms. For dessert, you must try the fantastic banana tiramisu. It is certainly a place worth visiting, not only to try the food but also to see the sunset on its wonderful terrace. Furthermore, if you want to enjoy its golden sand beaches and crystal clear waters, there's nothing better than staying at one of the best hotels in the south of the island, Fuerteventura Princess and Club Jandía Princess.
Address: Cuesta de la Pared S/N, 35627 Costa Calma, Pájara, Fuerteventura España
Telephone: +34 675 75 44 82
Opening hours: Monday, Thursday, Friday, Saturday and Sunday from 1:30 p.m, to 9:45 p.m.
10. Restaurante La Casa del Volcán en Fuencaliente (La Palma)

This rustic restaurant with its own wine cellar is our last but by no means least important recommendation out of the 10 Canary Island restaurants with views. We must stop here if we visit La Palma, not only for its wines and its typical food like black pudding, Canary Island chorizo and rabbit but because we can also buy local products and enjoy a perfect setting surrounded by vineyards with views of the San Antonio Volcano.
Address: Calle Los Volcanes, 23, 38740 Fuencaliente de la Palma, La Palma España
Telephone: +34 922 44 44 27
Opening hours:  Tuesday to Saturday from 1 p.m. to 9 p.m.
Categories: Canaries, gastronomia, Canary Islands, Uncategorized
« Taurito Princess: The best option in Gran Canaria for your family holidays
Grand Bávaro Princess is now certified by Intertek Cristal »