Tropical Deluxe Princess: the renovated hotel of Punta Cana for you and your family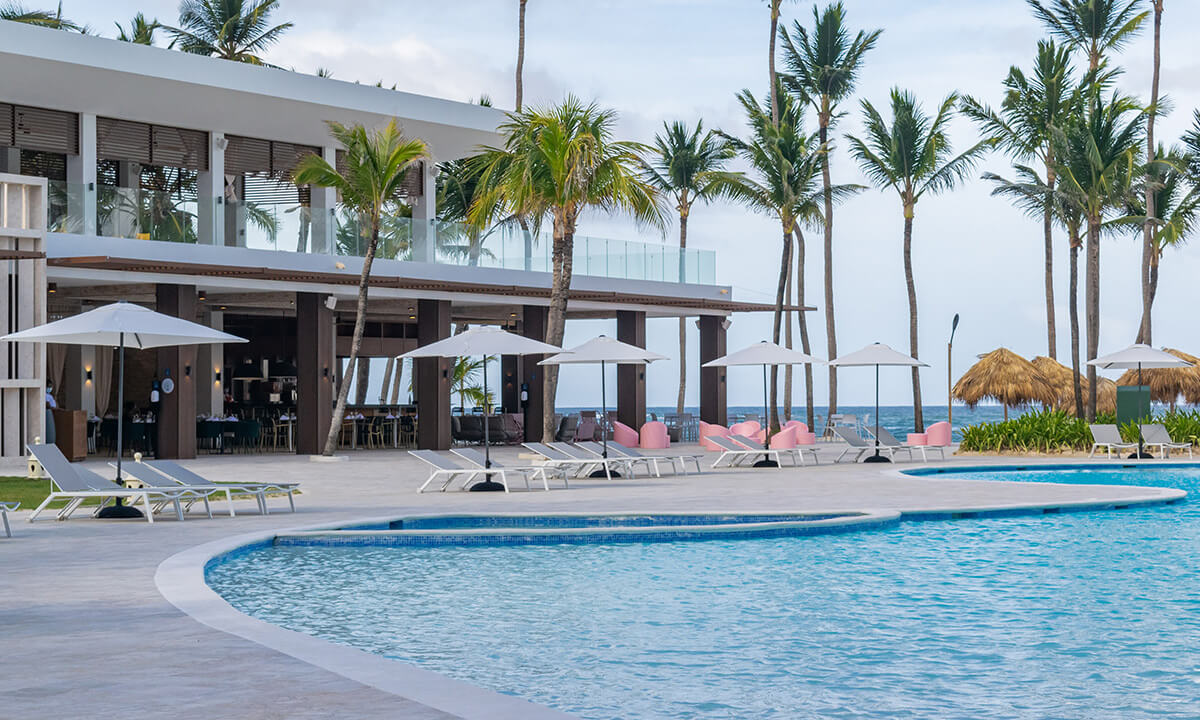 Tropical Deluxe Princess is right on Playa Bávaro. Known for its tropical beauty, white sand and turquoise water. The renovated hotel is right on the beachfront and only 25 minutes from the airport. All the rooms are immersed in a natural atmosphere in which the local plants and animals are protected.
A hotel for families in Punta Cana

The 5-star Tropical Deluxe Princess hotel has been fully renovated.
The 4-star Tropical Princess hotel has recently been renovated and is now called Tropical Deluxe Princess, boasting 5 stars. We have created a hotel in which all families can enjoy an unforgettable holiday with exclusive services and facilities for every member of the family.

Some of the most notable aspects of this renovation are the rooms for large families and the new play area for children, which has a water park with slides. Also noteworthy are the Kids Club and the bowling alley for the whole family.

Our guests will enjoy a comprehensive gastronomic experience with 7 à la carte restaurants, 9 bars, 1 buffet, 1 Snack Bar, 1 Café and a Creperie. A journey through new flavours that will last the entirety of your All Inclusive stay!
All our services and facilities have benefitted from the refurbishing. For instance, we now offer the Platinum experience for guests who want to enjoy our most exclusive services. Join us on a tour of the most notable spaces!
Our Family Suite, perfect for large families

Special mention must be made of our Family Suites! They have 2 bedrooms to give you a bit of privacy while also enjoying a family holiday! The main bedroom has a king-size bed and the second one, a triple bunk bed. Plus, a balcony or terrace and 2 bathrooms! They include Wi-Fi, 2 cable TVs, USB+USB-C ports, a minibar, air conditioning, a safe deposit box, an electric coffee maker…
But that's not all. We have rooms for all tastes, with everything you need for a holiday in the Caribbean! The renovated Tropical Deluxe rooms can fit up to 4 people, are equipped with 1 king-size bed or 2 double beds, a balcony or terrace, Wi-Fi, air conditioning, minibar… For romantic holidays, we have the Honeymoon Suite, with its wonderful facilities. We also have exclusive and renovated Royal Suites. What's more, they both include the Platinum Package services, our most exclusive package!
Check out the full list of rooms that have been renovated!
New area for the youngest members of the family

The renovated Tropical Deluxe Princess is the paradise children dream of. It has 3 pools for adults and children! The pools with slides are the best way to have fun and cool down! 4-to-12-year-olds can spend time in the Mini Club, with its very own water park. There is also a Teenagers' Club for 13-to-17-year-olds. The Mini Club and Teenagers' Club are filled with shows, fun and games, as well as many activities to make the little ones happy. The children's Entertainment team arranges arts and crafts, dances, group games, fun competitions and even a Mini Disco.
And you cannot miss out on the new bowling alley for children! At the 24-hour Kanalla Sports Bar you can spend the time enjoying the lane and bowling to your heart's content!
Every day you will have a long list of activities, day and night, planned for the whole family: water sports, pétanque, tennis courts, golf, bow and arrow, ping pong, dancing classes, aerobics and gym.
We provide babysitting services so that adults can relax and enjoy a moment of tranquillity, for example, in the relaxing waters of the spa. And to top off the day, we suggest you enjoy an entertaining show at the new Theatre.
A wide range of culinary options along with the new Beach House, a unique space overlooking the Caribbean
We also want to highlight the wide range of culinary options you will find in Tropical Deluxe Princess. 7 restaurants included for all guests:
Food Market:

A spectacular and modern buffet bound to make an impression.

La Tagliata:

An elegant Italian restaurant where you can try all the most delicious flavours of Italy.

Nopal:

Authentic Tex-Mex food. You will love its original décor and cacti!

Tao:

As if you were in the very heart of Tokyo. Our Asian/Teppanyaki.

Fogo:

Enjoy a special selection of Brazilian meat cuts, from Tomahawk steaks to Wagyu beef.

El Pilón:

Try the traditional dishes of the Dominican Republic in a Punta Cana-style restaurant.

BeacHouse

: The photo shows this spectacular and exclusive space overlooking the Caribbean Sea! Perfect for a snack, burger, hotdog, fruit, etc.
Guests staying in the Royal Suite or Honeymoon Suite and guests who booked the Platinum Package can also enjoy:
La Cava:

An elegant restaurant where you will find international haute cuisine.

Platinum Restaurant:

An exclusive restaurant serving Mediterranean food.
You can also visit our new café/creperie Frappucino, as well as the delicious Corneto ice-cream parlour with 9 all-inclusive bars. And there's also a Sports Bar open 24 hours a day!
The Platinum Package stands for exclusivity

The Platinum Package experience offers a wide range of services. It is available for all guests who want to enjoy these services for an extra fee. The Platinum Package is included for all Honeymoon guests.

Here is a list of some of the services included:
Customised check-in

Special welcome cocktail and fruit basket in the room

National, international and premium drinks in all bars of the hotel (aged liqueurs, à la carte wines and champagne not included).

24-Hour room service

Premium Wi-Fi

Concierge services

Luxury amenities in the room

Daily turn-down service

Access to the gourmet restaurants La Cava and Platinum Restaurant (Mediterranean cuisine)

Access to the relaxing pool in the spa (adults only)

Use of the spa's sauna

10% discount on all spa services

Exclusive area on the beach with waiters serving drinks

Exclusive lounge bar in front of the beach for Platinum guests

Late check-out until 15:00 (subject to availability)
How could you possible turn this down? Find out what else is included! We'll be waiting!
Categories: Caribbean, caribe-deluxe, Punta Cana
« Two must-visit water parks in Gran Canaria
Your dream hotel in Maspalomas and Playa del Inglés »