Carnival in Gran Canaria – Here's what you shouldn't miss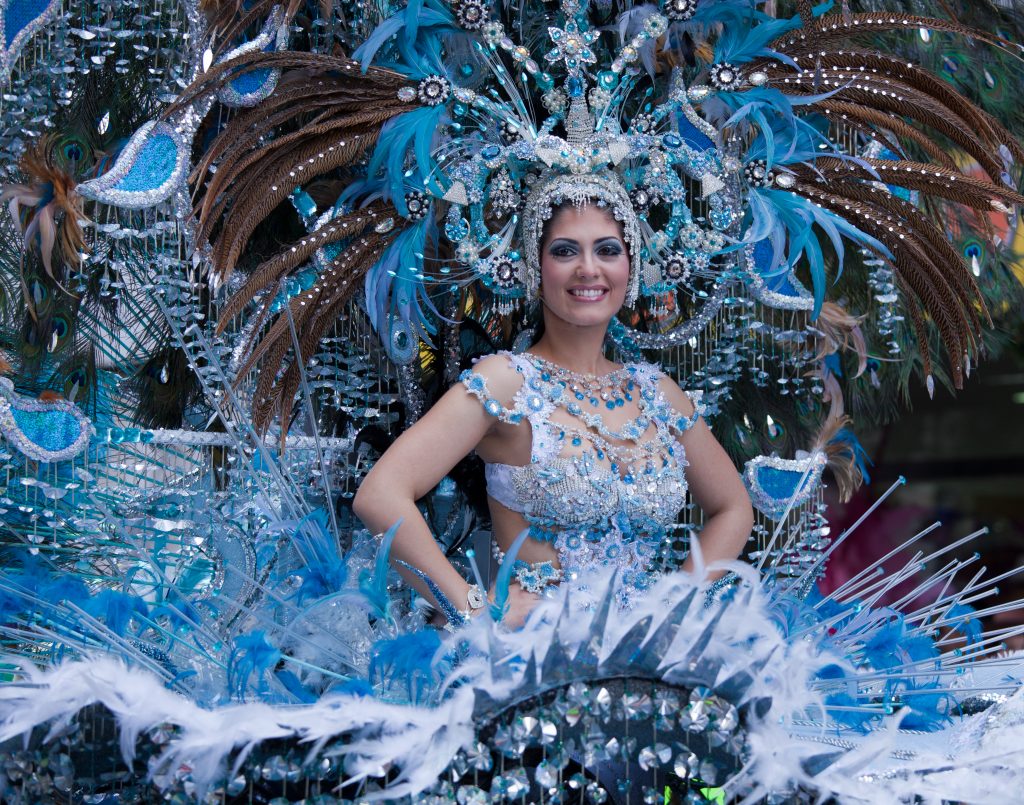 The carnival in Gran Canaria is one of the oldest and most important festivals of the island. Every village celebrates its own carnival, but the biggest events take place in Las Palmas and Maspalomas.
The Carnival of Las Palmas, the island's capital, is internationally renowned and considered among the best in the world. In 2011 it was declared "Fiesta of International Tourist Interest in the Canaries".
Somewhat on smaller in scale but not less cheerful are the festivities in Maspalomas. Celebrated in the centre of the most famous holiday resort, the International Carnival of Maspalomas attracts visitors from all over the world.
On both festivities there are shows that are worth a visit. You definitely shouldn't miss out on these 4:
1.) Election of the Carnival Queen
At the grand Gala the Carnival Queen, die "Reina del Carnaval", of Las Palmas de Gran Canaria gets elected. The dresses of the nominees are several metres high, colourful and voluptuous. The presentation of each frock is accompanied by music and is a feast for the eyes and ears.
2.) Election of the Drag Queen
The Drag Queen Gala is wild, loud and vibrant. La Palma de Gran Canaria, the island's capital, was the first city in Spain that launched such a show in 1998. Nowadays this musical event is one of the highlights of Maspaloma's International Carnival and it is advisable to purchase tickets well in advance.
3.) The big Carnival Parade
Another explosion of colour is the "Gran Cabalgata", the biggest Carnival Parade. Join the parade, dance in the streets and cheer at the passing floats of the Murgas (satirical groups) and Comparsas (dance ensembles)! The procession of hundreds of richly decorated floats is headed by the Carnival Queens. The party usually ends in the early morning hours.
4.) Burial of the Sardine
The Carnival says goodbye with the "Entierro de la Sardina"; the burial of a paper mache or wooden statue in form of a sardine. You will see a crowd dressed in black, with mourning widows, jugglers and musicians accompanying the sardine on her last voyage. The burning of the Sardine – a symbolical burial of the past – officially ends the annual Carnival.
If you are a Carnival lover Gran Canaria's Carnival is just the right thing for you. The SENTIDO Gran Canaria Princess is located in heart of the festivities, close to the Yumbo Centre in Playa del Inglés. And the two hotels Maspalomas Princess and Tabaiba Princess , situated in the idyllic Maspalomas, are just a few minutes away by taxi.
These are the dates you should mark in your calendar:
Immerse yourself into a colourful word and celebrate Gran Canaria's Carnival with Princess Hotels & Resorts!
Categories: Gran Canaria
« Coffee-flavored body treatments in the Dominican Republic
(English) Whale season in the Dominican Republic »