The Bavaro Princess Hotel collaborates with the Inter-American University of Puerto Rico for quality training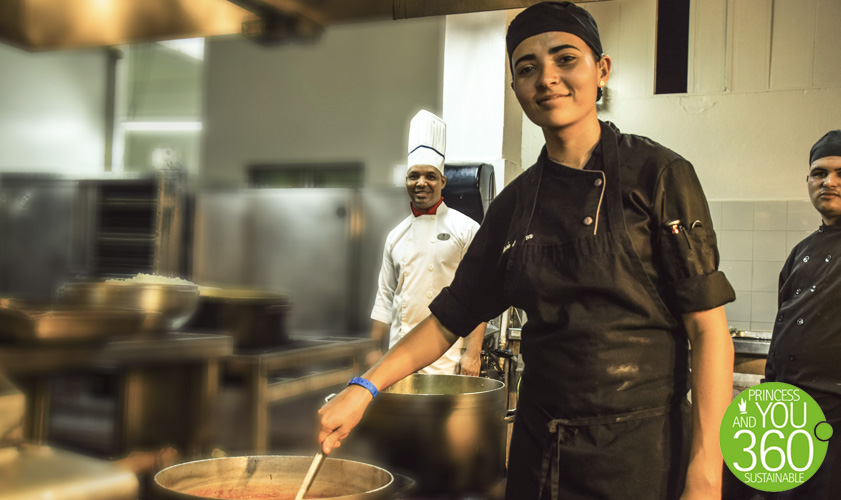 At the Hotel Bávaro Princess we believe on professional and quality training. This time we want to echo the collaboration of the hotel with Puerto Rico's Interamerican University. A collaboration that has been managed with the inestimable help of Inter RD | CEXDE Educational Center, as part of our program of corporate social responsibility Princess and You 360.
We believe in the importance for young professionals to live in situ the experience that is the day to day in an all-inclusive resort. 10 Culinary Arts students from the Barranquitas Campus have discovered the exciting and busy kitchen department. An interesting program was prepared so that the students had a comprehensive vision of the difficulties and challenges that arise in a hotel. From breakfasts to dinners, through the theme restaurants and the different areas that make up the kitchen. They were able to know the process of the food since the suppliers arrive with the ingredients, how they are stored and, of course, how they go on to the subsequent production.
How was the training organized?
The students were divided into two groups to work in teams of 5. The training was developed in the different departments so that they could be trained in:
Pastry: Accompanied by our chefs, they were able to help us prepare the desserts of the hotel.
Bakery: The wonderful magic of the masses, our breads always available for our customers in different varieties for breakfast, lunch and dinner.
Butchery: Always accompanied by our professional chefs.
Fish area: Understanding the operation and proper handling of fish.
Pantry: The area where cold foods are processed as the delicious varieties of salads available.
Hot kitchen: Guided by our professionals, they saw the handling and preparation of the hot dishes.
Specialty cuisine: They also experimented in the specialty a la carte restaurants of our hotel.
Our expert cooks were always supervising the activities. They valued very positively the good disposition of the students, their collaboration and enthuthiasm to learn. It came to their attention the student's interest to correctly understand the kitchen's mechanics and functions.
Categories: Caribbean, Be inspired, Punta Cana
« Princess Hotels Caribe celebrates World Oceans Day
Top 5 Best Instagram Photos in the Riviera Maya »