Advice for Windsurfing in Fuerteventura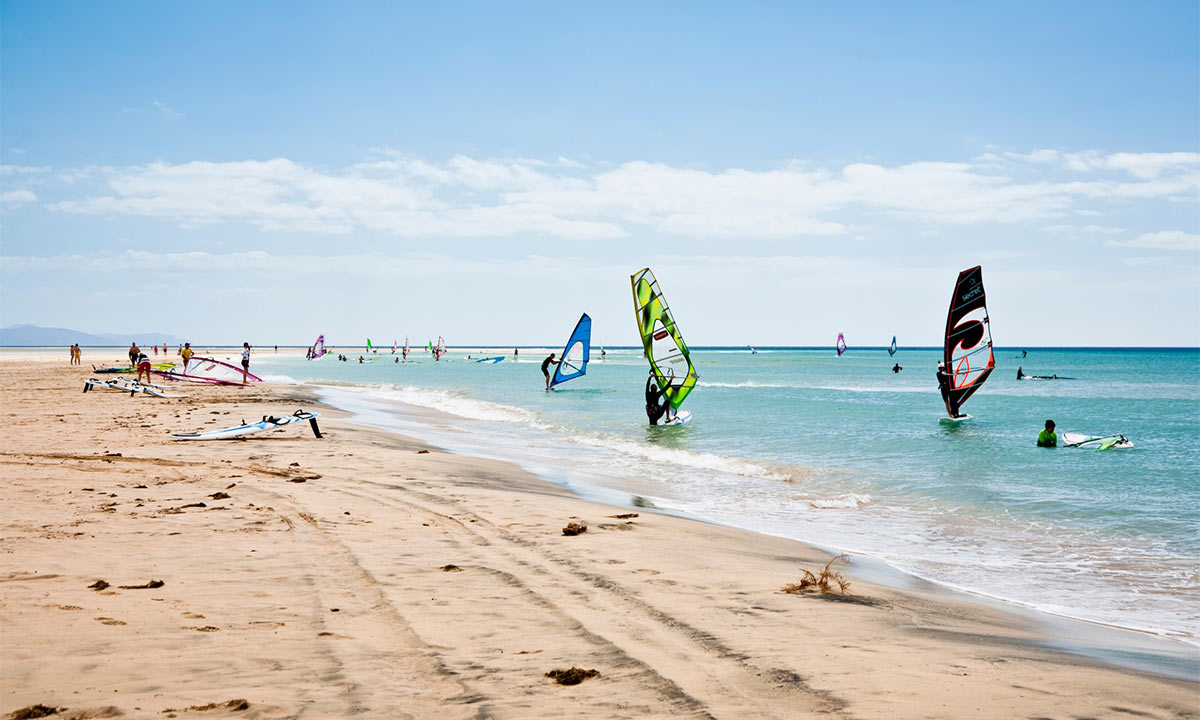 Miles of golden sandy beaches shaped by the tides of the Atlantic, like a peaceful haven in the middle of the ocean, enviable wave swell, great weather all year round and perfect wind conditions make Fuerteventura a paradise for windsurf lovers.
On the whole, the Canary Islands are perfect for enjoying sport and the sea. But Fuerteventura, the windy island, is perfect for those who are looking to go windsurfing. The Windsurf scene in Fuerteventura is gaining increasing popularity, competing with other well-known paradises, such as Queensland (Australia), Dakhla (Morocco), Quincho (Portugal) and Margaret River (Australia). Taking up windsurfing is much easier than you might think.
Choose the best beach
To go windsurfing in Fuerteventura you don't need to go very far or travel for endless miles. The windy island has the perfect spots for you to take your first steps in the sport. In addition, for the more daring adventurers, Fuerteventura hosts one of the largest windsurfing championships in the world. All you have to do is pick which beach suits what you're looking for.
To the north of the island, Parque Natural de Corralejo and El Cotillo may be right for you if you're looking to windsurf on deserted beaches with turquoise waters and a wonderful northern swell that will have you catching the best waves in front of one of Fuerteventura's other paradise locations, Isla de Lobos. These beaches are perfect for beginner windsurfers or more seasoned windsurfers looking to gradually improve their technique.
On the other side, to the southwest, we find the beaches that get the most visitors all year round. You should go there if you want to have the most advanced windsurfing experience Fuerteventura has to offer or if you're a professional at this magnificent sport.
Windsurfing and kitesurfing tend to be concentrated in this area due to the wind intensity, a key factor for these sports. In this area you will find Sotavento Beach which actually comprises five different beaches: La Barca, Risco del Paso, Mirador, Malnombre and Los Canarios. Sotavento has hosted the world championships for many years and has the largest Windsurfing school in the world, the René Egil centre. There, about 300 metres from the shore, a small lagoon forms, spanning a couple of kilometres, which is perfect for beginners.
Get the right equipment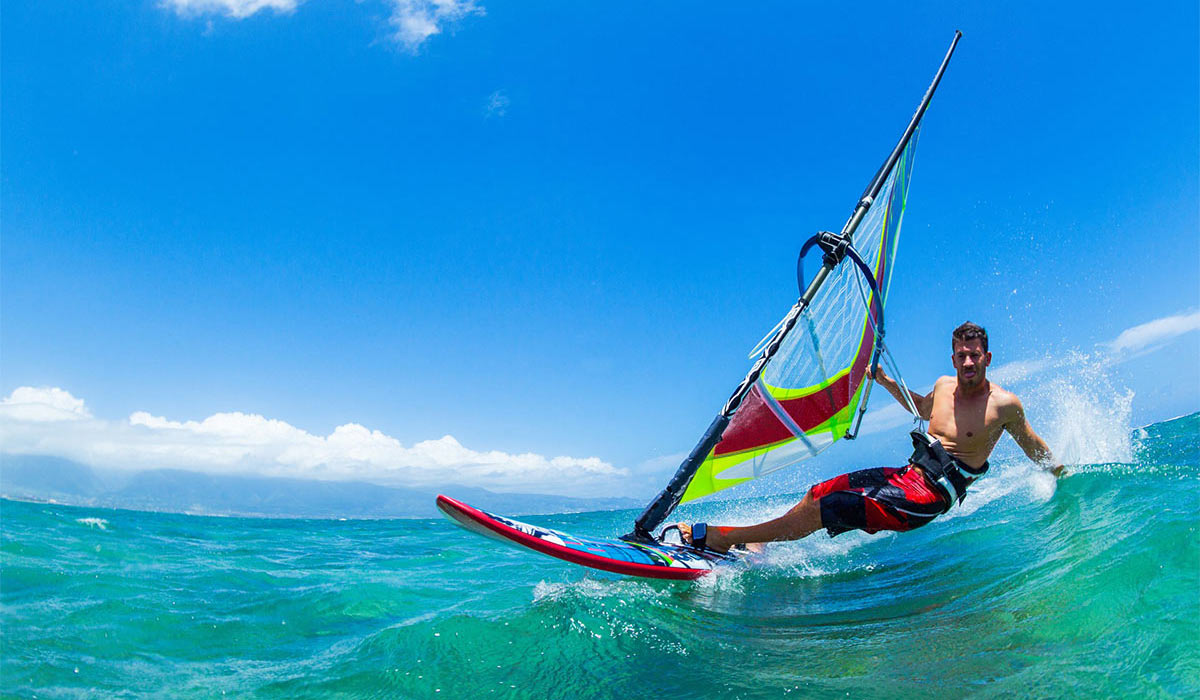 Equipment is one of the main considerations if you want to start windsurfing in Fuerteventura. The equipment you'll need is comprised of a number of key elements.
The board should be suitable for your level of comfort in the water. Making sure it's adjusted to your weight, height and level of ability should be the priority. There are several types of boards: freeride board (perfect for beginners), wave board (designed for advanced windsurfers), raceboard (perfect for reaching high speeds) and freestyle board (ideal for tricks). You can also source a hybrid board, which combines the best features of them all.
However, the most important element for windsurfing in Fuerteventura is to make the right choice of sail you're going to use. Fuerteventura is known as the windy island for an obvious reason: long gusts of wind all year round that make it possible to practice this sport. The sail acts as an engine or bellows to propel us in the direction we want to go or hold us firm on the water. If you're a beginner, you should choose a light sail. If you have already windsurfed in Fuerteventura before, you can opt for a more powerful sail. And in order for the sail to do its job, we need a mast and a base.
You will also need a wetsuit fitted to your height and measurements. Your wet suit should ideally be a snug fit.
But don't worry, the windsurf schools in Fuerteventura are well equipped with all these materials. All you have to do is drop in and ask.
Seasons and timing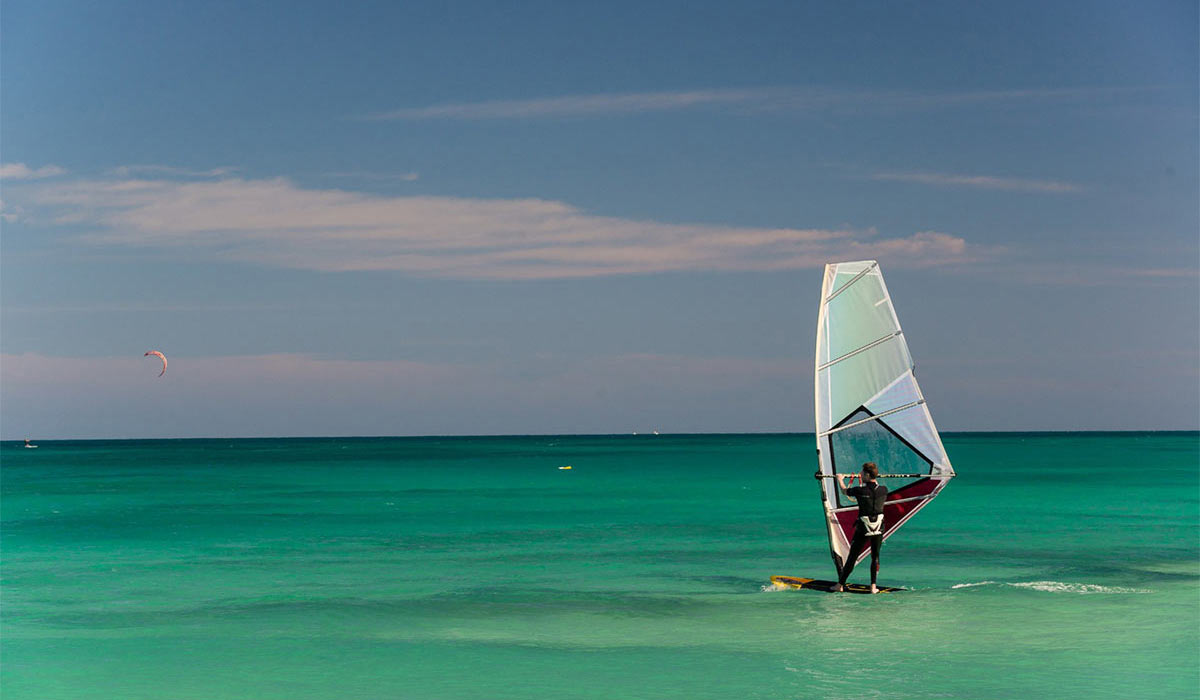 Windsurfing in Fuerteventura is an experience you will never forget. The muscle soreness you'll feel the day after will be your reminder. Windsurfing can be done on the island 365 days a year. However, it's important that you choose your season well, especially if you're a beginner or you are still not very skilled on the board.
The most active windsurfing season in Fuerteventura is from Easter in March or April to the end of summer and the beginning of September. During this period, the winds are more consistent on the beaches of Fuerteventura and the temperature is perfect for withstanding the demands of this sport. However, special wetsuits are available to enable windsurfing in less clement weather.
The issue with timing is the same. You can windsurf all day but it's not advisable to do so at midday, when the sun is beating down at its strongest; or after the sun has set.
The landscapes of Fuerteventura provide an extraordinary backdrop for you to showcase your skills on the board and enjoy the sea and sport in a unique way.
Categories: Canaries, Tips, Fuerteventura, Be inspired
« Discover the 4 best stargazing spots in Tenerife
Films shot in the Dominican Republic »