Tips on Planning Weddings in Punta Cana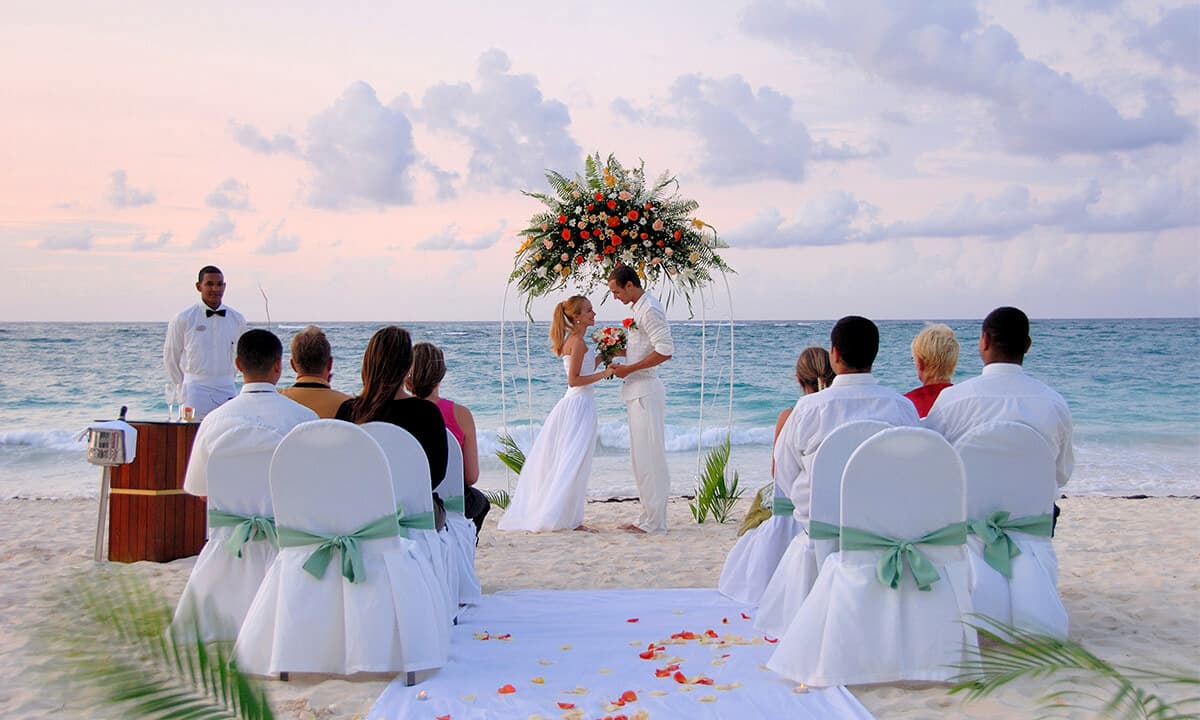 We all dream of our wedding day and when we do, thousands of options come to mind. It's becoming more and more common for couples to choose a special, exotic setting as the backdrop for this big step in their lives. What better place to make this unique moment even more special than a wedding in the Dominican Republic? Punta Cana in particular has become the perfect setting for idyllic, dreamy weddings, whether you choose to get married right by the sea on a blanket of white sand, or in the heart of the tropical gardens, exclusive halls or charming chapels.
At Princess Hotels Punta Cana, we've thought of everything. We've come up with hundreds of locations and different options, so that you can choose the one which best fits what you have in mind, your needs and your tastes. We've got a team of professionals to tend to your every need when planning your wedding in the Dominican Republic! Palm trees, the soft sound of the waves hitting the shore and a gorgeous photoshoot of the two of you at sunset have never been closer. There's nothing more romantic than combining your wedding with a fantastic holiday with your loved ones, making this memorable moment and the celebrations last for more than just one day. You'll be able to enjoy the Caribbean, its beautiful beaches and fantastic climate, together.
Whether it's in the intimate chapel at Hotel Caribe Club Princess, or in the romantic gazebo at Hotel Bávaro Princess, passing through lush gardens and down an eternal tropical beach. Couples who want to take this big step with us can be reassured that the only thing they'll need to worry about is not stumbling over their vows. Making a toast to the newlyweds alongside your loved ones and letting yourself be swept away by the refreshing sea breeze in a unique environment has never been so easy.
Where can you have your wedding in the Dominican Republic?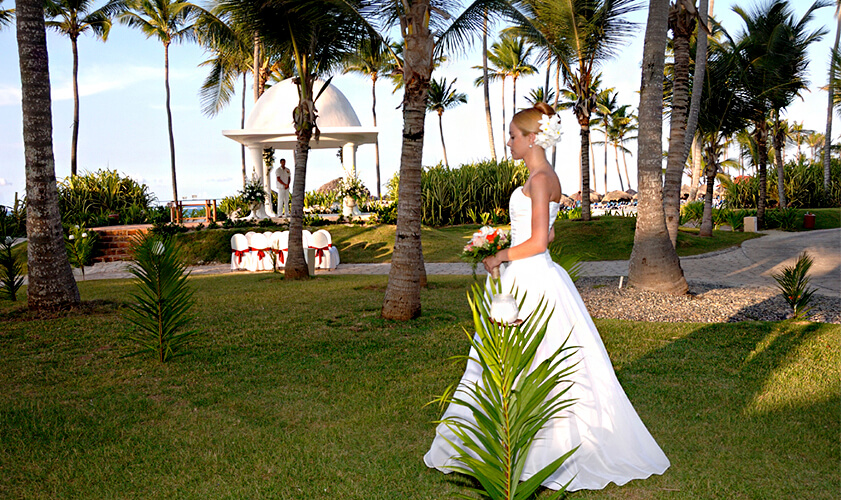 At Princess Hotels, we have a number of venues available for your dream wedding, as our different hotels offer magical spaces where our couples can celebrate their marriage exactly as they hoped for.
Beach: the perfect place for your symbolic or civil wedding, with your feet in the sand, right on the shore and decorated with the colours and flowers of your choice. It's a favourite spot for all of our couples, which is not surprising as the Playa de Bávaro is said to be one of the most beautiful in the world.
Chapel: charming and intimate Colonial-style chapel where can you host your gathering while surrounded by our tropical gardens. Officiate your religious ceremony in an unforgettable setting!
Gazebo: imagine a gorgeous gazebo under which our couples can say "I do". It has a view of our stunning beach and you'll be surrounded by palm trees, tropical plants and your guests, making sure you remember this day, forever.
Halls: celebrate your ceremony and reception in any of our halls. We can arrange, decorate and prepare them as you wish, with dining tables, lighting and a sound system, flowers and bows made to suite your taste…just speak to our wedding organisers and they'll make it happen.Since no official documentation is required, you may even make arrangements for a surprise ceremony for your spouse or parents. Just imagine what a precious gift it would be to be able to plan it all with your friends and family, book the rooms together, find something beautiful to wear, use our wedding planners as your allies to prepare this magic moment, feel the excitement of the journey, and make sure that your passports are in order. Moreover, if you book more than 15 rooms for a 7-night stay, you may get your celebration for free! Check out this exclusive Punta Cana wedding package, and contact us so that we can send you all the details.
What services do we offer for your wedding in the Dominican Republic?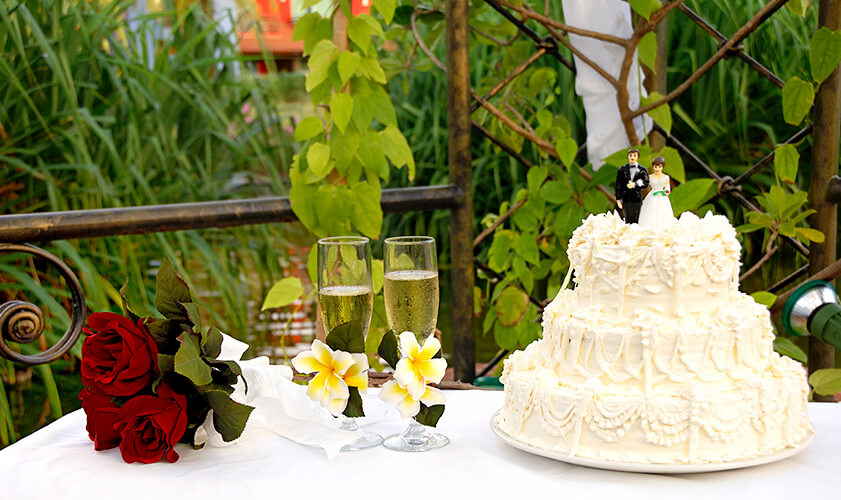 To make sure that nothing is left out, we offer couples a wide variety of services to complement the wedding.
Photographer: make your special day last forever thanks to our professional photographers, photo and video shoots in our hotel, on the beach, privately or with your guests…tell us exactly which parts of this special event you would like to be captured.
Hairdresser: for the bride, godmother, maids of honour…On such a special day and while on holiday, we know that the best option is to make sure that you're in the hands of stylists who know exactly how to make you look radiant, but not so much so that you outshine the bride! That's why our salon offers manicures, pedicures, hairdressing, hair removal, beauty and make up packages, so you don't have to do anything! You'll look effortlessly flawless for the big moment! We offer beauty packages specially designed for the occasion to make sure you look radiant!
Spa: the nerves, excitement, the journey…there are many reasons why our Spa offers a number of diverse programmes, packages, massages and treatments for the bride and groom to be. We know that sometimes the beach, swimming pool, sun and coconut trees aren't enough to calm us down and get rid of those butterflies and nerves before the big day. Perhaps you want to give your skin that special glow, or you just want a few moments of calm…either way, don't hesitate to pop into our Spa and take a look at the products and treatments on offer.
Entertainment: make your wedding a unique event. You can hire a DJ, get a special performance, live music…What do you fancy? A lit-up dance floor? We have plenty of services available to help you liven up your wedding celebrations. Imagine a beautiful Caribbean party on the beach filled with balloons in your favourite colour or why not organise a "crazy hour" that your guests will never forget, accompanied by a live saxophonist, or whatever else comes to mind!
What wedding packages do we offer at Princess Hotels?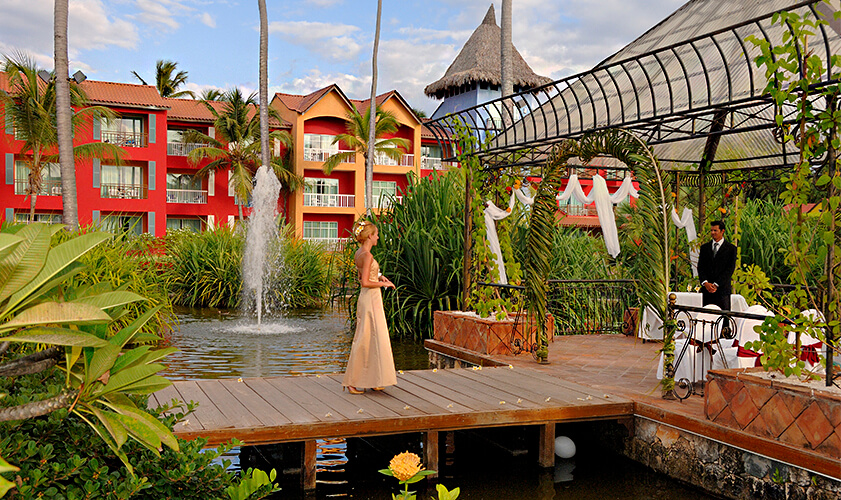 We offer a number of options: symbolic weddings, religious weddings, religious and civil weddings or only civil. Since it's an official act, there are a number of documents the couple will need to provide and should have ready for when they arrive in the country. Our wedding professionals will provide you with all of the requirements in a clear and concise way to ensure that it's easy for you to get them organised. As they have plenty of experience, they'll also be able to help you if there is anything that you do not understand.
Saying "I do" at our Princess Hotels in Punta Cana hotels also has an added advantage. For example, you don't need to make any prepayments to reserve your date. You can request the date by writing to us from the comfort of your own home, and we'll ensure you receive information about all of the wedding packages available so that you and your partner can look at them in your own time: the extras that can be added to make your celebration even more personal and the moment even more special, as well as the legal documents you need to bring with you, depending on the ceremony you have chosen. Once everything is confirmed, all you need to do is come, along with your partner, the documentation and enthusiasm. There are no inconvenient transfers or credit cards sent via email. When the time comes, you'll pay for everything here in person. It couldn't be more convenient!
Princess Package | Magical Package | Royalty Package
Choose the package that best suits your day and number of guests.
Free wedding
Don't forget to find out about the terms and conditions required to make your wedding free!
Infinity Package
You're already married but the idea of a wedding in paradise inspires and excites you. Why not renew your vows and make this dream come true? Ask about the options included in this specially-designed package.
Romance Honeymoon
Make sure to let us know if you're on your honeymoon as we offer a special complementary package.
*See all available Wedding Packages
What rooms are available at Princess Hotels?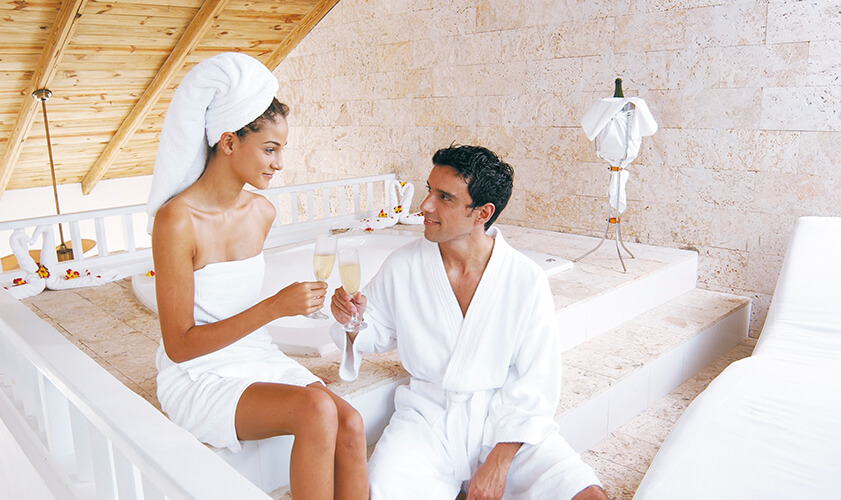 Honeymoon Suite: romantic rooms perfect for love. These rooms are available at Caribe Club, Bávaro or Punta Cana Princess and offer a number of exclusive services and amenities, discounts in our spa, a complimentary gift, special dinners, etc. in addition to being fully equipped with air conditioning, a jacuzzi for two, a plasma TV with international channels, on top of being beautifully decorated!
Royal Suite: designed to make your days here memorable. These rooms are available at Caribe Club and are have two floors, with a large living space and many exclusive services and extras, from a Colonial-style king size bed and modern TV to a romantic jacuzzi. Exclusive dinners, surprise gifts, discounts, luxury toiletries…everything is thought through perfectly.
Platinum Suite: for the most demanding couples at Bávaro Princess. Enjoy the Platinum services with the rooms closest to the beach, a private lounge with snacks and free Wi-Fi, an exclusive area on the beach, restaurant reservation services… everything you need for the holiday of your dreams!
As if this weren't enough, since we couldn't have it any other way, the celebration doesn't end on the wedding day. Afterwards, we've prepared a number of compliments to make sure  the newlyweds enjoy their honeymoon, always wishing the new or renewed couple the best for their future together.
If you're interested in organising your wedding in the Dominican Republic, don't hesitate to contact us:
CONTACT
Email: [email protected]
Phone: 1-809-221-2311
Have you ever been to a wedding in Punta Cana? Were you the happy couple or the guests? We want to hear about your experience. Let us know!
Categories: Caribbean, Tips, Punta Cana
Comments
« Gastronomic experiences in Skylights Restaurant
10 best Caribbean destinations »