The best beaches in the Dominican Republic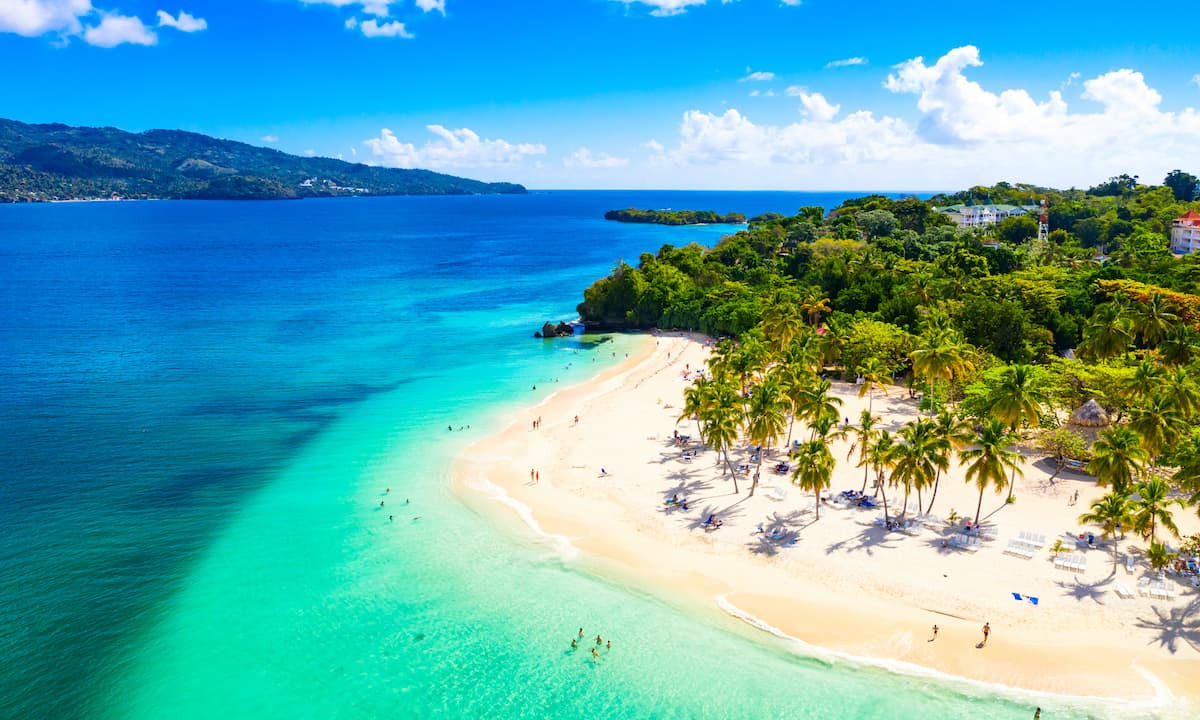 When you think of the Dominican Republic, you think of an endless paradise of white beaches surrounded by coconut palms and turquoise waters with colourful fish, corals and starfish, which has made it a favourite destination for tourists.
Few countries in the world can compare with the Dominican Republic when it comes to the beauty of its coastline, packed with stunning beaches with fine sand, photogenic palm trees and warm, crystalline waters, perfect for relaxing on a fantastic holiday, thanks to the excellent climate all year round.
One of the most striking things is that the beaches look completely different depending on which part of the country you are in, from long and quiet to small and inviting, with white or golden sand, on the Caribbean Sea or the Atlantic Ocean… all with spectacular scenery that will leave a lasting impression on the minds of those who visit them.
Atlantic Ocean beaches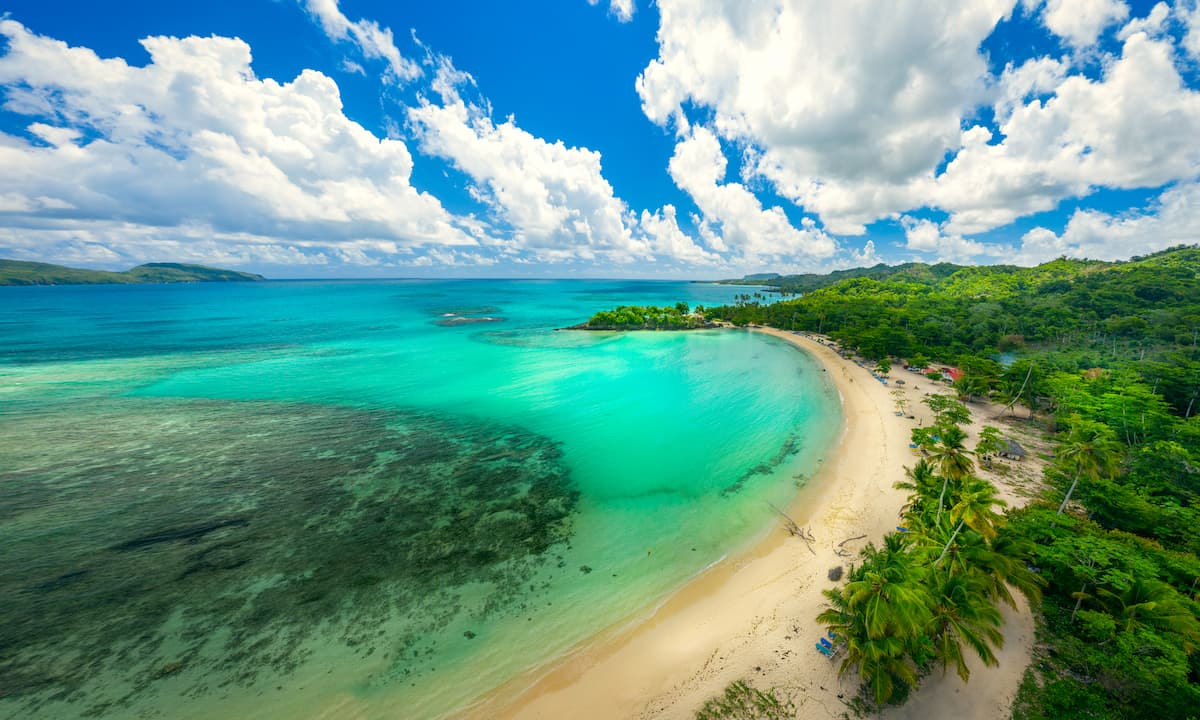 Bathed by the Atlantic Ocean, these beaches hide real treasures, many of which are unknown because they are not as visited as the south-east of the country (Punta Cana – Bávaro).
The views are spectacular, as it is a very mountainous area, with cliffs that descend into the sea, mountains that gently border the coast, and an abundance of tropical flora and fauna.
Perhaps one of the most visited areas is the Samaná Peninsula, where you will find real gems such as Rincón, Terrenas, Portillo and Bonita beaches.
Caribbean Sea beaches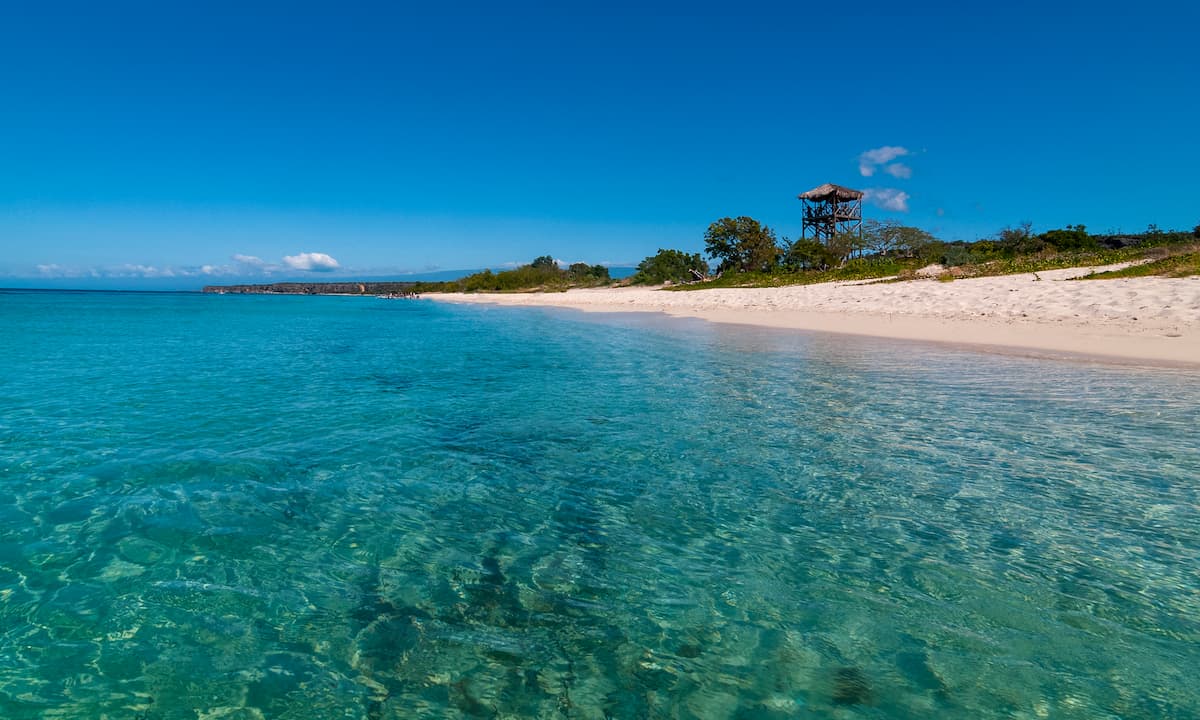 The south also hides a paradise of beaches, which is not surprising as they are bathed by the Caribbean Sea. The climate is drier than in the north, and there are crystal blue rivers, white sand and pebble beaches, lakes, cenotes and caves.
The beaches are a wonderful combination of beauty and tranquillity. One of the most fashionable beach areas in the south at the moment is the impressive Bahía de las Águilas, in the Jaragua National Park, an idyllic beach with water that will overwhelm your senses with its beauty and colours.
Punta Cana beaches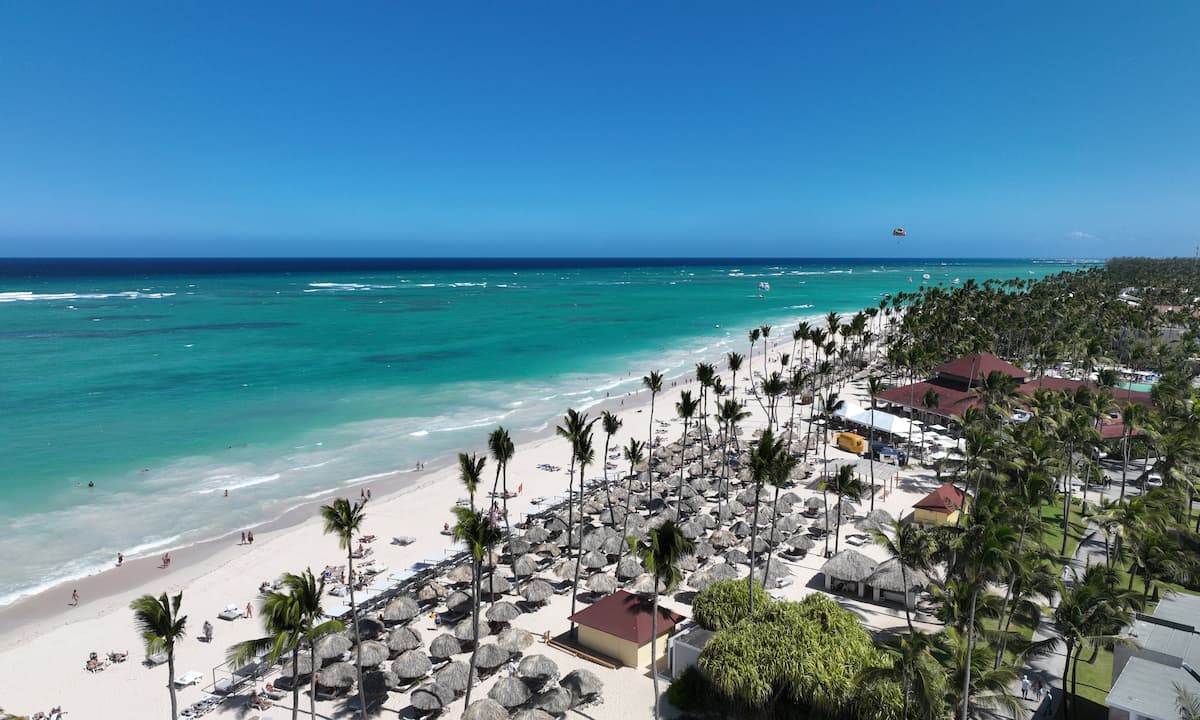 However, if you are on holiday in the Punta Cana – Bávaro area, we would like to recommend the best beaches that you can visit while staying at our Princess Hotels in Punta Cana, within easy day trip distance.
1. Bávaro Beach

Considered one of the most beautiful beaches in the world, our Princess Hotels in Punta Cana are located right on this beach, so you won't have to travel far.
Kilometres of white sand and beautiful water that changes from turquoise to emerald green throughout the year.
You can walk for hours without interruption, try water sports such as scuba diving, snorkelling, kayaking, parasailing, and there is even a party boat that will take you along the coast to the end, where you will find a beautiful and quiet natural pool where you can continue the fun!
2. Dominicus Beach

A little further from our hotels is Dominicus Beach, which, unlike Bávaro, is bathed by the Caribbean Sea.
It is a white sandy beach near the coral reef, so you can snorkel almost from the shore.
The sea is generally turquoise and calm, but it is still the Caribbean, which can be surprising at times.
It is located just one hour from our Princess Hotels in Punta Cana.
3. Macao Beach

A wild and unspoilt beach located about half an hour from our Princess Hotels in Punta Cana.
It has a special charm and there are several food stalls on the beach specialising in fried fish.
The sea usually has waves, making it a good spot for surfing. However, we always ask people to be careful and follow the advice of the locals as there is no coral reef in front of the beach and the sea can be a little rough at times.
4. Esmeralda Beach

Just over an hour's drive from our Princess Hotels in Punta Cana, you'll find this beautiful unspoilt beach in the town of Miches.
The area is spectacular, but there are no shops at Esmeralda Beach, so remember to bring food and drink (very important!).
For a more complete experience, stop along the way and take in the stunning views from Redonda Mountain.
If you want something a little livelier, with facilities such as a restaurant, but without losing the unspoilt beach vibe, then continue a little further and you will find the town beach at Miches, which we are sure you will love.
5. Cayo Levantado Beach
Excursions that take you around Samaná are the most complete, and can include visits to Los Haitises National Park, El Limón Waterfall and whale watching (in season).
They usually include a stop at Cayo Levantado Beach, an island in the middle of Samaná Bay, perfect for taking pictures and enjoying a piña colada.
This beach is a four and a half hour drive from our Princess Hotels in Punta Cana.
So, if you're visiting the Dominican Republic, we'd love to hear which of these beaches you decide to visit.
And if you are staying at one of our Princess Hotels in Bávaro and would like to visit one of the beaches we have recommended, remember that in each of our hotel lobbies you will find representatives for various excursions who will be able to help and advise you in planning your trip.
You can also book some of the excursions online by clicking on the following link: https://princess.nexustours.com/
Categories: Caribbean, Tips, Be inspired, Punta Cana
Comments
« Soap for Hope at Princess Riviera Maya
Enjoy the all-inclusive hotel experience in Costa Adeje »