Do you want to travel to the Caribbean with kids? The best Princess hotels for Families of the Caribbean
Summer is here! Schools end and vacations begin! Are you thinking of traveling to the Caribbean with kids? It's  time to relax and enjoy the beach holidays you've been dreaming of throughout the year. The Caribbean offers all the opportunities to spend some fun family days while enjoying sports, adventure, beach, tropical vibrations and many other activities! Family trips are the best to create unforgettable memories.
But before you can enjoy a memorable vacation, it comes the process of choosing the ideal destination that will please your entire family. This task is even more complicated for families with small children or teenagers …
At Princess Hotels we work to create resorts adapted to your entire family and enjoy the Caribbean with your children. No matter the age, we give a new meaning to the term family hotel! Our experienced staff will ensure that all your needs and wishes are met so you can rest while we take care of you.
What are the best Princess hotels to travel to the Caribbean with kids in Riviera Maya?
Whether at the Family Club Princess Hotel or at the Grand Riviera Princess Hotel, your family will find several entertainment, gastronomic and comfort options that will mark this year as the most memorable summer experience:
Hotel Family Club Princess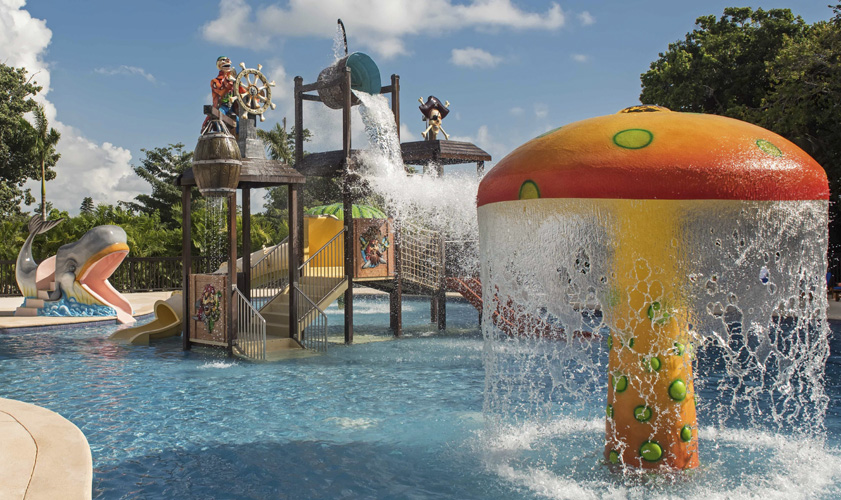 If you are looking for a hotel designed to meet the needs of both small children and teenagers while you enjoy the beauty of Caribbean, look no further! Family Club Princess is an ideal hotel for families. It offers all the services of an all-inclusive with amazing facilities created specifically to bring joy and laughter to children and teens.
Large family rooms with capacity for 5 people await you, with plenty of storage space and Deluxe standards with two double beds or a king size bed complemented with a bunk that will make your child's memories come back to life. We have thought of everything so that you will only have to worry about enjoying the Caribbean with kids. If you want to add an extra touch of luxury and entertainment to your vacation, book a Swim-Out Family Club Suite that gives you the direct access to the pool that children love and, also, the jacuzzi that parents crave.
When it's time to eat, we invite you to the charismatic Pirata's Buffet, where your children will find a personalized menu, with delicious food that will fill their stomachs with joy and replenish their energy for the afternoon. For dessert, do not forget to visit our vintage ice cream parlor that you surely won't forget!
At the Kids Club, an experienced team awaits you,  ready to entertain your children with various activities such has:
The Super-Hero Treasure Hunt.
Plastimania, where they can  learn to make amazing figures with clay.
Learning how to bake and taste delicious cookies
The water park is also located inside the kids' club, where a pleasant shaded area will become the favorite place for you and your families during your stay. We have also prepared different activities for teenagers, like:
Archery classes
Tennis practice
Weekly sports tournaments such as beach volleyball and beach soccer
Pool

Sandcastle contests that will take your children's imagination to the next level
At the end of the day, Disney themed shows await you at the Theater, making this the ideal closing for an incredible day full of laughs and joy on your Caribbean paradise vacations!
Clients who book at the Family Club Princess can enjoy all the services and facilities of our Grand Riviera Princess All Suites & Spa Resort.
This resort is part of the Princess complex, with the following properties: the Grand Riviera Princess, Grand Sunset Princess, and a hotel for adults only, Platinum Yucatan Princess.
Hotel Grand Riviera Princess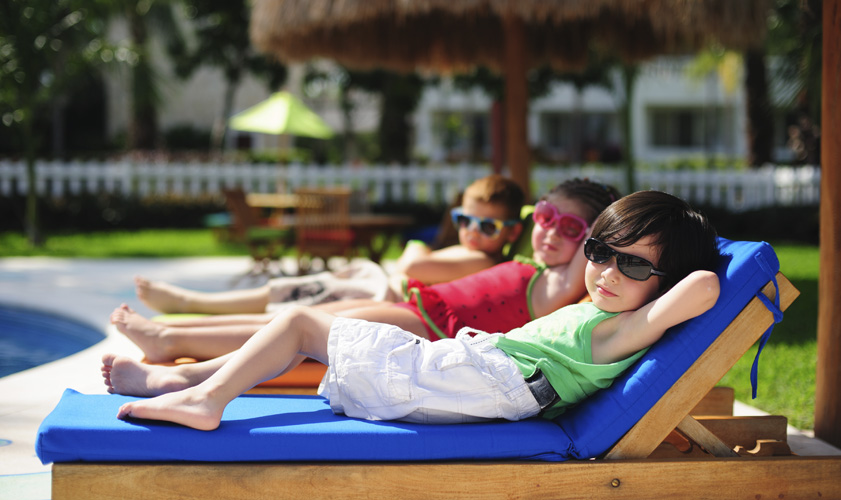 The Grand Riviera Princess is a 5 star resort in Playa del Carmen ideal to discover the Caribbean with kids. Located in front of a paradisiacal beach it allows guests a unique vacation experience that they will remember forever.
With more than 600 elegantly decorated rooms, Grand Riviera Princess is an excellent choice for families with children of all ages looking for different options that will suit everyone. The rooms, (some swim-out access to the pool) are designed exclusively for families and are adapted to their different needs.
For children and teens who accompany their parents on this dream vacation, we have prepared a fantastic selection of activities to ensure everyone has a good time during your Caribbean vacation with children:
Watersports
Classes on the tennis courts
Daily pool games
Night shows at the Theater
Mini Club for the little ones with crafts and a mini disc that will leave your child feeling like a star.
At Grand Riviera Princess you will have the opportunity to delight your senses while savoring unique dishes in our a la carte restaurants. Take a trip through the world gastronomy, visit the famous Mexican "Haciendas", visit the emblematic Switzerland and the glittering Italy. On the way to taste excellent fish and seafood. And in case you prefer to mix different flavors, our buffet restaurant offers a wide variety of options perfect for everyone.
And for families who enjoy a good massage, why not experience our family massages at the Spa? The best way to relax from all the stress  caused by work and school.
If you are looking for an excellent family destination with stunning white sand beaches, a dreamy turquoise sea, close to the main attractions, with impeccable grounds and warm service … look no further and make your reservation at Hotel Grand Riviera Princess and enjoy the Caribbean with kids!
What are the best Princess hotels to travel to the Caribbean with kids in Punta Cana?
Welcome to paradise for families! At Princess Hotels Punta Cana adults and children always find something fun and exciting to do:
Hotel Bávaro Princess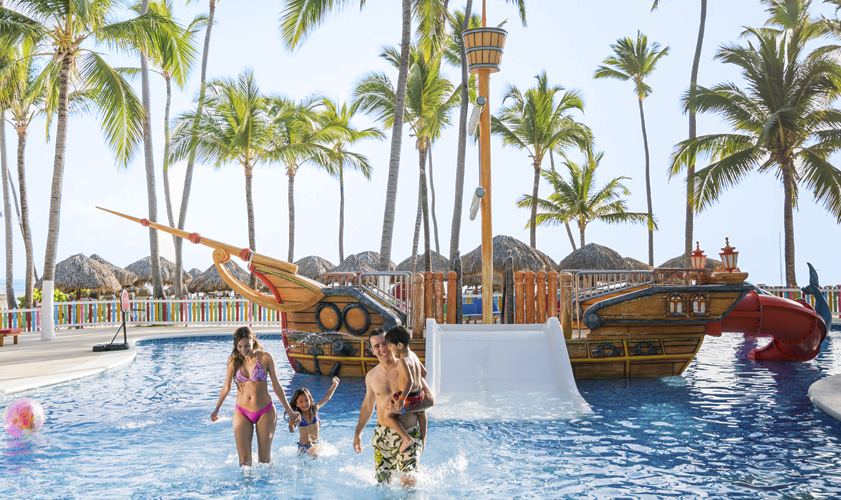 At the Hotel Bávaro Princess your children will have an opportunity to make new friends from different countries in our Mini Club. Fully supervised by our children's entertainment team, who will organize all kinds of games, sports and activities, which will delight the little ones. The Caribbean with children is a dream come true!
A pool filled with slides, games, and even, a pirate ship are waiting for you, in a place where children have a great time splashing around with our staff, their parents, and the new friends they have met between laughter's and games.
A mini cinema, video games, mini billiards, dolls, balls or board games … there's something for everyone in a space created solely to increase the imagination and creativity of your children! Pirates, treasure chests, and even a hidden siren are waiting for you.
One of the purposes of family vacations is to get closer to each other, and one way to do it is to live adventures such has:
Diving together
Enjoying getting muddy at the Buggies
Dive into the void in Zip Lines
Discovering breathtaking beaches in the Dominican Republic
At our hotel we also take great care of something as delicate as food so that all the little ones can find a mini dining room where they will be able to taste healthy snacks and treats that will leave their bellies full and happy.
And don't forget the attentive and kind service of our staff. They will give you all the help you need so that you can enjoy your Caribbean vacation with your kids.
Hotel Tropical Princess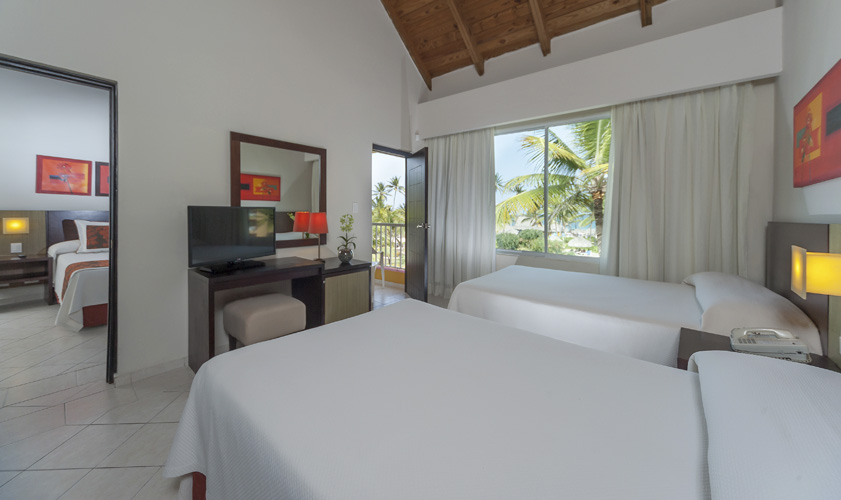 We are passionate about children! At the Tropical Princess Hotel a great team of professionals is waiting for your children and to make their vacations an unforgettable moment.
Our trip begins with our magnificent Family rooms with 1 main room and a secondary room. They are designed to enjoy the comforts of your own room and independence but, at the same time, keep you connected to the rest of the family members. Sharing the bathroom or choosing what program to watch, will no longer be a problem since this rooms include two bathrooms and two televisions multiplying possibilities and assuring privacy to the parents!
Vacationing with little ones is a wonderful experience but it requires many to keep many things in mind. The question is, what to do in the Caribbean with kids? Since parents just want their kids to have fun that is what we, at Tropical Princess, also want. And for that we have a fun and exciting Miniclub that is filled with activities and games during day and night:
Paint and color
Practice relay sports
Dance on the MiniDisco
Enjoy the evening shows with your children …
Of course our gastronomic variety also includes: children's menus, chairs for children in restaurants, and a wide variety of gastronomical offers in our buffet. Making sure we can delight the most demanding palates, including those of children!
In addition, the holidays are also important so that the parents can find time to themselves and to enjoy some moments of relaxation. So, in addition to the Miniclub, we offer a babysitting service (with extra charge) so that adults can enjoy the comforting Spa, a romantic dinner on the beach, or just a good book while at the seashore.
Categories: Caribbean, Be inspired
Comments
« TripAdvisor Certificate of Excellence 2018 in 7 Caribbean Hotels
Where to dive in Tenerife? »