Frequently Asked Questions about Hotel Grand Riviera & Grand Sunset Princess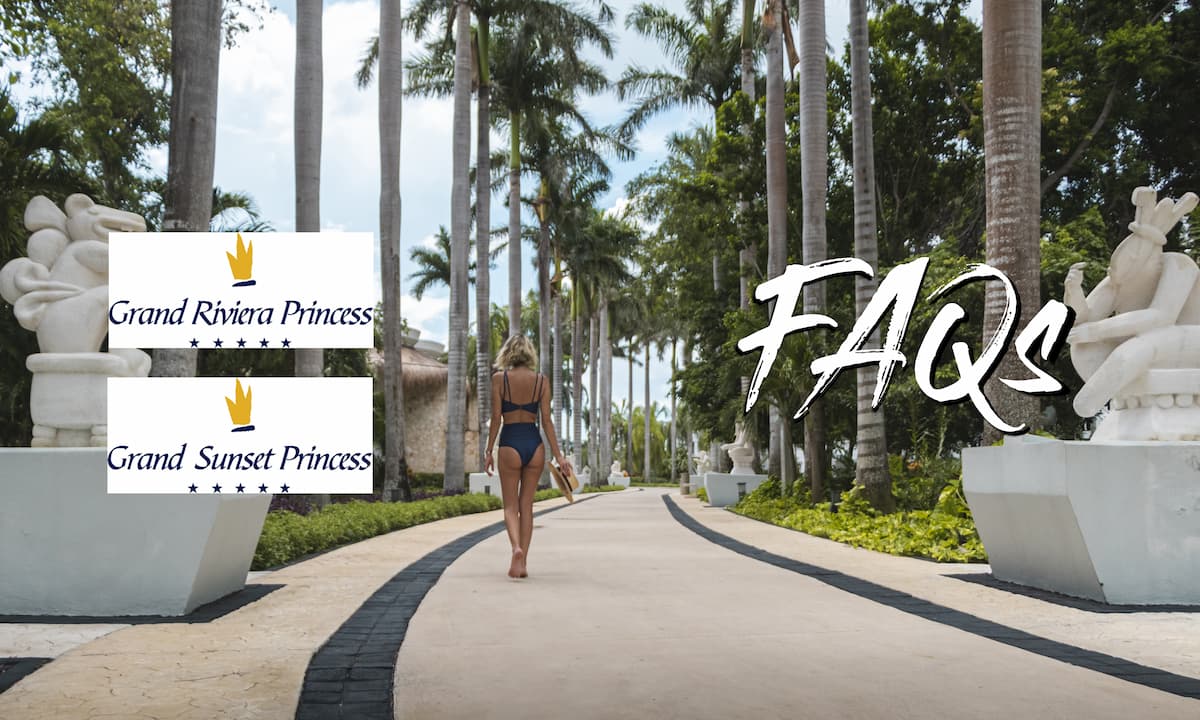 Would you like to book your next holiday at the Grand Riviera Princess or the Grand Sunset Princess? Have you already booked your holiday in the Caribbean and have questions? Here we answer the questions that guests usually ask us. If you can't find your answer, don't hesitate to write us a comment! We will get back to you as soon as possible!
OVERVIEW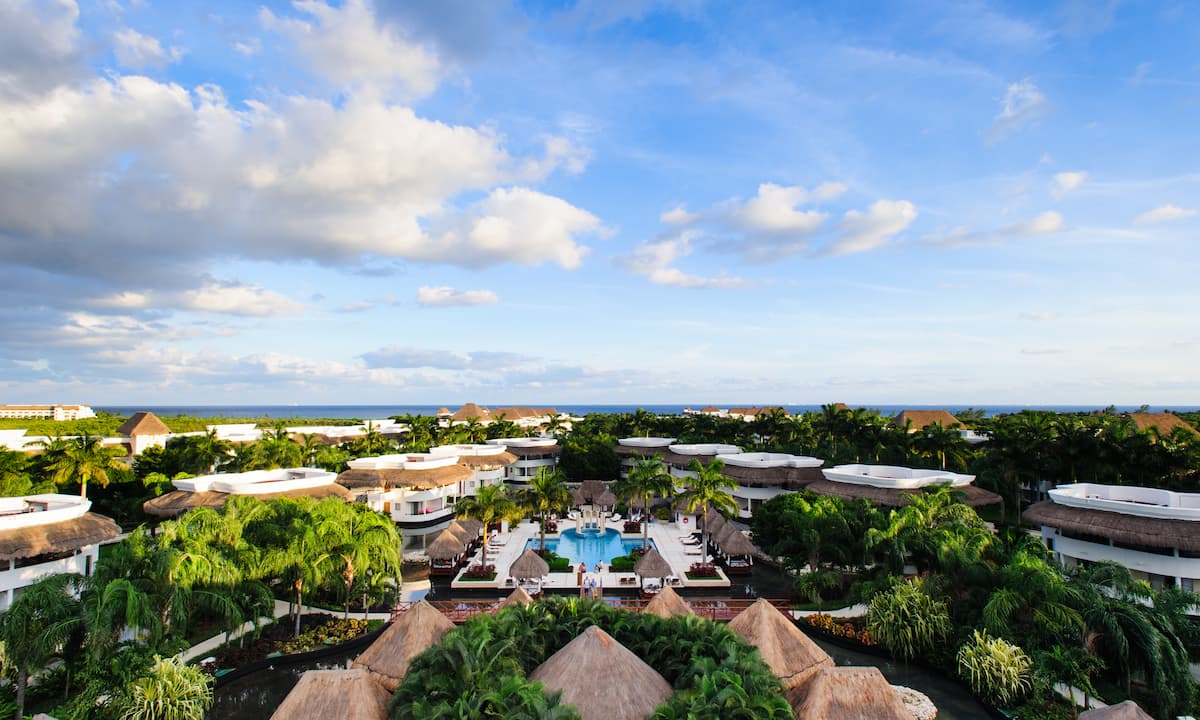 What is the weather like?
Playa del Carmen has a tropical climate with high temperatures and moderate rainfall all-year-round. The city is just south of Cancun and is the closest port to the island of Cozumel, which is located just across a small channel. There are wet and dry seasons. The highest temperatures occur during the humid summer.
The dry season, from November to May, has low levels of rainfall. In tropical places heavy rainstorms can never be ruled out, but in the dry season they are definitely rarer and lighter. The highest average temperature drops just below 30°C from November to February. After, it rises around 31°C.
How far is the beach? Is there an internal shuttle service to get around the hotel?
The beach is about 900 metres from the lobby. The farthest building is approximately 800 metres away. Click here to see the Hotel Map.
Yes, there is internal transport that runs through the hotel
Can I buy a day pass for this resort?How much does it cost and at what time does it apply?
Yes indeed, although it always depends on the occupancy levels to be able to offer the best service. If you are interested you can send an email to [email protected] The price is $ 1950 pesos per person, from 9 am to 6 pm.
Is the hotel close to Playa del Carmen? Is there a bus service to go to Quinta Avenida?
Yes, we offer shuttle service to go to the centre of Playa. Every day at 9 am, 12 pm and 4 pm leaving the Lobby of the Grand Sunset Princess. The price is $ 70 pesos per person per trip.
Does this hotel have an adults-only area?
Yes, the exclusive Laguna Villas area. You can see all the information in the rooms section.
Should we tip in pesos or dollars?
Gratuities are included in the all-inclusive package. You don't need to leave any. Should our associates offer you an extraordinary service and should you wish to tip them, any type of currency will be more than welcome.
What kind of plugs are in the hotel?
The plugs in the hotel are of American Voltage type: 127 V. Frequency: 60 Hz. Pins: A / B type.
Is there a cash machine at the hotel?
Yes, there is one in each lobby next to the reception.
I celebrate my anniversary, honeymoon or birthday during my stay and I would like to have something special for me/ my partner/ my daughter, who can I contact?
Please send an email with your trip details and all information to [email protected]. Our concierge team will surprise you and make your celebration even more special.
Where can I book excursions and tours online?
You can do so on arrival with your Travel Agency representative, or you can book them online through this link: https://princess.nexustours.com/transfers/
RESTAURANTS / BARS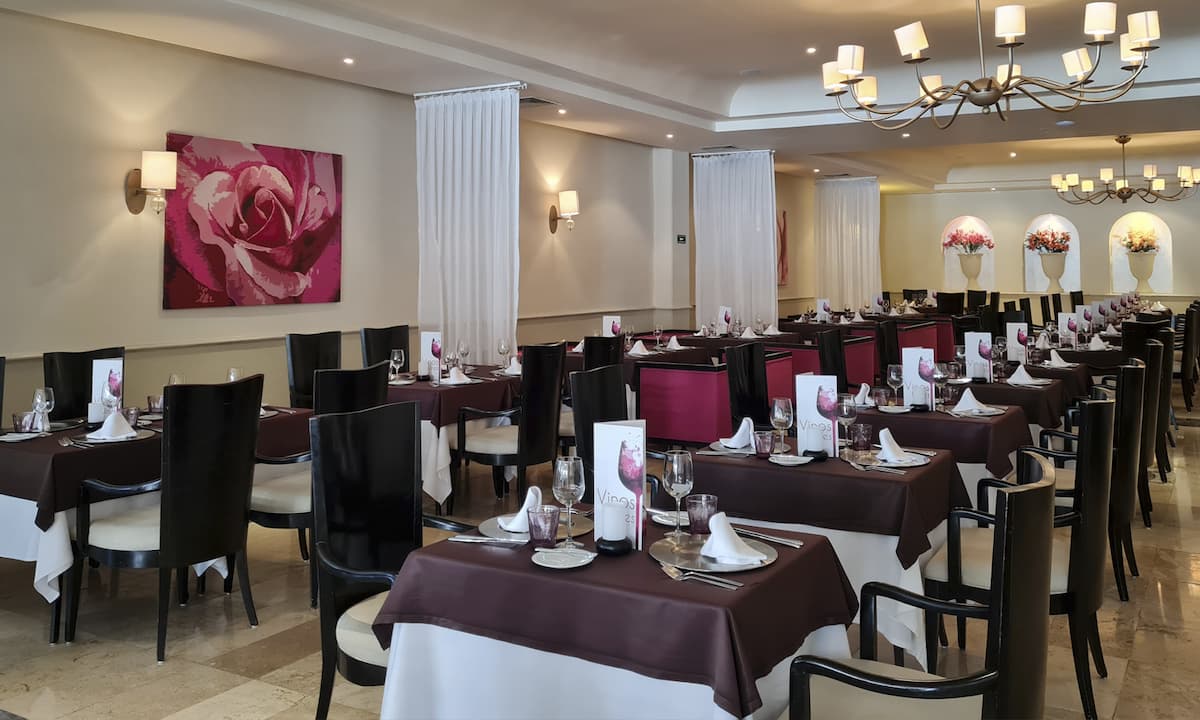 What kind of beer do you serve at the hotel? Where can I see the drinks menu?
Beer is Modelo Especial and Negra Modelo. Some drinks may change.
Can you bring your own thermal glass for drinks?
Of course. We are an environment-friendly hotel, so we will be more than happy to fill your glass with the drink of your choice as many times as you want.
Are all restaurants included?
The Chill Out restaurant is not included in the all inclusive plan.
All restaurants are included. For the Junior Suite category, "Le Fleur" (International Gourmet Food), and "Las Olas" (seafood) restaurants have an additional cost of $ 325 pesos per person.
What is the dress code for the a la carte restaurants?
Gents can wear long or short trousers. Wear shirts, t-shirts or polo with sleeves and shoes of their choice as long as they are not flip-flops. For the ladies, the dress code is elegant and casual. Avoid wearing swimsuits.
How can I make restaurant reservations for dinner?
You can make your reservations on arrival in the main lobby, or through the webapp, from your mobile.
Can children have dinner with their parents at the Chill Out Restaurant? Can they use the beach area the rest of the week? How can I book?
Yes, children of any age have access with their parents to both the restaurant and the Beach Club. You can make your reservation directly at the hotel reception.
What does the minibar include? Is it included or does it have an additional charge?

It is included. Each minibar is equipped with 4 bottles of water, 1 Pepsi, 1 Pepsi light. 1 Mirinda, 1 Seven -Up, 1 mineral water and 4 beers. Everything is included. In addition, it is replenished every day.
Is there a restaurant and bar open 24 hours?
The Sports Bar, next to the Grand Sunset Princess lobby, is open from 7:00 am to 2:00 am. It is included for all guests.
How can I make a reservation for a romantic dinner?
You can make a reservation by sending an email to [email protected].
Someone in my party has an allergy to a certain food or needs special care, who can I contact to make sure they will have different food options and will be taken care of in restaurants?
Please, send an email with your trip details and all information to [email protected]. Our Concierge team will compose a menu for you and send the information to our Food and Beverage department.
ROOMS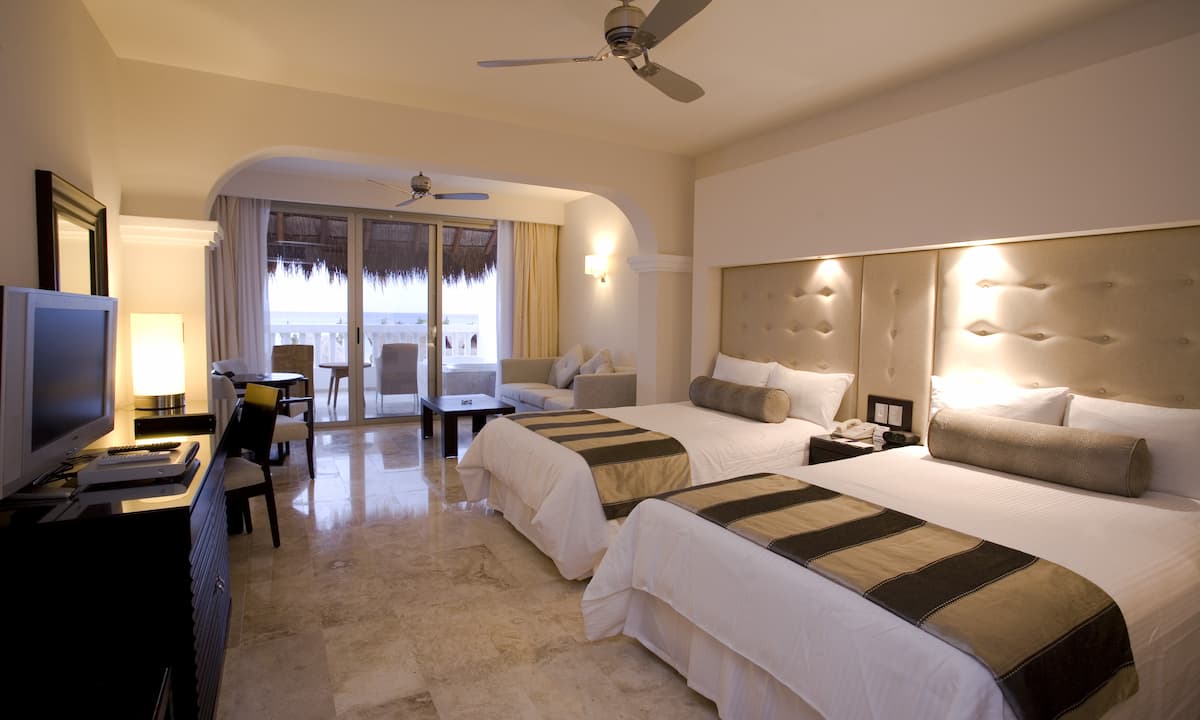 Is there an iron and ironing board in the room?
Yes, you can find it inside the wardrobe.
How can I book another room category and how would payment be made?
Room changes are always subject to availability, so they will only be made upon arrival of guests at the hotel. If you are interested in making a room upgrade, write an email to: [email protected]
We would like to clarify that should you wish to make a reservation or have problems with your reservation, you should address: [email protected]
How does Platinum Room Service work?
Room service is included in the Platinum and Laguna Villas package. For the rest of the categories there is an additional charge.
Where can I send my special requests about the room, such as a type of bed, location, connected or nearby rooms…?
We do not guarantee these types of requests because they are always subject to availability. Please send your booking information and requests to jrecepció[email protected]. We will do our best to ensure that you have the best holiday ever.
How old do my children have to be to be able to book a room with private access to the pool? Is there a way to lock the balcony door on the outside?
We have no age restriction for rooms with private access to the pool. However, in the Family Club Princess section we have this type of rooms equipped with all the security measures on the balcony for children of all ages. The only way to lock the door is inside.
ACTIVITIES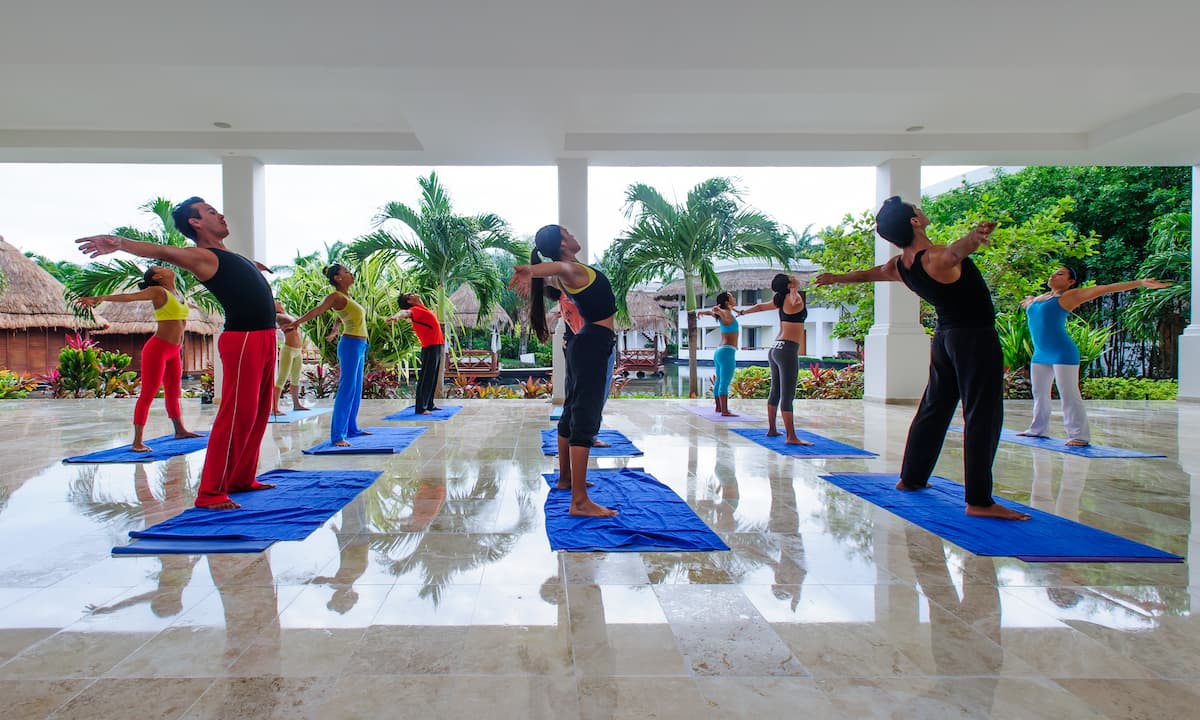 What water sports are included?

All non-motorised: catamaran, paddle board, canoe and snorkel. You can book all these activities and more at the water activities centre on the hotel's beach.
Where can I find the activity plan?
You can find it updated on our webapp: https://grgsf.princess-hotels.com/en/
What activities take place at the Kids Club? Do you offer babysitting service, how much does it cost?
Various activities take place.
Yes, we offer babysitting service, with an additional charge of $ 300 pesos ($ 15 dollars) per hour and child. After 11:00 pm the cost of the taxi for the nanny must be covered, $ 300 pesos ($ 15 dollars).
All nannies take regular courses on childcare of all ages and first aid.
What time does the gym open?
It is open from 7am to 7pm.
SERVICES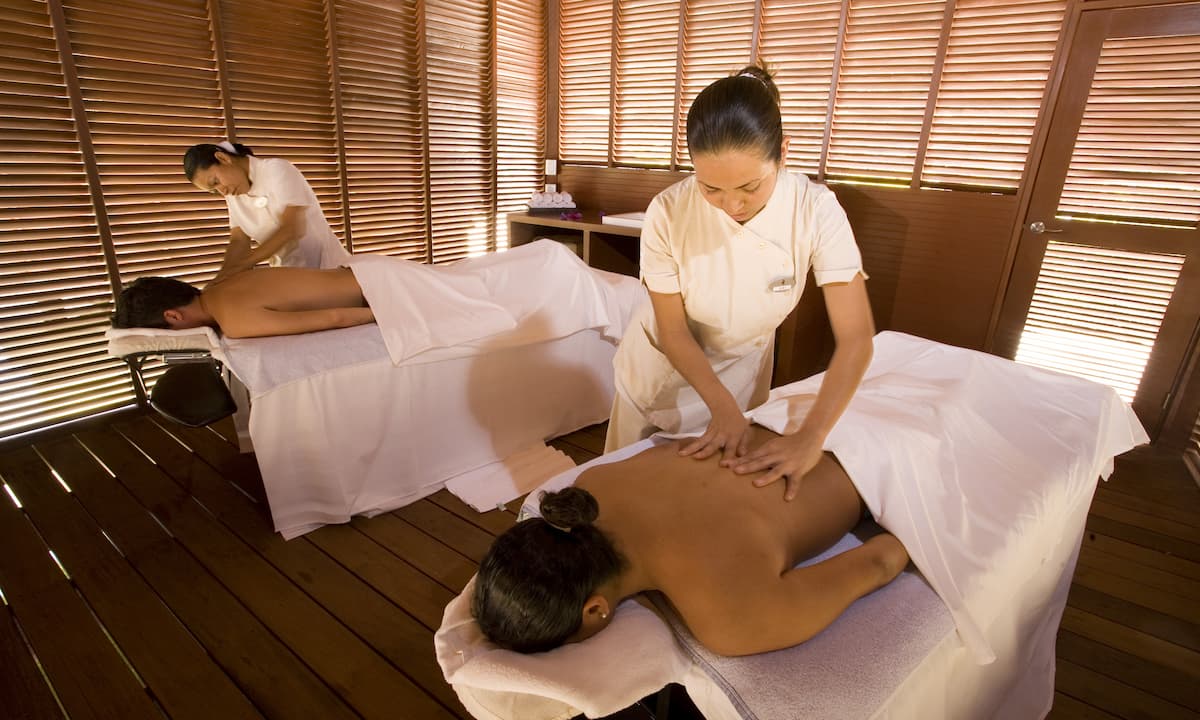 Are there book exchange shelves at this hotel?
Yes, you can ask the concierges. If you are a Platinum guest you will find a shelf in the Platinum Lounge.
Can I change money at the hotel? What kind of currency do you exchange?
That's right, you can exchange money at the reception. We exchange Canadian Dollars, US Dollars, Euros and Pound Sterling.
Do you offer transportation from the airport to the hotel? How much does the taxi cost? How much is a taxi from the ADO bus station in Playa del Carmen to the hotel?
You can hire a transfer from the airport to the hotel through this link: https://princess.nexustours.com/transfers/
Taxi from the airport costs approximately $ 1000 pesos for 1 to 4 people. The taxi from the ADO to the hotel costs approximately $ 300 pesos for 1 to 4 people.
Do you provide beach and pool towels?
Yes, you can find fresh towels every day at the towel points located in the pools and on the beach. For Platinum and Villas guests, you will find your towels in the exclusive beach and pool areas. You can also request them to your concierge.
What is Wi-Fi like and where can I use it?

It is free for all guests. It is basic and the best signal is received in the lobbies and rooms.
Where can I find a list of the spa services? How and when can I book a massage?
Please send an email to [email protected], they will send you all the information you need and help you with reservations. You can make your reservation before or during your stay. You can also make the reservation through the webapp.
Are there safes in the rooms, is their use included?
Yes, we have a safe in each room. For safety reasons we recommend that you keep all valuables in this safe.
RESERVATIONS

How can I book?
You can book through our official website princess-hotels.com. You have at your disposal a booking search engine so you can choose: hotel, dates, number of rooms and people. You will discover our online rates in addition to our offers. If you cannot find what you are looking for, we will be happy to assist you through the following email: [email protected].
What is MyPrincess?
MyPrincess is our loyalty programme, with which we would like to thank our customers from all over the world for their trust and loyalty. Make a booking and join the MyPrincess community to get exclusive discounts and unique advantages.
What benefits do I get from being a MyPrincess customer?
Exclusive

discounts of up to 15% extra in your bookings

Welcome

Cocktail
Fruit

plate in the room

Discounts

on services

Many more services according to the hotel and destination
Categories: Caribbean, Riviera Maya
Comments
« Get ready to celebrate Canary Island Day with this introduction to the islands' traditions
Enjoy a dream wedding at Princess Hotels in the Canaries »