7 Caribbean hotels awarded Certificates of Excellence 2017 by TripAdvisor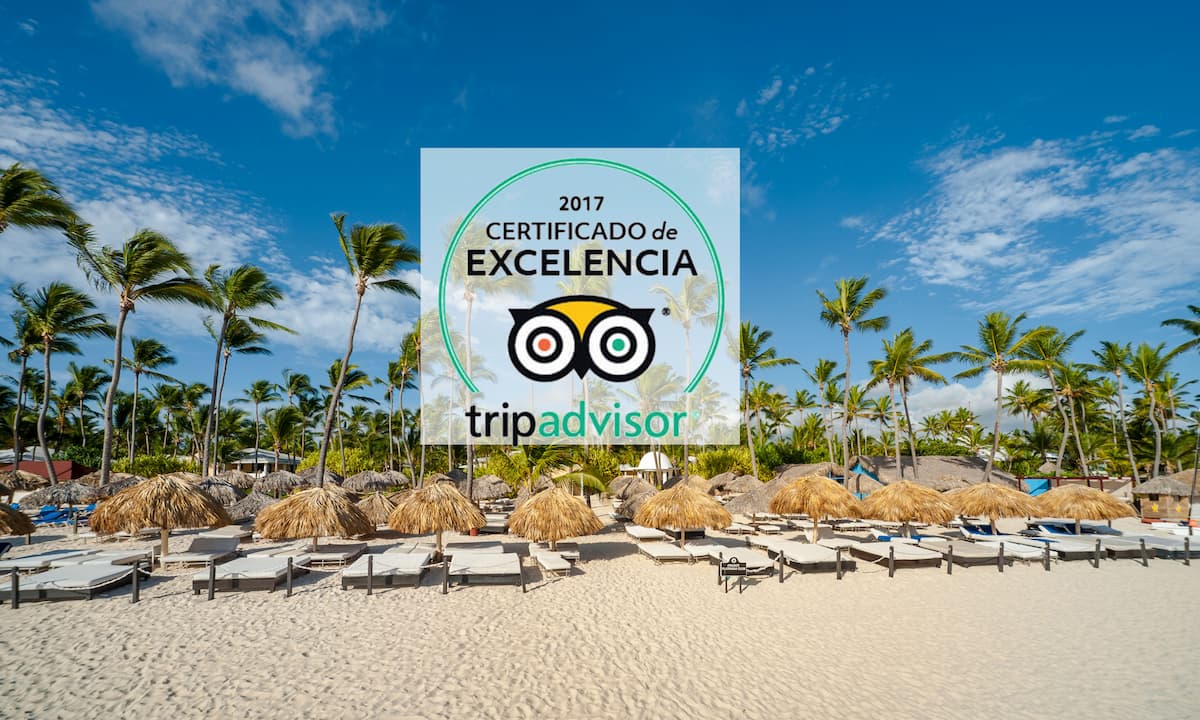 Princess Hotels has reason to celebrate! Our resorts in Punta Cana and Riviera Maya have been awarded new Certificates of Excellence by TripAdvisor. Not only have they achieved the award, they have also consolidated it.
It is an award that has been achieved thanks to the efforts of all of the teams that work at Princess Hotels and, above all, thanks to our guests, who when they get home want to share their experiences in our Princess hotels with the rest of the world. We are extremely proud that you, our guests, are the people behind us having achieved these wonderful awards.
What is the TripAdvisor Certificate of Excellence?
When travelers plan and book a trip on TripAdvisor, they are looking for something perfect. The Certificate of Excellence is an award for accommodation (in this case hotels), attractions, and bars and restaurants that makes trips perfect. This prestigious certificate has been awarded for more than 6 years, and recognizes hotels that have received consistently good reviews from travelers.
Princess hotels in Punta Cana with award
Bávaro Princess Resort Spa & Casino*****
Designed for a diverse audience that dreams of spending unforgettable moments in its gardens, swimming pools and spectacular beach, with their friends, family or partner. A delight for even the most hedonistic, thanks to the Platinum section, or even the most romantic, thanks to its wonderful honeymoon suite
Punta Cana Princess Suites Resort & Spa *****
Proud of its very high number of repeat visitors year after year, it has become the perfect option for couples who aim to enjoy a relaxing Caribbean vacation on the beach, without children and without haste.
Caribe Princess Beach Resort & Spa****sup
A philosophy based on a complete and fun-packed vacation with friends and family, suitable for all ages. It has once again conquered the hearts of visitors who have returned or discovered its facilities for the first time this year.
Princess hotels in Riviera Maya with award
A hotel designed exclusively for families, unique in the entire Riviera Maya, with beautiful suites and special amenities so that the little ones can enjoy a true Caribbean vacation that they will remember all their life.
5-star all-inclusive hotel located on one of the most beautiful beaches on the Riviera Maya, dedicated to offering the best possible vacations in a family environment with a relaxed atmosphere. It offers an endless range of activities for all ages.
The ideal hotel for a Caribbean honeymoon with your partner. Located just minutes from the center of Playa del Carmen, with romantic jungle gardens and a wide range of dining options.
Platinum Yucatán Princess All Suites & Spa*****
A luxurious and exclusive hotel for adults only, in which all the services have modern design and superior quality, ensuring the greatest comfort and the most relaxed vacation in a prime location.
Our objective: to continue offering the highest quality in our hotels
The most important mission of these luxury hotels is to offer the highest quality in every sense. That is why we constantly strive to ensure our team is coordinated and trained in the latest trends and technologies, as why we are always renewing the spaces and facilities we offer. These awards are the greatest acknowledgement we can receive for our daily efforts, as we know that it is given to us by our customers.
We aim to continue to receive this type of awards year after year. We would like to encourage all our guests to help us in this aim by sharing their experiences on our TripAdvisor, Facebook and Instagram pages or in this Blog, to help us continue to improve every day.
Comments
« The essentials for a summer in Barcelona
Princess Hotels and the environment – Travelife Gold »